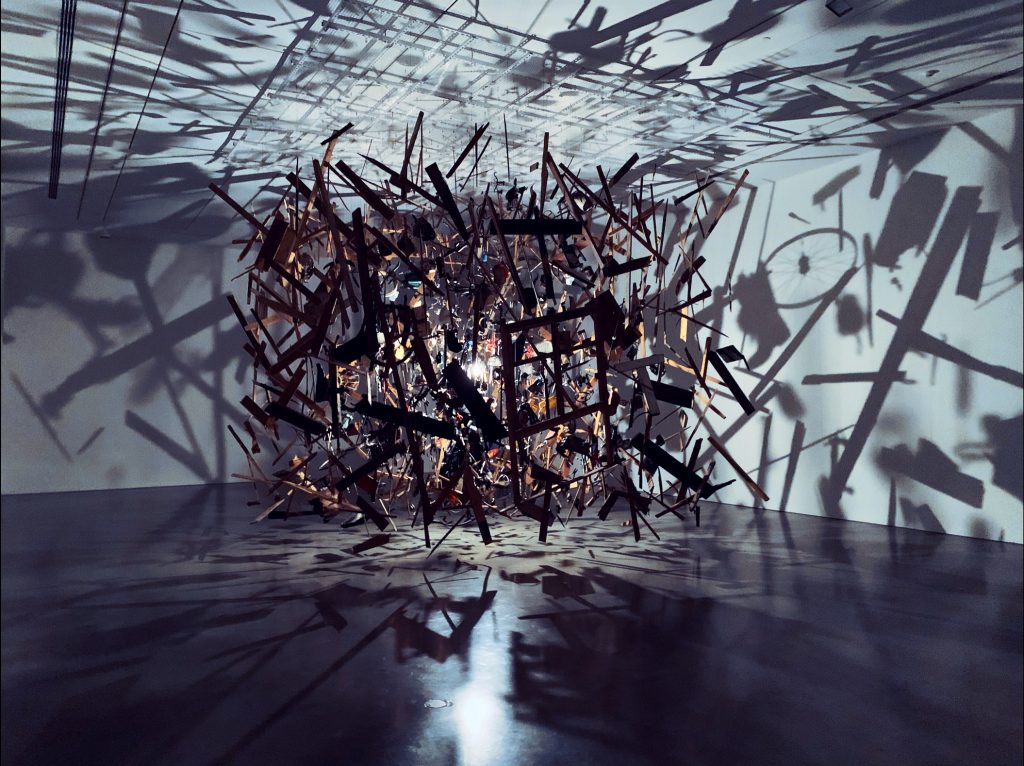 Cornelia Parker is the world-renowned artist whose work I've wanted to see ever since I saw a photo of Subconscious of a Monument. Lady luck was on my side in Sydney; my visit coincided with her retrospective at the Museum of Contemporary Art, the first survey exhibition in the Southern Hemisphere. It was a feast for the eyes and a thought-provoking exhibition. I liked it so much that I went twice, two days in a row. There was so much to ponder about her powerful works – her ideas, approach, and process in her installations had a profound impact on me.
Cold Dark Matter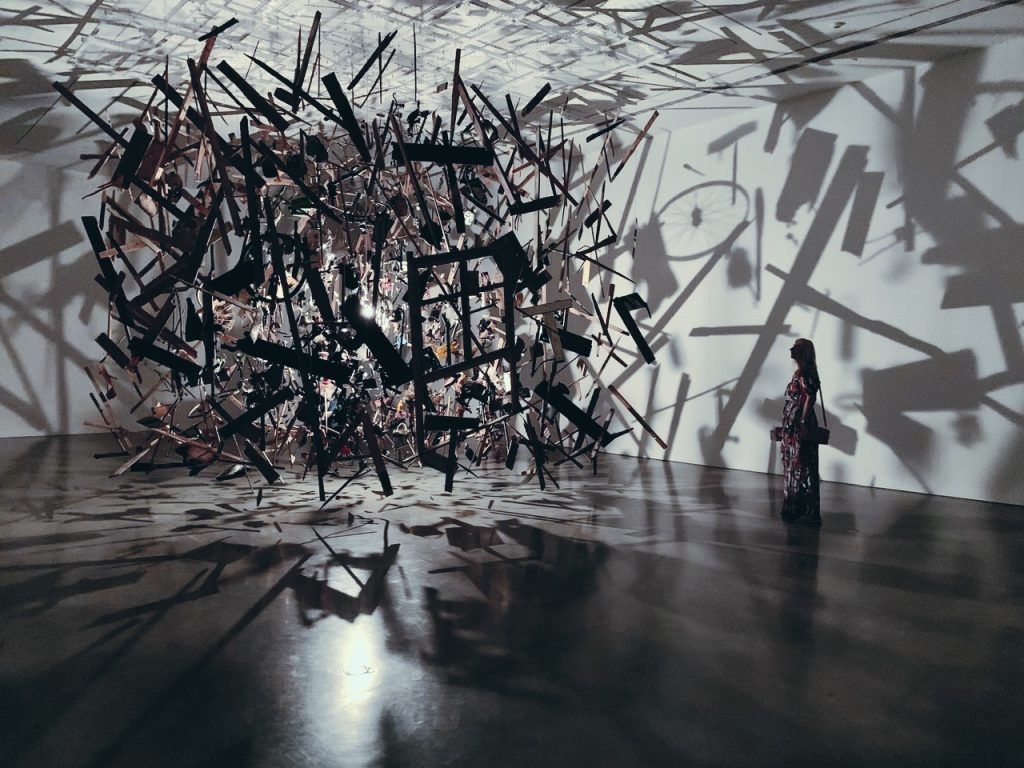 One of the most important artists working today, Cornelia Parker is known for her transformation of everyday objects into unexpected, haunting scenarios – things are exploded, shot, turned back to front and rearranged in often surprising ways. Within her sculptures, installations, drawings, photographs, and films, Parker subjects hang at the very moment of their transformation. In that moment, they suspend in time and are completely still.
In the Cold Dark Matter: An Exploded View, an ordinary garden shed has been blown up by the British Army. To illustrate, Parker reconfigured the structure into a mass of burnt wooden shards and household objects. Suspended from the ceiling with a single light bulb at the center, it casts fantastic shadows across the gallery walls and floor. First, you notice the exploded shed and your mind races to understand what was going on while you're immersed by the dramatic shadows.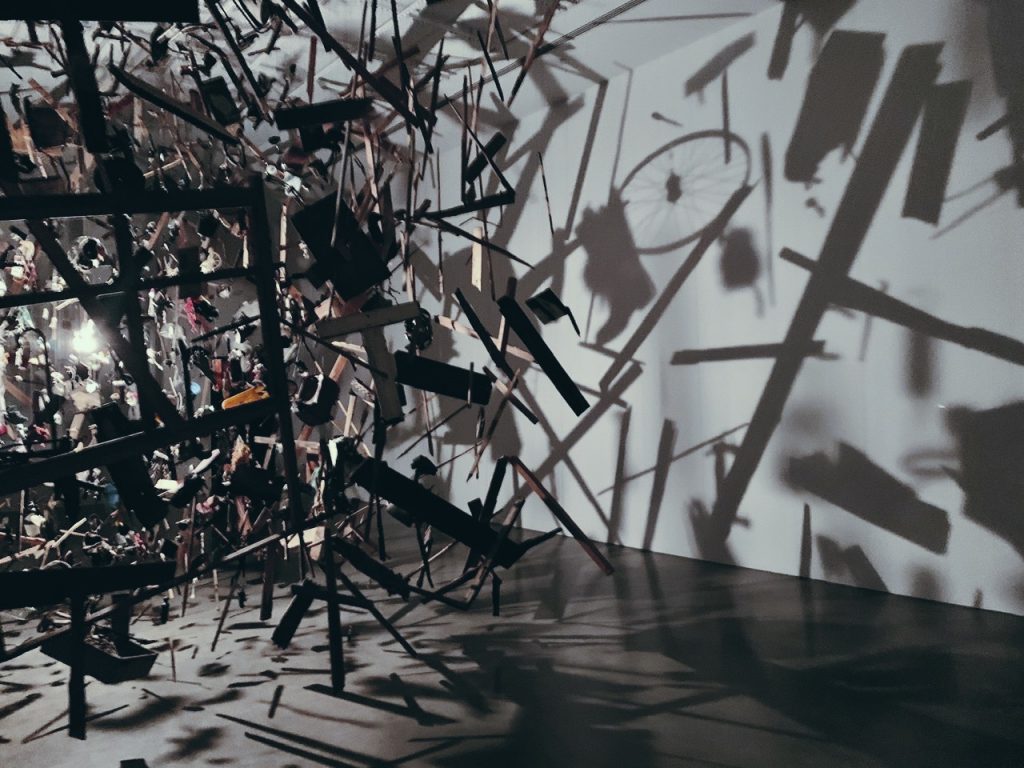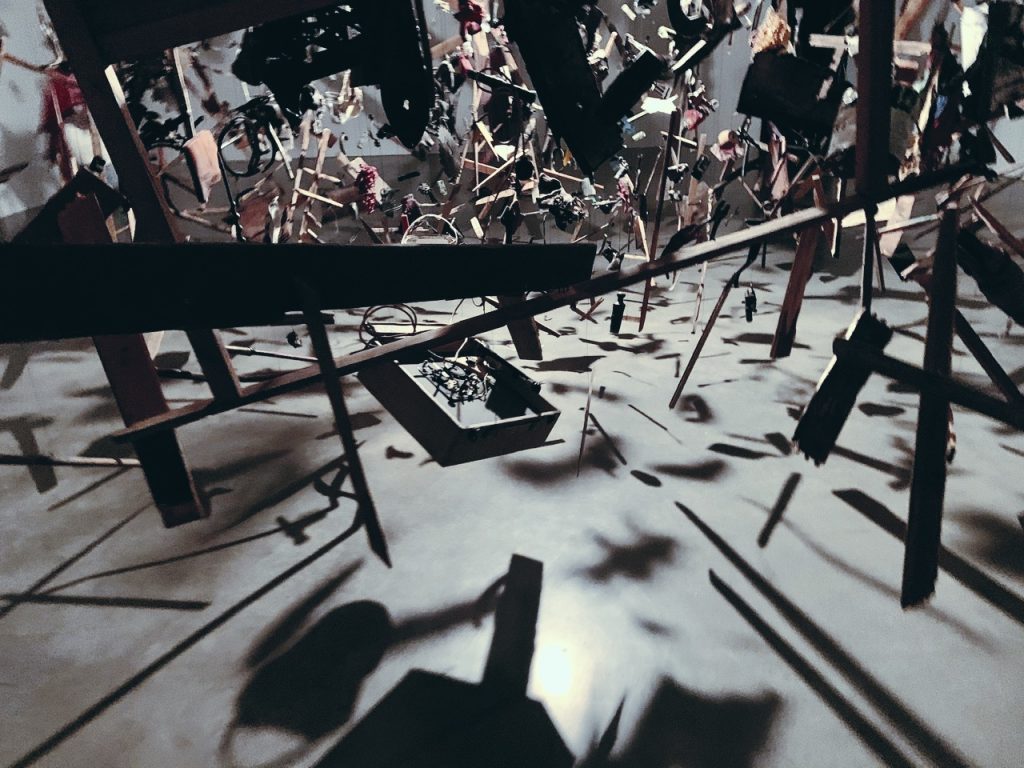 Cornelia Parker's work can be intimate as well as spectacular. Even her smallest works can be little mind bombs…

Adrian Searle, The Guardian
War Room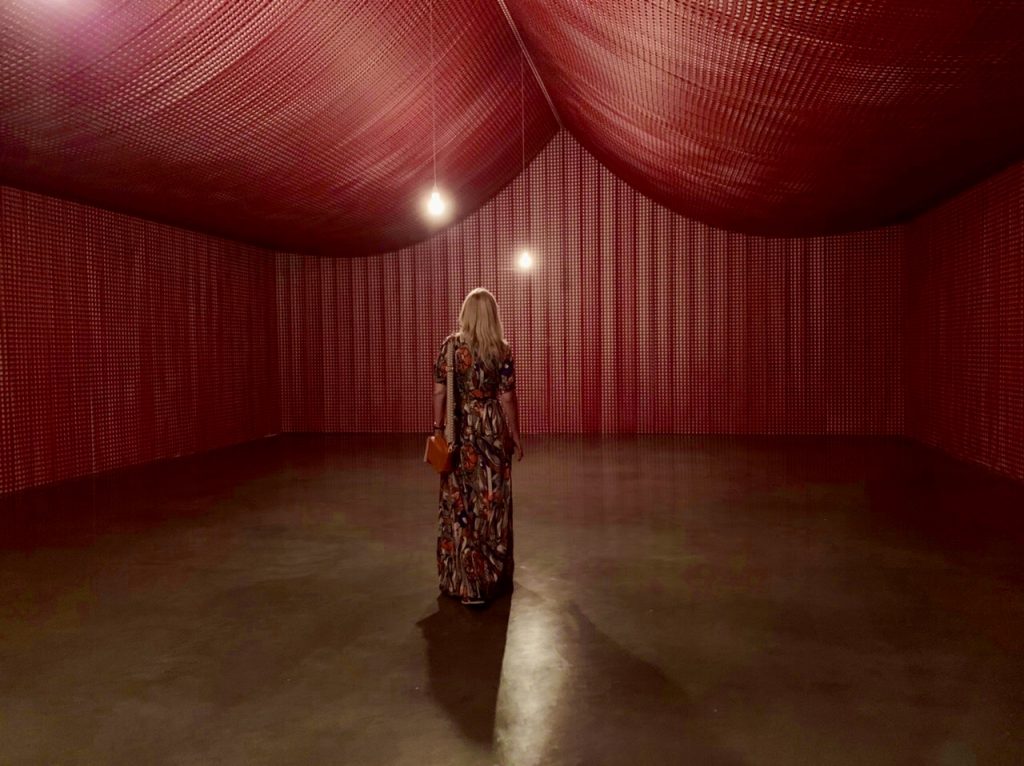 In her installation War Room, Parker salvages discarded strips of red paper from the Poppy Factory in Richmond, London. The Poppy Factory produces Remembrance Poppies to memorialize the Great War of 1914–18. The perforated paper has over 30,000 holes from removed poppy shapes; their absences recall human lives lost in conflict. It is a very poignant place when you understand what it means.
The impact of the installation comes slowly. At first, there is a stunning visual of a simple red temple-like room. The space is a double layer of salvaged material art to evoke a profound visual impact. Then, impact combines with the knowledge of how much blood was shed, the fragility of life, and how we remember the lost ones. Altogether, it's a riveting and reflective experience.
I needed to take time to contemplate life and how this powerful installation impacted me. I thought about it for days.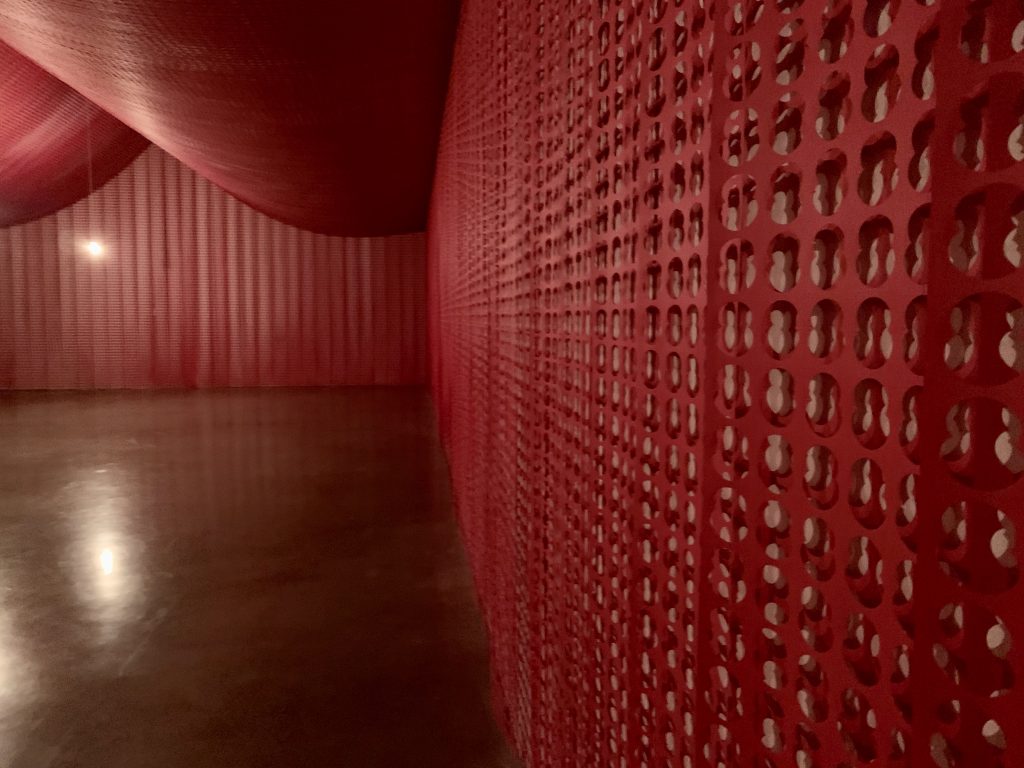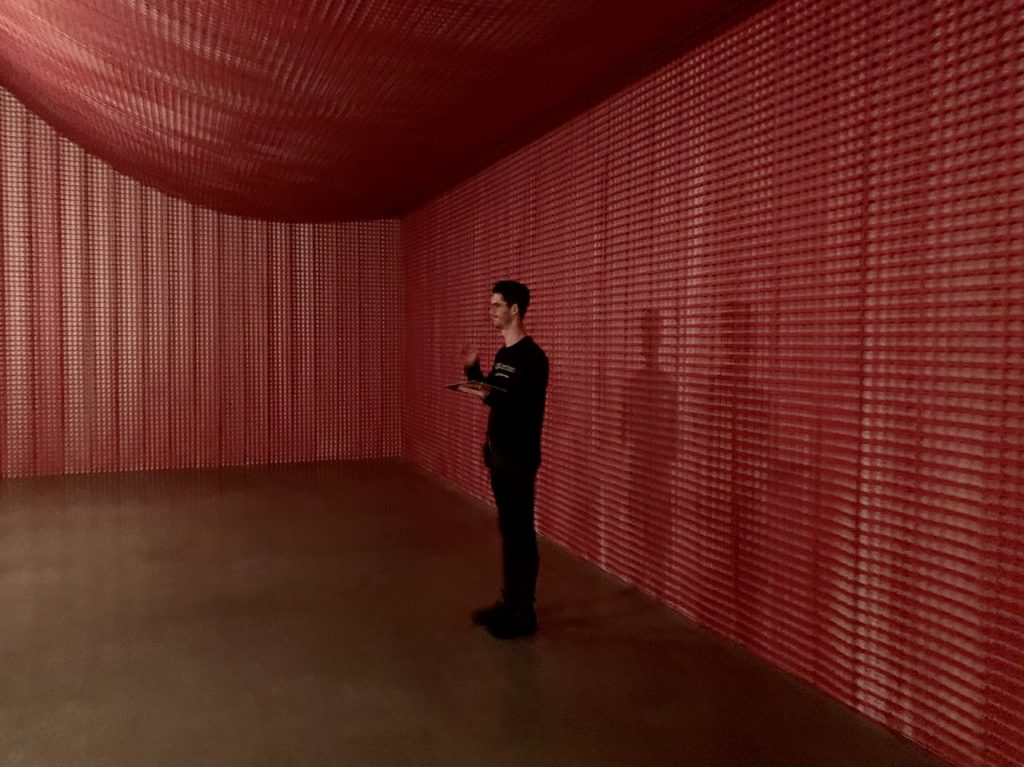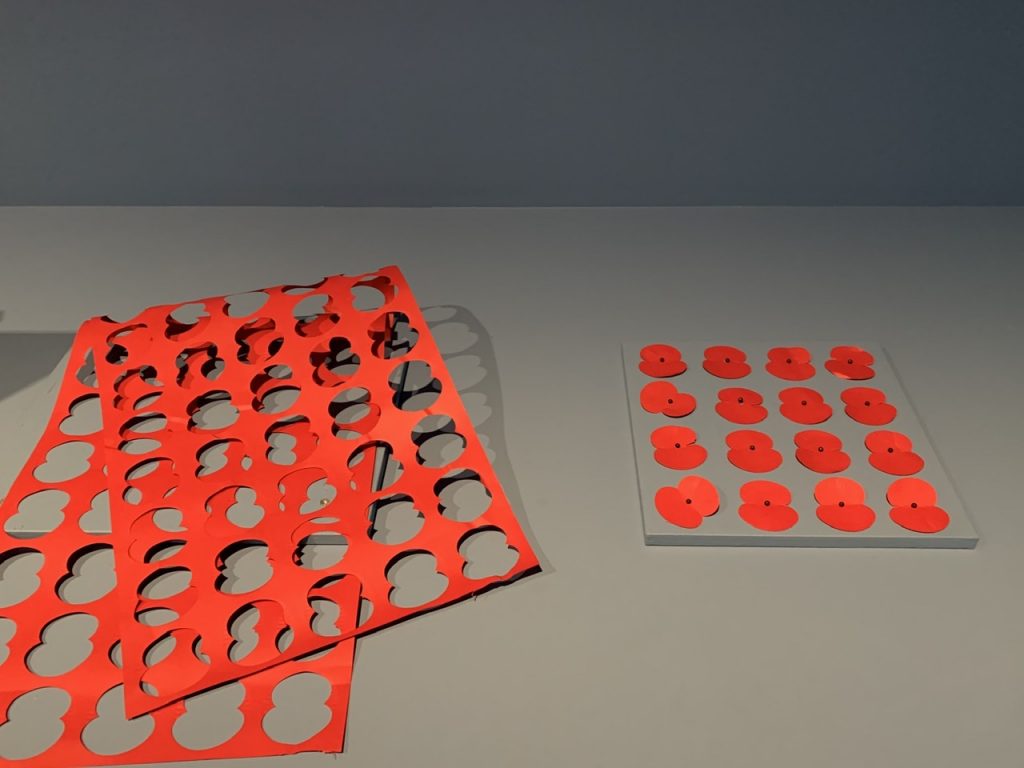 Subconscious of a Monument
The focal point of the Corneli Parker's exhibition is Subconscious of a Monument. This large-scale installation utilizes soil removed from beneath the Leaning Tower of Pisa in order to prevent the building's collapse. The powerful physical presence of the dried lumps of clay is matched by the weight of the material's past life.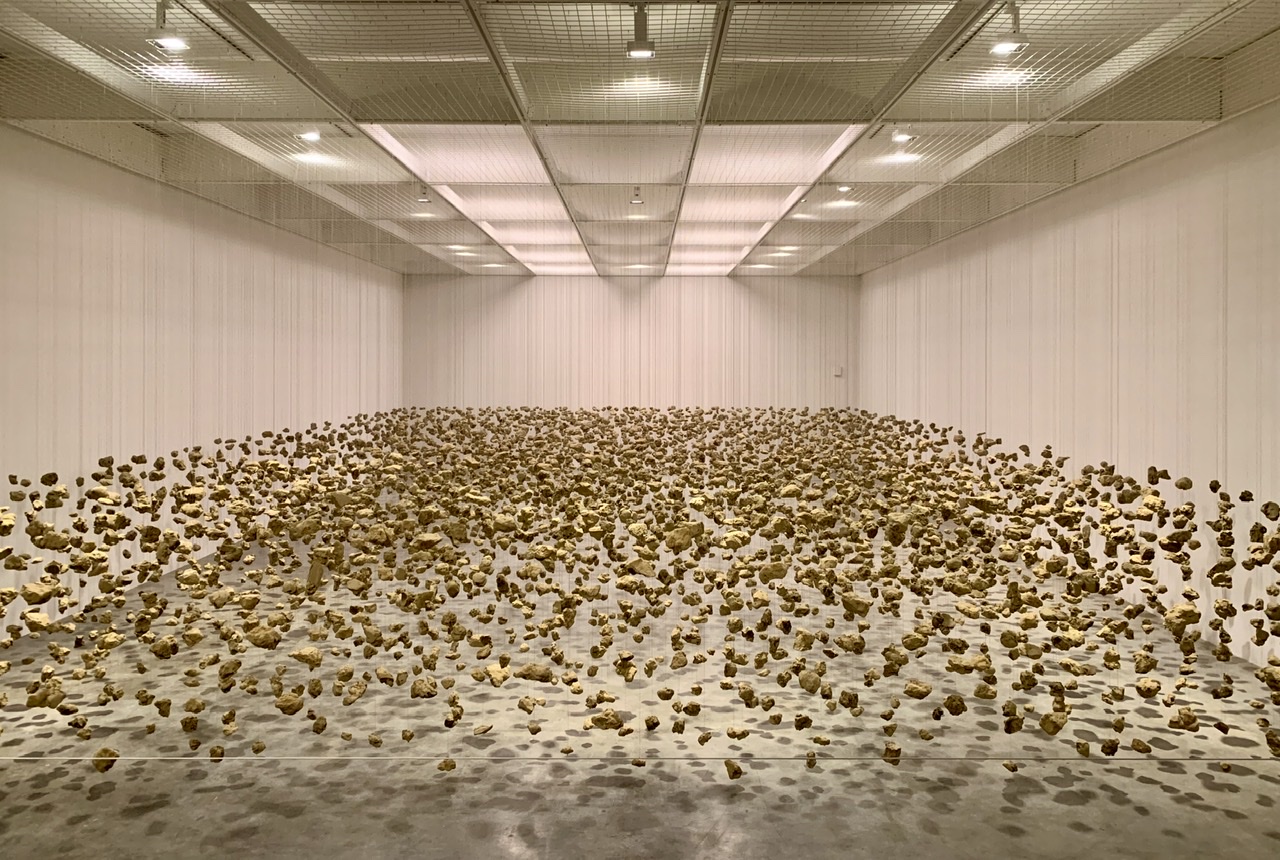 Subconscious of a Monument contains fragments of dry soil suspended on wires from the gallery ceiling. The scene provokes the imagination of how we can transform materials into possibilities. Visually, I loved watching the earth from different angles. Each view had something new to discover and to delight.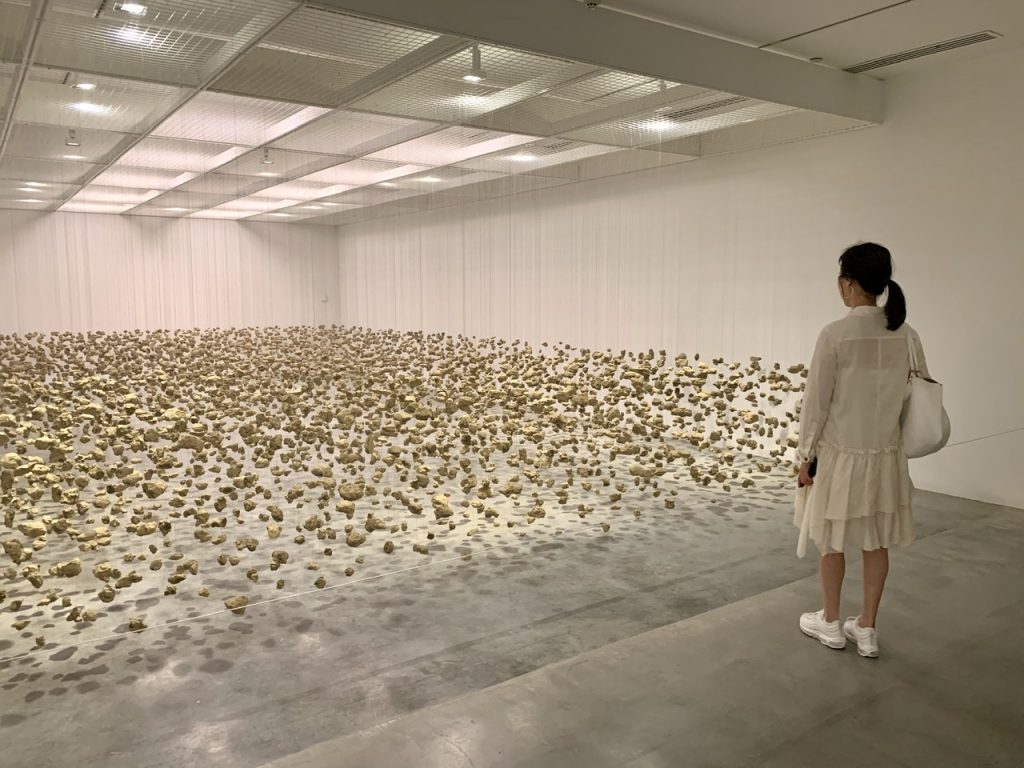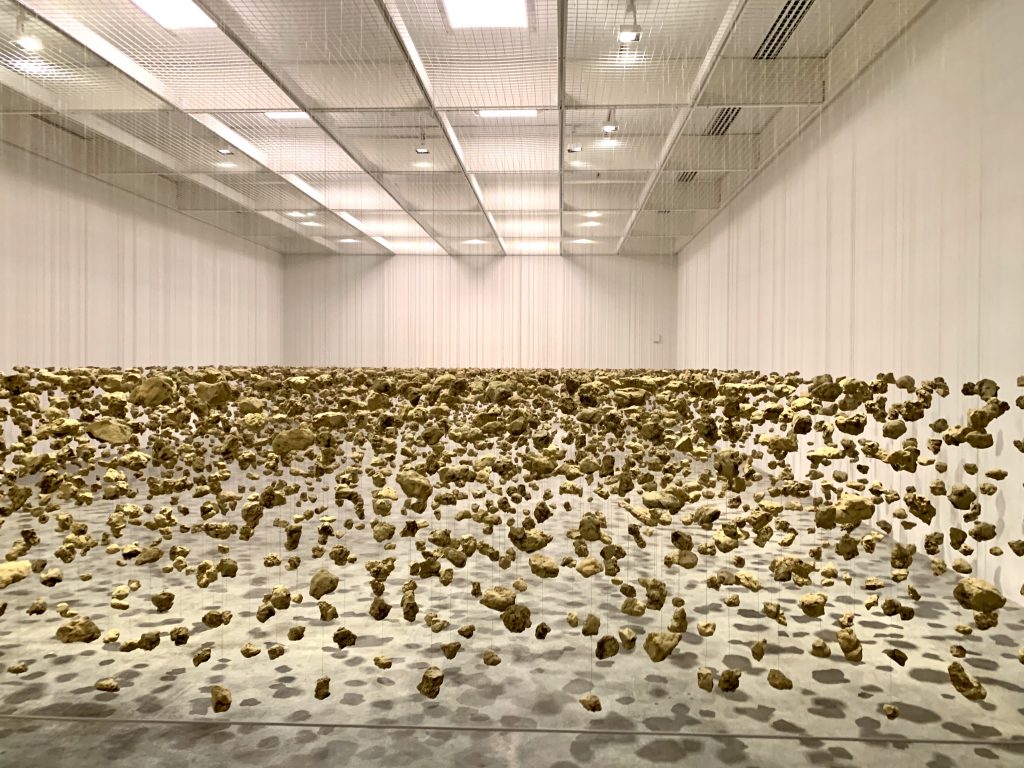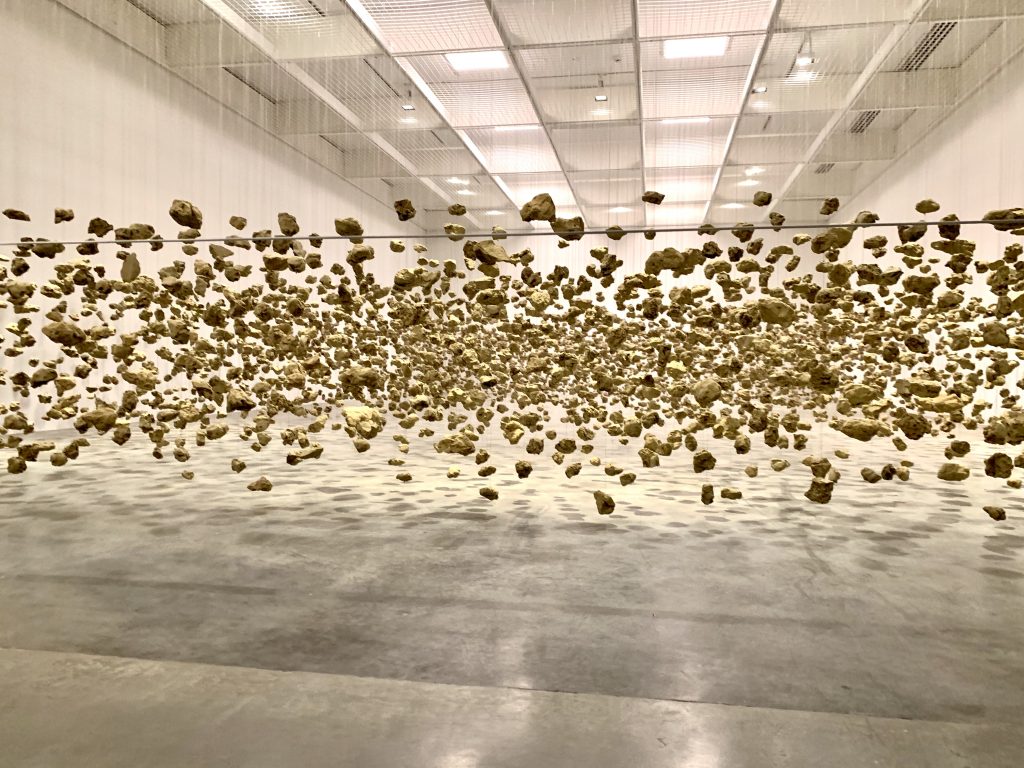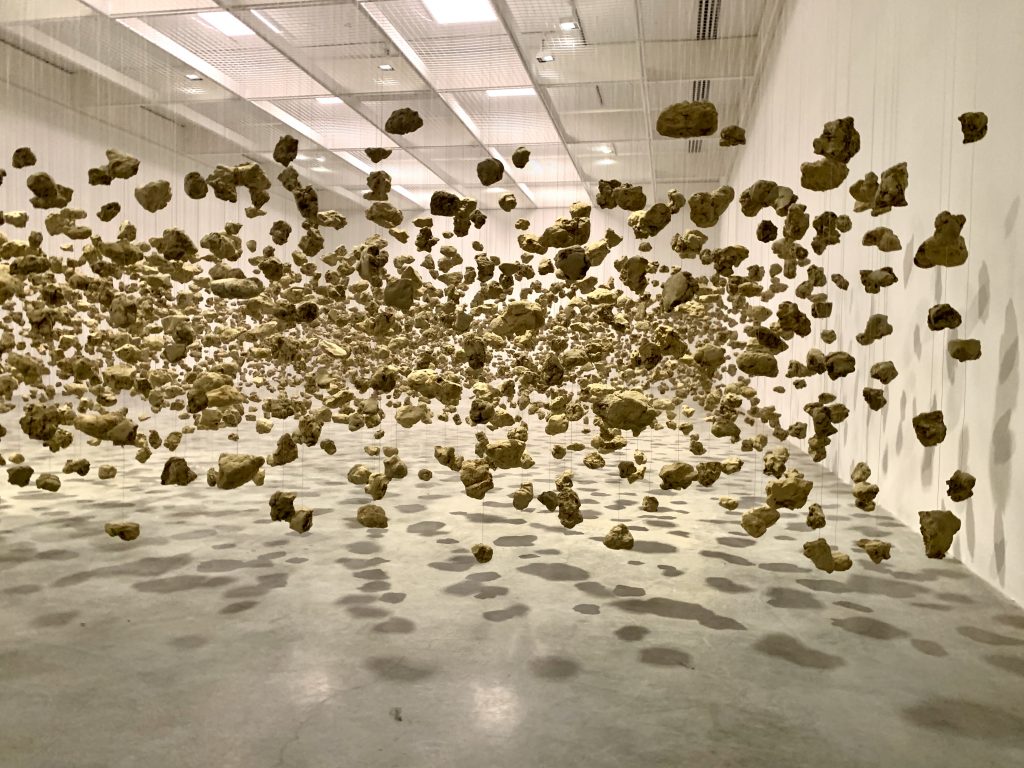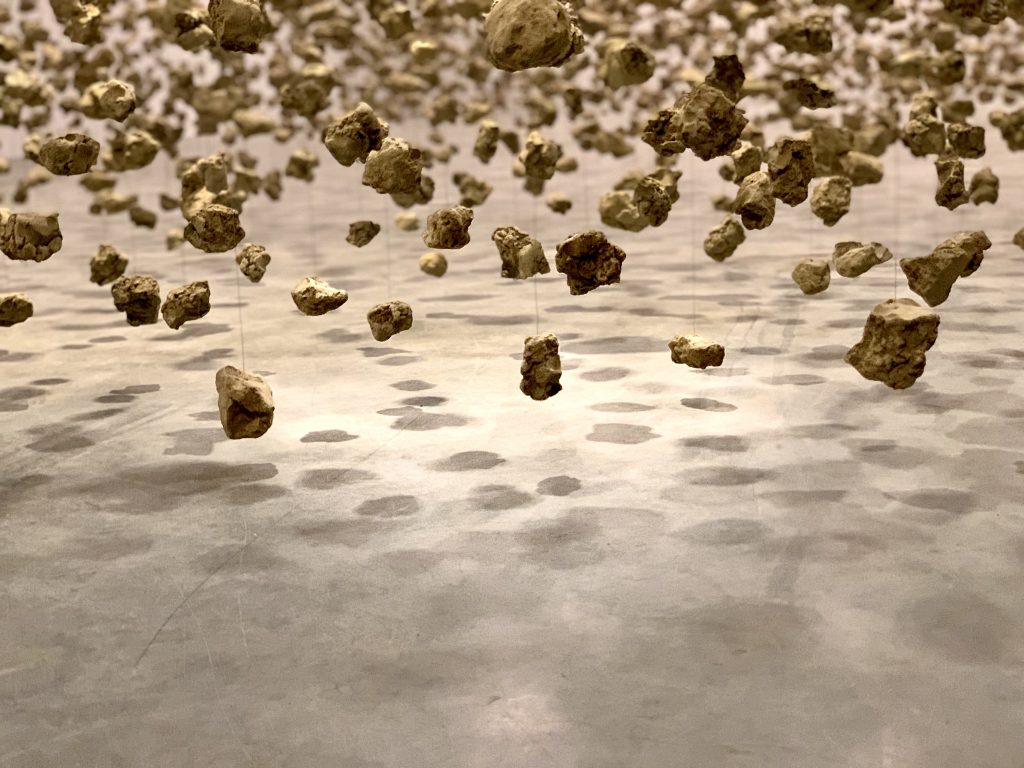 Thirty Pieces of Silver
Other highlights include Thirty Pieces of Silver, featuring thirty suspended pools of silverware. The materials were collected by friends, car boot sales and charity shops, then flattened by a steamroller. From silver plates, spoons, and candlesticks to teapots, cigarette cases, and even trombones, Parker transformed these very ordinary things into the new and extraordinary.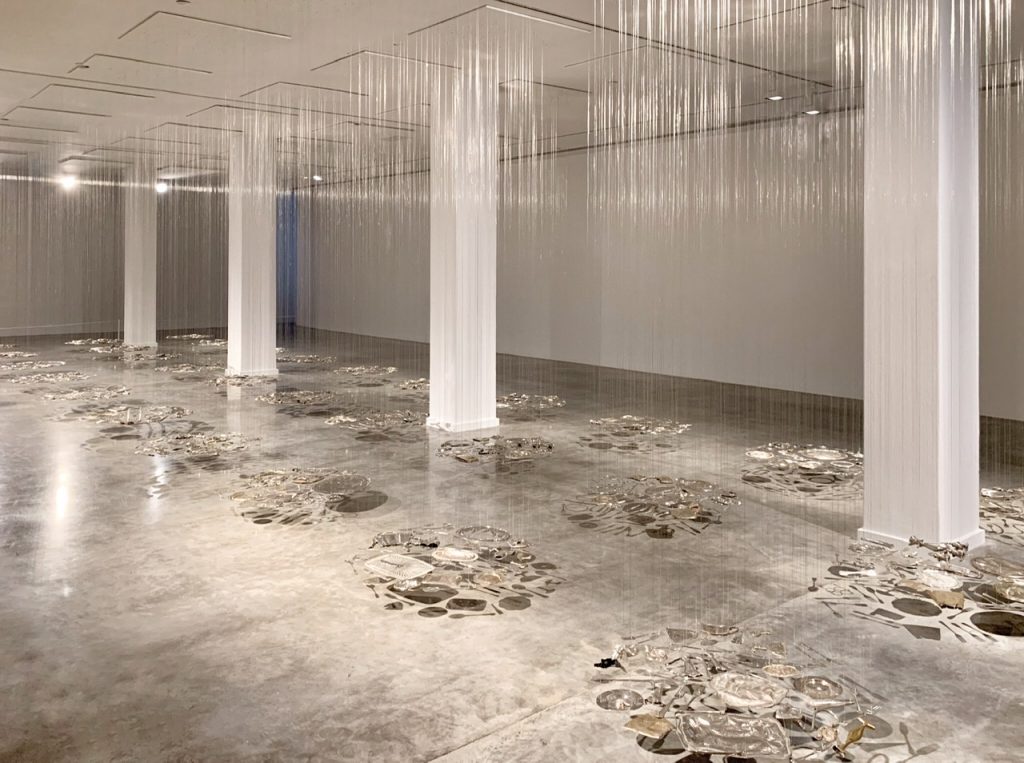 I find the pieces of silver have much more potential when their meaning as everyday objects has been eroded. Thirty Pieces of Silver is about materiality and then about anti-matter. In the gallery the ruined objects are ghostly levitating just above the floor, waiting to be reassessed in the light of their transformation. The title, because of its biblical references, alludes to money, to betrayal, to death and resurrection: more simply it is a literal description of the piece.

Cornelia Parker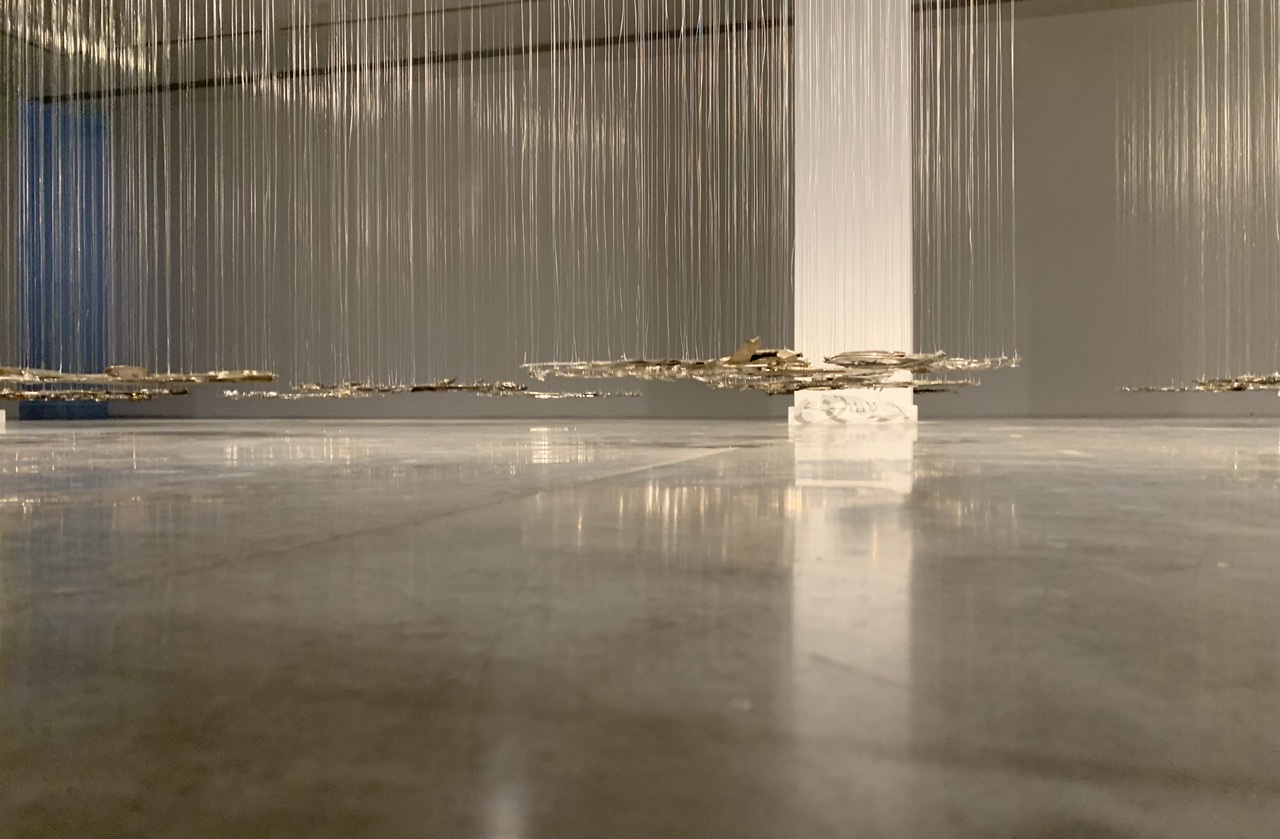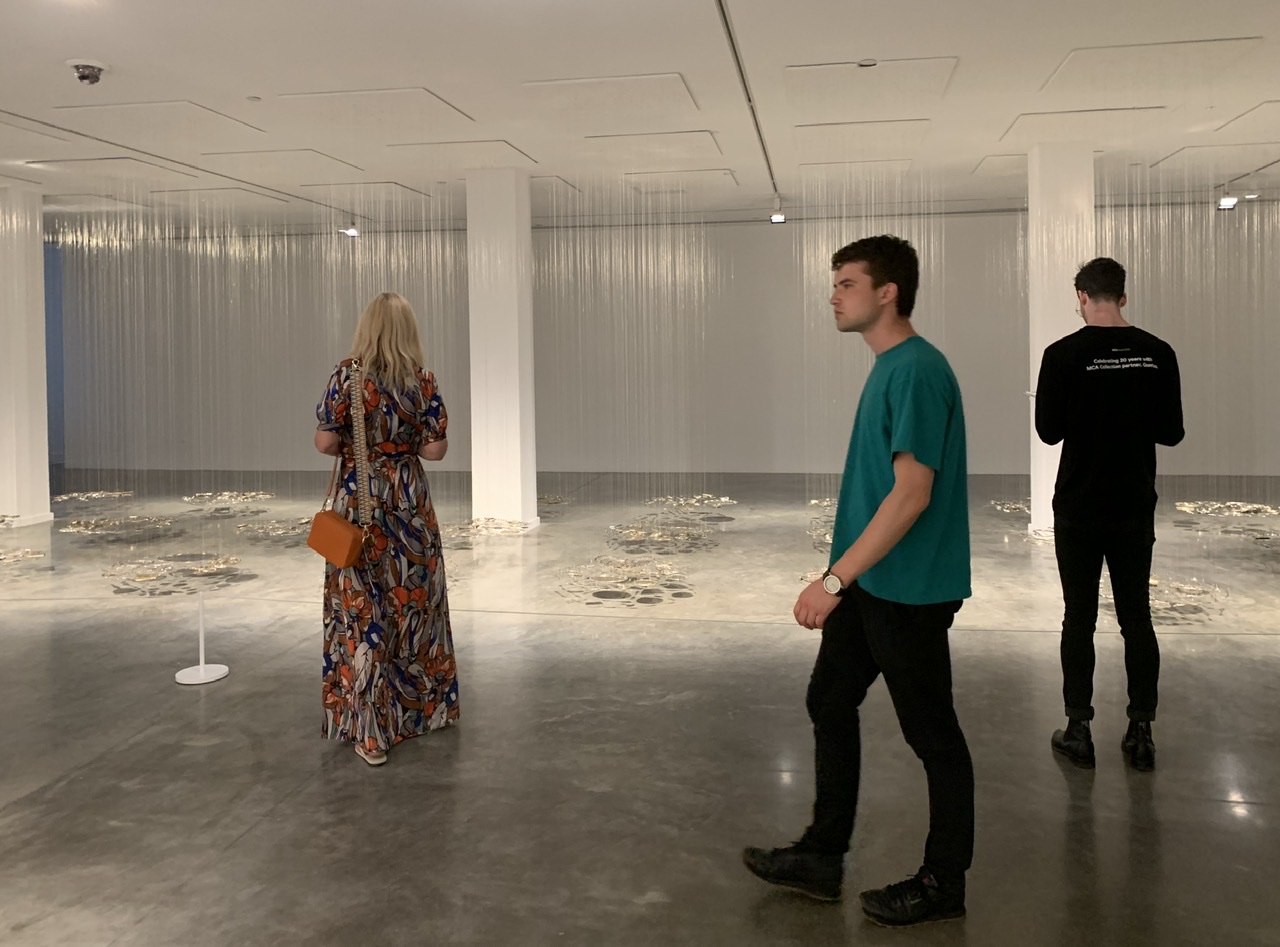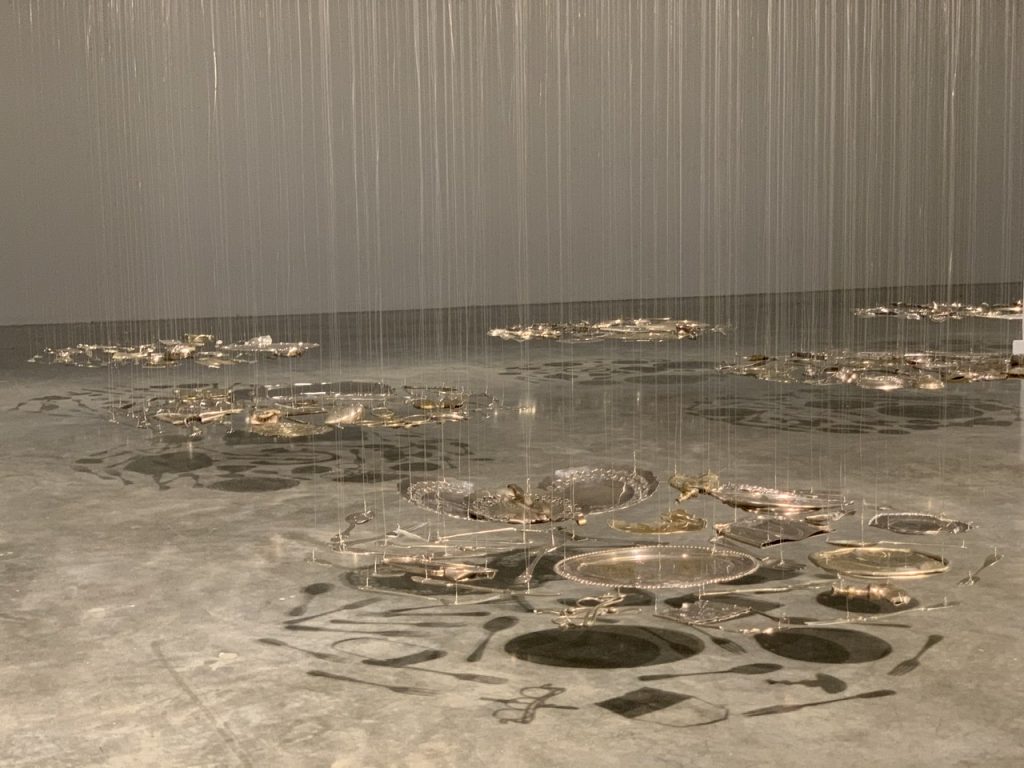 Cornelia Parker
Cornelia Parker is a worldwide recognized contemporary British sculptor who is known for her conceptual and installation art. This exhibition also offers many small exhibits that were as fascinating as her larger-scale work.
Cornelia Parker is the recipient of the Most Excellent Order of the British Empire (OBE), bestowed by The Queen of England. Moreover, it's a British Order of chivalry, rewarding contributions to the arts and sciences, work with charitable and welfare organizations, and public service outside the civil service.
Working in a wide variety of media, Parker's work features destructive amalgamations of household objects that are layered, broken, or repurposed into new structures. Numerous solo exhibitions around the world use her work as a focal point. Notable institutions include the Tate Modern, Serpentine Gallery in London and the ICA Boston.
Where to See It – Insider Tips
Cornelia Parker is on display at the Museum of Contemporary Art Australia until the 16th of February 2020. Furthermore, two of her permanent works are now on loan for this exhibition and are often presented at the Tate Museum.
MCA Australia Address
140 George St
The Rocks
Sydney NSW 2000
Opening hours
Daily 10 am – 5 pm
Wednesdays 10 am – 9 pm
If you're an art lover in Sydney, then the Museum of Contemporary Art is an amazing place to start your adventures. The entrance is free for their permanent collection.
Dining
MCA Cafe is a rooftop art gallery restaurant and Sculpture Terrace with the amazing views of the Opera House and Sydney Harbour Bridge. If you need a little art break, then I highly recommend visiting the Cafe between exhibitions for some coffee, wine, and food.
More on Instagram
You can see more images and videos from this exhibition on my Instagram and in my Instagram stories.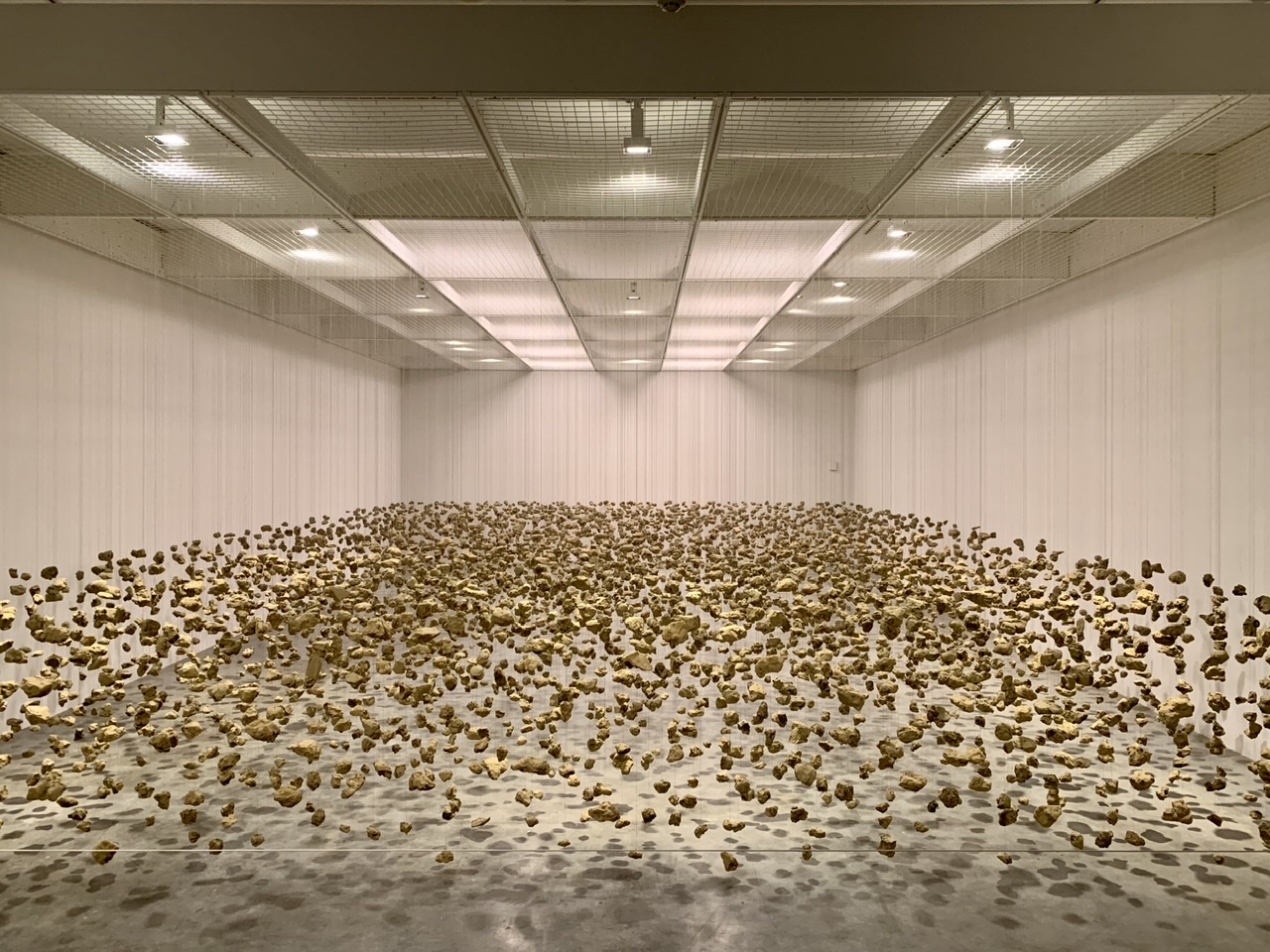 Where Is It?