Cartagena, Colombia was a spontaneous decision for a travel destination. I have a list of places I want to visit and I hadn't put much thought into Cartagena. Oh, what a wonderful surprise it was! The winter months have lots to offer from the abundance of warm weather while conveniently located four hours away from North America in the Caribbean Coast.
The Colors of Cartagena
Cartagena, Colombia is a historic city of superb beauty lying within centuries-old colonial stone walls. Cartagena's Old Town is a Unesco World Heritage Site and so colorful, charming and bursting at the seams with fabulous Latin music. With each step, you find a little wonder. Without a doubt, the best part of travel is immersing yourself in the local culture and the very welcoming Colombian people. It's exhilarating to see the world with different eyes. Fellow travelers carry many interesting stories as well. It was always a delight to have interesting conversations with warm people from Cartagena and travelers alike.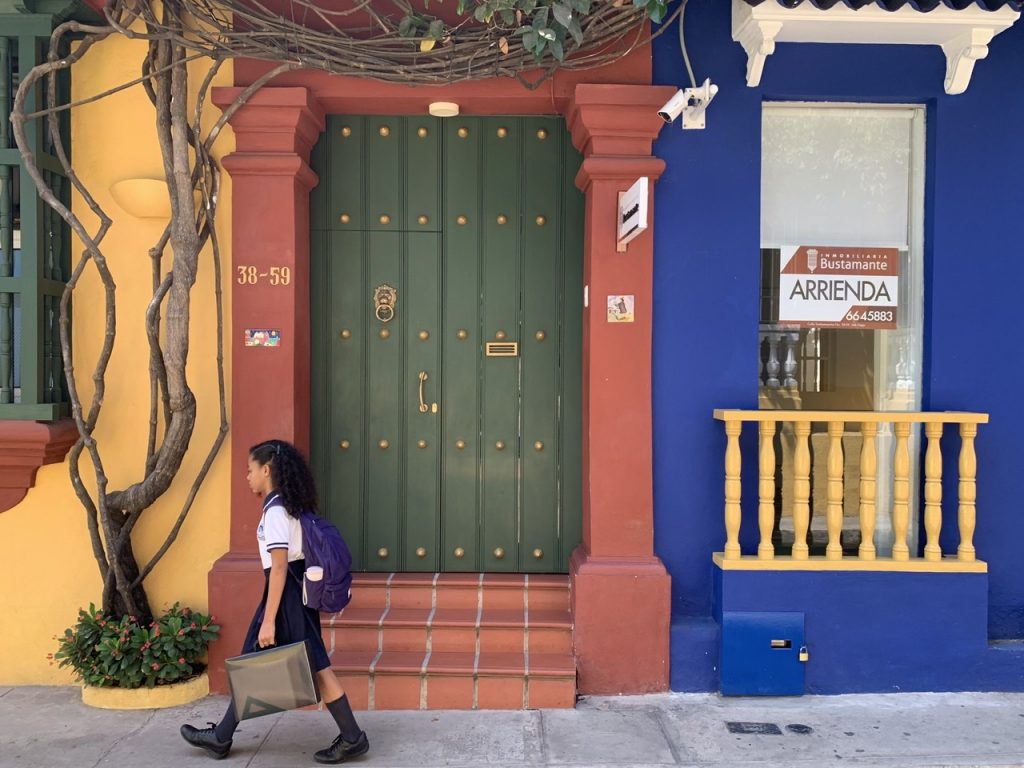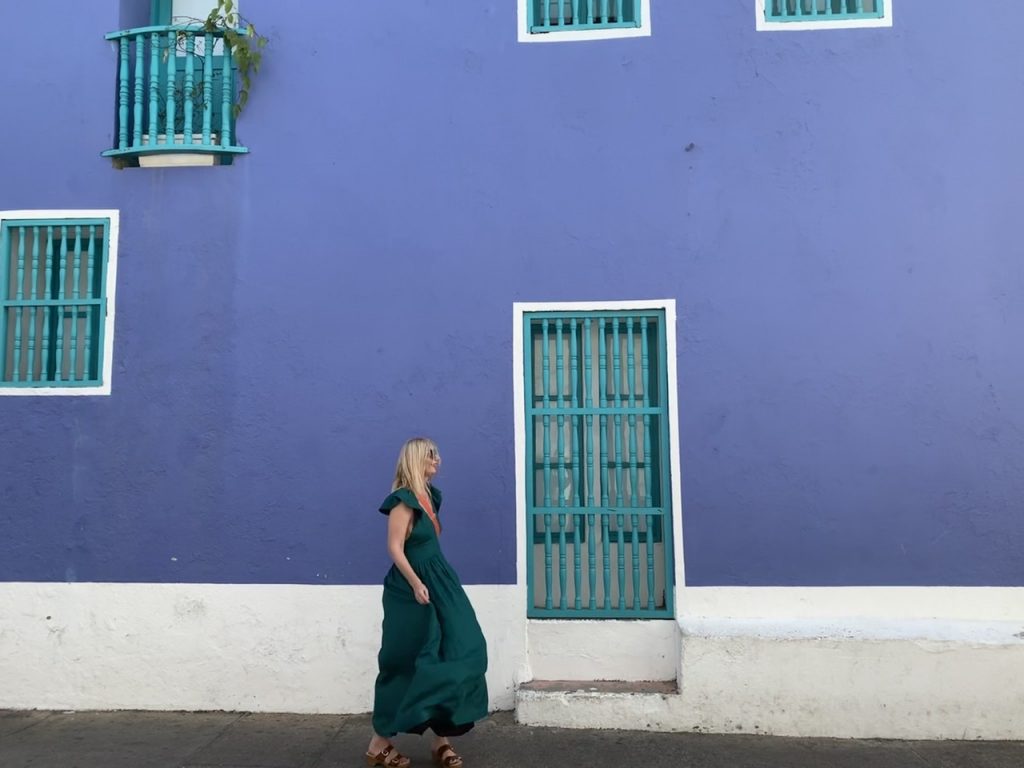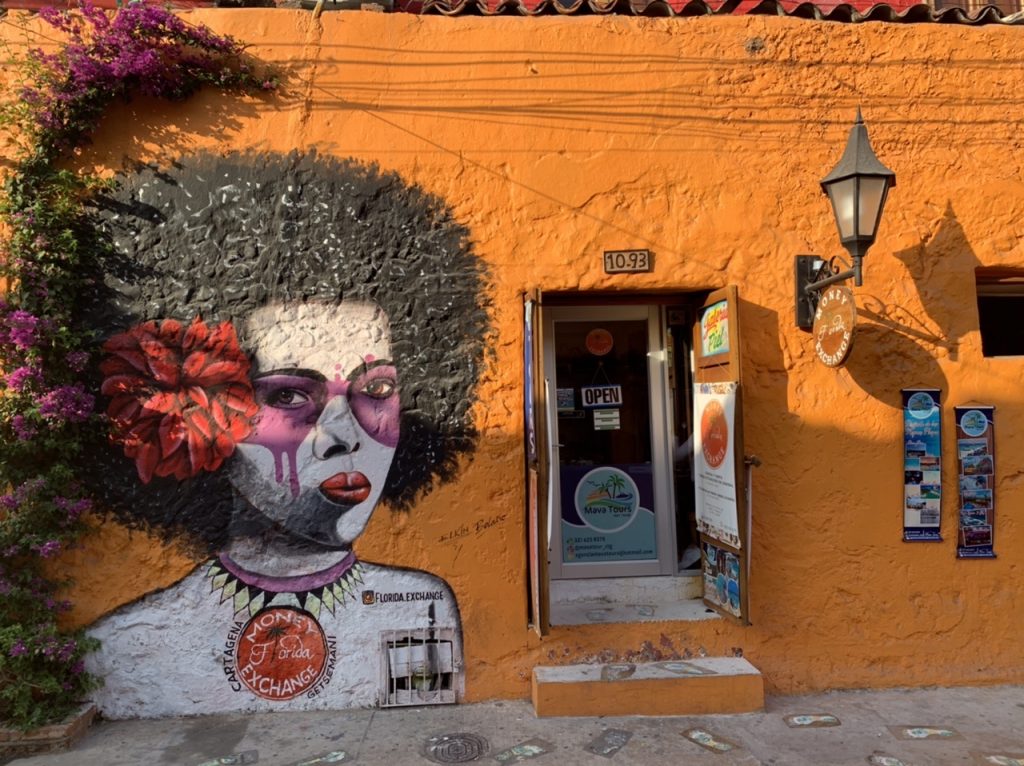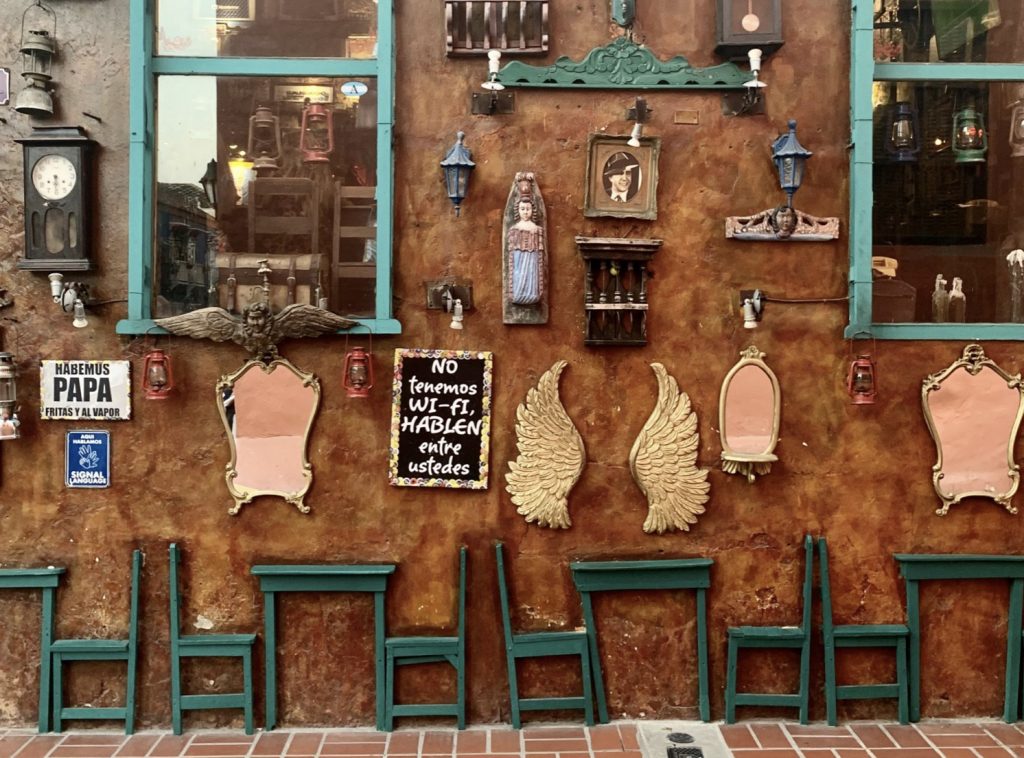 Land of Botero
You cannot imagine Colombia without Botero. Even though most of his works are in Medellin and Bogota museums, there are few delights to enjoy in Cartagena and to discover the other Colombian artists.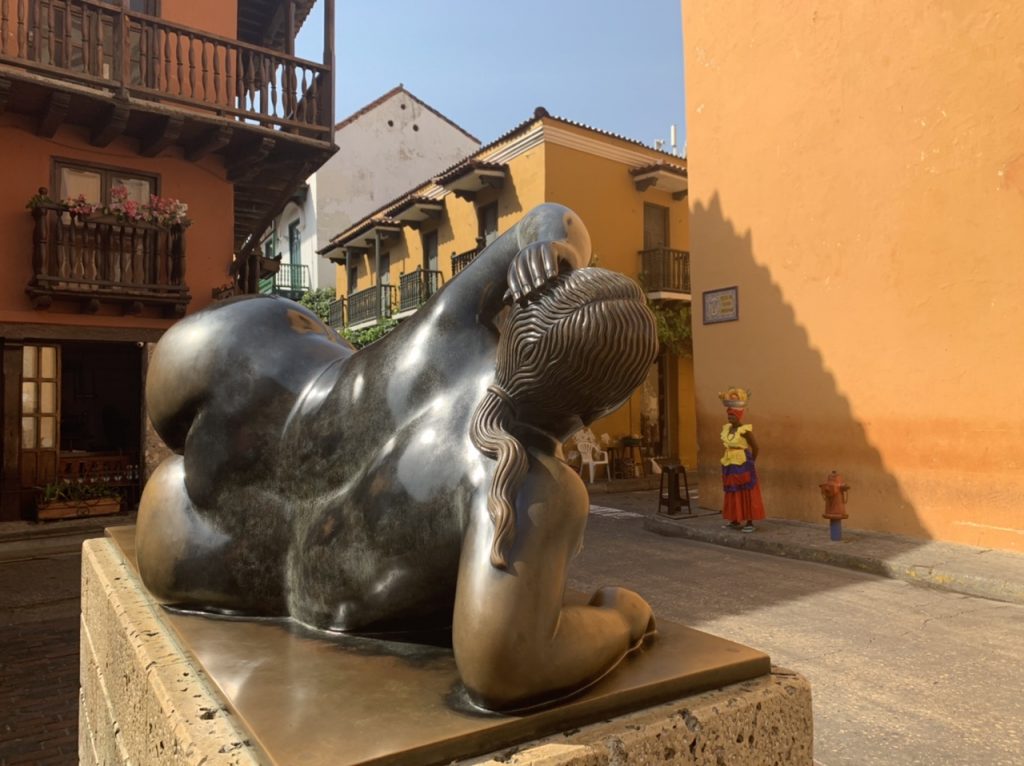 Fernando Botero is a Colombian artist with a penchant for voluminous characters and an explosive color palette. He is known for his signature style, known as "Boterismo", that depicts people and figures in large, exaggerated volumes. Moreover, his work has been used to represent political criticism or humor depending on the piece.
Born in Medellin, Botero is one of the most recognized living artists from Latin America. He came to prominence when he won first prize at the Salón de Artistas Colombianos in 1958.
Modern Architecture in Cartagena
The old Theatre Circus or Plaza de La Serrezuela is nestled in the heart of Cartagena's historic San Diego neighborhood. Likewise, the plaza has been completely refurbished and given a new life as Cartagena's cultural, commercial, entertainment, and gastronomic center. From a former bullfighting arena into this fabulous architecture, it's nothing short of an amazing transformation.
The majestic Plaza de La Serrezuela has been completely reborn as a cultural space that can comfortably seat 1,900 people. Additionally, the place is a magnificent backdrop for cultural and artistic events.
Art in Cartagena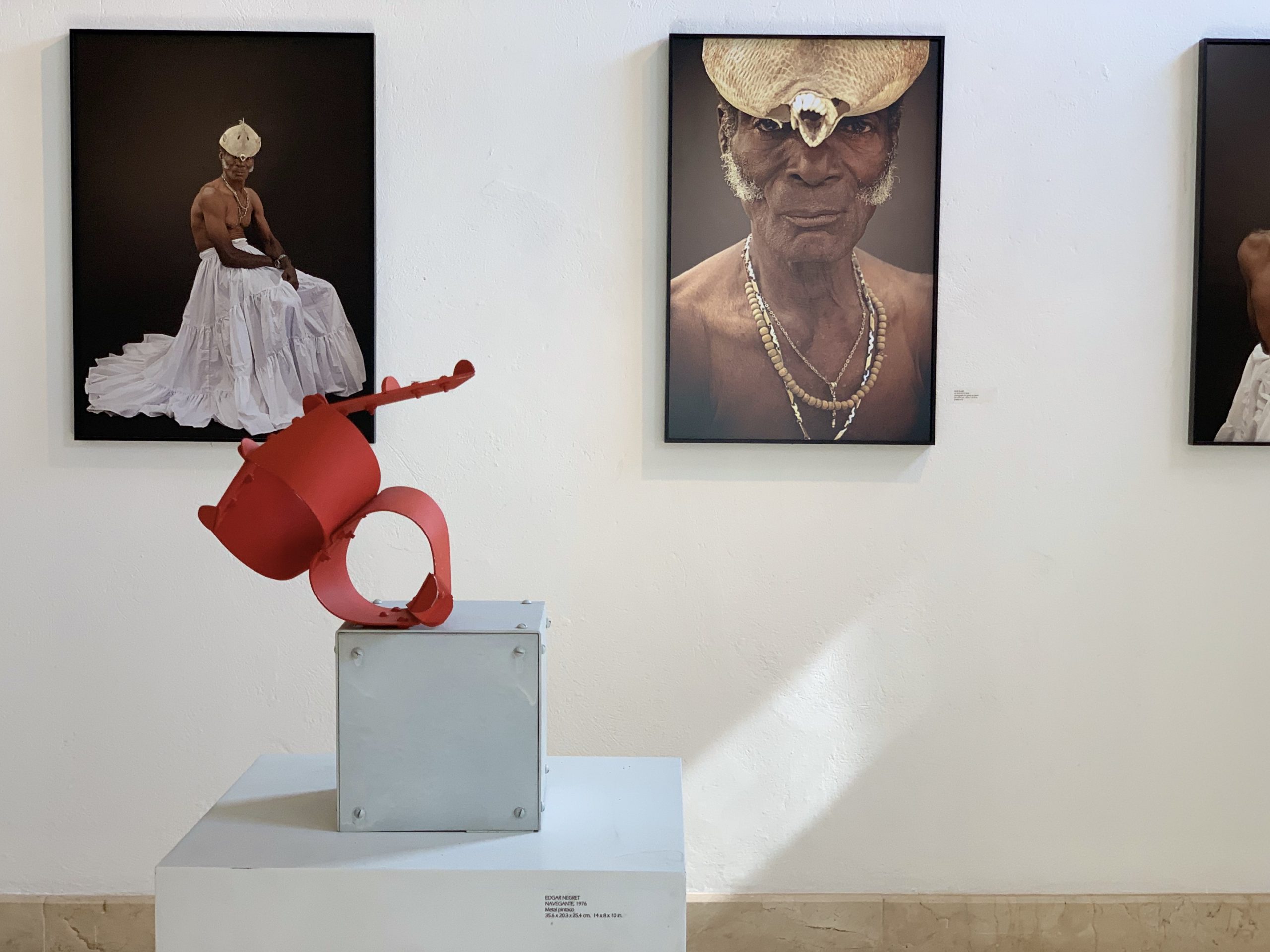 Land of Gabriel Garcia Marques
I am a huge fan and an avid reader of Gabriel Garcia Marques. There was something so special in finding a small charming bookstore Abaco Libros y Cafe, getting Markes and reading the book in Colombia. I felt like I was in Macondo. Sometimes, some small moments in life are truly glorious. This was one of them.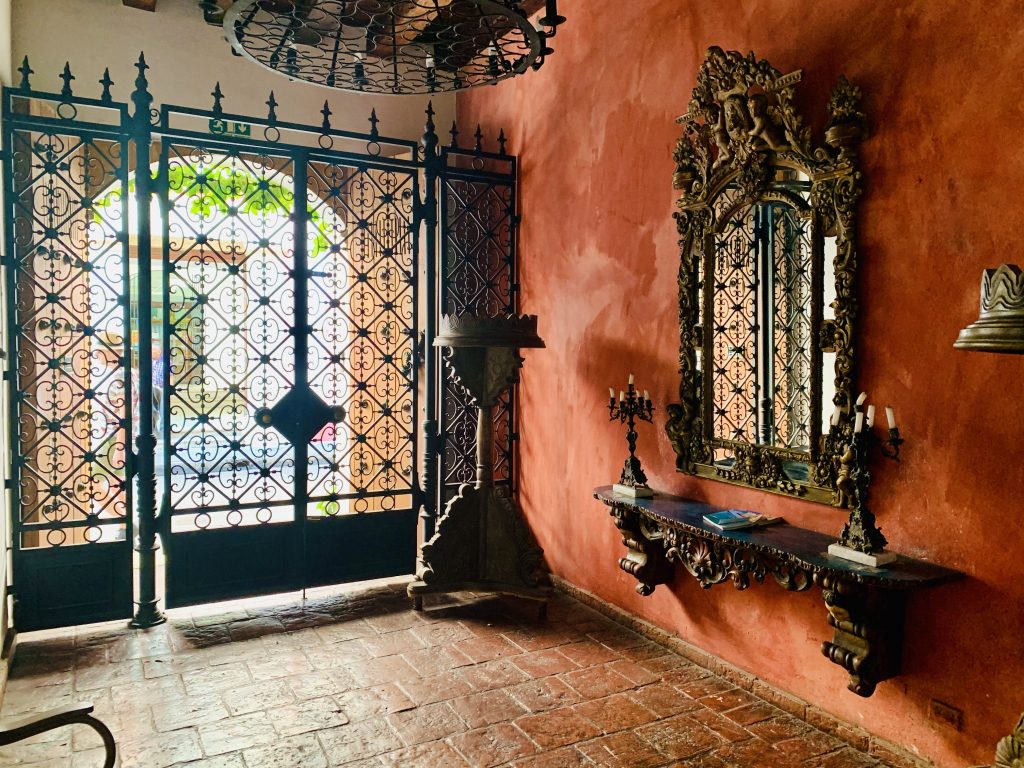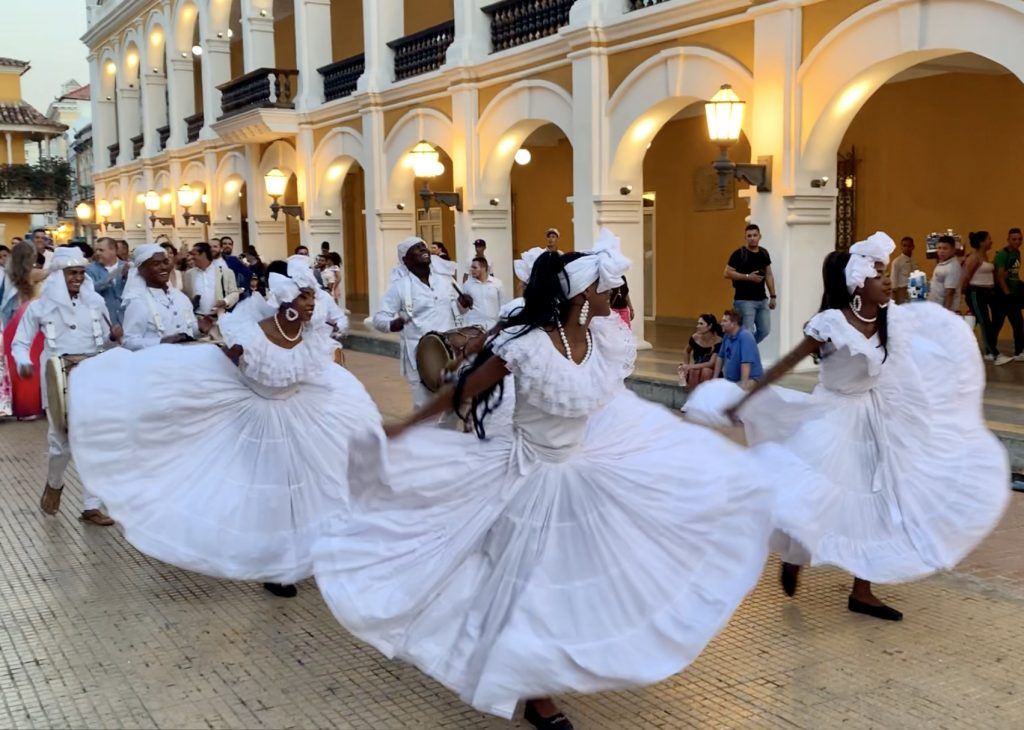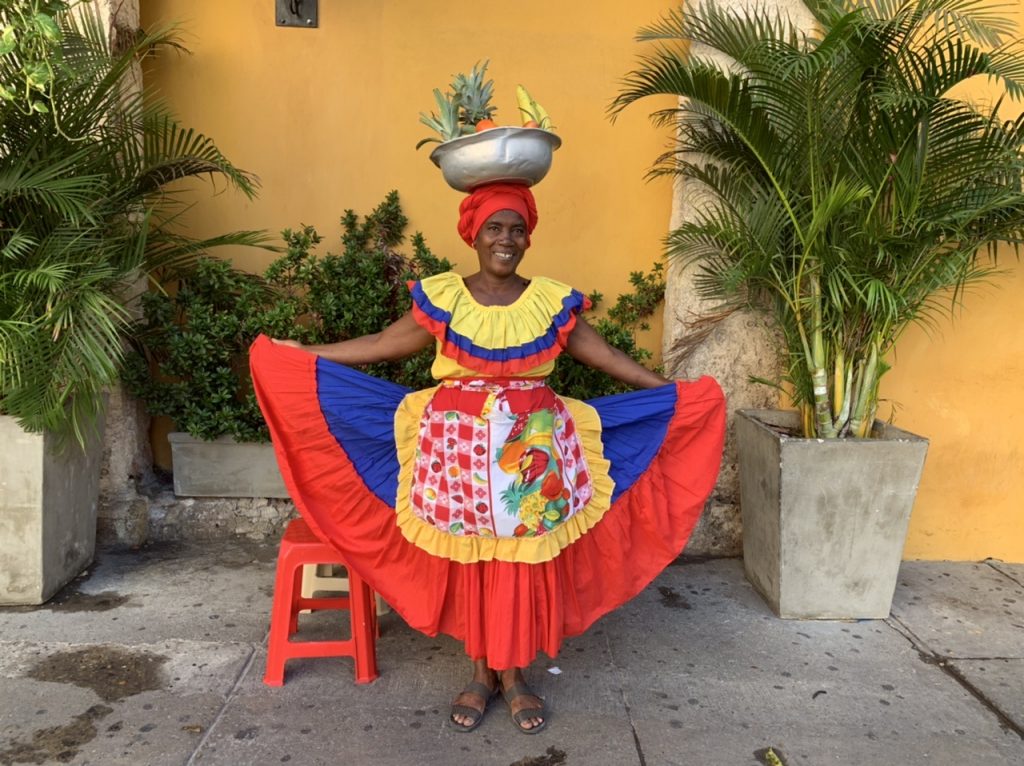 "It was enough for me to take a step inside the wall to see it in all its greatness in the resplendant light of six o'clock in the afternoon, and I could not suppress the feeling of being born again."

Gabriel Garcia Marques
An Insiders Guide to Cartagena, Colombia
Where to Stay
Casa la Fe – Yosh from the hotel was amazingly helpful and simply wonderful with all the travel arrangements. Undoubtedly, he truly had shown me the legendary Colombian hospitality. It's a charming place in the prime location in The Historic Walled City. To illustrate, I had a beautiful balcony looking at the square and enjoyed how the city wakes up each morning. Ask for the room with a balcony, there are only two balcony rooms that are facing little square.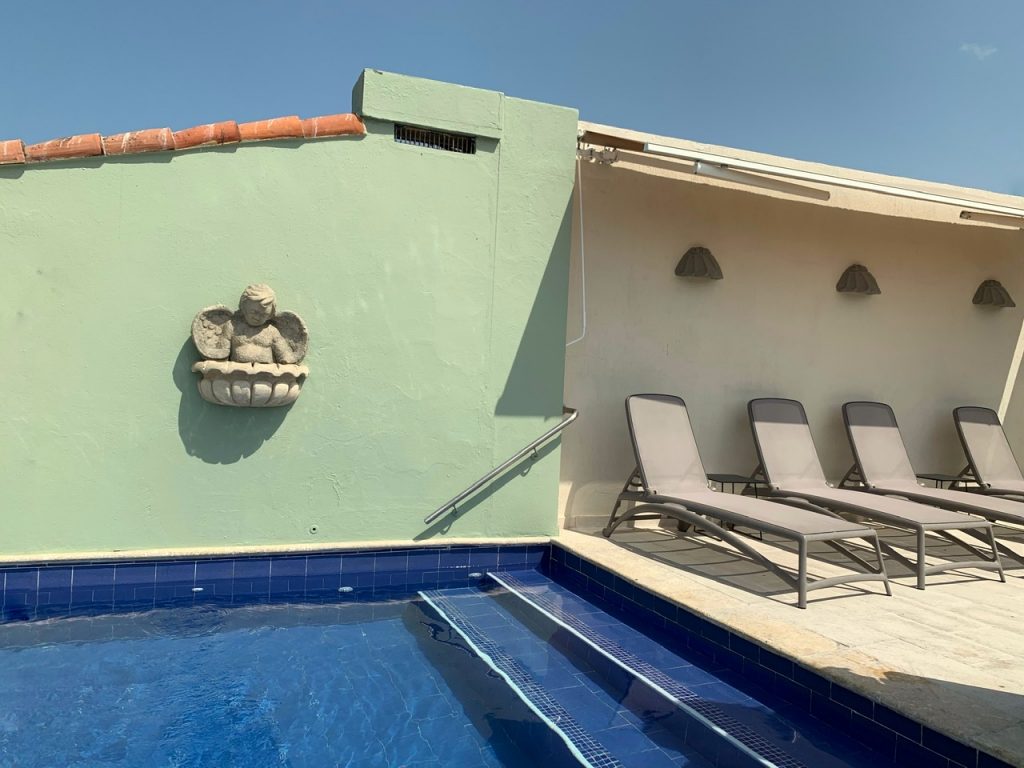 Airbnb has amazing places in Cartagena, Colombia. I stayed in a stylish loft with a great balcony by the Clock Tower and it was simply spectacular. Without a doubt, the best area to stay in Cartagena is The Historic Walled City.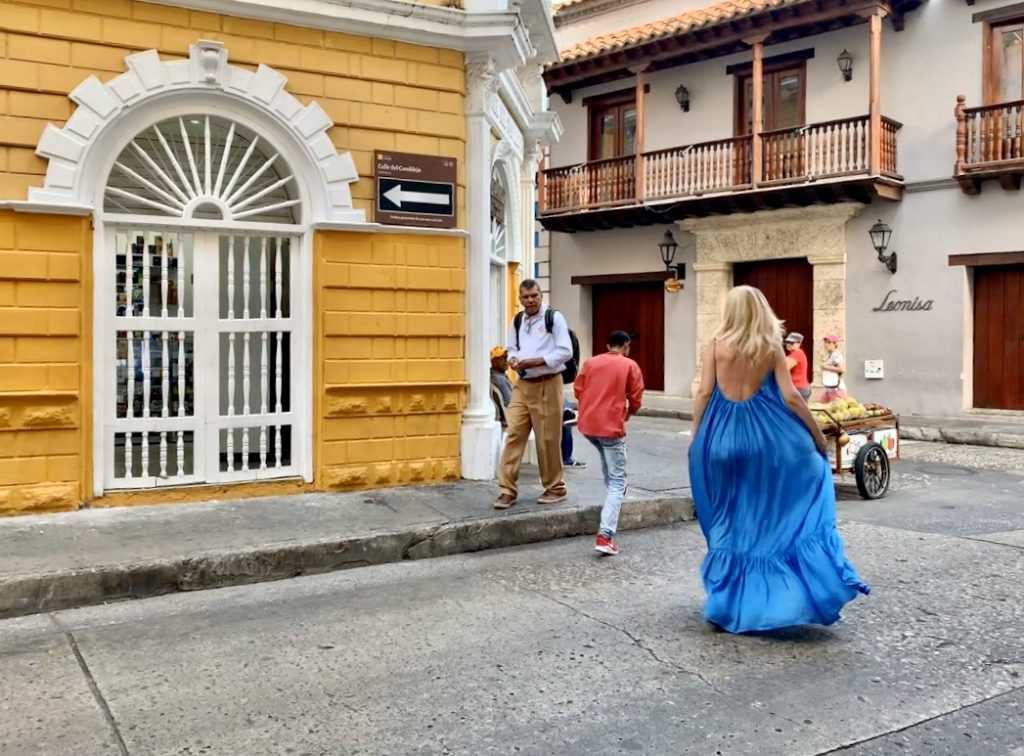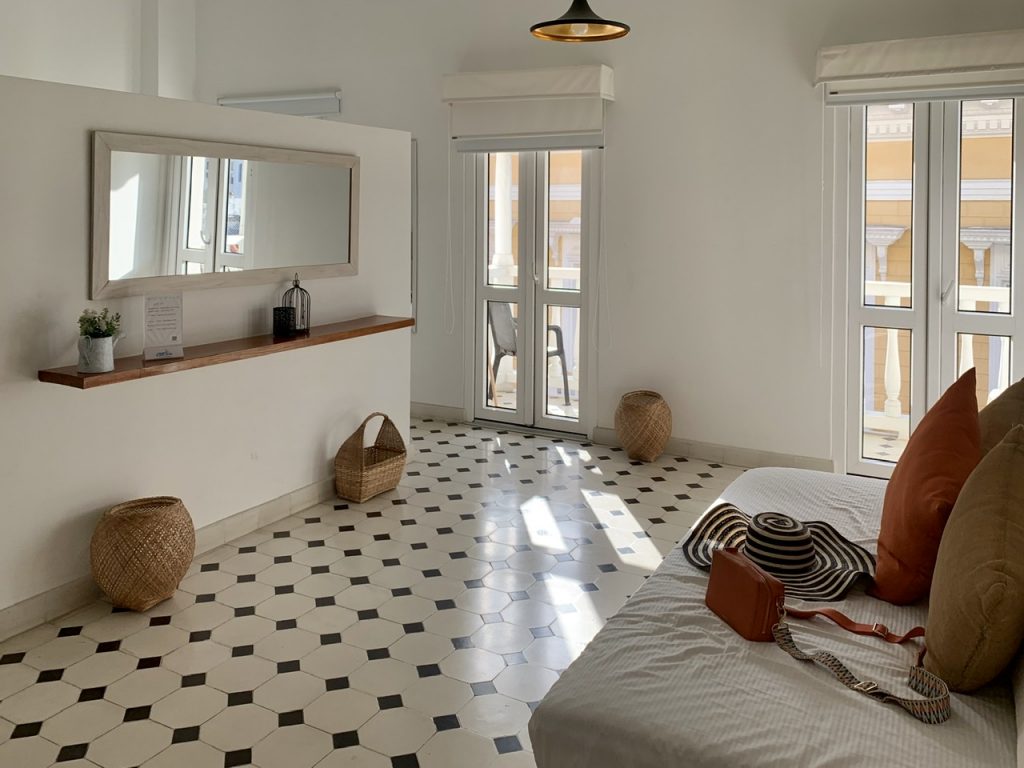 Where to Eat and Drink
Epoca Espresso Bar – Artisan Coffee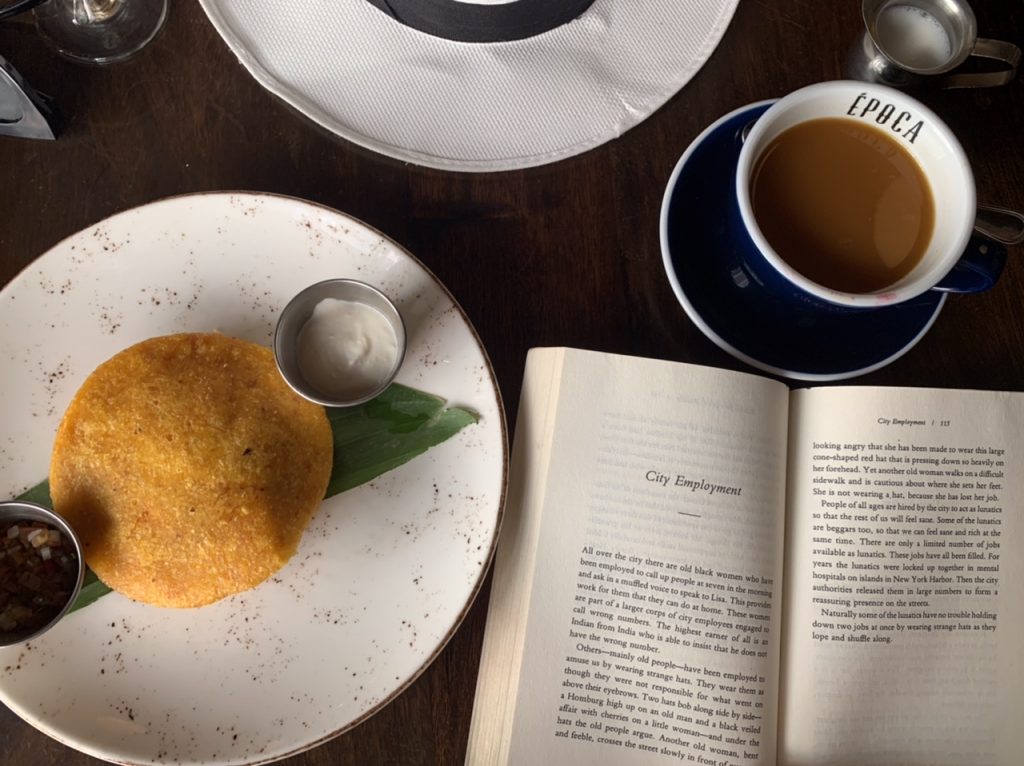 The Art of Coffee
Of course, Colombia would not be Colombia without its world-renowned coffee. Within all of Cartagena, Epoca was the best coffee I found. Undoubtedly, it's designed as a place for the art of coffee and connoisseurs. The staff is so friendly and helpful to educate about the mysteries of coffee and its immaculate preparation. Everything that I tried, and I tried many different coffees, were simply amazing. I checked both locations but went more often to the Arzobispado location as it was closer to my Airbnb.
La Cevicheria
You will find very fresh ceviches in this charming restaurant. To find it, it's in the Old Town and surrounded by lovely streets. Not surprisingly, it was Anthony Bourdain's favorite in Cartagena. It has also a laid back, fun vibe.
Restaurante Bar La Estrella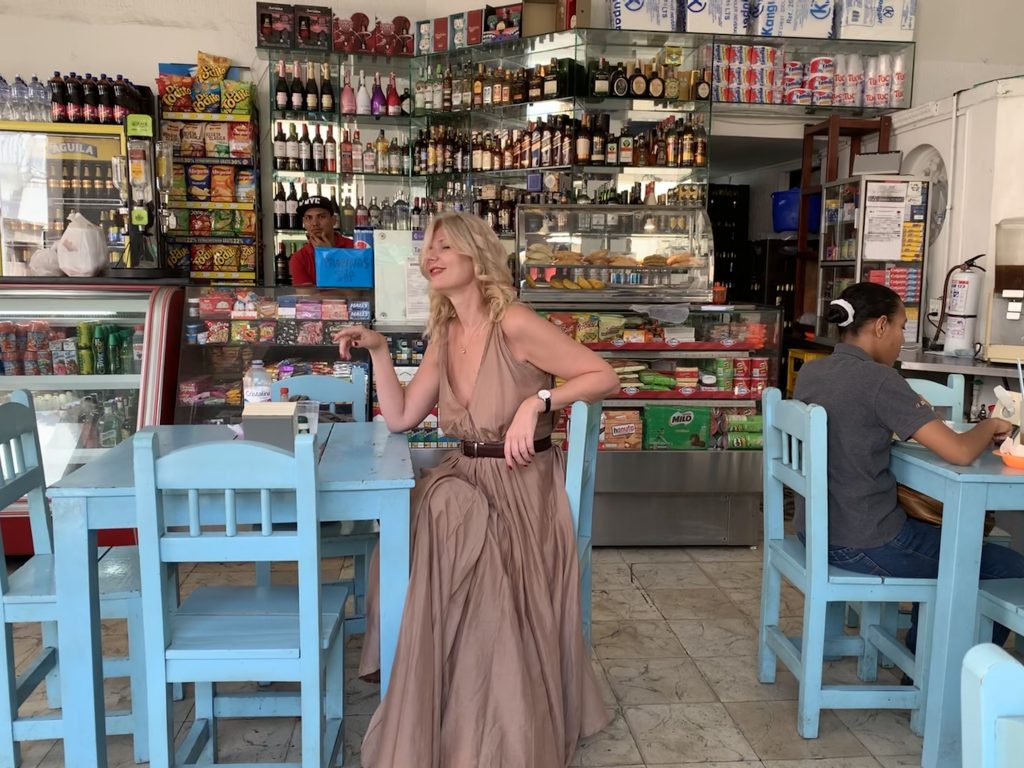 This place has so much charm, local vibe, and a delicious fish fillet. I went to a hairstylist before and got this glamorous Colombian hairstyle. There is always great music, nice staff, and tasty food. They serve lunch only – the rest of the day it's a place for a drink.
La Vieja Guardia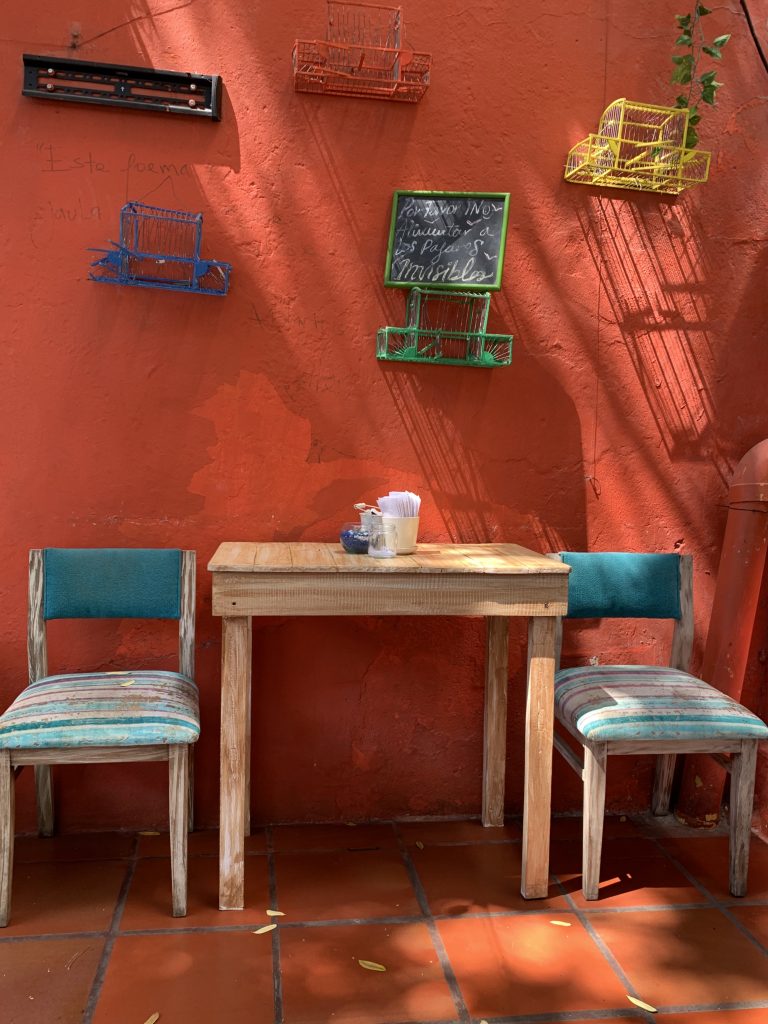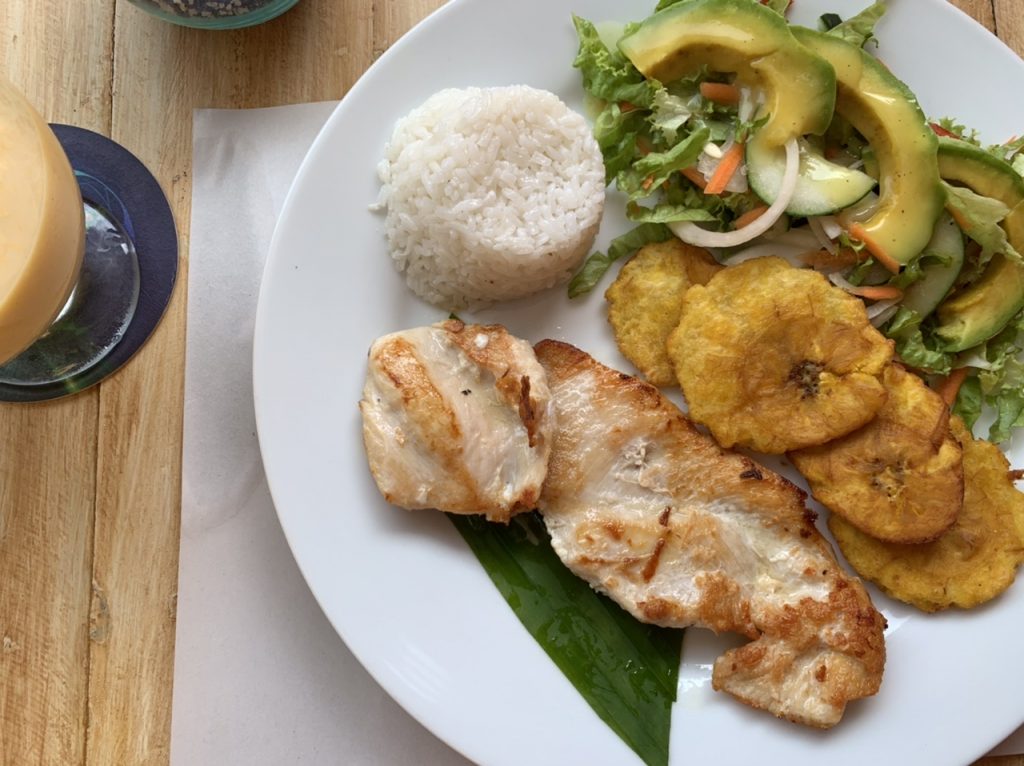 Dona Lola at Getsemani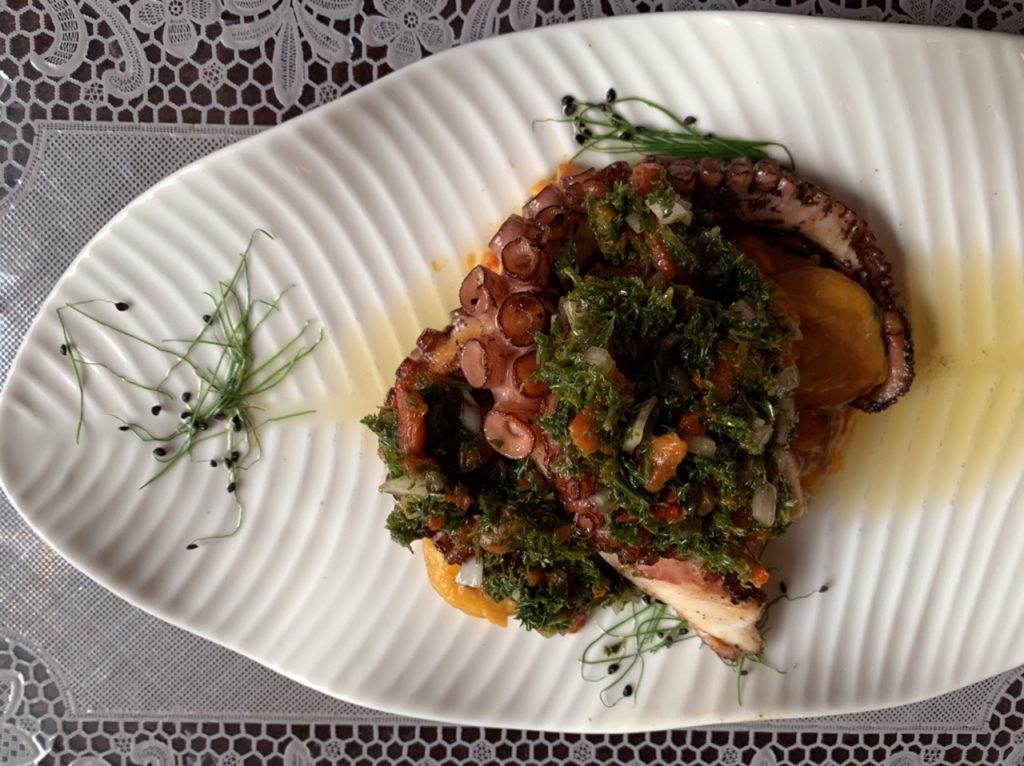 Prispri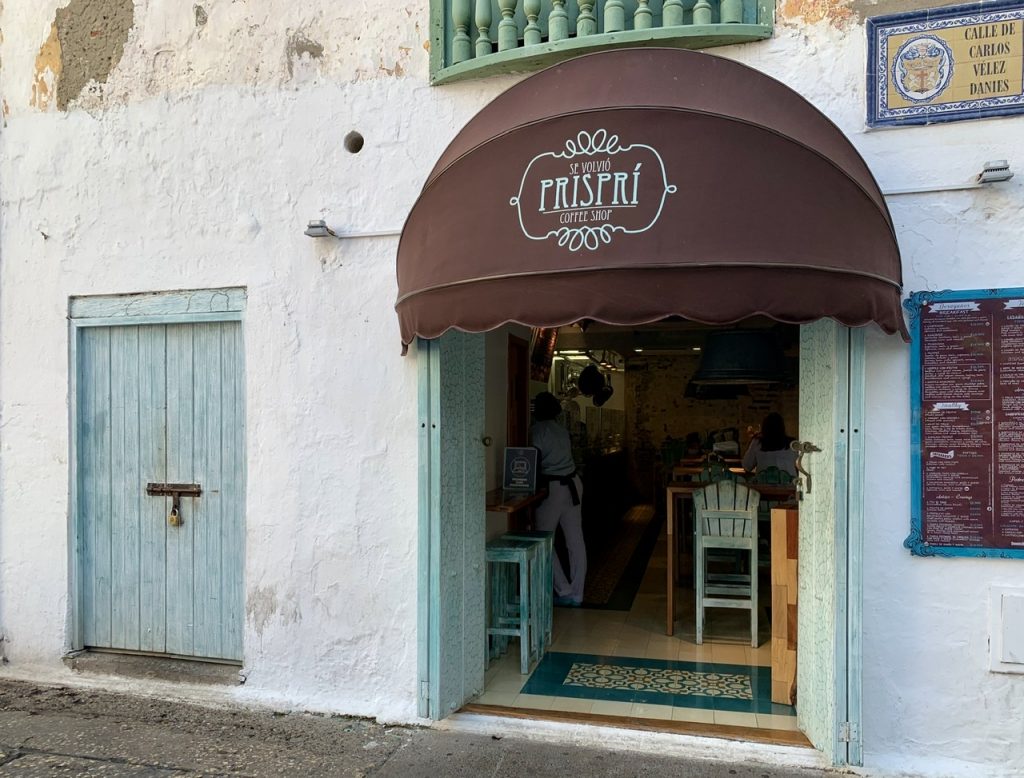 Cafe de la Mañana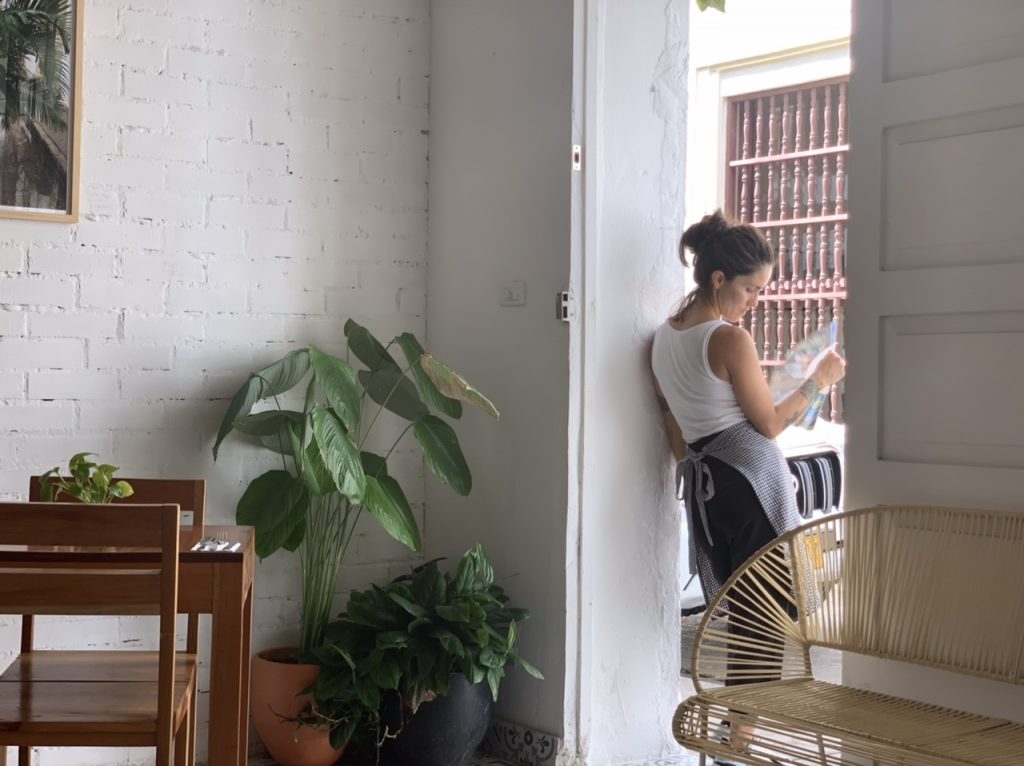 Alquimico
Alquiminco is a swanky restaurant and bar with a gorgeous rooftop and amazing artisan cocktails. For one thing, they have delicious small dishes and beautiful modern design. Not surprisingly, I ended up going there many times as it was just a minute away from where I was staying. It is a good idea to have a reservation. Highly recommended.
Pezcateria
Street Food – Arepas
Street vendors at Walled City have a secret and tasteful receipts with some amazing arepas. I loved to have a quick bite before or after my Spanish classes. Do try, it's delicious and very authentic. Grab a local corozo juice and you're all set.
What to See
The Old Town- Walled City
Cartagena is best explored in the foot, without a plan. The streets are like a colorful maze – depending on your position you can see a street in two completely different ways. Altogether, it was very beautiful to explore and those charming colorful houses stole my heart. Another wonderful suggestion is to explore the rooftops of Cartagena. They are universe on their own with a great breeze at sunset. Simply magical. Just walk around and explore.
Explore also the Graphiti of Getsemani. The neighborhood of Getsemani is outside the inner walled town but is still part of the Old Town of Cartagena. The atmosphere is bohemian and visit also local gathering place at the Plaza Trinidad.
Beaches of the Rosario Islands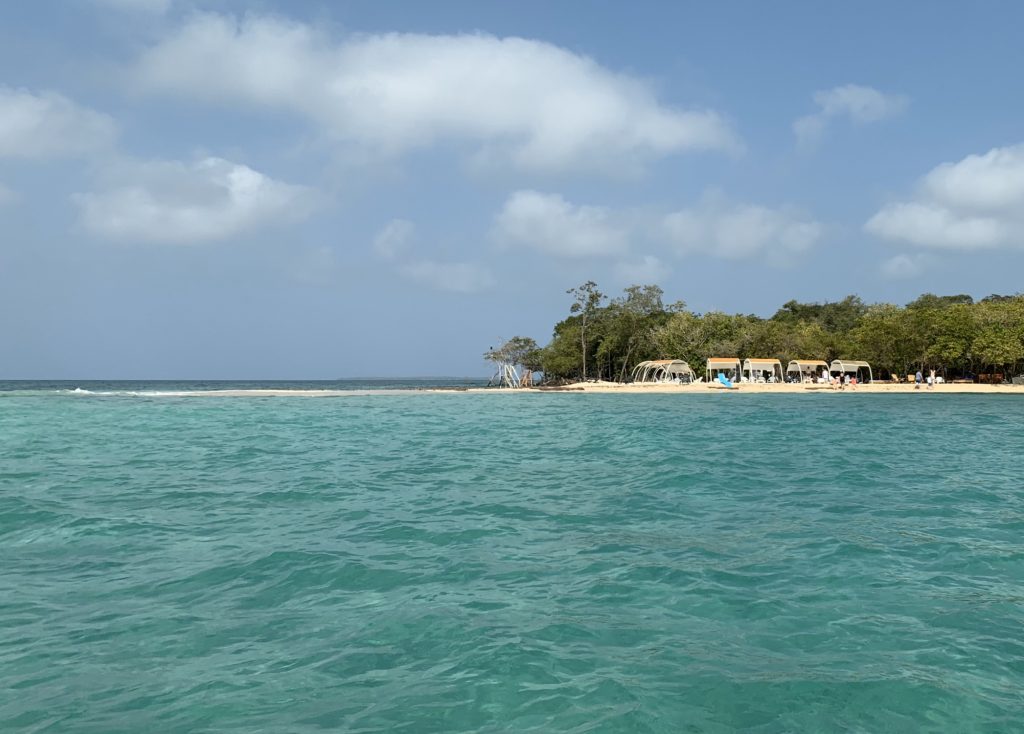 The Rosario Islands are an archipelago of 27 spectacular coral islands. The white sandy beaches of the islands and the crystal-clear blue water will definitely take you to another world. The islands are also considered part of the national park that is protected by Colombia's national park system for its unique coral reefs and marine organisms. The best time to visit is during the dry season from December to March. There are so many to choose from to go for a day trip and relax. There is something so lovely to go by boat and land on a beautiful island.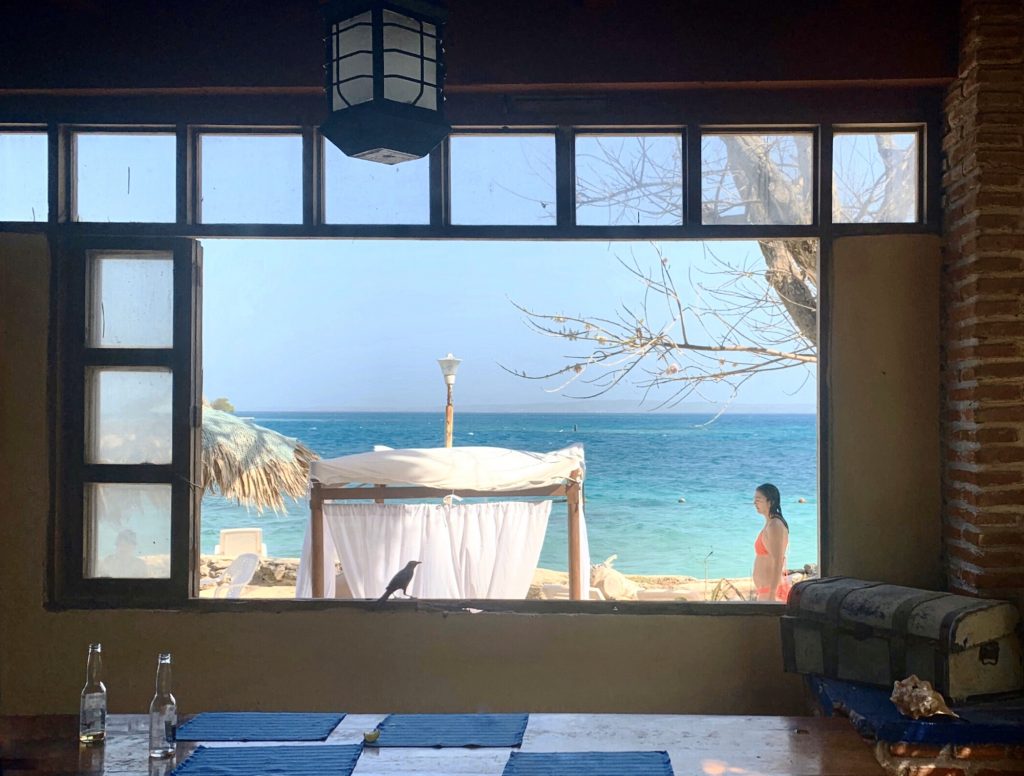 Boca Grande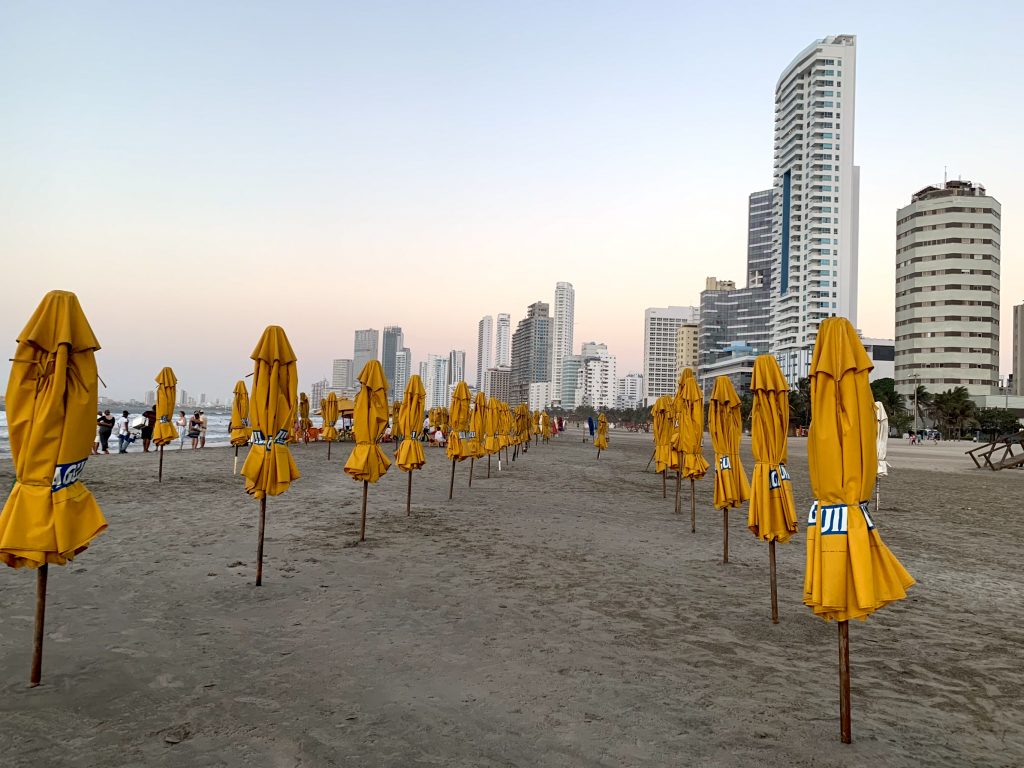 Art Museum – Museo de Arte Moderno
The Museum of Modern Art is located within an old customs house in Plaza San Pedro Claver. The museum contains pieces of art from a variety of artists from around the world, as well as pieces from special exhibitions and collections. Since 1959, the museum has a large collection of works from Colombian artist Darío Morales. Furthermore, the museum houses temporary and permanent pieces, many of which are Caribbean influenced.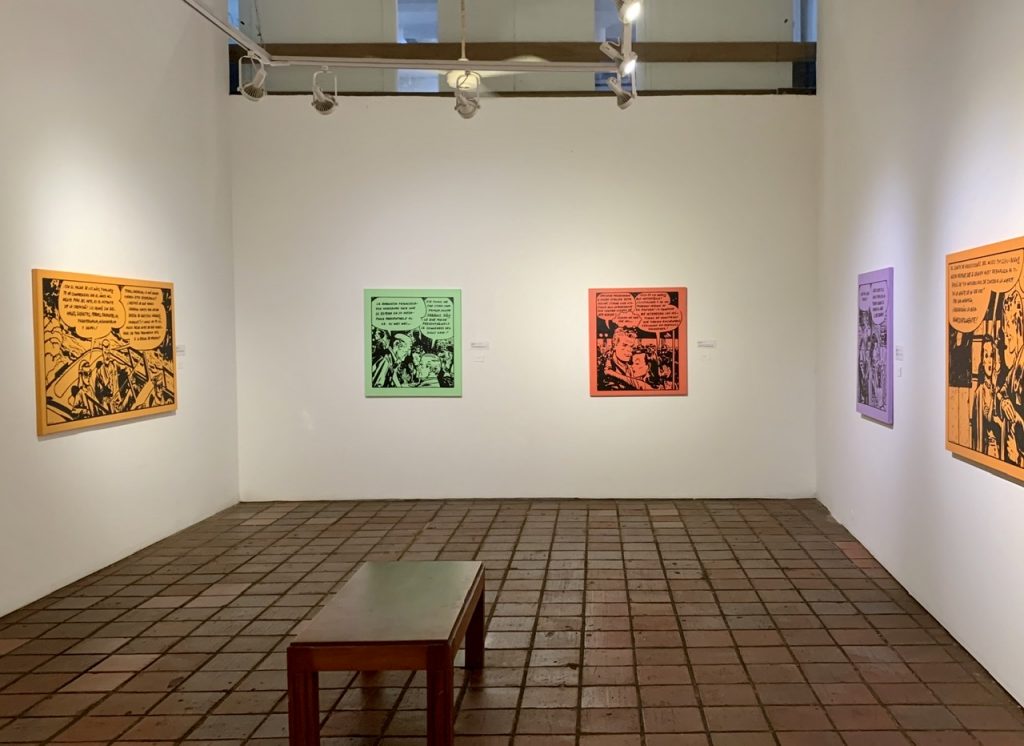 NH Galeria
The first-class gallery in Cartagena, with a location in New York as well. They even had Botero! Also, they maintain a wonderfully curated collection of local and international artists. For art lovers, this is a must-see gallery.
Life is not what one lived, but rather what one remembers, and how it is remembered to tell the tale.

Gabriel Garcia Marques
What to Do
Learn Spanish
I took Spanish lessons for a week, 4 hours a day, at Toucan Spanish School in Cartagena, Colombia. They have private lessons or small group lessons. Isabel was my teacher and I highly recommend her. The school is situated in a lovely turquoise building at a very charming part of the old town. During the mornings, it was a joy to get there by choosing new streets to discover along the way.
Learn to Dance
I highly recommend booking Secret Roofs Dancing Class on a Secret Rooftop experience Airbnb. It's in a private home rooftop with incredible dance instructors. Altogether, we had tons of fun learning 4 dances in 3 hours – the salsa, bachata, merengue, and champeta. All in all, I really loved the bachata and merengue. The music was fabulous, the location is amazing, and you will have an unexpected and unforgettable time.
I became addicted to dance and took also dance classes at Crazy Salsa dance school. It was also so excellent and energizing. I loved every second of it. My instructor Enrique was amazing.
Maybe Shop?
There are way too many tempting stores in Cartagena if you're into unique designs. Of course, I had to restrain myself and it was difficult. However, I got an amazing wide-brimmed hat that came in handy on hot and sunny days.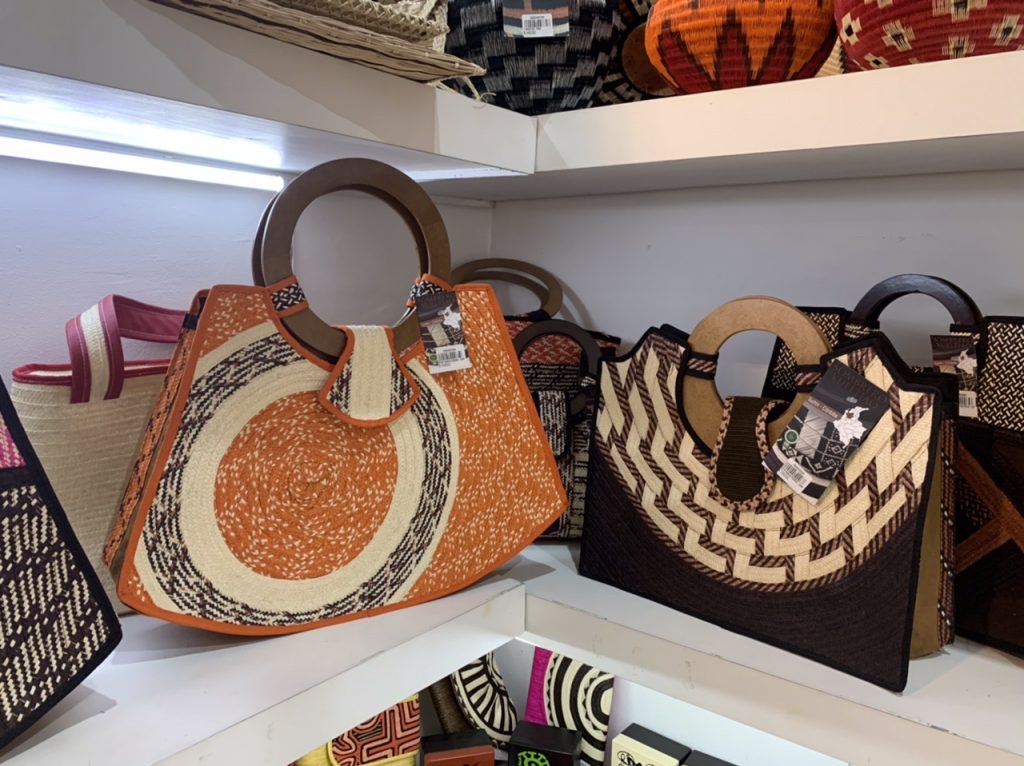 How to Get There
Delta Airlines has a direct connection from Atlanta to Cartagena, Colombia. If you're interested, then it's just a bit over a 4-hour flight.
More on Instagram
You can see more images and videos from this trip on Instagram and in my Instagram stories.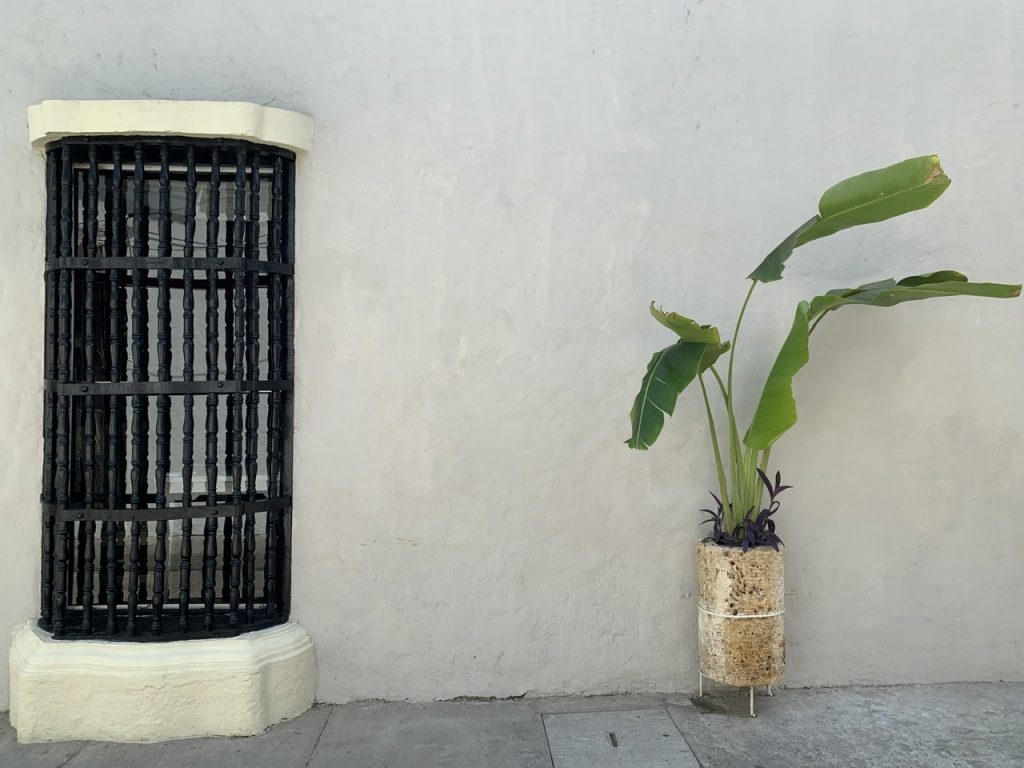 Where is It?