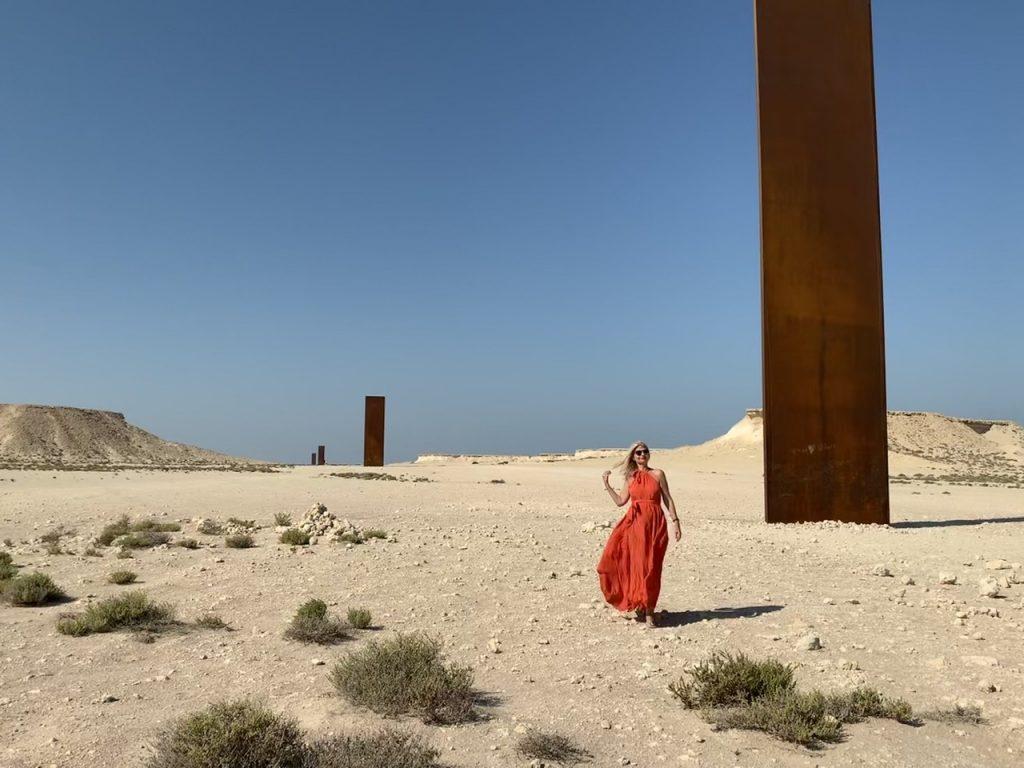 East-West/West-East by Richard Serra is what the wildest dreams are made of – bravado, creativity, and making the impossible possible. When I booked a stopover in Doha, I instantly booked the desert trip to see those magnificent sculptures by Richard Serra. It is the idea first that enamored me. East-West/West-East is a public art piece that stands in the midst of the Qatari desert. There are no roads to get to this place, no maps, and no signs.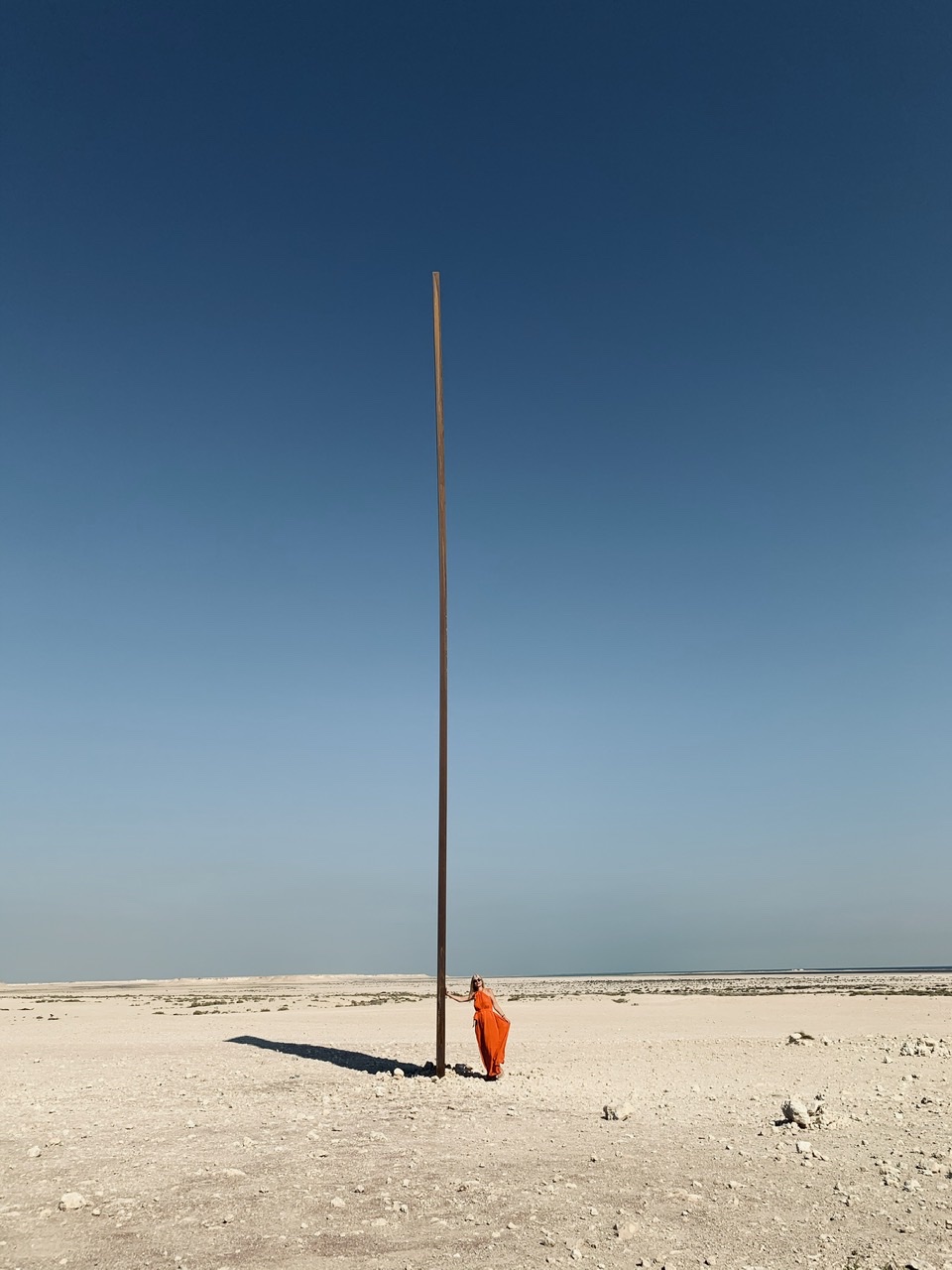 I consider space to be a material. The articulation of space has come to take precedence over other concerns. I attempt to use sculptural form to make space distinct.

– Richard Serra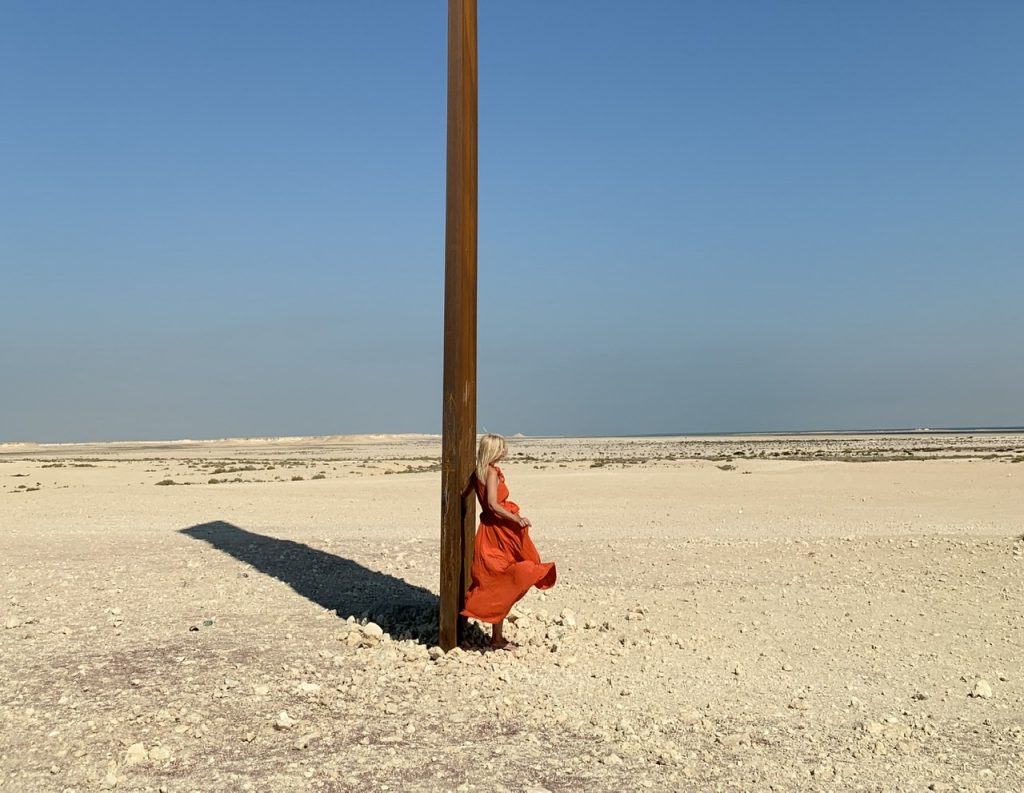 Richard Serra – East-West/West-East

East-West/West-East is a set of four standing steel plates rolled in Germany, shipped via boat, and offloaded, trucked, and put into a specific place in the middle of nowhere in the Qatari desert. It is the largest, by area, of Richard Serra's creations.
The steel will oxidize more quickly in the hot, salty conditions of the desert. The plates went from gray to orange to brown, until they turned a dark amber. I wished that I experienced all those changes, it makes it like life. They age and change with time.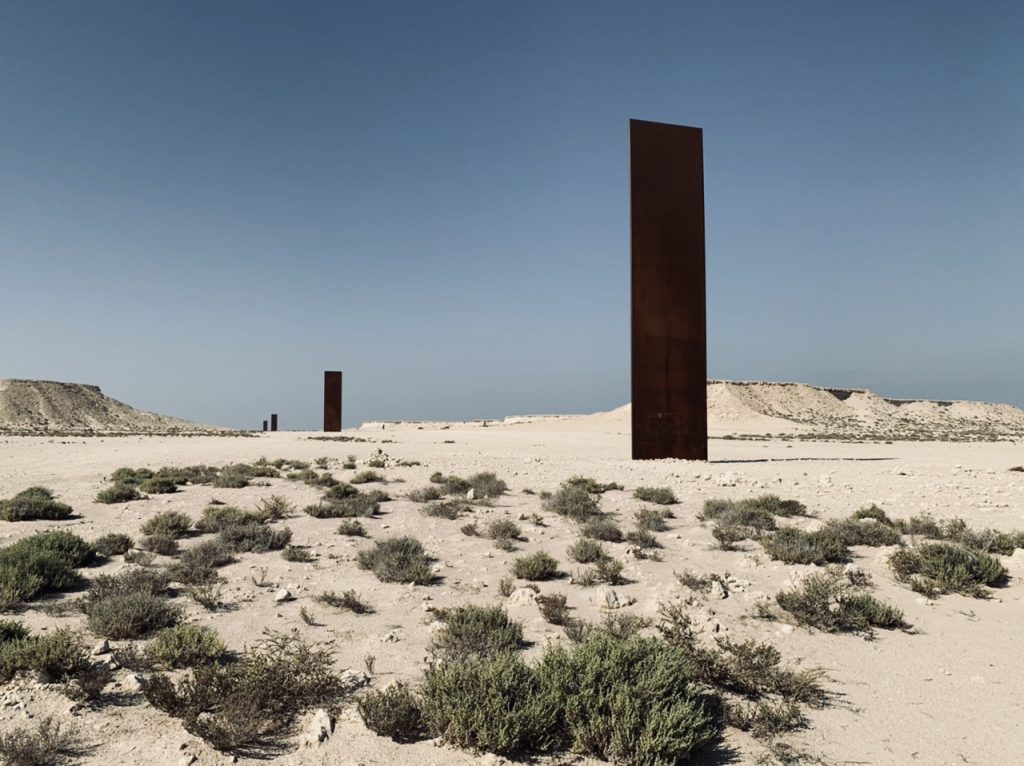 Getting to East/West -West/East by Richard Serra
A journey to the desert is part of this marvelous experience. I spoke with the driver about how he navigates. He explained that he had extensive training with skilled guides where he learned to recognize marks in nature since there is no road or signs to get there.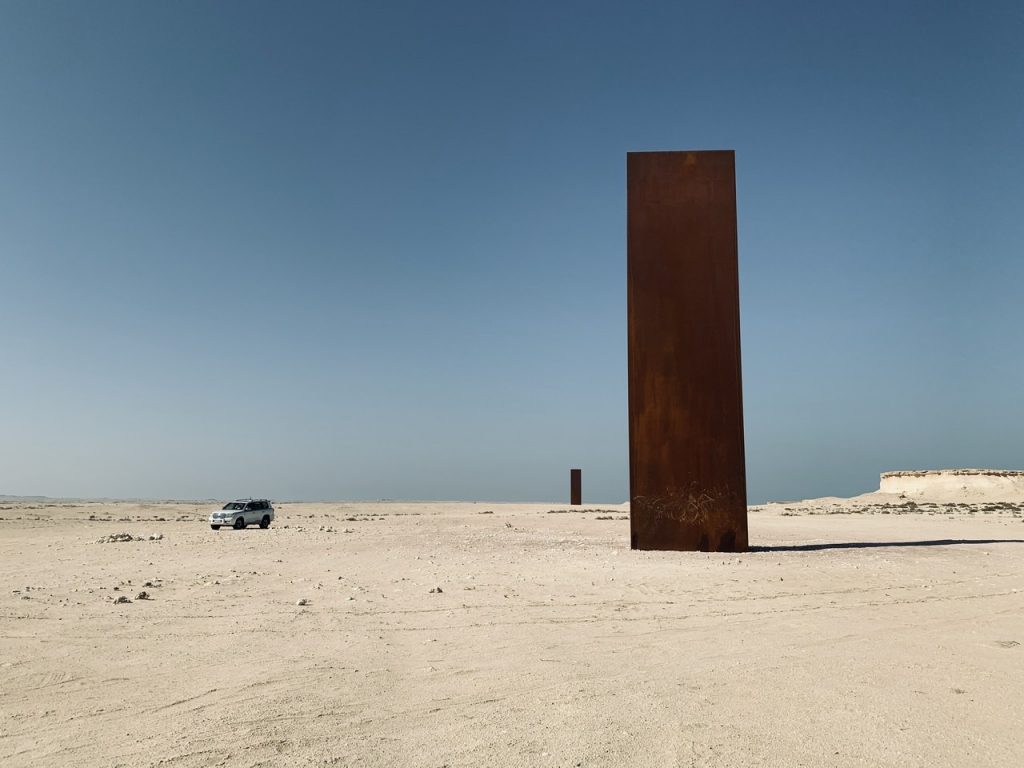 Qatari Investment in Arts
I was very impressed with the Qatari investment in arts and the quality of museums. I heard somewhere that The Qatar Museums Authority is estimated to spend about a billion dollars per year on art. Emir's sister, Sheikha Al-Mayassa bint Hamad bin Khalifa Al-Thani, has been named in the past as the most powerful person in the art world and she is also a Head of Qatar Museums Authority. Qatar commissioned Richard Serra also for Sculpture '7' nearby incredible I.M. Pei's Museum of Islamic Arts.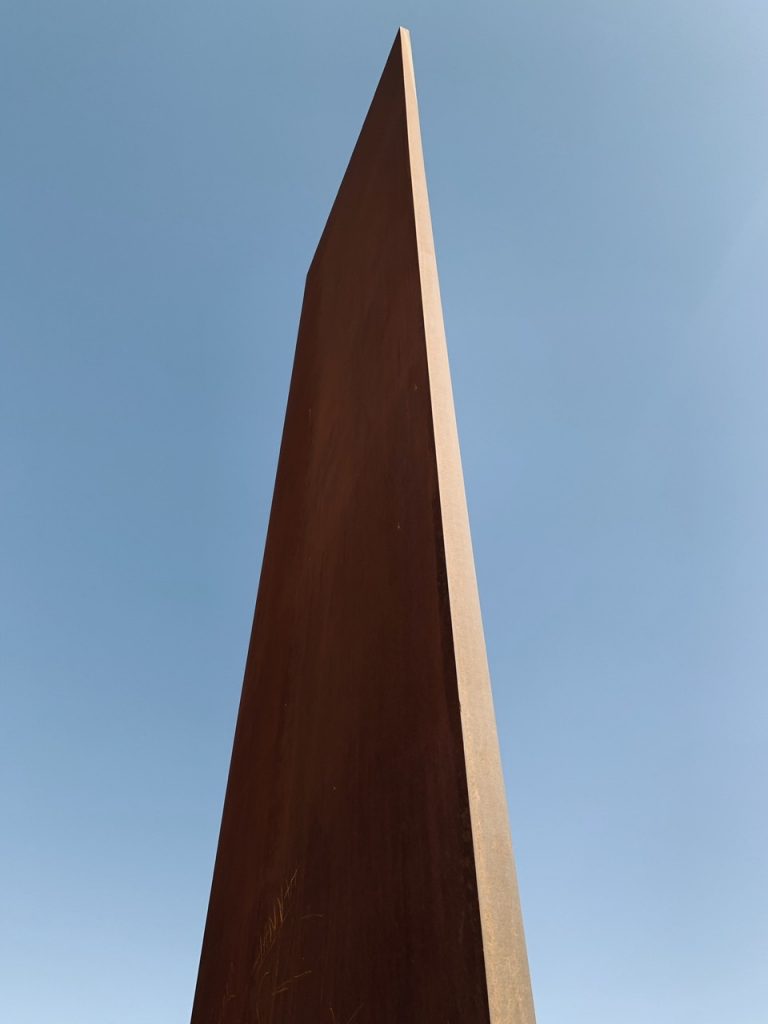 Finding Place
Finding the right place for East-West/West-East was a delicate matter for Serra. It took a lot of consideration and trips to find the right one. I do understand that. He was drawn to the desert plateau between two inlets. At the same time, Sheikh Hamad bin Khalifa al-Thani, the former Emir, shared his memory about the same spot. It was a place he remembered from his youth, where herds of antelope gathered. Subsequently, it all came together to everyone's joy. Finally, Serra found the right framing for the installation and coexisting that does desert a justice. I also loved the thought process.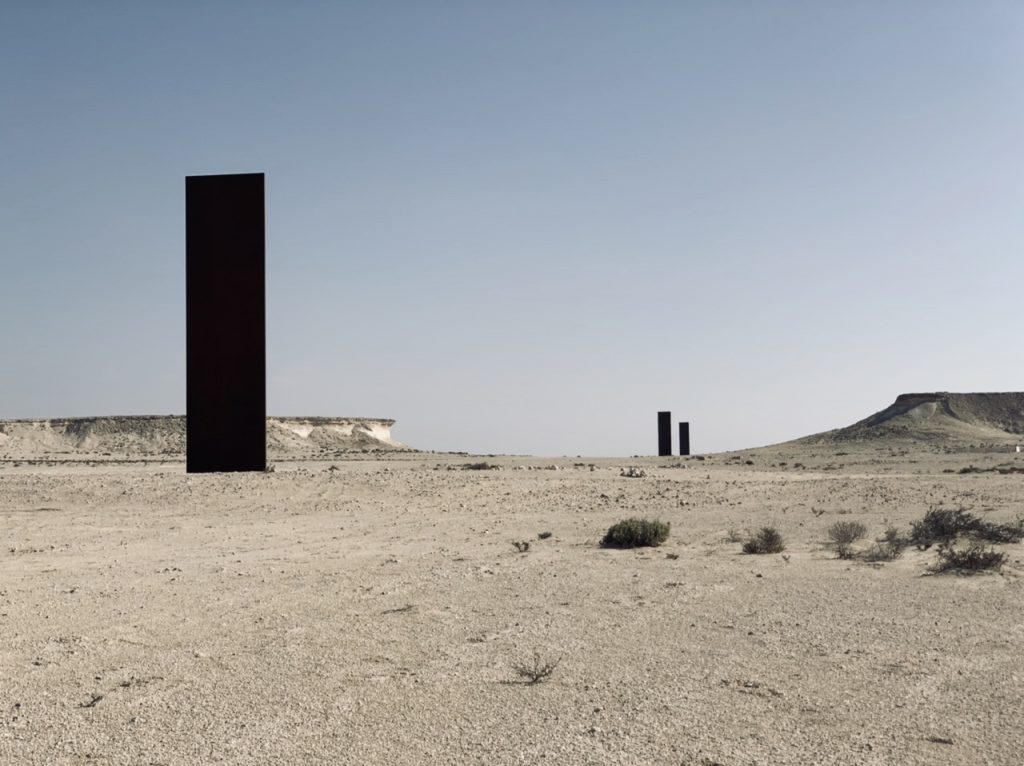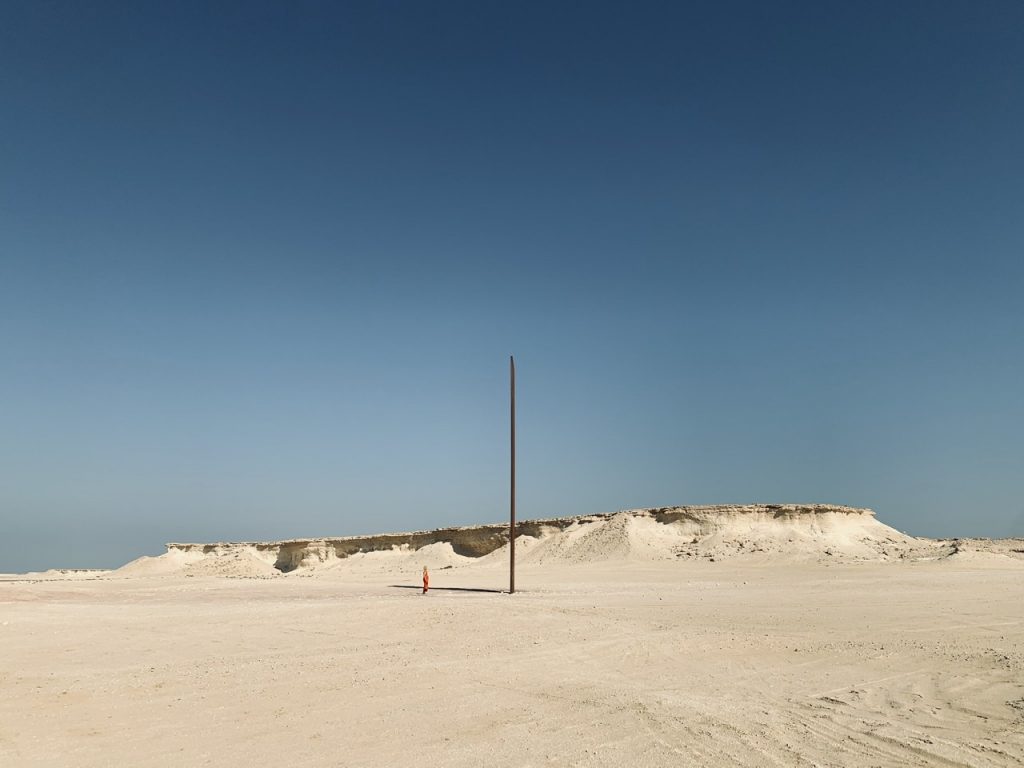 How it Feels
At first from a distance, you see just one, and slowly as you approach you can see the other steel columns. Then suddenly, this amazing and unusual coexistence of art and nature becomes alive. To see it fully, you need to walk and be part of that incredible experience. I never explored art in such a way – in complete harmony with nature. The immensity of the desert, the remoteness, the quiet, as well as the sheer beauty of the landscape and art together is unforgettable.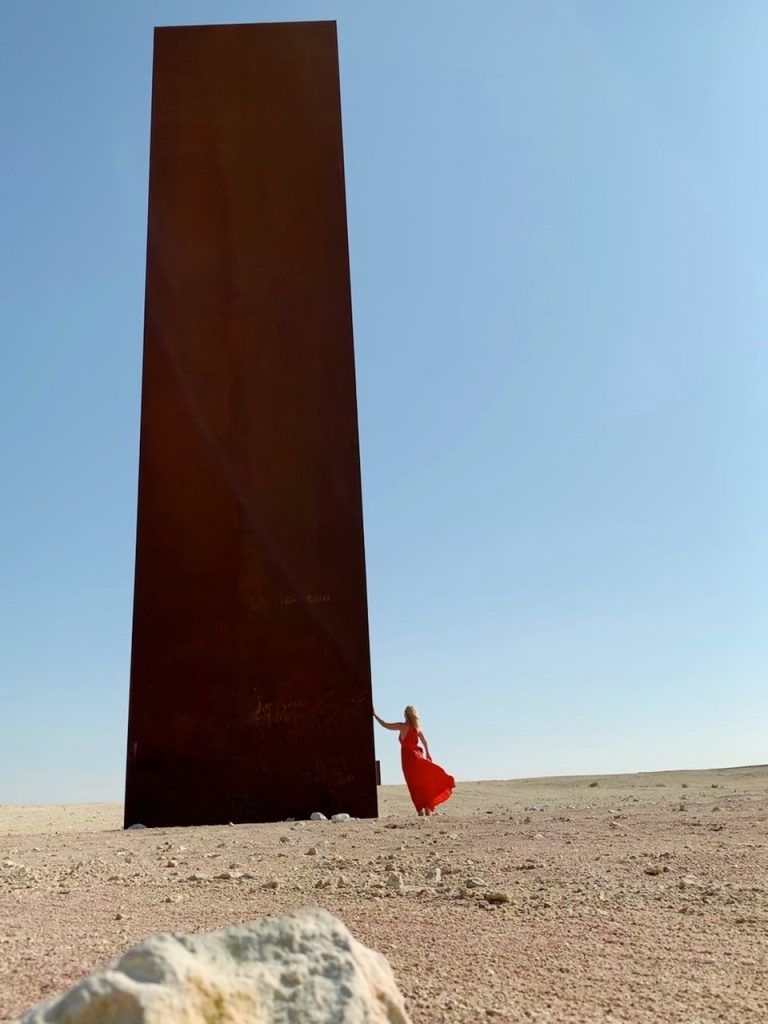 Sierra has the ambition and scale of the architect. His works question the structure, gravity, space, and the important component is the viewer itself. As an artist, he is very interested in how people interact with his sculptures. Time also interacts with his installations – his steel sculptures oxidize and change texture over time. I respected that organic process and loved that nature overtakes work once installed.
"A lot of people wanted to reduce sculpture to object making," says art critic and historian Hal Foster, "but Serra reclaimed sculpture for space making."
Saying Goodbye to East/West -West/East by Richard Serra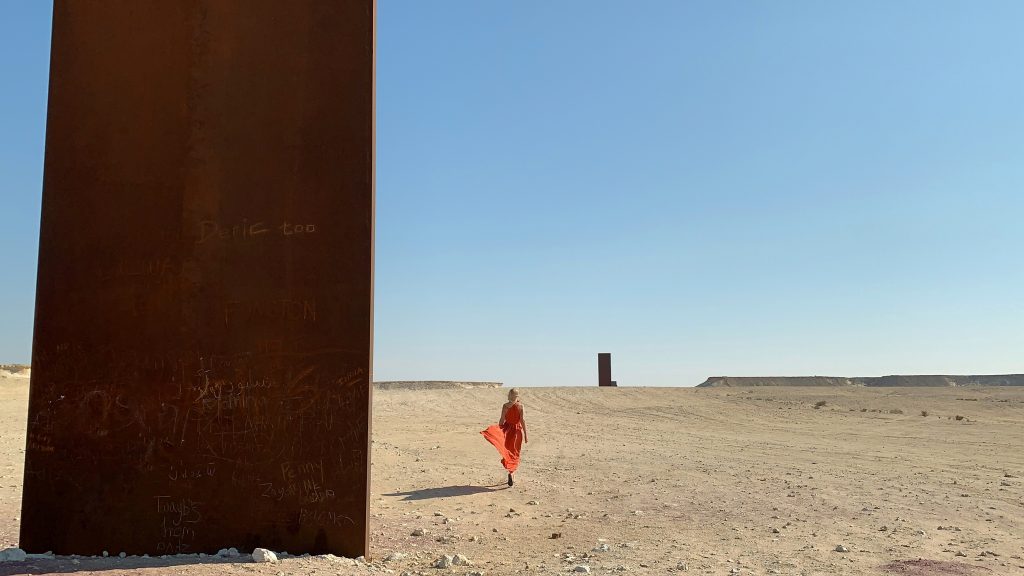 It was truly hard to leave. I can easily imagine staying longer. Sadly, I was limited by time. When we were there some members of the royal family came and had tea in the desert. Not to mention, that sounded (and looked) so spectacular as they were raising a tent for the tea ceremony. Imagine that experience?

Tea in the desert. With Richard Serra's masterpiece and beautiful desert landscape.
In the end, we took a drive all around twice that I can absorb it in a different way.
Somehow, the imagery of this magnificent place is forever etched in my memory and my heart. Also, I am so humbled and grateful for moments like this in life.
Furthermore, if I am traveling through Doha, I would definitely make stopover and go back there again.

Just to be.

And, having tea there, would be divine.
Useful Info – Insider Travel Tips
The easiest way to get to Qatar is with Qatar Airlines. They are an excellent airline and have a stopover program for up to 4 days. Via their website, you can book 4- and 5-star hotels with discounted rate programs to see the country. It is a good idea to break long airplane trips to Asia.
For the trip to see Richard Serra's East-West/West-East in the desert I would recommend that you book a driver or a tour in advance. I have used Inbound Tours Qatar. Everything was great.
Remember, to enjoy your trip, that the desert is hot during the day even in November, and you will need to bring water and sunscreen. This is truly an amazing place, very remote with no shops around.
---
Photography
All the images belong to Tijana and Zest & Curiosity. Tijana art directed all images. If you enjoyed them, I will gladly share – for the conditions and right to use please reach me via Contact Form.
Where is It?