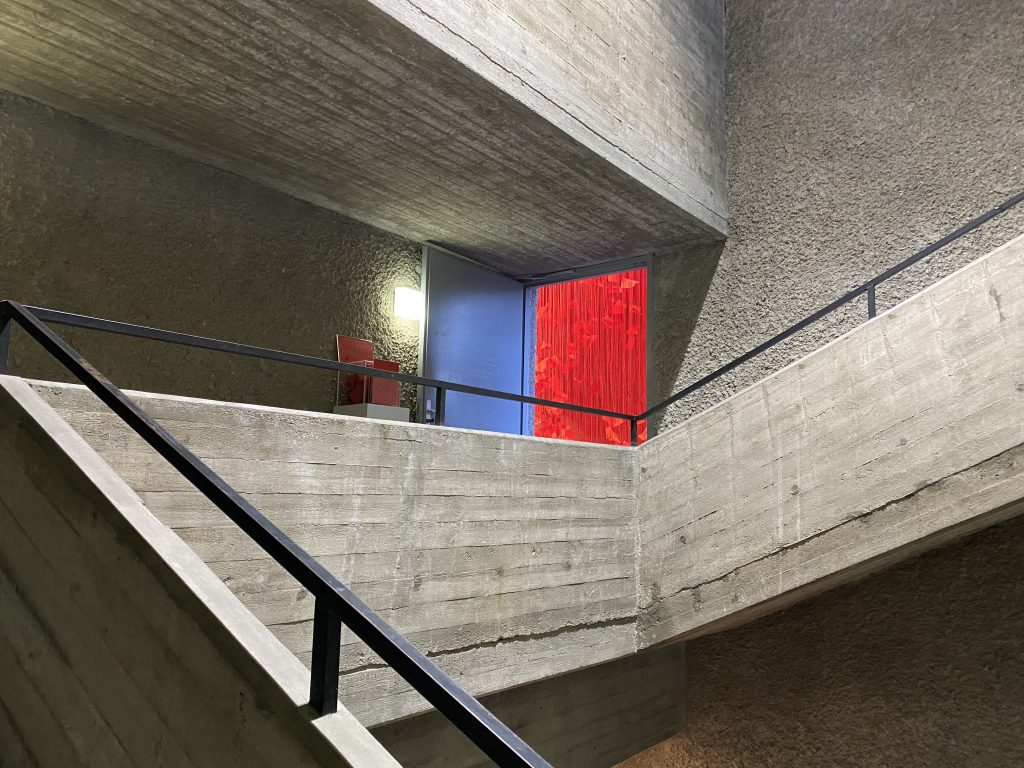 Koenig Galerie (KÖNIG GALERIE) is a Berlin-based gallery founded in 2002 by Johann König. The exhibitions showcase interdisciplinary, concept-oriented, and space-based approaches in a variety of media. At this time, the gallery represents 40 international emerging and established artists. You'll find creative mediums ranging such as sculpture, video, performance, and sound to painting, printmaking, and photography.
Koenig Galerie locations are peppered throughout the international art world. Recently, new locations opened in London, Seoul, and Tokyo. Koenig also regularly participates in international art fairs such as Art Basel and Frieze Art.

In February 2021, renowned Japanese artist Chiharu Shiota had an exhibition at Koenig's incredible space.
Koenig Galerie – the History of the Brutalist Building
In 1967, the St. Agnes Catholic Church was built in the Kreuzberg district of Berlin. Werner Düttmann constructed the building in a typical example of architectural brutalism. Although St. Agnes had religious roots, church services have not been held there since 2004. So in 2011 the St. Agnes real estate and management company bought the building complex and then leased it to the Berlin gallery owner Johann König.
By May 2015, the building was rebuilt by Berlin's Brandlhuber Architects. The former church now has a new life serving Berlin as a Koenig Galerie building.
Chiharu Shiota Exhibition at the Koenig Galerie
Chiharu Shiota's inspiration often emerges from a personal experience or emotion which she expands into universal human concerns such as life, death and relationships. She has redefined the concept of memory and consciousness by collecting ordinary objects such as shoes, keys, beds, chairs and dresses, and engulfing them in immense thread structures. She explores this sensation of a 'presence in the absence' with her installations, but also presents intangible emotions in her sculptures, drawings, performance videos, photographs and canvases.

– Koenig Galerie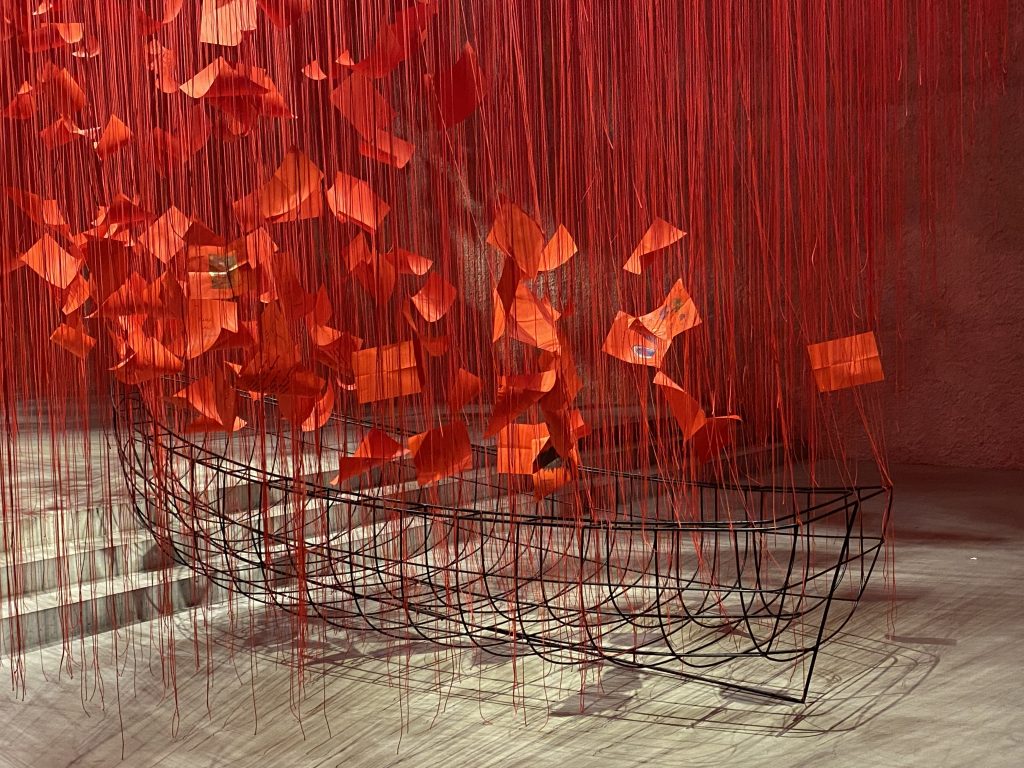 Due to the lockdowns, this was a rare opportunity to see the evocative "I Hope" exhibition by Chiharu Shiota. Our guest contributor, Joanna Losito from Berlin, shared her wonderful photography and her personal impressions of the exhibit with the Zest & Curiosity.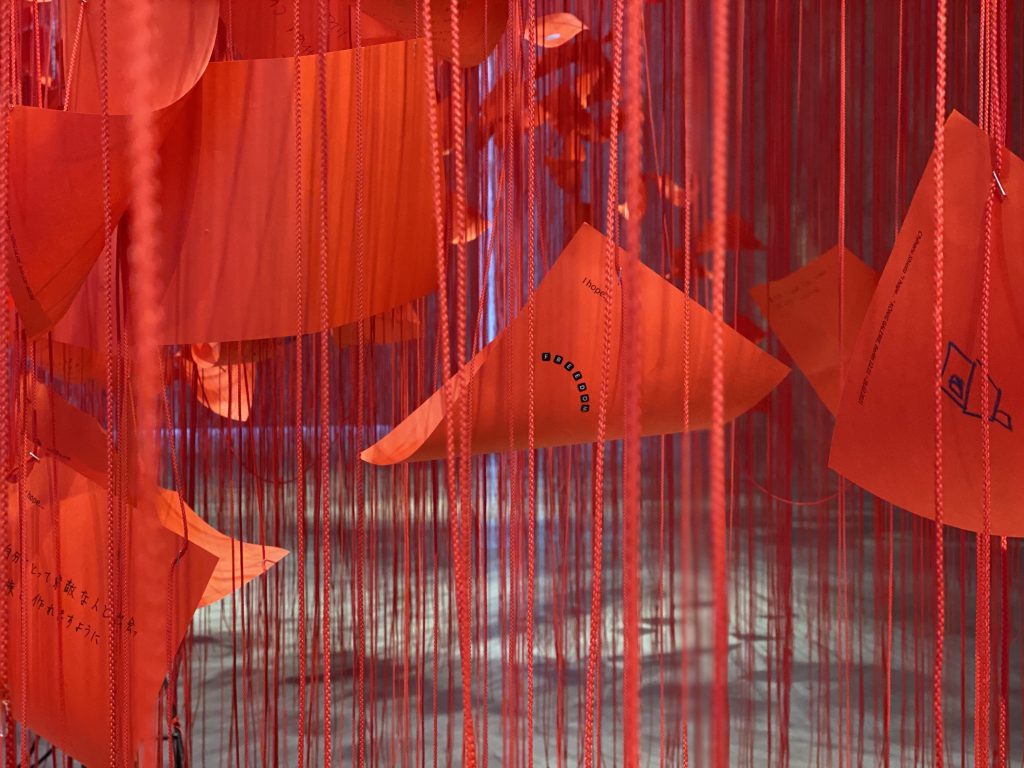 Printed on the red paper are 10.000 letters sent to the artist from across the globe. They are attached to the red threads that hang straight down like cords from the lofty ceiling.
Koenig Galerie Chiharu Shiota – Joanna's Experience
Back in February 2013, I was introduced to Chiharu Shiota art and her black "spider webs" for the first time at the Schiller Theatre in Berlin. This memorable exhibit was scenography to Sasha Waltz's opera performance of "Matsukaze " by Toshio Hosokawa.
Unfortunately, and unexpectedly, our lives changed. For over a year now our we've all been "on hold." Coronavirus took possession of our everyday life and routine. Restrictions rule and limit almost everything. With masks, a safe distance, and other safety measures our lives are much different than before. Nowadays we can virtually admire and feel art and performances. Sadly…we are craving the real experience. I patiently waited to see the RED exhibition in reality.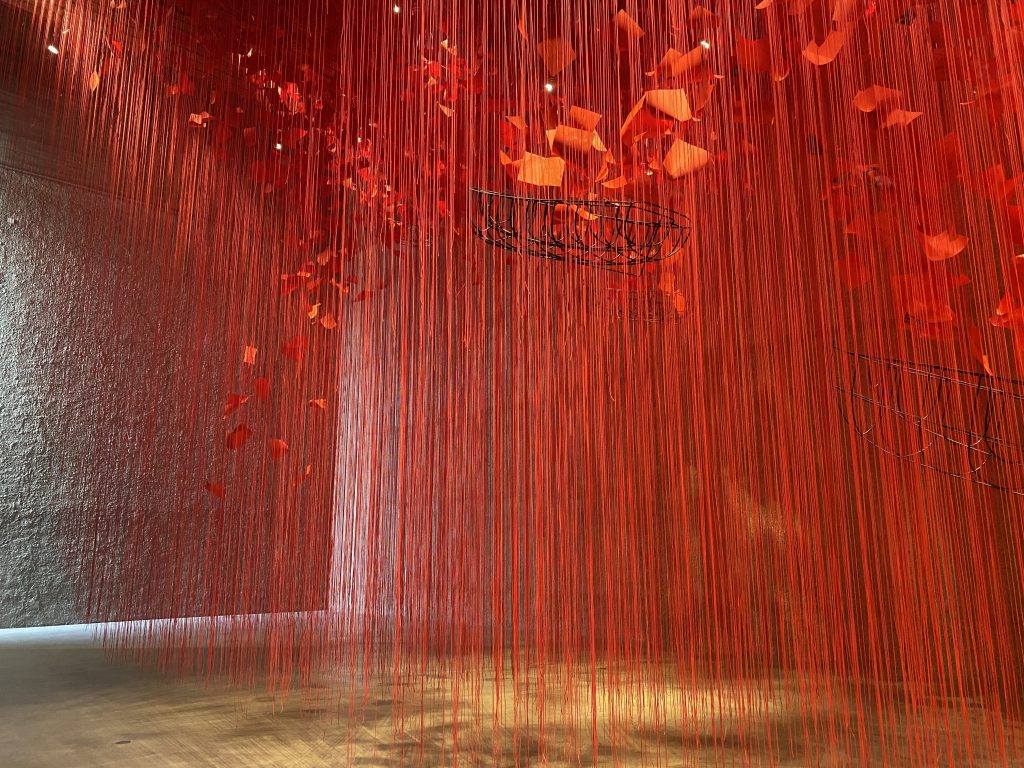 Koenig Galerie Exhibition Anticipation
Although the König Galerie bookshop was open, the stairs leading to the exhibition were closed. Ah, the lockdown. While I walked through, I gazed upon the red threads falling from the ceiling. Each had red cards attached with the print: I HOPE. People shared their emotions, dreams, expectations, and hopes for the future on these red letters. The red threads connected the red cards to big and small skeletons of black boats.

Red threads and red cards – the red color reminds me of blood and suffering. I usually don't like red, don't wear red, and don't use red in my environment.

Red is a strong, dominating color. However, in Japanese culture red means joy, life, and celebration.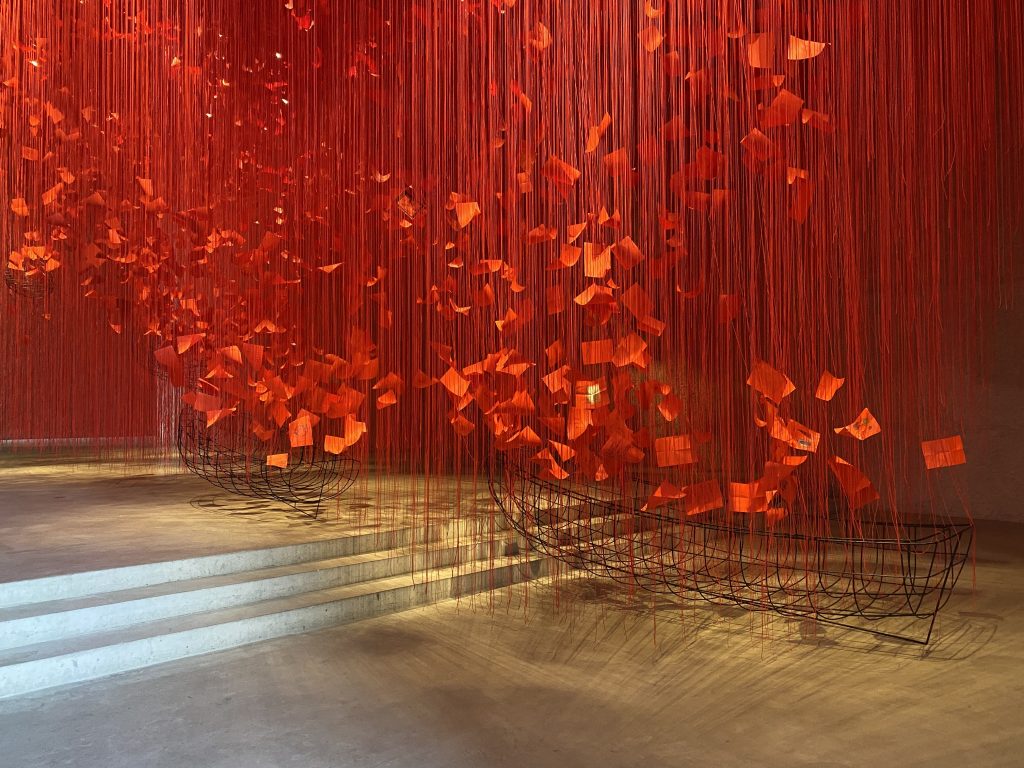 Koenig Galerie – The Day of the Exhibition
Finally, March 9th arrived, the day my dreams became reality. I could see the exhibition not online but live, in person. Once I booked an appointment, I put on a dress and wore red lipstick. I wanted to look elegant and nice for this special visit. I wanted to feel exceptional.
Once I entered the gallery with a mask on, I gave my name for my time slot. At last, I could climb the stairs. After all this time, I couldn't believe it was happening. Now it was time to enter the exhibition.
All at once, my words escaped me. Air left my lungs. My mouth was agape in wonder. As I entered the space, I was alone with RED.
I was impressed.
RED was shinny, warm, gentle, shimmery.
Amazing feeling.
Awesome moment.
I was finally here.
RED threads, RED cards.
Altogether, they were in amazing harmony.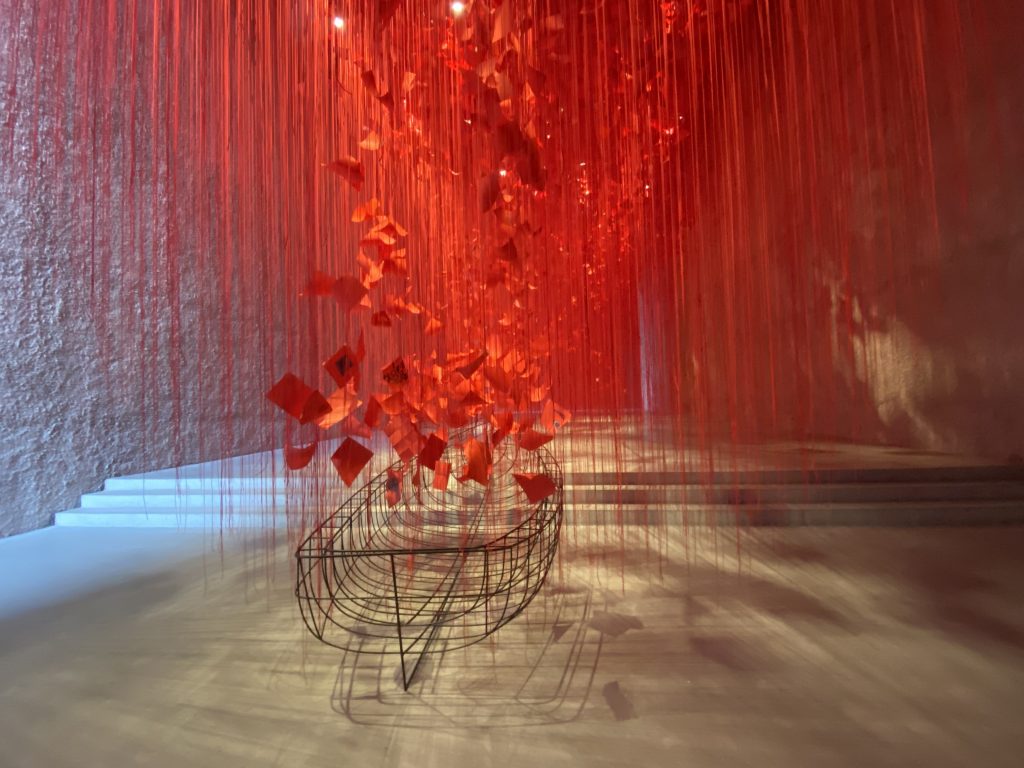 Chiharu Shiota Makes Me Feel Elated
All at once, I felt a pleasant warmth, strength, peace, and comfort.
The warmth of red and black skeletons of small and larger boats in between the thousands of hanging red threads and cards was mesmerizing.
Almost transparent boats levitated in an amazing red universe.
Like ships on the sea in warm red rain.
It was very poetical.
In harmony and unity.
Like a symbol of Freedom and Independence.
Be free! Without restrictions, rules, barriers.
Finally, do whatever you want and wish.
Sailing wherever you desire, flying wherever you dream.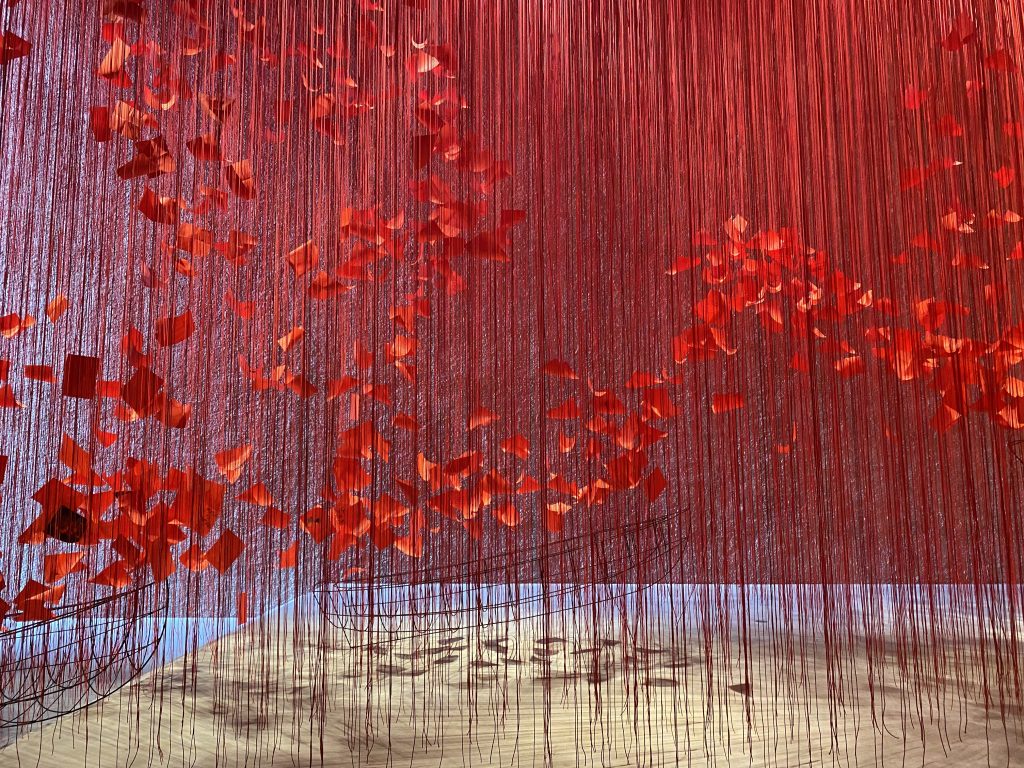 Koenig Galerie as a Perfect Exhibition Space
The Koenig Galerie is ideal for Chiharu Shiota's exhibition. Natural light emphasizes the beauty and vibrancy of the red color. It's truly an amazing visual, so I took an opportunity to take these photographs. I hope you can feel a little piece of magic as I felt it.

When I look back at the photos, I'm so grateful to see the strength reflected in every part of the red elements. The installation was sharing its beauty and power.
I Hope
For Life
Finally, I got myself a great gift for my birthday – a piece of art by Chiharu Shiota. The dominating color of the "Being Together" artwork is – red.
About Chiharu Shiota
Chiharu Shiota is a Japanese performance and installation artist. Shiota's body of work links together various art forms such as performance art, sculpture, and installation art. She is renowned for her vast web of threads or hoses that not only link abstract networks but also connect them to concrete everyday objects. Those ordinary objects come in many forms such as keys, window frames, dresses, shoes, boats, and suitcases. Her work is ethereal and wants to connect us with various threads as human beings.
A Word from the Founder, Zest & Curiosity
I've longed to see a Chiharu Shiota exhibition for years. Without a doubt, I completely resonate with Joanna as she poetically described the feelings she was experiencing this superb exhibition.
Berlin's Art Scene
Berlin is such an exciting cultural destination where I have experienced incredible world-class art events. Creativity is abundant as cultural events are happening all over the city. I have spent only a week in Berlin. But I could easily spend months, if not years, in the city and my hunger for art would barely be satiated. I was astonished by the superb museums and galleries. Each of them gave me joy and wonderful memories. That time in Berlin and exploring art was simply very exciting.

A Few Thoughts and Gratitude
If I had to choose, then exciting is the exact word to describe this wonderful post about Chiharu Shiota's exhibition. Our charming guest contributor Joanna Losito and I have bonded over our common passion for art and architecture. Once I saw her photos, I couldn't resist collaborating on this article.

Joanna lovingly took all those marvelous images. They had the power to transport me into this beautiful space and place. Of course, I'm immensely grateful for the joy and experience the photos brought me. For fellow art and architecture lovers, do check Joanna's Instagram. She shares wonderful little gems that sparked many of our delightful conversations.
Thank you dear Joanna for sharing your experience. Dear reader, enjoy discovering this fantastic exhibition.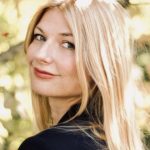 – Tijana
Editor-in-Chief and Creative Director
Zest & Curiosity
---
All photographs are protected by copyright. For more information about using and linking photos please Contact us.

Where Is It?