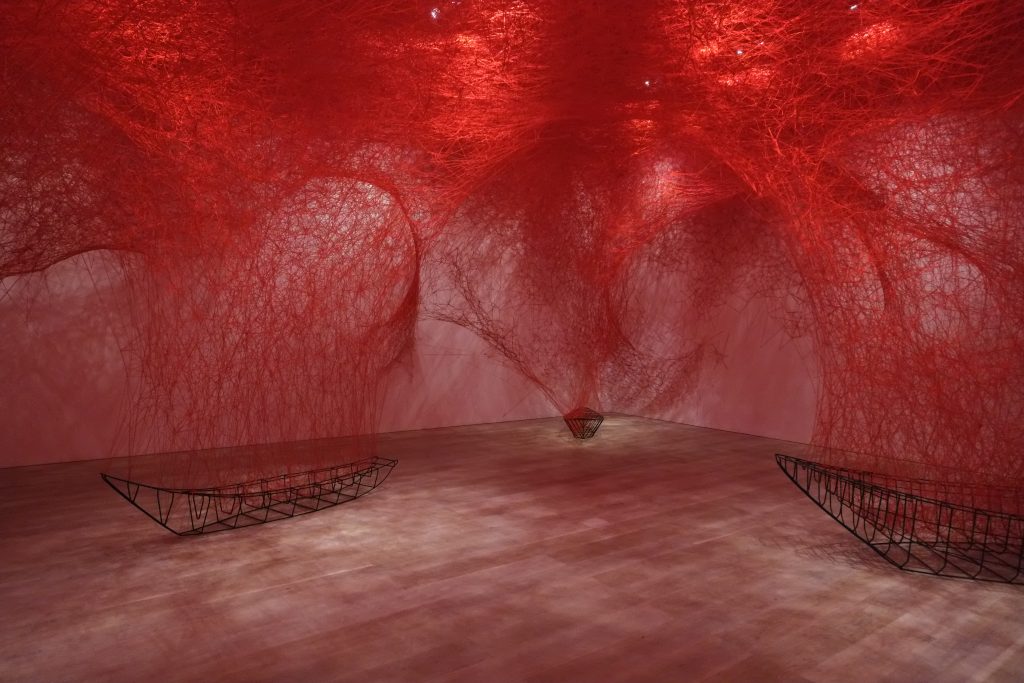 Chiharu Shiota is a world-renowned Japanse performance and installation artist who is living in Berlin since 1997. Shiota puts the physical presence of the viewer at the core of her work by weaving yarn all around her performance and installations. The focus in her art is the transience of time such as temporary moments, dreams, and movement that engages the viewer emotionally and physically.
The Soul Trembles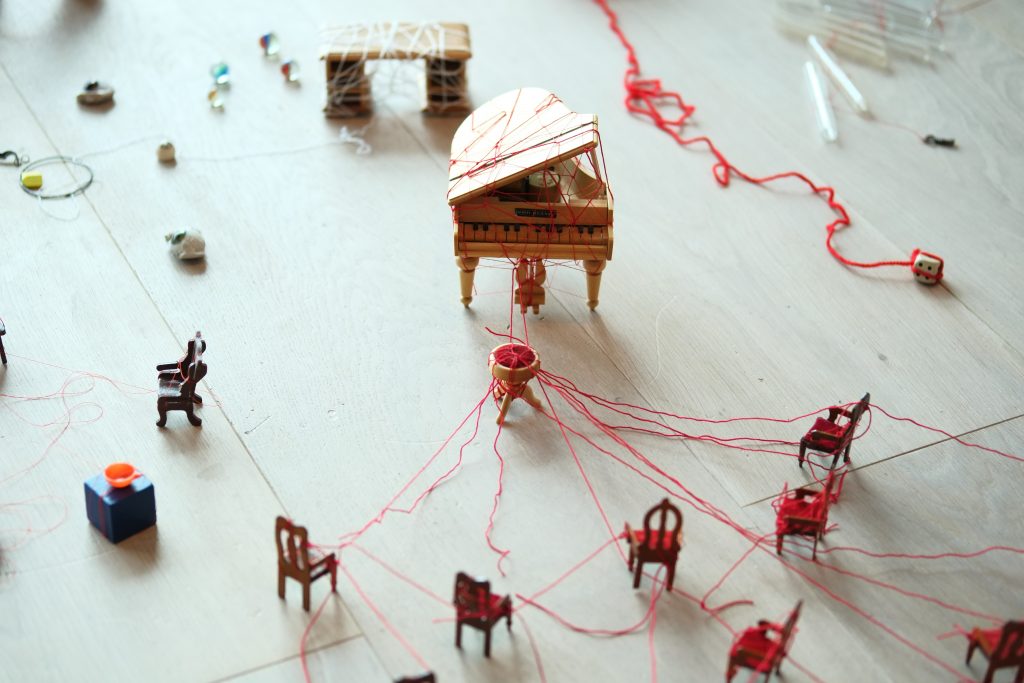 After her huge installations in Chiharu Shiota's "The Soul Trembles" exhibition, you enter a room filled with a collection of small objects. "Collecting Small Memories" consists of dollhouses, small furniture, beds, a small piano, and chairs, sometimes linked by a red thread. It seems we enter her small intimate world she could take away with her in luggage, looking for another destination.

– Olivier Wackers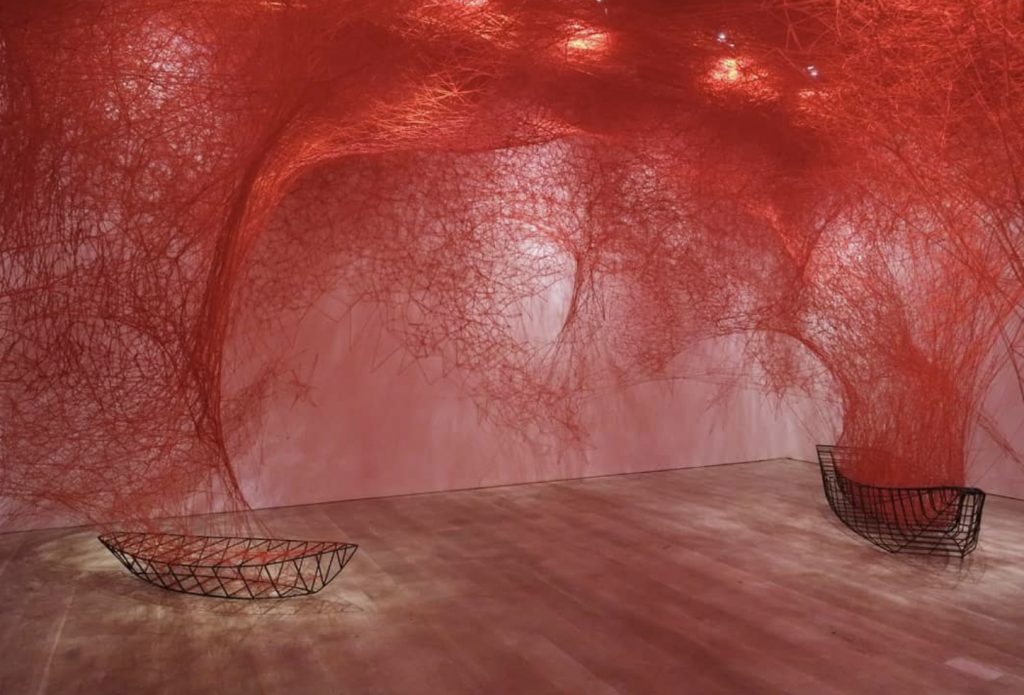 When you enter her installation, all at once her energy surprises you. A whirlwind carries you but never quite captures you. You feel free to dance around, all around … free to travel.

– Olivier Wackers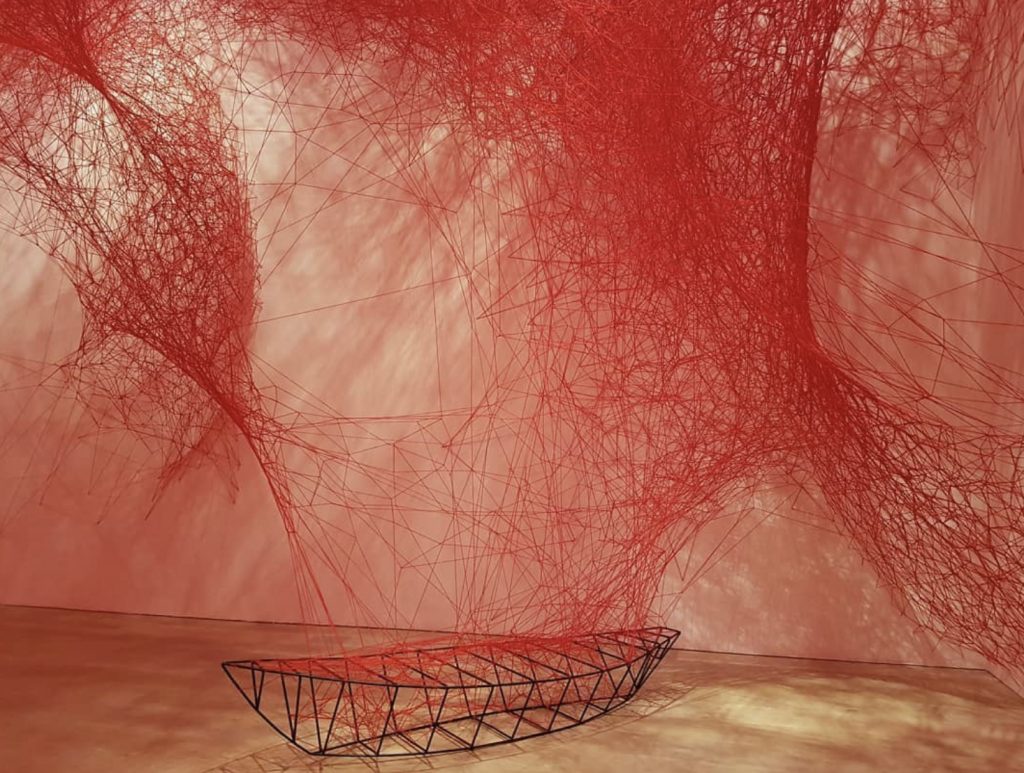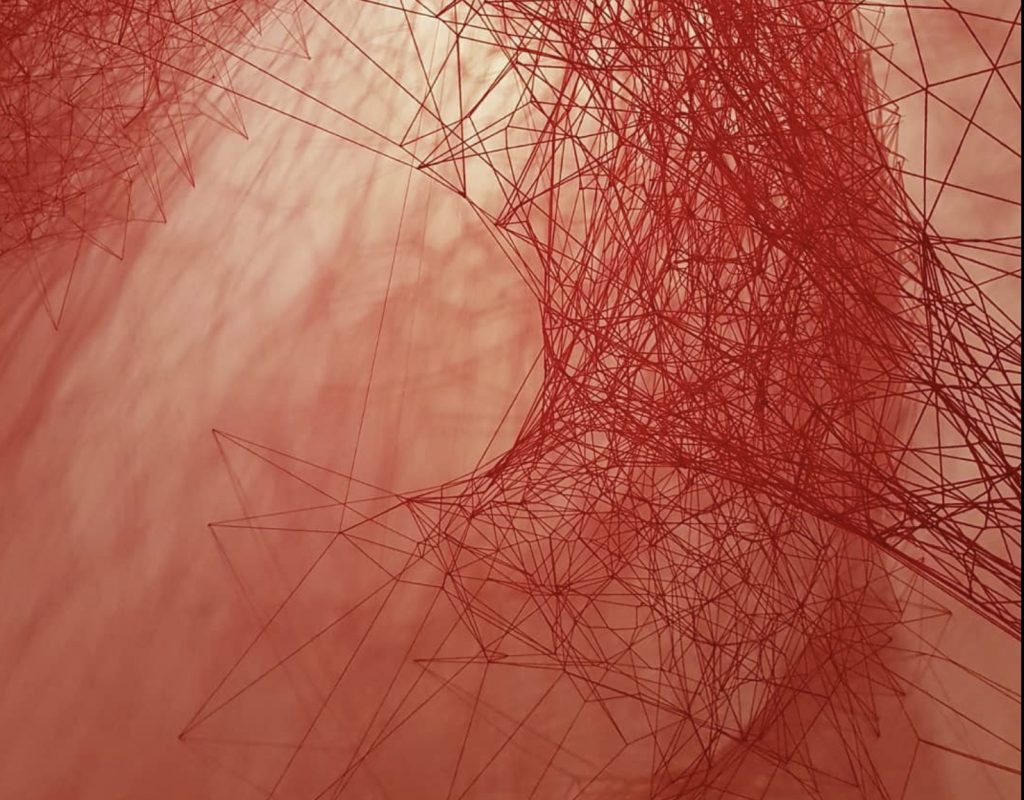 As a Japanese artist, Chiharu Shiota is so sensitive to her environment and everything she connects to. She binds her artwork with black, white, or red threads to the architecture around it, to nature… to us.


– Olivier Wackers.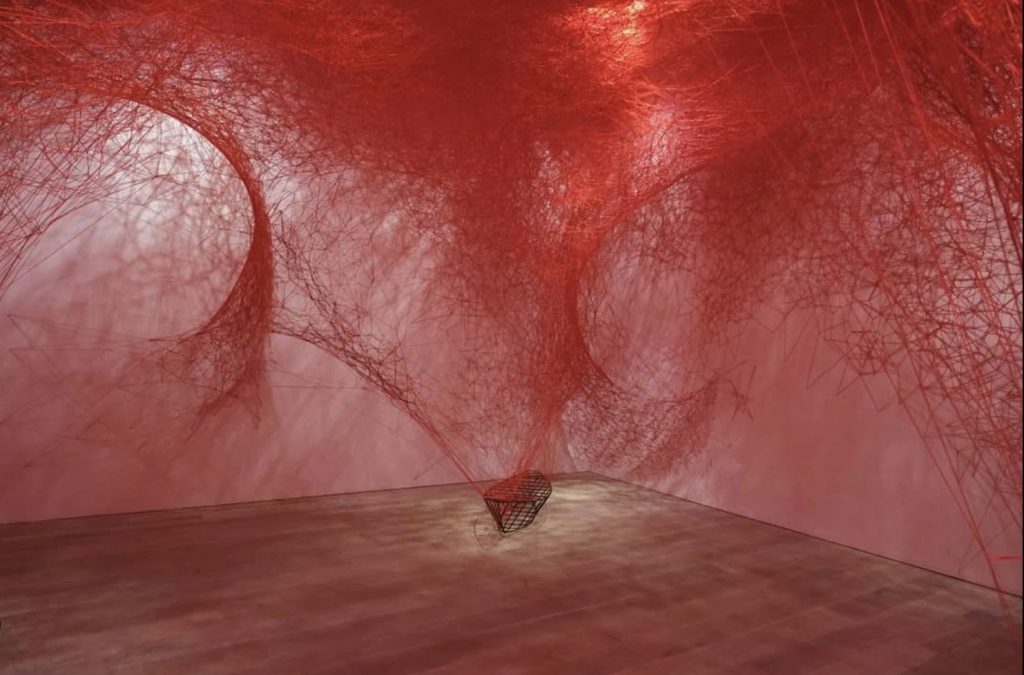 Chiharu Shiota – Beyond Memory and Beyond Time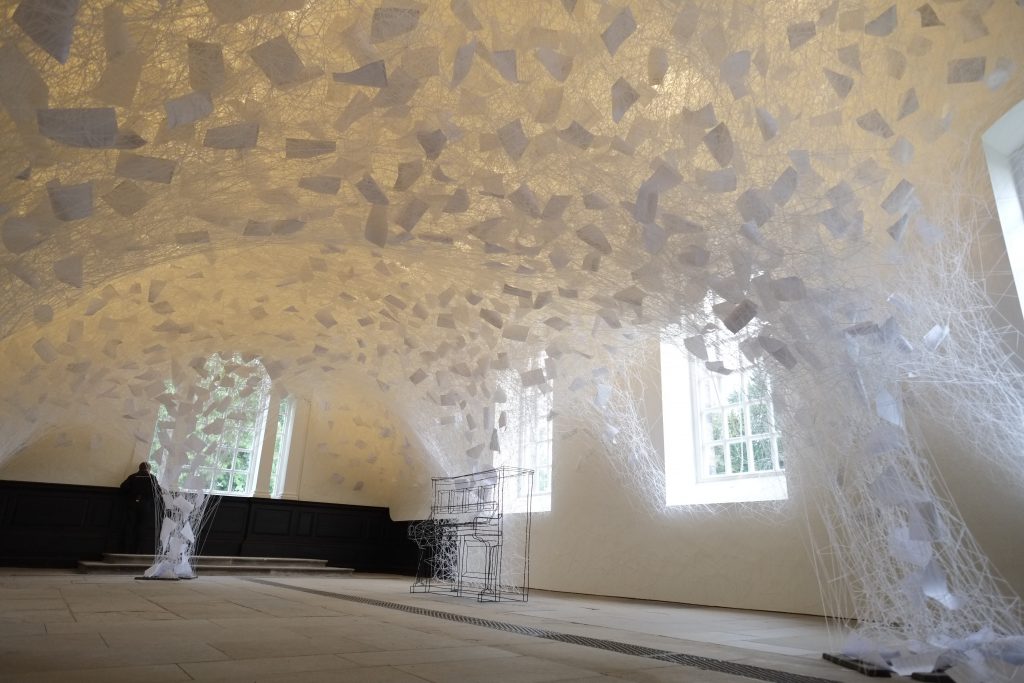 In "Beyond Time," white woolen threads span from the floor to ceiling, driving the viewer deep into the soul of the place. She took stone plates from a long-forgotten organ and intertwined it with 2000 balls of white thread. Thus, the organ becomes a ghostlike presence in this space. She brought life into location as the exhibition was site-specific, unlike standard white cube museum spaces. The chapel accumulated the collective memory of its past life while manifesting it into this creative and thought-provoking concept. Altogether it took 12 people including herself and 12 days to weave the exhibition.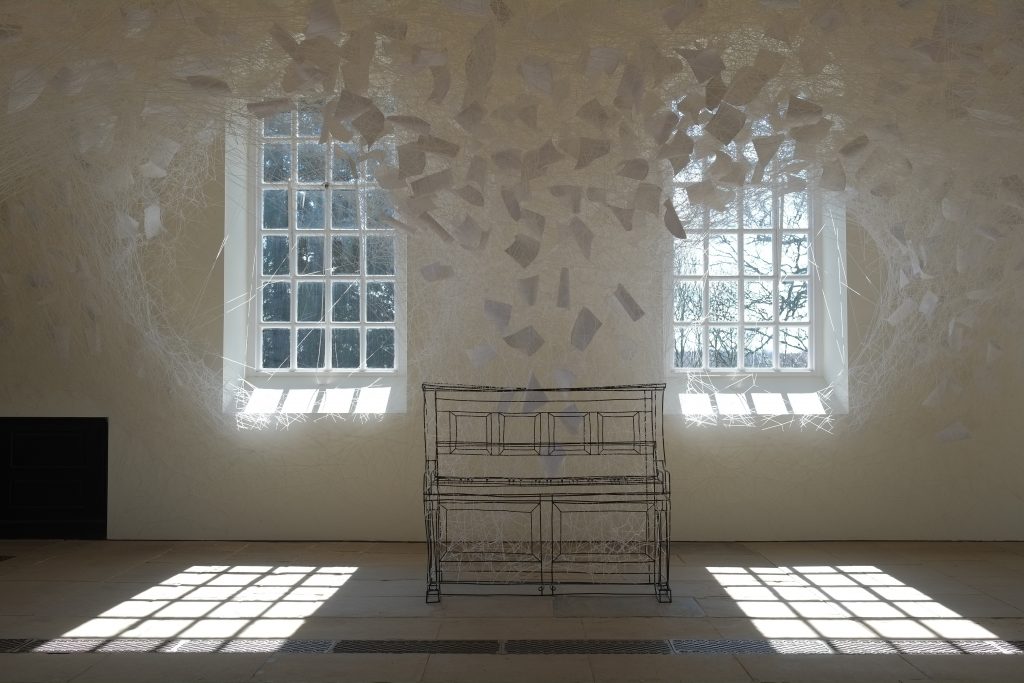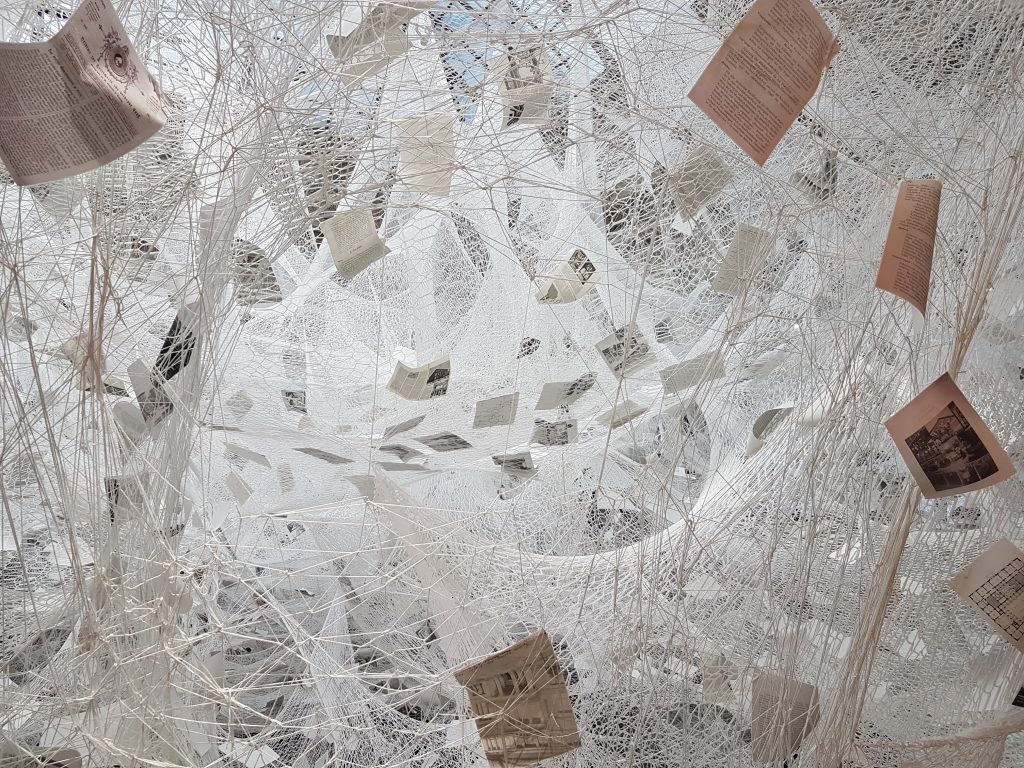 In Beyond Memory, Shiota has woven a 'cloud of thoughts' within the atrium of the Gropius Bau building in Berlin.
This cloud of thoughts and connections is created in order to attach the viewer to the past and the future. Mixed within the all-white yarns are printed black and white pictures, leaflets, and pages torn from books.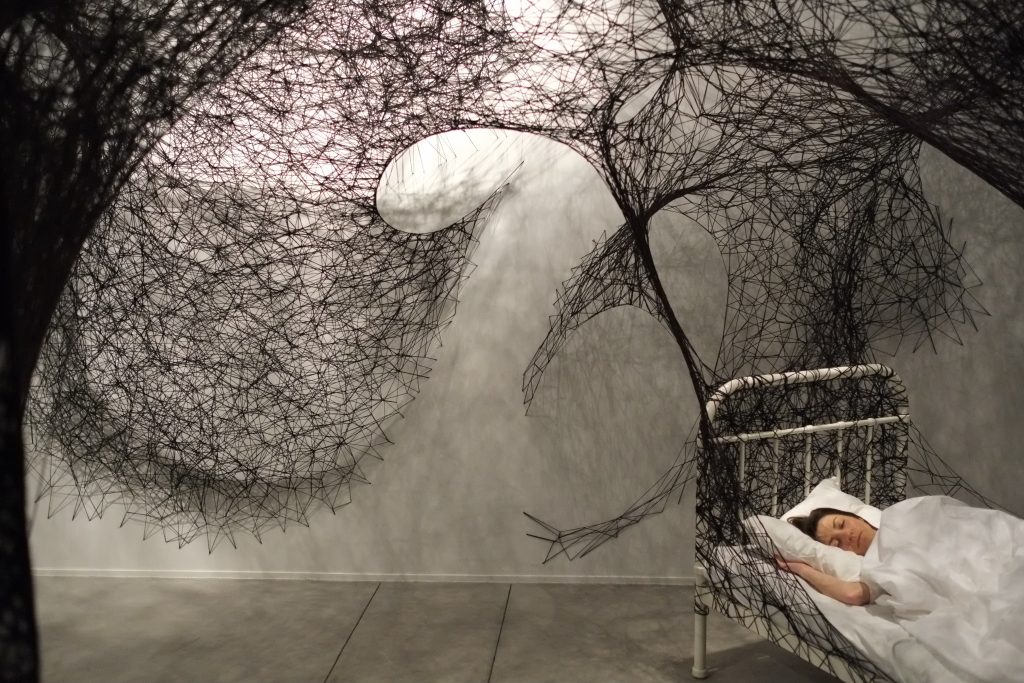 The installation is a site-specific performance about the body in order to emphasize its sleeping and dreaming state.
Webs woven from black threads come out of three beds, extending into space. They create a rather mystical environment illuminated by the light that travels through their transparency.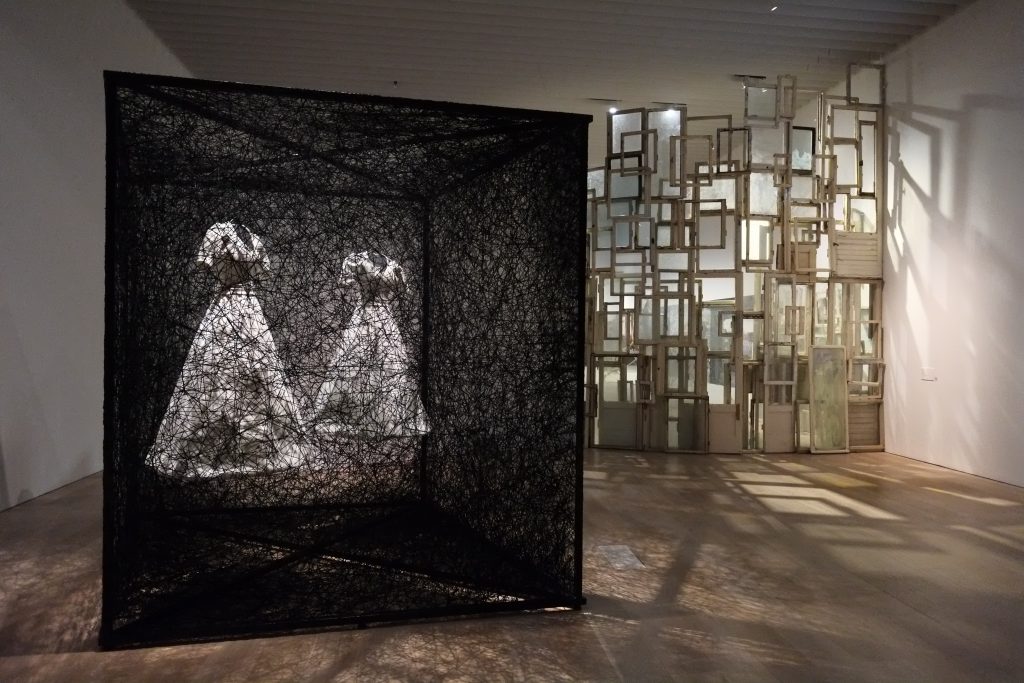 Me Somewhere Else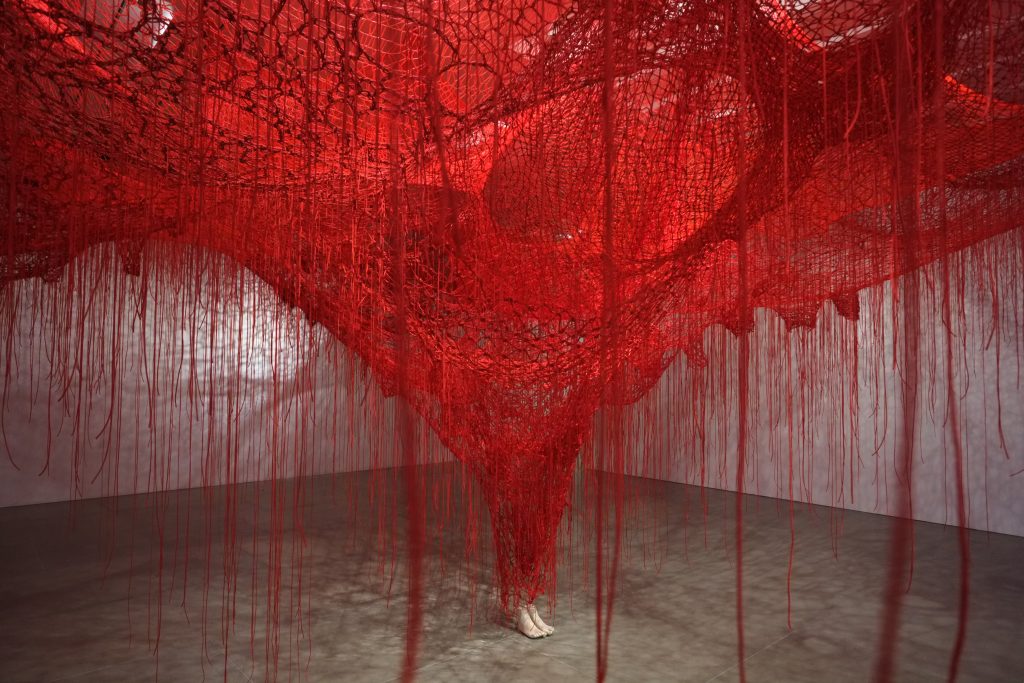 With attention to the sense of connection, the exhibition 'Me, Somewhere Else' Shiota addresses the idea of consciousness as separate from the body.
'I feel that my body is connected to the universe but is my consciousness as well? When my feet touch the earth, I feel connected to the world, to the universe that is spread like a net of human connections, but if I don't feel my body anymore where do I go? Where do I go when my body is gone? When my feet do not touch the ground anymore.'

– Chiharu Shiota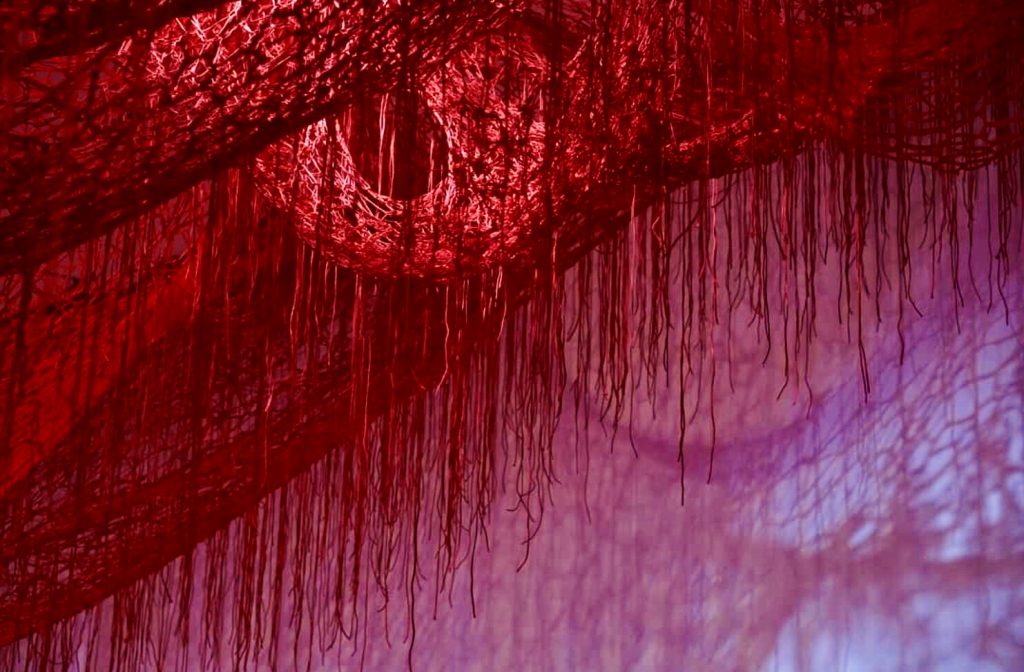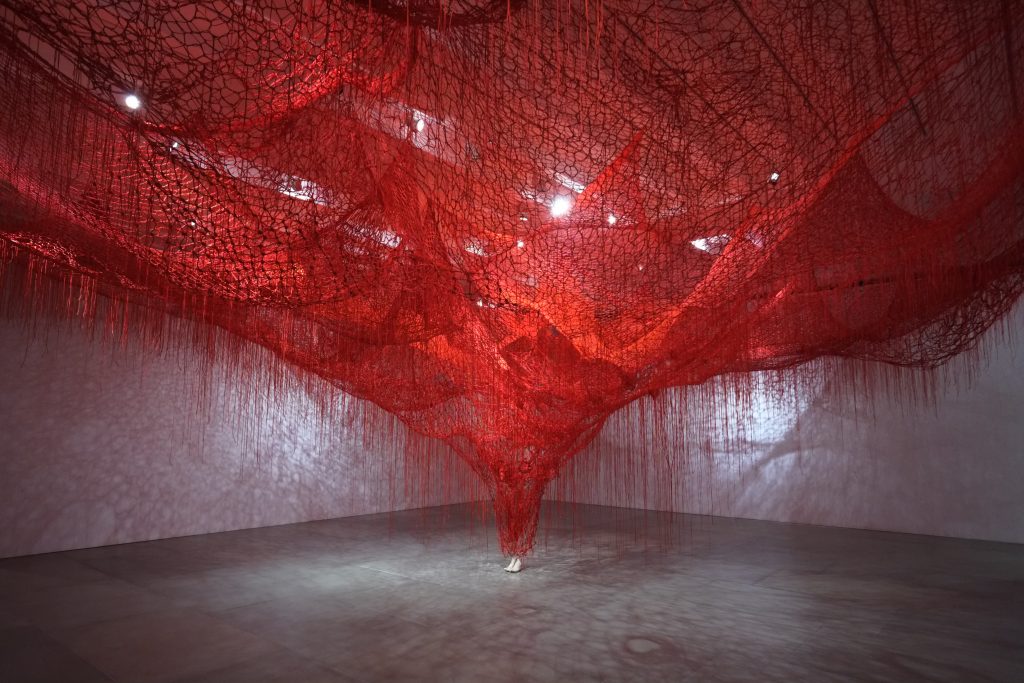 Chiharu Shiota is a performing artist. Performing her own presence in her own absence. While she "undressed" herself, a floating skirt lightly casts a shadow. All of a sudden time is suspended, memories remain, her soul trembles, all around… us.

-Olivier Wackers
Chiharu Shiota – Exhibitions
Notably, some of Chiharu Shiota's global exhibitions can be found at:
New Museum of Jakarta, Indonesia
SCAD Museum of Art, USA
K21 Kunstsammlung NRW, Düsseldorf, Germany
The Smithsonian, Washington DC, USA
Kochi Museum of Art, Japan
Museum of Kyoto, Japan
In 2015 Chiharu Shiota represented Japan at the Venice Biennale with her installation The Key in the Hand
Mori Art Museum in Tokyo, Japan had the exhibition showing Shiota's entire works
A Word from the Founder, Zest & Curiosity
I was admiring Chiharu Shiota's work from afar when I had the great luck to connect with Olivier Wackers who had seen most of her exhibitions. We had many interesting conversations about her immense poignant creativity while I admired his photography. Olivier is very gracious to share his photos and insights with all of us. I am so grateful for this collaboration and can't wait for a day to see Chiharu Shiota exhibition in person. Thank you, Olivier!
Olivier Wackers is a passionate art lover. To see more of his wonderful art and exhibitions captures visit his Instagram.

Virtual Exhibition – The Soul Trembles
The marvelous virtual tour of The Soul Trembles is by the Busan Museum. In essence, this video is a pure visual treat. Shiota creates her intricate worlds with loving care, devotion, and attention to detail that make it so compelling. Indeed her passion and visual mastery deeply resonate with me.
Enjoy in exploring marvelous Chiharu Shiota's art, dear reader.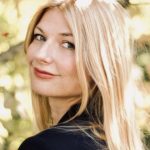 – Tijana
Editor-in-Chief and Creative Director
Zest & Curiosity