Thomas Heatherwick is one of my favorite designers with boundless creativity. Whenever I see any of his projects, large or small scale, his original thinking delights and surprises me. First, I saw his small-scale work Rolling Bridge in London. It was such an ingenious idea – instead of splitting the bridge apart to let water traffic through, it uses a mechanism to curl inwards. Then the transformation becomes a sculpture. I was in awe at the whole concept.
The second project that captived my mind was Bleigiessen, an extraordinary glass sculpture in the new Wellcome Trust headquarters in London. It's made out of 150,000 glass beads suspended on 27,000 high tensile steel wires which span 7 floors. The work took 15 people four months to make, on-site, attaching each individual ball to thousands of wires.
Ever since then I have eagerly followed his work.
Hetherwick's Little Island just opened in Manhattan and our contributor, architect Dragan Strunjas, is taking us on a journey. As he walks the streets of New York, he documents what he sees and the architecture that defines the city. I've enjoyed his New York walks in his Instagram stories for quite a while.
Little Island is located on the edge of the Meatpacking District in New York, and close to the High Line and the marvelous Whitney Museum. It can be visited for free with timed tickets. Dear Reader, enjoy this Manhattan walk with Dragan!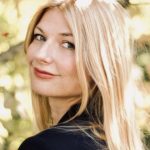 – Tijana
Editor-in-Chief and Creative Director
Zest & Curiosity
Thomas Heatherwick and New York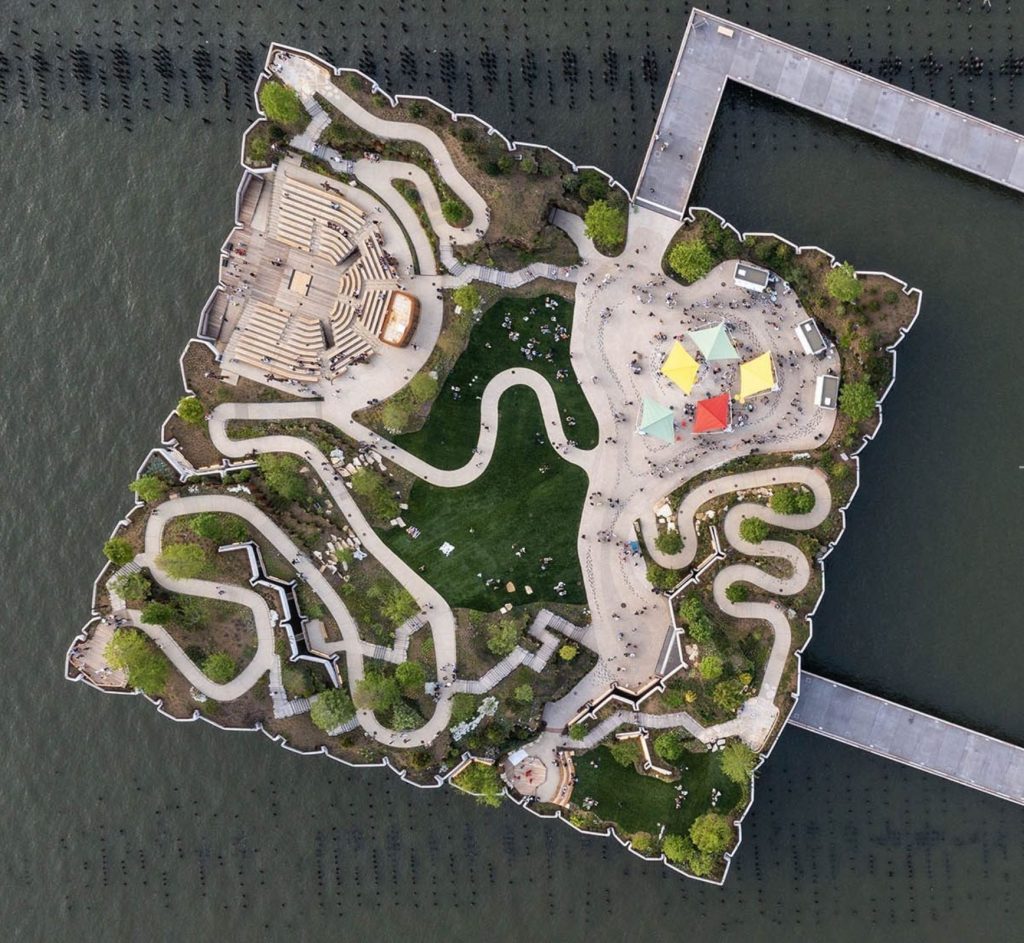 The first, a dizzying Escher-like amalgam of stairways known as "Vessel," opened in Hudson Yards. The second project is creative condo building that hooks under the High Line. Its convex, faceted windows have inspired its name, Lantern House. And, finally, Little Island, a lush green public park on the Hudson River just opened.
Barry Diller, businessman and philanthropist, appointed Heatherwick Studio to build a new pier called Little Island on the Hudson River as both a public park and outdoor performance space. The idea came from observing old wooden piles which evolved into individual sections of green landscape pods, fused atop of new concrete piles. Hundreds of different indigenous plants were planted into planters on the top.
Thomas Heatherwick – Little Island Exploration by Dragan
Often referred to as a "concrete jungle," Manhattan actually has much more park spaces than one would imagine. From Central Park in the middle of the island, through the parks along the rivers, to the smaller parks and city squares inside the dense urban areas. Additionally, office buildings and skyscrapers are creating public plazas as part of their complexes. These plazas are kept open to the public and are a way corporations are giving back for occupying the city air space. This time NYC, joined with a private investor, is giving something new to its workers, tourists, and the New Yorkers.
Little Island is a beautiful city attraction. Even though it's designed as a public park for all New Yorkers with opening hours just like most parks, from 6AM to 1AM, during most of the day you need a free reservation to enter. In practice, this rule is more relaxed if the park is not that crowded. And it's been very popular since day one. I remember it standing there for quite a while as an unreachable but completed construction. It looked fascinating as it is, but went almost unnoticed. Building all the landscape inside really took some time, and with the moment of opening, Instagramers rushed to the river. Instantly, Little Island became THE place where everyone had to take a photo.
Outstanding Sculptural Qualities
Designed by Thomas Heatherwick of Heatherwick Studio, with landscape design by Signe Nielsen of MNLA, the structure consists of 132 concrete "pots" that are tulip-shaped and striking on piles above the water. None of them have the exact same shape. When joined together, they create the island that resembles a flower floating on the water. Little Island shows outstanding sculptural qualities that can leave no one indifferent. From the coast, the view to the concrete flowers between the sky and river is just incredible, and never the same. The everchanging New York weather provides an even better opportunity to enjoy different views. Such as the very appealing blue-sky views to the cloudy and rainy weather when the concrete shows its darker side and a more "brutal" appearance. (It's not to be mistaken with brutalism as an architectural style largely "revived in appreciation' online).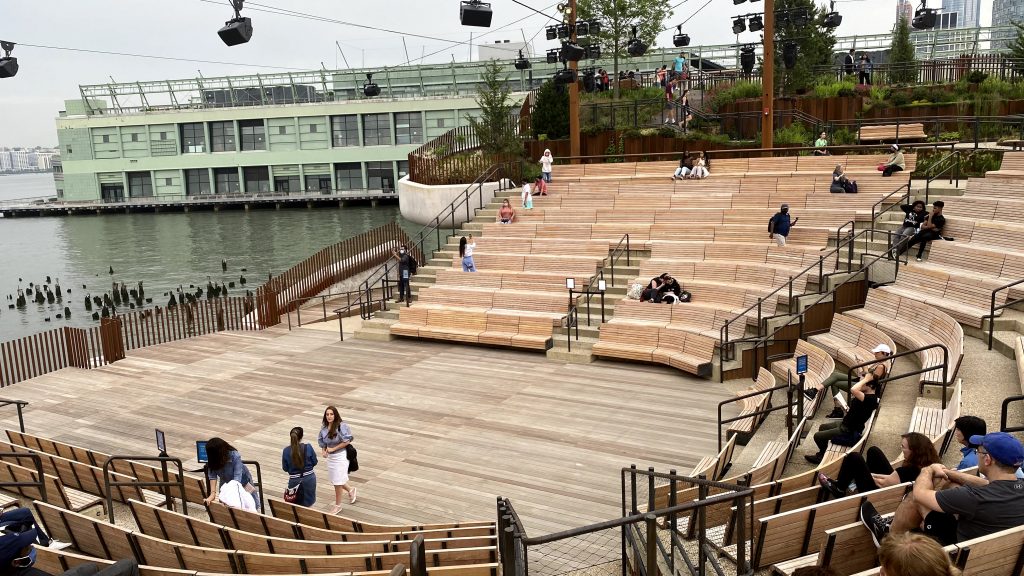 Walking Little Island is a different story. As the paths take us through its landscape it provides constantly changing views. Vibrant greens combine with wood, stone, and concrete while rusty surfaces are introduced for supporting walls and any facades. On each corner, it's evident how every detail was well thought through. Also, Little Island comes as a park with additional content as a resting area, a small stage, and a large amphitheater, simply "The Amph" and small amusement points along the way.
Public Park and Performance Venue
Little Island is a public park with the opportunity to host different events. It also has two major observing spots, but the city views from nearly every spot in the park are also new and refreshing. Paths are organized so that views combine the constructed nature from the island with the city views. The Island is not that big, but yet big enough with so much to offer. I could only suggest walking through it all at least twice – once with your phone in the pocket.
Thomas Heatherwick – Little Island By Night
Nowadays when the online environment and social media are shaping the taste of the general audience, Little Island arrives as a real trendsetter with its "fascinating architecture, "brutal appearance", and "Instagramable views." It responds perfectly to the demands of rapidly changing contemporary society. In this sense, the Little Island is very successful, instantly taking place of the Edge, the Vessel, and the High-Line (all neighbors in the vibrant west side) as the city's top attraction at the moment.
The concept of building a concrete park above the river while using construction to build nature over nature is an interesting discussion. Moreover, another intriguing topic is the necessity of the project and our yearning for more and more fascination for our eyes and cameras. Instant society appears to be bringing instant architecture too. Once again, New York is claiming its image of the "greatest" city presenting something completely new one more time. The project raises all those questions together with pointing all the cameras at it.
No matter its big success in the online world, we must not forget that Little Island is actually a pleasant place to walk, relax and enjoy its impeccable landscape. It is a refreshing, very moving, sculptural, and unique architecture that deserves admiration. (by Dragan Strunjas)
Thomas Heatherwck – The Visionary
Thomas Heatherwick, is a polymath British designer of sculpture, furniture and architecture who leaps through boundaries few artists and designers dare to cross.

– New York Times
Thomas Heatherwick founded Heatherwick Studio, an architecture and design firm located in London. His vision is to bring architecture, design, and sculpture so that they are together within a single practice. On the team architects, landscape architects, designers, and engineers all work together. The studio's work spans fabulous commercial and residential building projects, as well the high-profile works of public art.
At the root of everything I do is a fascination with ideas – what ideas are for, what jobs they do.

– Thomas Heatherwick
About Dragan – Our Guest Contributor