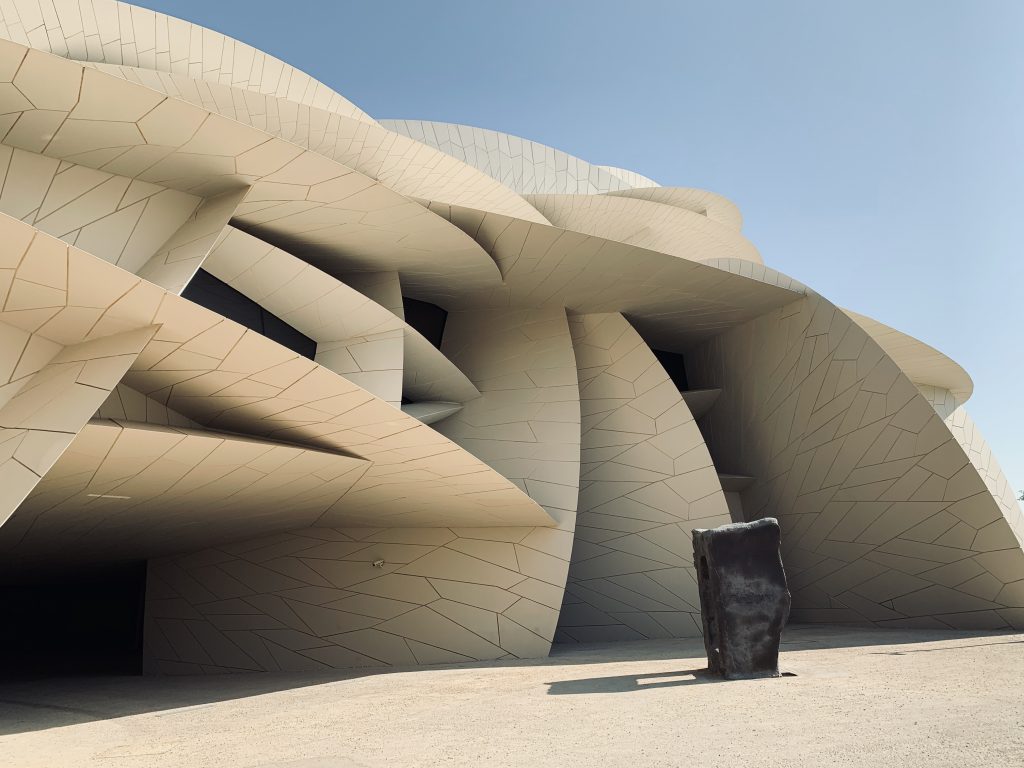 Jean Nouvel is one of the marvelous architects whose work I admire. Finally, I got the opportunity to see his latest museum project in Doha. I remember I was riding in a taxi when I laid my eyes on the National Museum of Qatar. The locals affectionately call Jean Nouvel's magnificent architecture the Desert Rose. At first glance, the structure felt like a mirage. So unusual, futuristic, yet somehow very organic. Its form evokes the desert – endless, timeless and silent, but also enhanced with modern ingenuity. The museum has that captivating je ne sais quoi quality that pulls you in, regardless if you didn't know anything about it. The entire trip to Qatar was an architectural treat.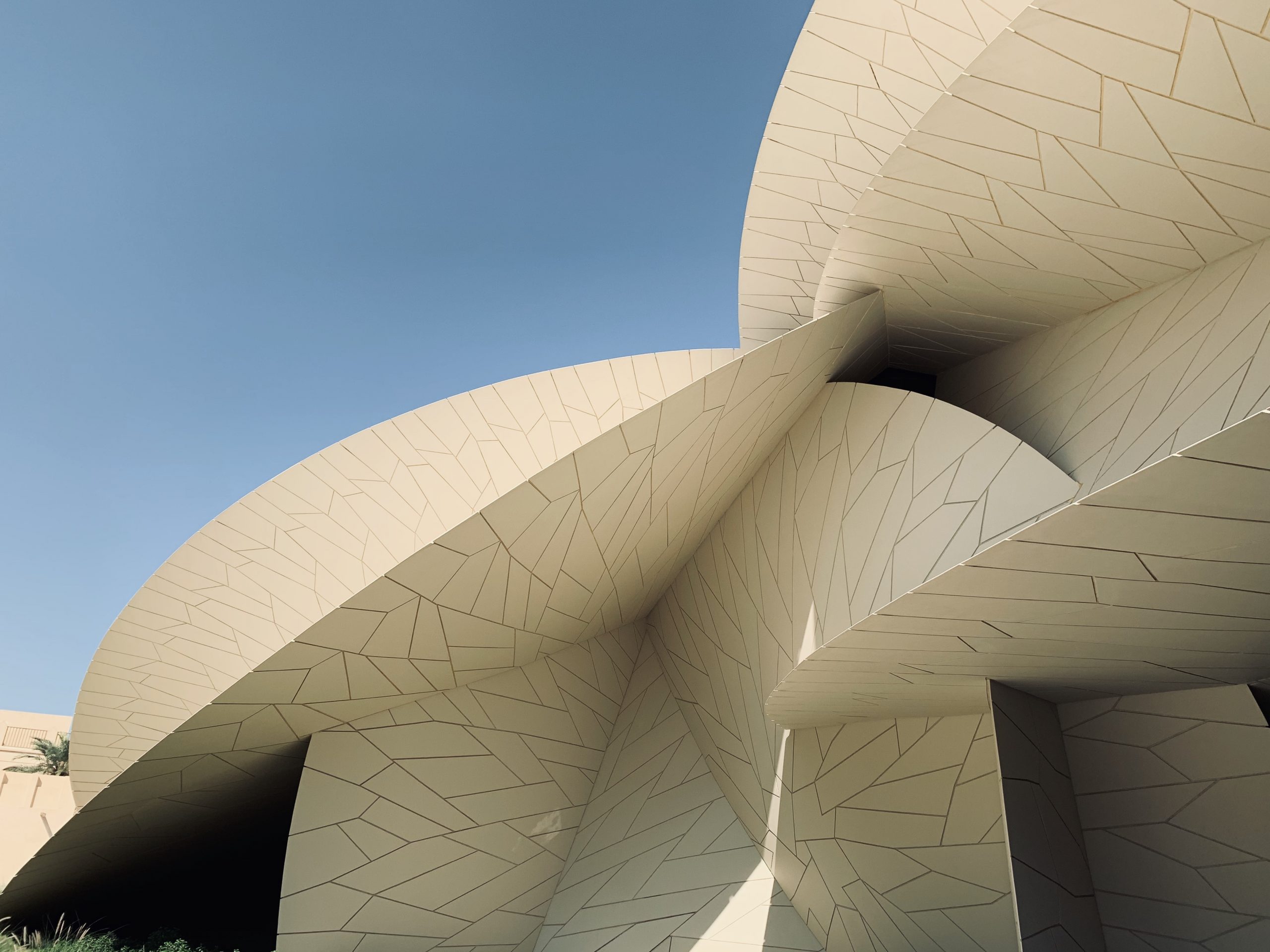 "It's not totally crazy. It just seems crazy." Jean Nouvel, the Pritzker Prize–winning French architect, is describing the system he used to build the National Museum of Qatar. Made of 250,000 different steel elements bolted together in curving sections and covered in glass fiber–reinforced concrete, the building sprawls like scattered, overlapping petals at the edge of the Persian Gulf.

Elle Decor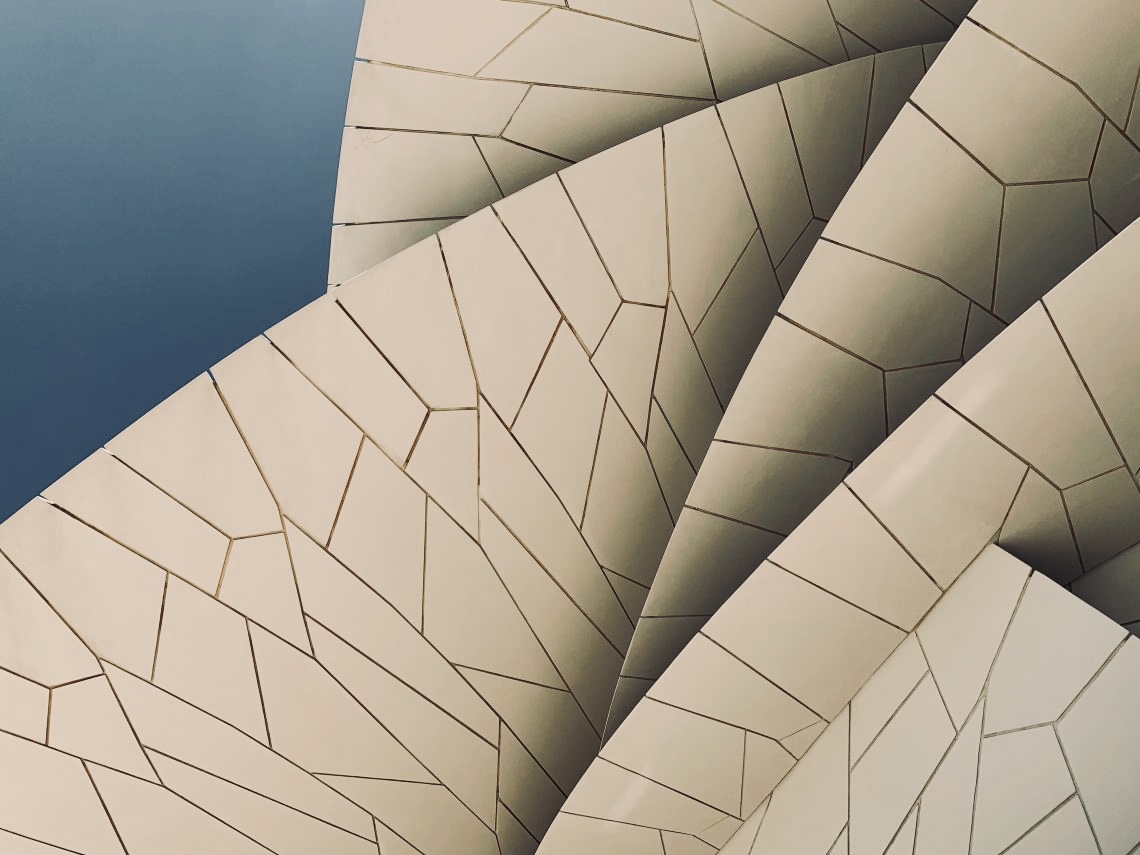 Jean Nouvel
Jean Nouvel is a world-renown French architect and the recipient of the prestigious Pritzker Prize. Per his website, Jean Nouvel's work does not result from considerations of style or ideology. Instead, Nouvel's focus comes from a quest to create a unique concept for a singular combination of people, place and time. His contextual approach and ability to infuse a genuine uniqueness into all his projects have consistently yielded buildings that transform their environments. His architecture imprints an indelible mark on the cities in which they are built.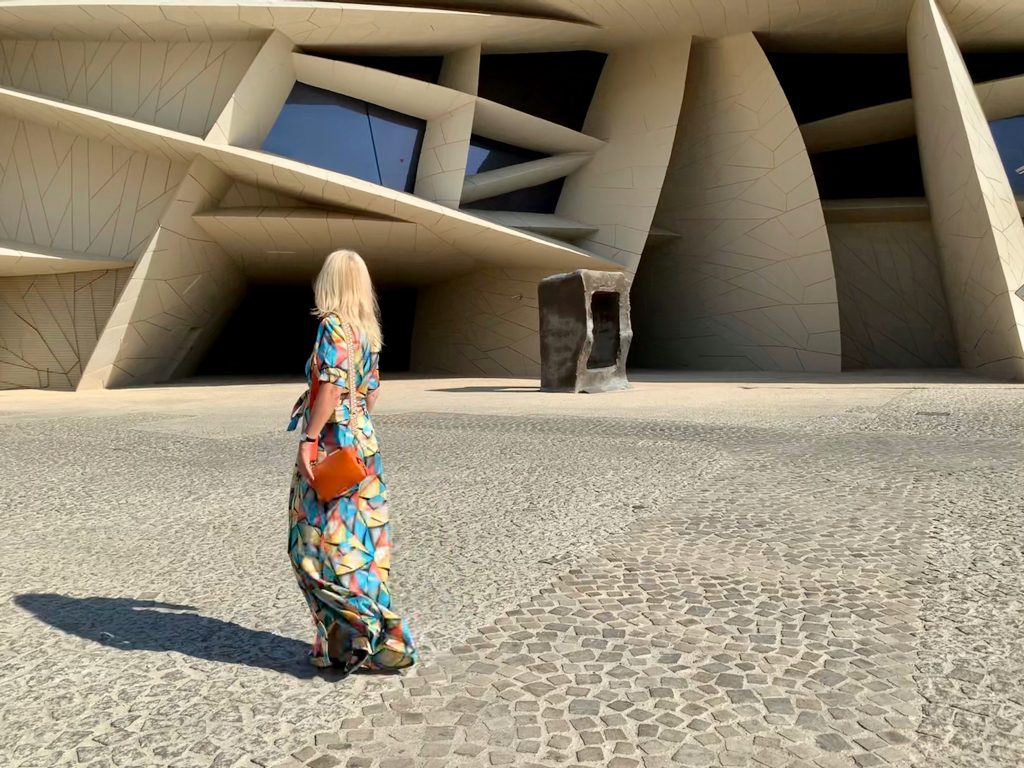 Exhibition at the National Museum of Qatar
The National Museum is an impressive tribute, encapsulation, and a fascinating story about Qatar's past and present. Everything inside and outside is the color of the sand. First, you uncover the earliest history and natural world of Qatar. Beginning with the formation of the peninsula millions of years ago to the arrival of the first settlers. The second part focuses on the life in Qatar told by its people through poetry, song, and objects they crafted and traded. Finally, in the last chapter, you learn how Qatar became the nation we know today.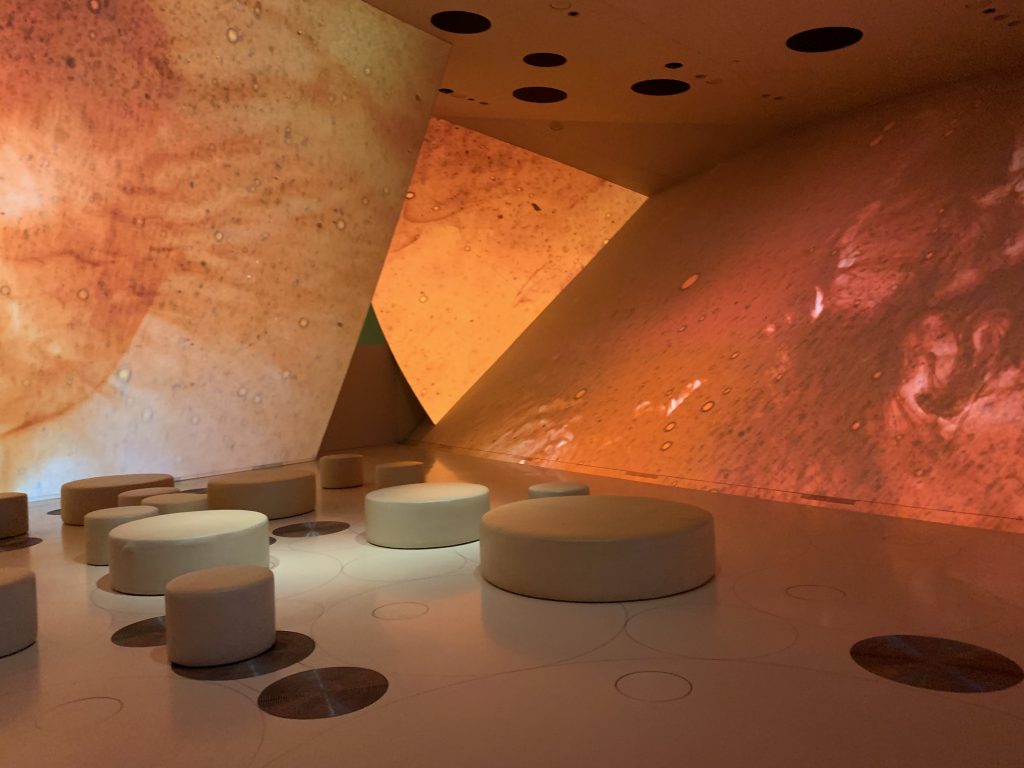 Inside, the series marvelous films immerse spectators in glimpses of different aspects of Qatar's history. Curved interior walls emit a soft enveloping feeling. For hours, I gazed as the incredible film on the walls blended with the exhibition about a fisherman in Qatar. It was absolutely mesmerizing. Furthermore, evocative projections of falcons and camels in the vast desert were very captivating. For a moment, you feel like you are in the desert. The museum is conceived and curated through impressive technological advances.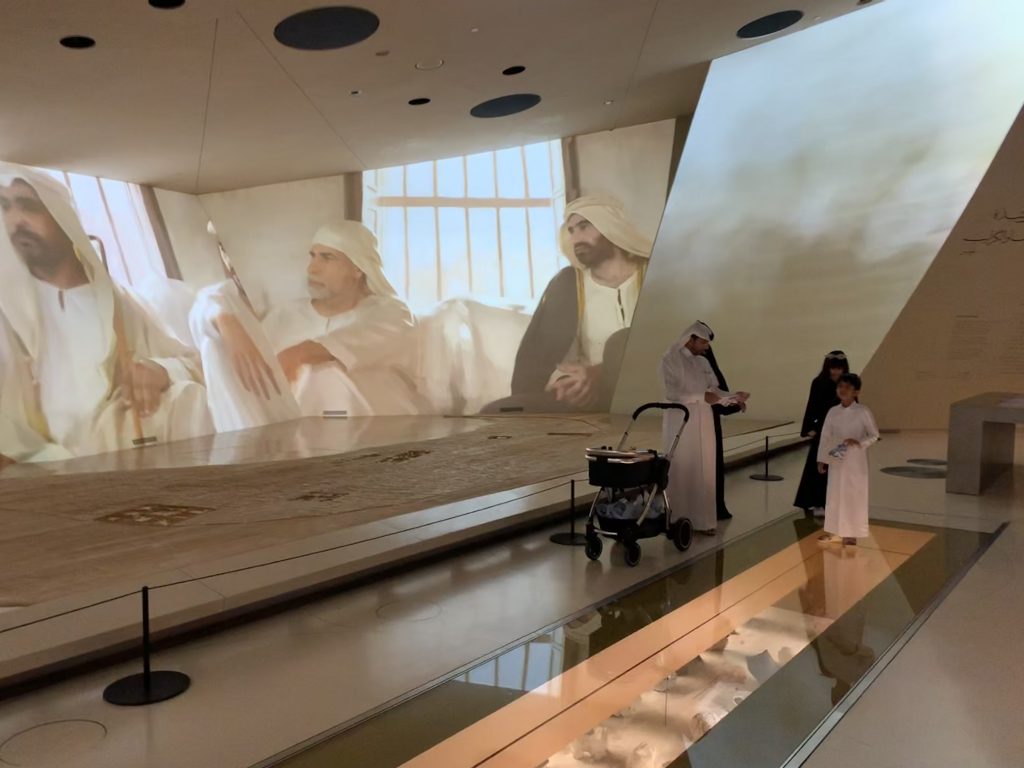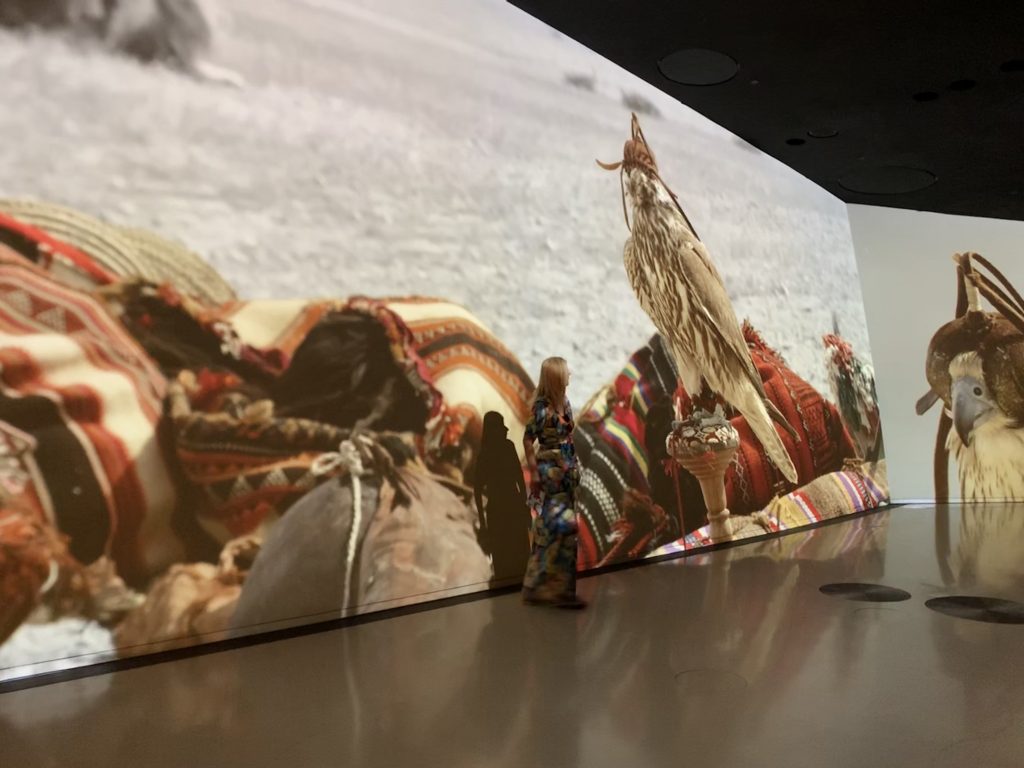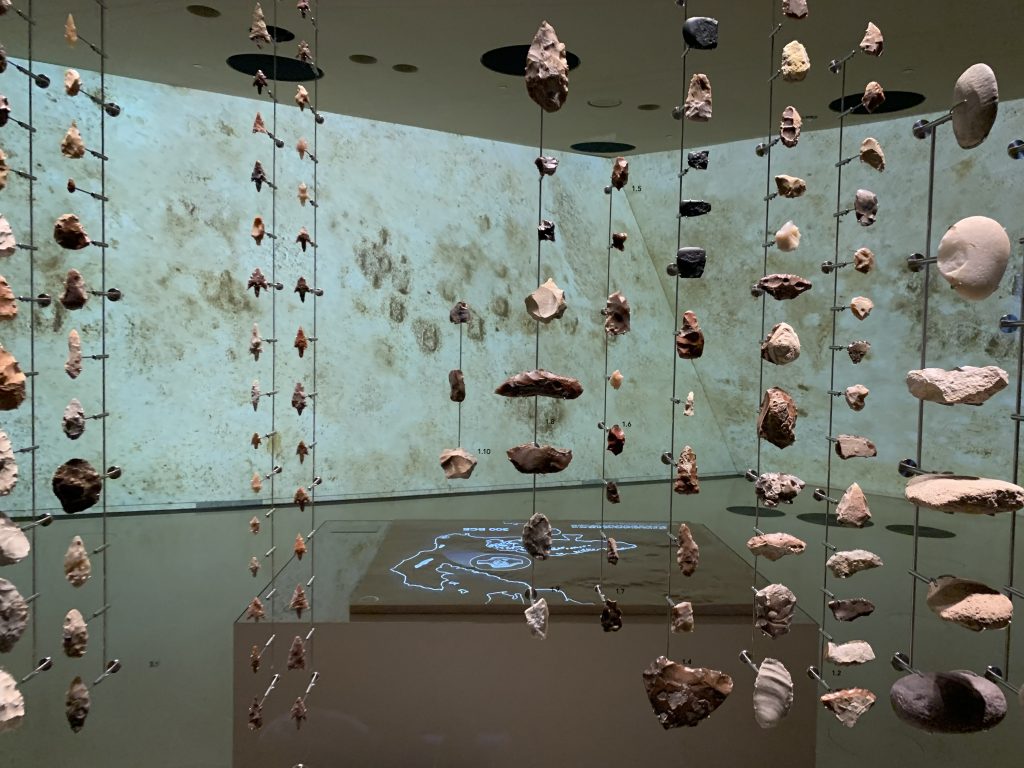 Jean Nouvel – Desert Rose Inspiration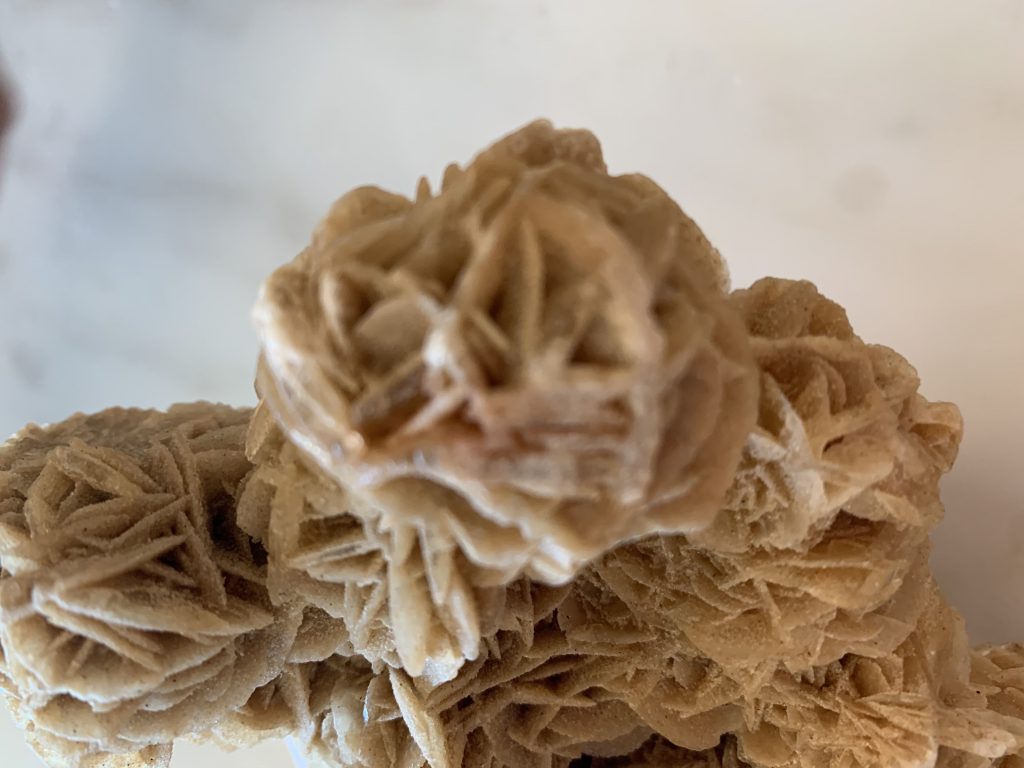 Jean Nouvel wanted to honor the rich history and local materials within the Doha museum. Desert Rose is the informal name given to rose-like formations of crystal clusters of Gypsum or Baryte. To illustrate, they include abundant sand grains that create petal-like structures. The 'petals' are flattened crystals fanning open in radiating clusters, resembling a rose. The desert rose formation was Nouvel's inspiration for the museum architecture. I loved that idea. It's such a complex realization. However, once the idea took hold, it was only a matter of how they will achieve this concept. That act of creation must've felt amazing to freely design this marvelous museum.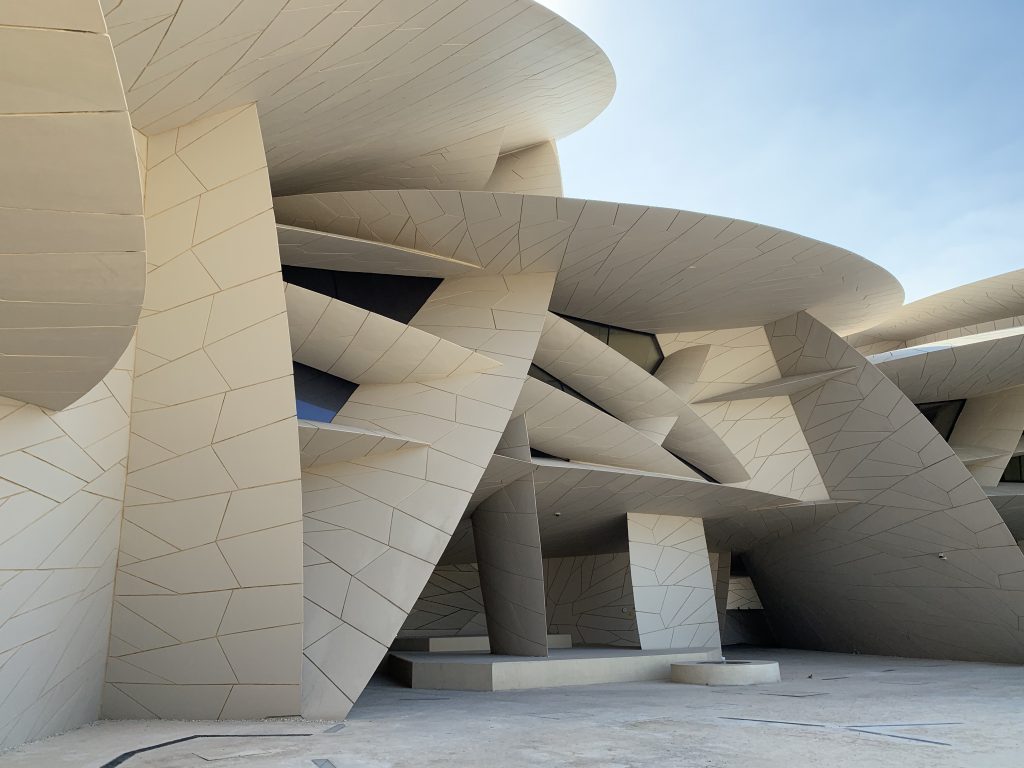 There is something soothing in the interior, with its simple clean lines and curved surfaces. Also, the artifacts and videos are masterfully presented and eloquently executed. All at once, it creates a sense of organic harmony.
One afternoon was not enough to explore it all. However, you do get a sense of place and to enjoy in the magnificent architecture.
For me, architecture is all about a feeling within a space. Moreover, I am interested in the architect's thought process to achieve aesthetic beauty and functionality. I savored the outside of Jean Nouvel's building and took time to experience it slowly before I went inside. Altogether, I was elated to make this precious architectural detour to Qatar.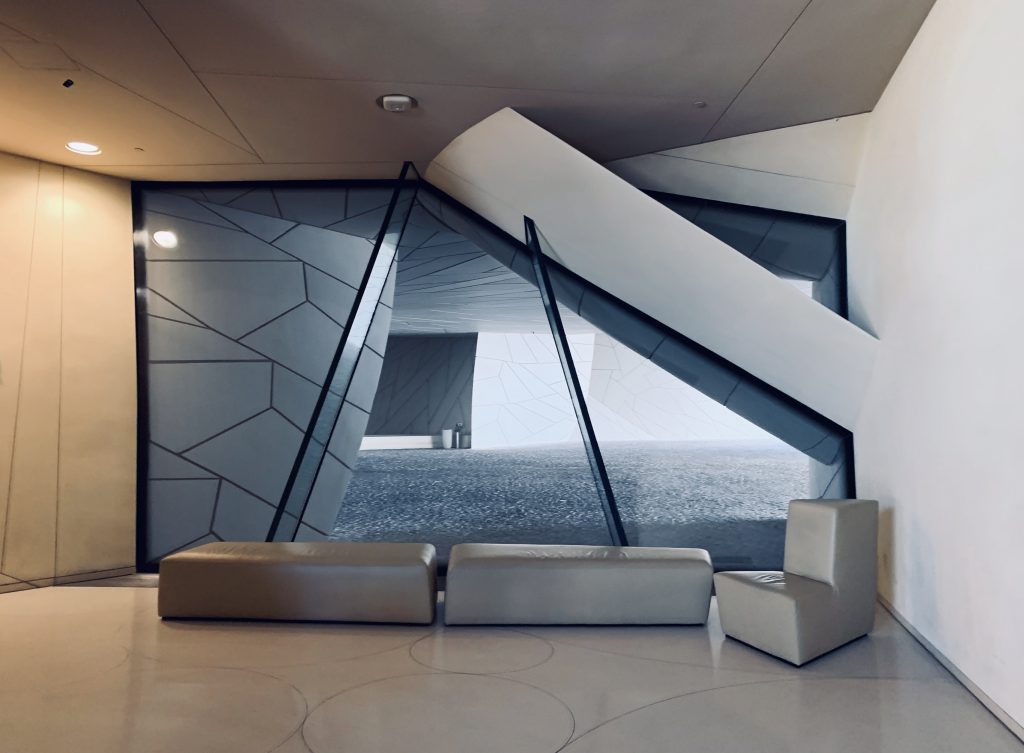 Insider Tips for Doha Museums
I bought a Museum Pass for QAR 100 which permits admission to all museums and venues. It's valid for three consecutive days from the date of the first admission. Additionally, complimentary bus transfers between the multiple museums are available. You can get a pass at any museum. If you plan to go see two or more of Qatar's first-class museums by world-renowned architects, this is a great way to do it.
Nevertheless, there is a lovely Desert Rose Café at the museum I highly recommend. The menu had a mix of local and international dishes. The Desert Rose coffee came with edible flowers that were absolutely amazing.
Also, Qatar Airlines has a great stopover program for 1-4 days. If you have a long connecting flight through Doha, take the chance to see these amazing museums.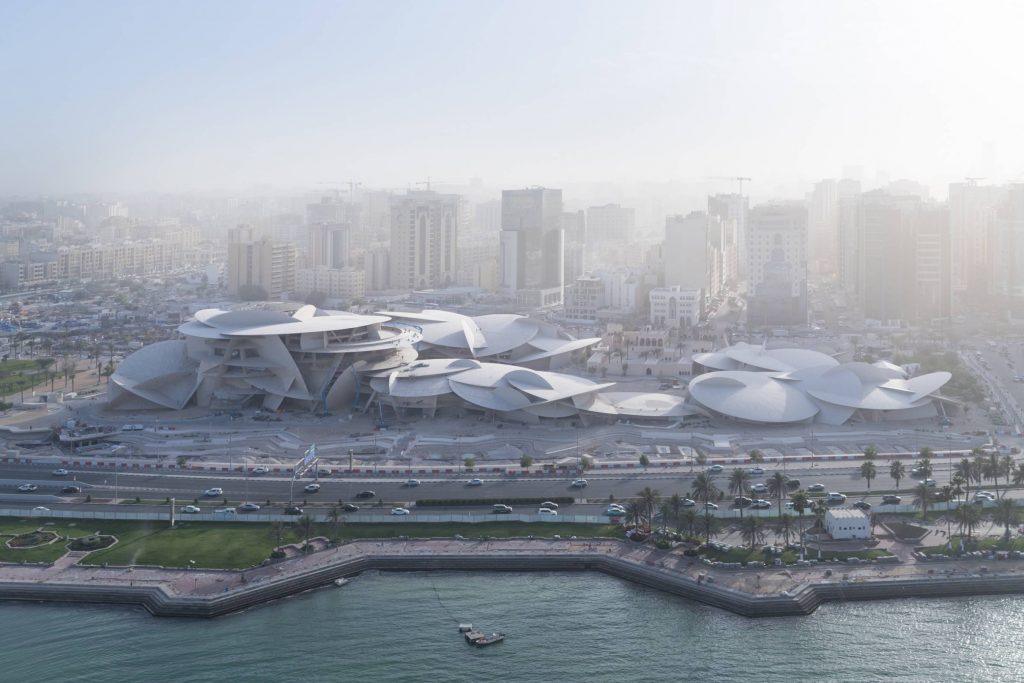 Dear reader, for more fascinating art in Qatar, check also Richard Serra's East-West/West-East.
Where Is It?