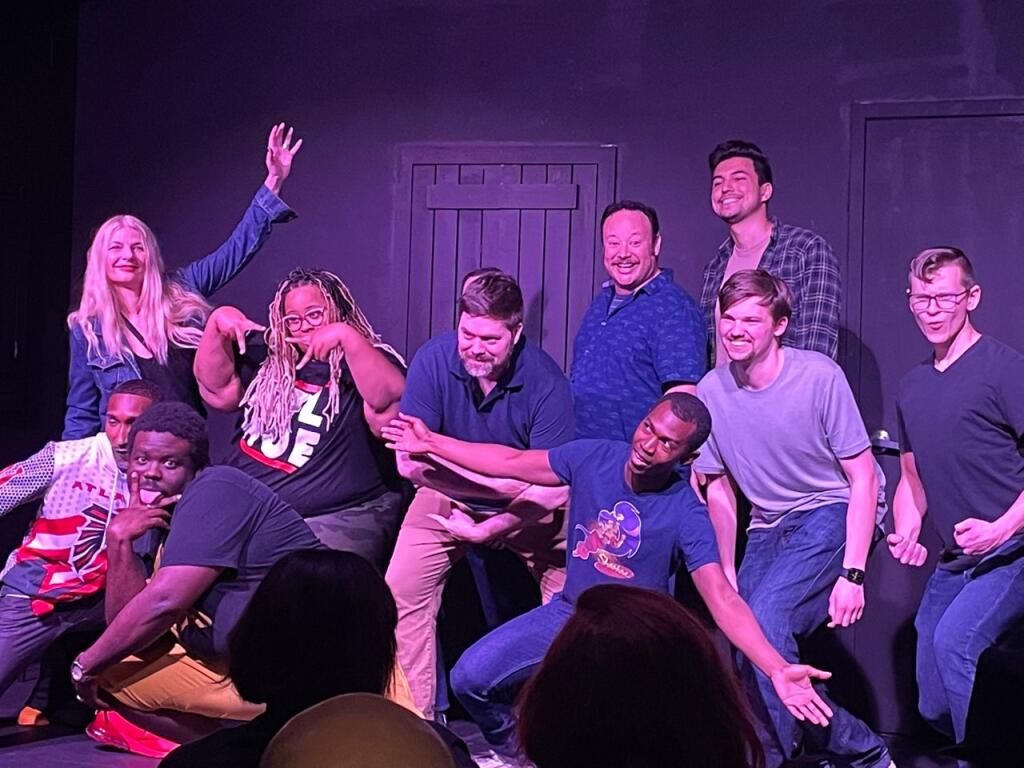 Improv Comedy – My Unexpected Choice
In my life, I never would've dreamed that I would sign up for Improv Comedy classes. After the physical and mental strain of a global pandemic and social isolation, I was eager to step back into the world. I was curious because the improv class was out of my comfort zone, why not try it? And I loved it!
Typically when exploring new interests I would take art classes, photography, dance or sculpting. In general, I like being an observer and photographing the world around me. Except for this time. I wanted to do something different and push myself out of my comfort zone. I couldn't imagine myself being front and center stage, let alone becoming a comedienne. But what did I have to lose? Even if I suck big time, then at least I'll have fun and a lot of laughs while doing it.
Once I took classes, I never looked back. It was an incredible experience that also became an interesting conversation starter. When I started telling my friends and family about the new improv adventure, I was shocked to hear the same response over and over again, "You're so brave!".

Standing on stage, let alone getting a few laughs from the audience, is a daunting task for so many of us. Personally, I was so focused on just exploring something new that I never considered why I shouldn't try it. It's amazing what you can do when you shift your focus. I never thought that this would generate so many interesting discussions.
Discovery of Improv Comedy
When I signed up for the classes, I didn't know what to expect. I knew it was not stand-up comedy, so I wouldn't be standing alone delivering witty monologues. I truly would not be able to be that. But I didn't know exactly what improv comedy entails. Let's find out.
A Beginner's Experience in Improv Comedy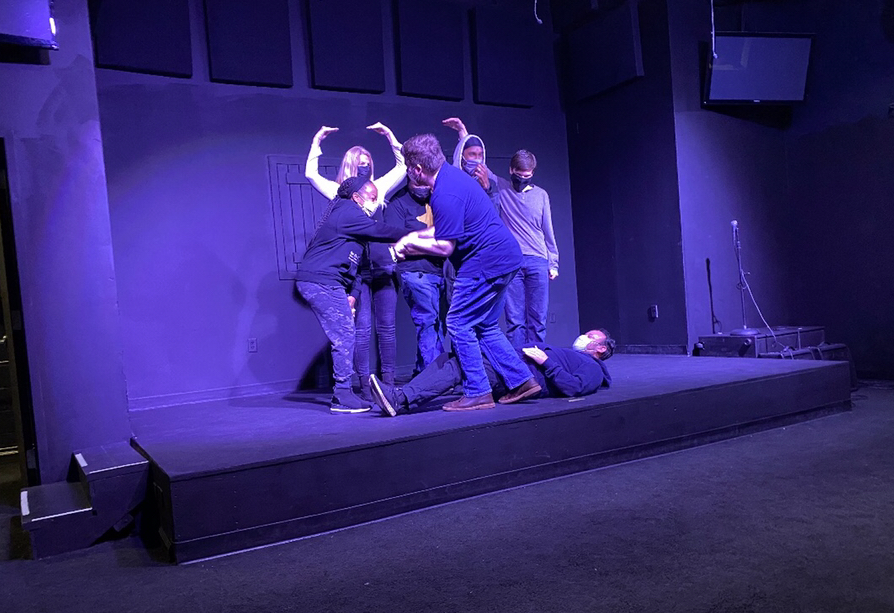 The magic behind improv comedy is that it is done with a group of dynamic, creative, and fantastic people. We come from all walks of life. Some of us are naturals and own the stage. Others have an insane sense of humor and incredible comedic timing. A few are pursuing acting and want to develop their skillset. Then there were ones like me, just curious about the experience.
The beauty of improv comedy is that once you're on stage, you can choose to participate or not. It's a matter of being in the moment of inspiration. Aside from the creative liberty, what I really value the most is the incredible support from my classmates. There's a comfort in knowing that if I do something that doesn't work, my classmates will jump in and save the day. We all have each other's back. Knowing that you'll always have someone to help you out is what truly sets you free.
If you think about it, life is a stage too. We don't know what will happen. We create our own stories. Then we react based on our instincts. It's very interesting living and performing improv comedy. You never know what you'll discover about yourself when you must react on the spot and play a part in the story. It's a very pure form of being.
There is so much philosophy in this medium. We operate at our best when we know that not all the weight is on our shoulders. When we share experiences. We are there for each other. For improv you need others.
Tips for Improv Comedy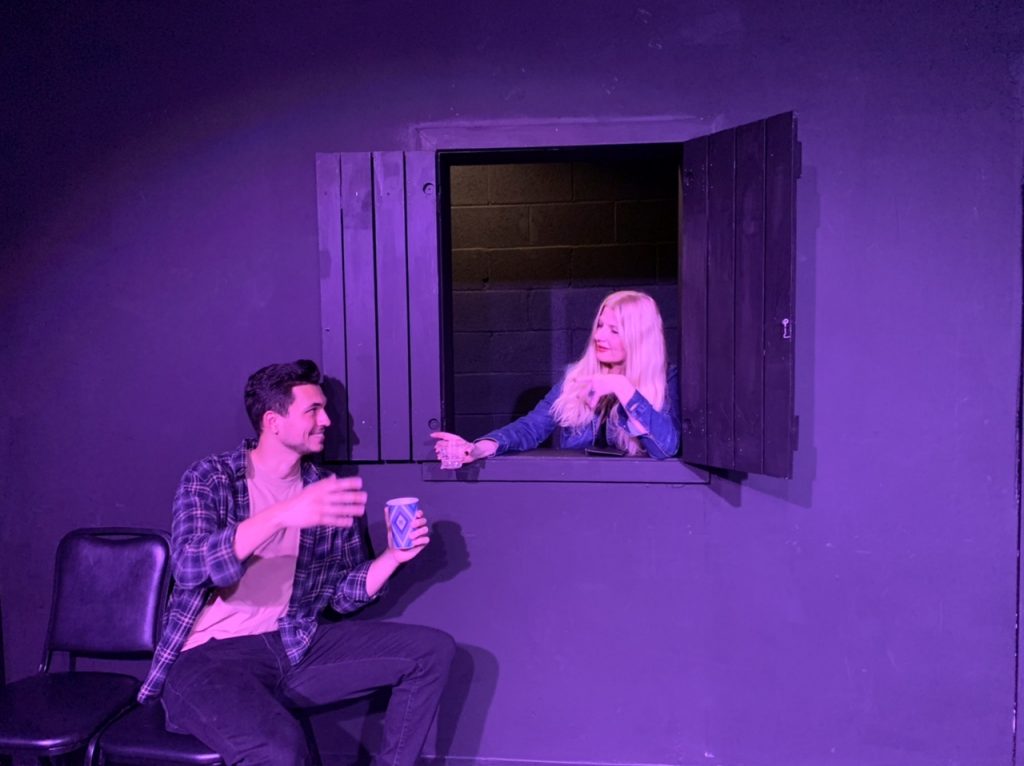 There are many different ways to experience improv and improv comedy. I personally enjoy partaking in improv classes, watching other classes perform, and going to improv jams.
Improv comedy usually starts with a prompt or a word. Then we use a method to explore it. For example, you can have a stage scene with a buzzer (which gives you a new reaction), and you completely change the premise by shifting into a different emotion. With each buzzing sound, you switch the mood. Instead of joy, you became agitated, perky, confused, or sleepy, to the hilarious effect. This gives us the ability to explore the same scene in so many different ways.
Improv jams are sign-up events at any place that hosts improv comedy shows. If someone told me that I'll create a show with 7 strangers and go on stage in 15 minutes, I would not imagine it in a million years. Yet we do just that.
It's best to not overthink it. Make a decision and stick to it. React and feel. It never ceases to amaze me what you can come up with at the spur of the moment.
One of the most beautiful things that happened was backstage before our graduation show. In a very unglamorous room, we had 3 classes all together waiting for our shows. Most of us just met. As we were waiting for the show to start, one girl stated a prompt, and we did improv – just for us, the performers – spontaneously right before we went on stage. We had a small show just for ourselves. My heart was full.
After the Show Thoughts
We had a sold-out show, and the audience was very responsive. I honestly didn't even process that fully. You just embrace the moment. All the other shows that followed were unique and exciting in their own way. There are endless possibilities and different ways people improvise – imagination is running free, on the spot.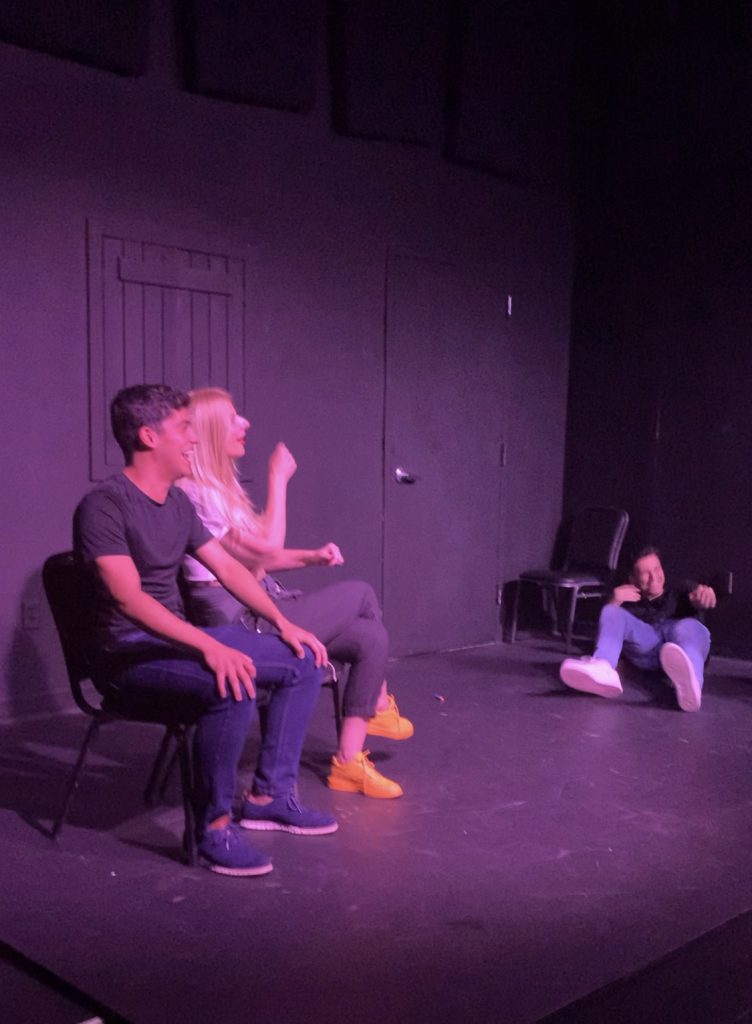 Improv performers maintain momentum when they trust their instincts. If you're listening to your partner and staying emotionally present in the scene, your instincts will guide you.


It's important not to worry about being funny. Simply focus on staying present in the scene. Listening to your partner, trusting your instincts, and reacting honestly all make for an engaging performance. One of the most precious outcomes of this creative exploration is finding your community. You can go to any place nationwide where they have jams and just join in. What a fabulous thought!
About the Village Theatre
The Village Theatre offers great classes in the historic Old Fourth Ward in Atlanta. I highly recommend Jenny and Sarah, both are an amazing and encouraging instructors. Marvelous shows are going on weekly and Improv jams are bi-monthly.
Here is a little bit more about The Village Theatre's mission: To create a safe, collaborative community where individuals from every background can come to learn, perform, and watch comedy, allowing them to become a better version of themselves. They envision a world where every person has the opportunity to experience the transformative effects of comedy, including relentless joy and unending support.
VALUES:
Enriching Atlanta's culture by Including the diversity of voices in the local comedy scene.
Developing top-notch comedy content by investing in our performers and students
Creating a mentally, physically, and emotionally safe space for people to take bold risks, knowing they're fully supported.
(Source: Village Theatre)
What Exactly is Improv Comedy?
Improv (also known as Impro, Improvised Comedy, or Improvisation) is the art of spontaneously acting and reacting to the other actor in the moment to create comedy or theatre from scratch.
The art of improv is a combination of acceptance of an offer, the ability to tell a story, strong listening skills, knowing when to end a scene and being a team player. Often improvisers will take a suggestion from the audience, or draw on some other source of inspiration to get started.
Two Types of Improv Comedy
In the improv comedy, we usually find those categories:
Short-form improv: Short-form improv shows are made up of short, self-contained scenes. These often take the structure of improv games with clear rules and audience suggestions.

Long-form improv: Long-form improvisation is more extensive and elaborate than short-form plays. Performers often operate off a single audience suggestion and then craft a series of interlocking scenes that may feature recurring characters, joke callbacks, and an overarching plot. Some long-form improv groups even stage full-length plays off a single audience suggestion. I find this impressive.
One of the most crucial rules of improv is to "yes, and" your partner, or react positively to what they are saying and build on the scenario they've presented. Material is everywhere. We draw inspiration from life.
(Source: Masterclass on Improv Comedy)
I have stumbled to something amazing with taking improv comedy classes and I am grateful for it.

I signed up for more classes.
And, I love it!


– Tijana