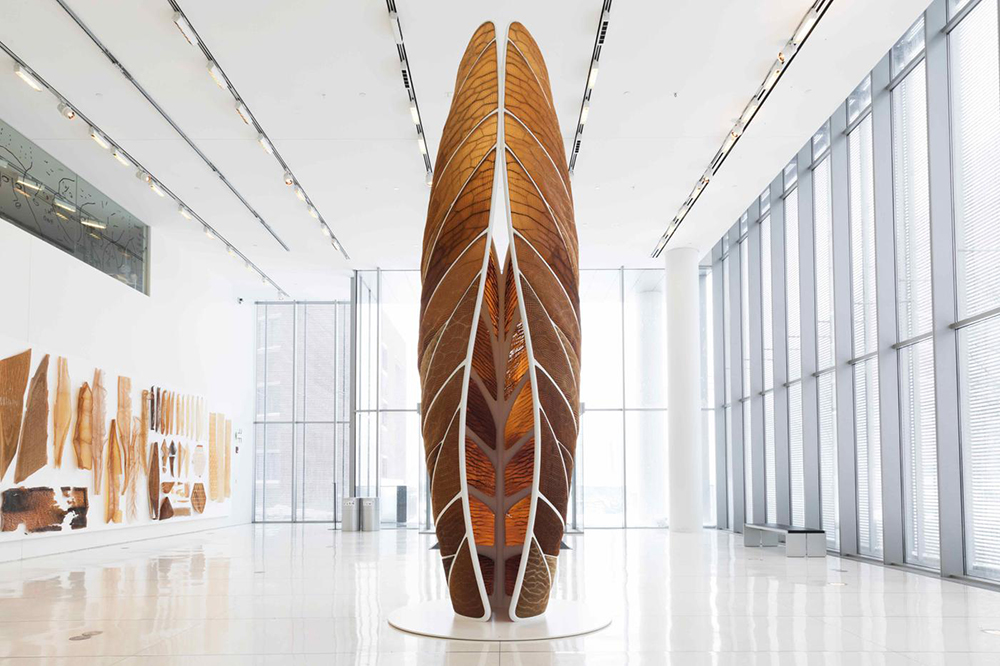 Neri Oxman has a very unique look at the world and a multidisciplinary approach to science and design. She piqued my interest when I read about her project "Aguahoja I" that blurs the lines between creativity and science. To illustrate, this artistic sculpture is composed of 3D-printed materials from the organic matter abundantly found in nature. A tremendous amount of scientific research went into its creation. This project examines how even though we consider the materials waste, they can transform the design. Additionally, it offers new biopolymer composites that have tunable mechanical and optical properties. Thus, they respond to their environment in ways that are impossible to achieve with their synthetic counterparts.

Derived from organic matter, printed by a robot , and shaped by water this work points towards a future where the grown and the made unite.

– Mediated Matter Group MIT, lead by Oxman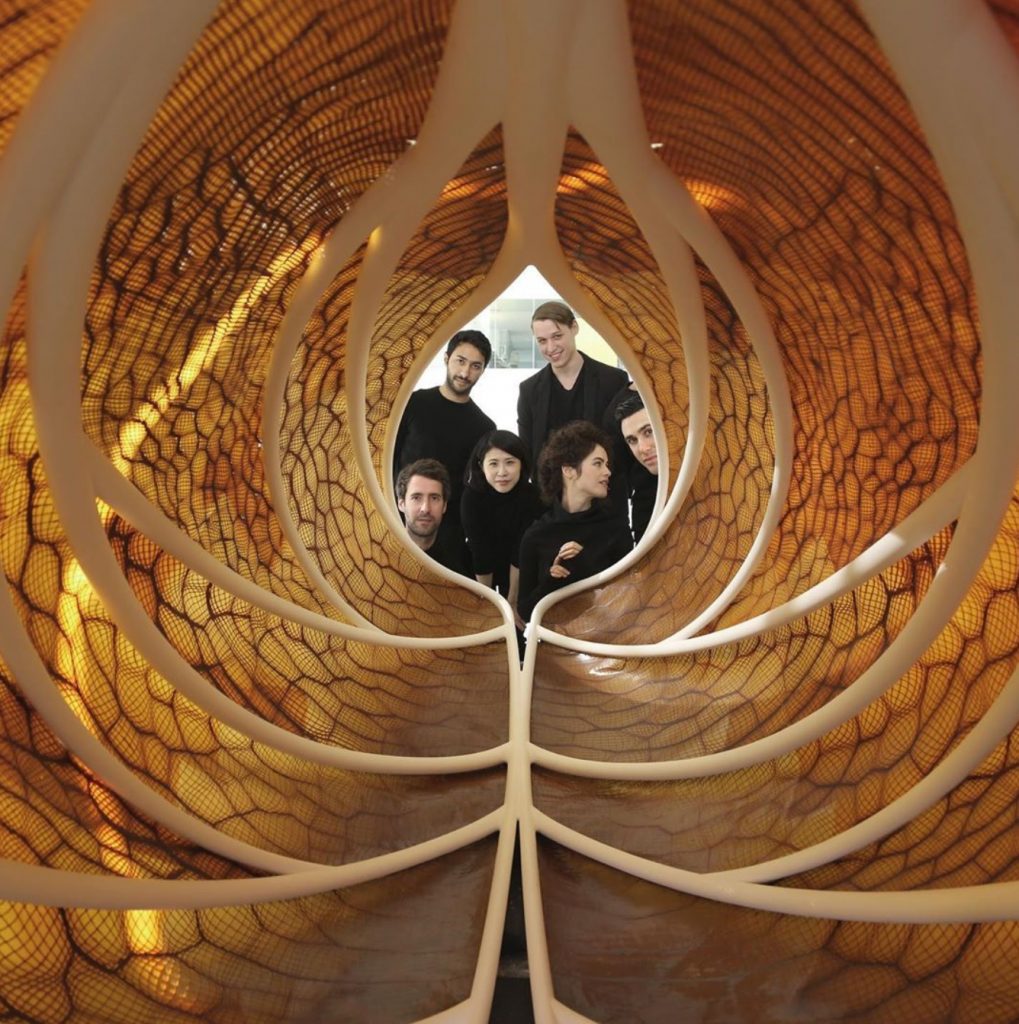 Who is Neri Oxman?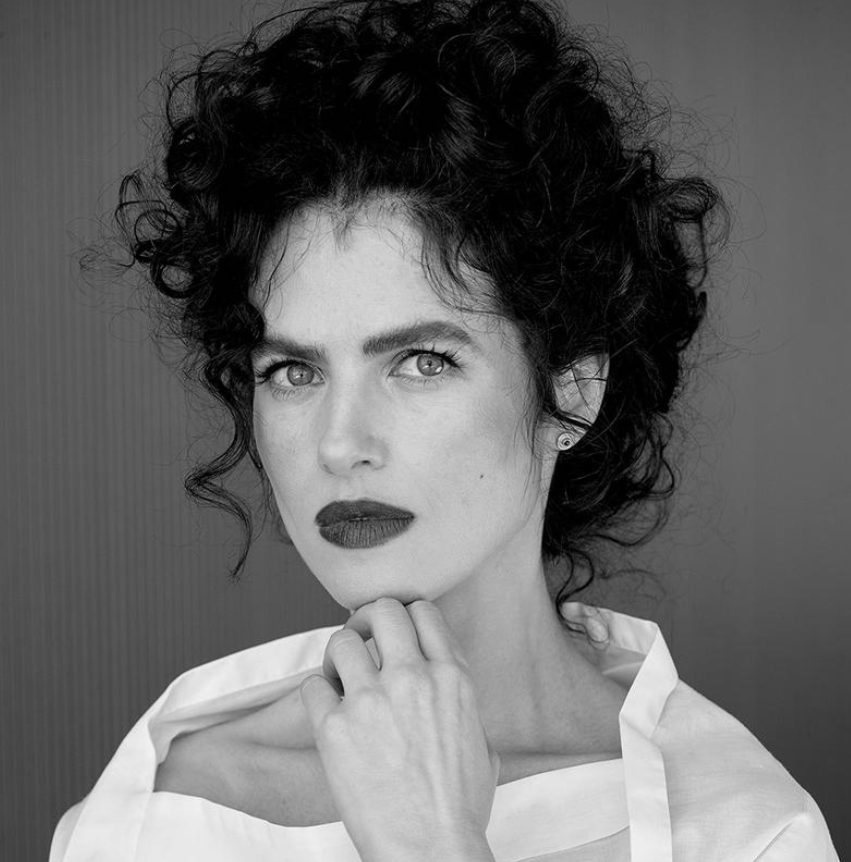 Neri Oxman is an MIT professor, architect, and designer. Her focus is on how architecture and art simultaneously intertwine with biology, design computing, and materials engineering. The Museum of Modern Art (MoMA), Centre Georges Pompidou, the Smithsonian Institution, and many other museums contain permanent collections of Oxman's work.

Photo by Noah Kalina.
In the end, it's clear that the incorporation of synthetic biology in product and architectural design will enable the transition from designs that are inspired by nature to designs made with and by nature to, possibly, designing nature herself.

– Neri Oxman
Furthermore, Oxman collaborated with talented fashion designer Iris Van Herpen on her otherworldly 3D-printed dress. Another notable collaboration includes working with Bjork on custom 3D-printed feathered, filamented, and textured masks. Previously I had the good fortune of seeing Van Herpen's 3D-printed dresses in the High Museum of Art in Atlanta. Iris Van Herpen redefines what the future of fashion could be whereas Neri Oxman redefines what the future of science could be.
Neri Oxman – Design Philosophy
Since I am an engineer by education, reading about interesting scientific projects with strong architectural or artistic approaches is thrilling. I was in heaven. Each project offers a fascinating perspective while solving complex puzzles.

Per her bio at MIT website, Oxman coined the term and simultaneously pioneered the field of Material Ecology. Material Ecology considers computation, fabrication, and the material itself as inseparable dimensions of the design. In fact, through biology and digital engineering, products and buildings are in construction by, with, and for nature.
In short, per Wikipedia, Neri Oxman describes her work as pursuing "a shift from consuming nature as a geological resource to editing it as a biological one." This leads to using multi-scale biological shapes and textures for inspiration. Fascinatingly, Oxman includes living elements in her fabrication processes, such as the glowing bacteria in Mushtari and using silkworms to construct the Silk Pavilion.
Above all, per Oxman – connecting more actively science, engineering, and design creates a powerful synergy where the output of each discipline is serving as input for another.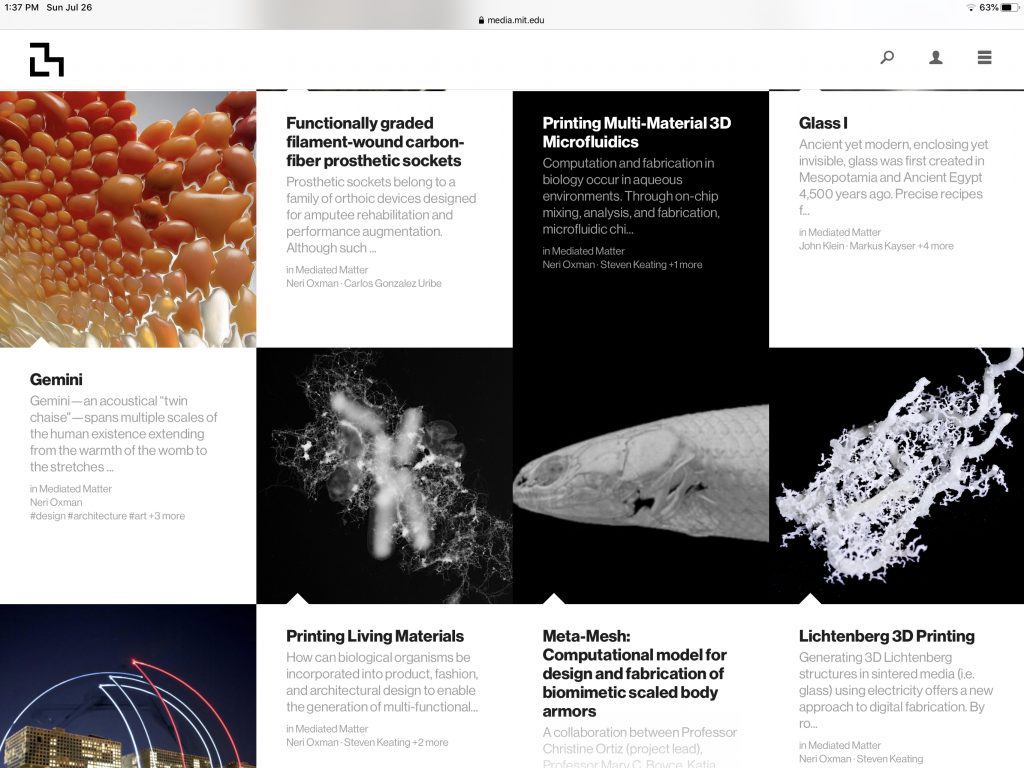 Aside from the project "Aguahoja I," here are three particularly fascinating projects that I love. If you're interested in more inspiring work then you must read MIT Mediated Matter Lab's website.
Neri Oxman – My Favorite Projects
Gemini – an acoustical "Twin Chaise"
"The chaise is designed to use curved surfaces that tend to reflect the sound inwards. The surface structure scatters the sound and reflects it into the 3D-printed skin that absorbs that sound, and creates a quiet and calm environment."

– Neri Oxman
Silk Pavilion
How might we invent technologies to enable co-design, co-manufacturing and co-habitation across species?

– Oxman
Glass I
Oxman collaborated with her Mediated Matter team and the MIT Media Lab to develop the first 3D printer specifically for optically transparent glass. As a result, the project produced very artistic 3D-printed transparent glass sculptures.
Afterword and Your Thoughts?
With this in mind, dear reader, think about what's possible. In other words, how we can look at the world in a different way? What can we do to create a science and art-driven future in synchronization with Mother Nature? I would love to hear your thoughts in the comments.
Other Recommended Reads
If you love groundbreaking design then you will adore Iris Van Herpen or Buckminster Fuller.