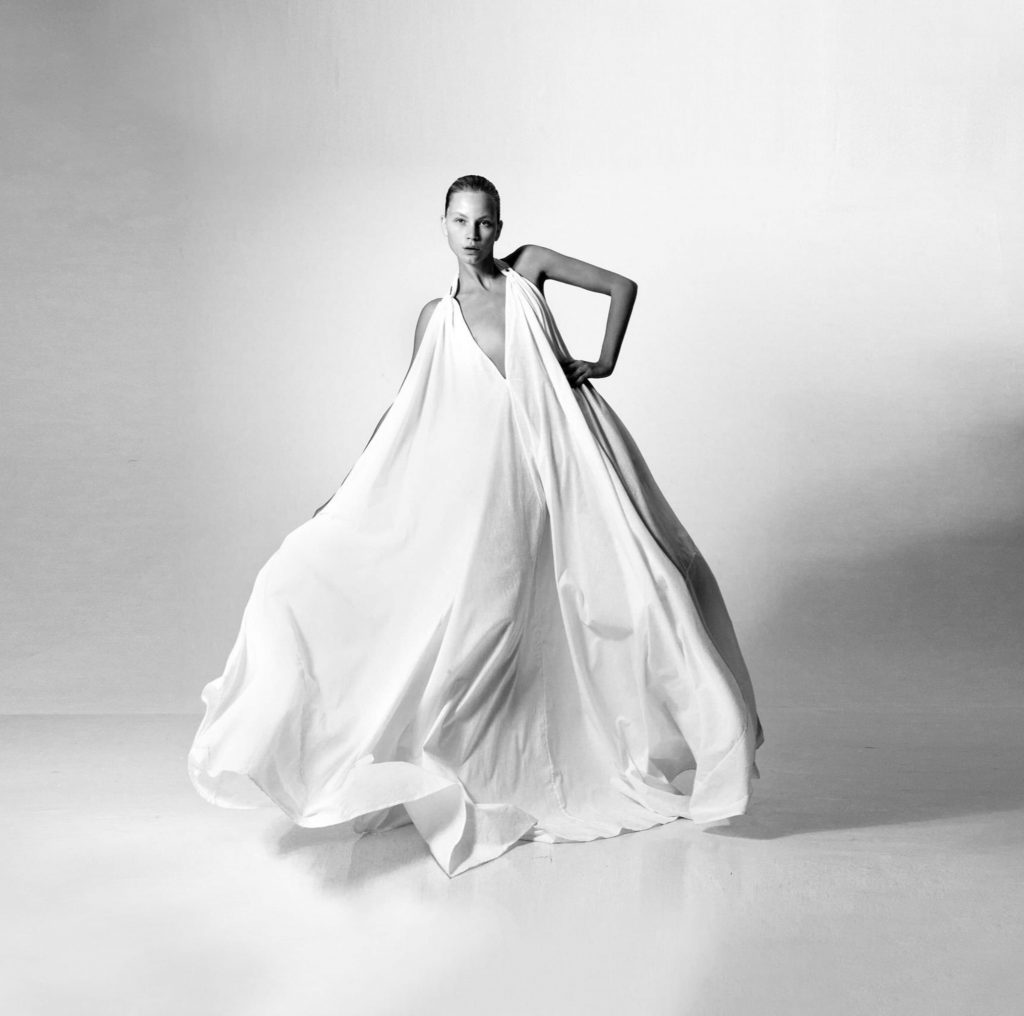 About Kalita Dresses
I got one Kalita dress and was immediately addicted. As a woman who loves dresses, I noticed that there is something very unique about Kalita dresses. How they make me feel. How that perfectly tailored dress so poetically envelops a woman's body is pure artistry.

Kalita dresses are incredibly functional. The beautiful white Camille dress in the image above can be worn in at least four different distinctive ways! For a traveler, that is a dream dress. You can pack one dress and transition seamlessly from day to night. I wear them also at home. What fascinates me the most, however, is the artistry of the dress itself.
She walks in beauty, like the night
Of cloudless climes and starry skies;
And all that's best of dark and bright
Meet in her aspect and her eyes.


– George Gordon Byron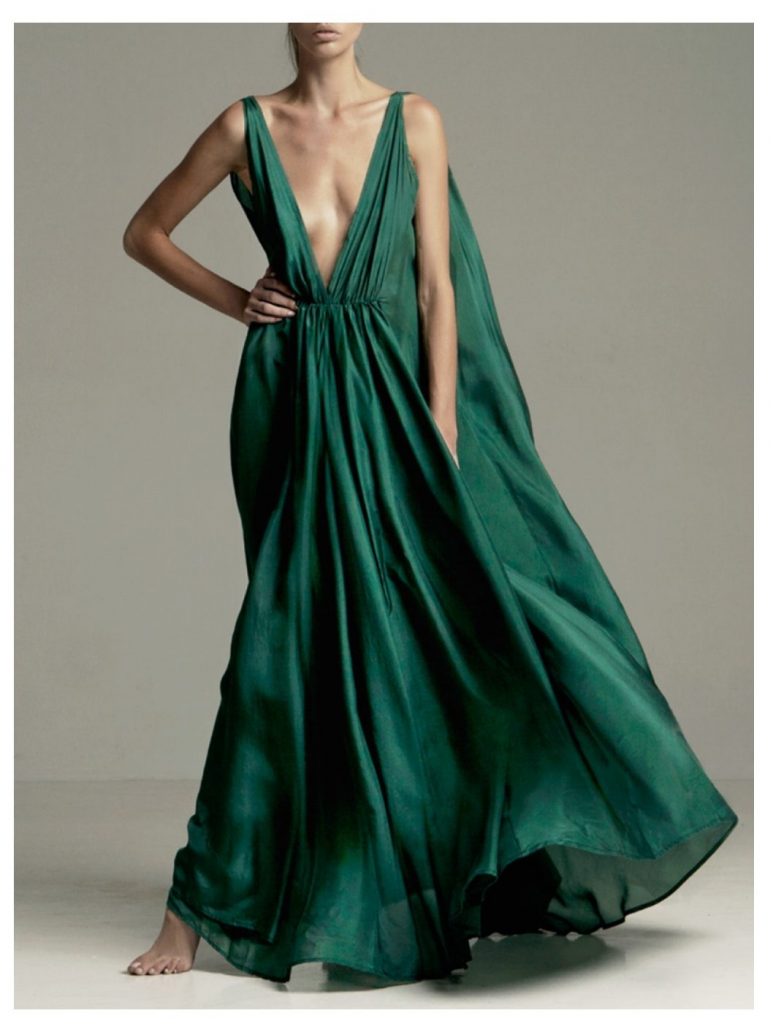 Questions and Answers with Kalita
What is the first dress you ever made?
The first dress we ever made was the one you have pictured – the Camille – it was made in acres of organic cotton slub and I just loved its simple lines – the way it fell and emulated nature in its curvature – the way it could seamlessly carry you from the beach to dinner and the way it covered a multitude of sins that didn't encourage the need for a holiday diet but allowed you to be just the way you were.
How do you conceive the Kalita dresses?
The process of conceiving the Kalita dresses comes from years of draping fabric on myself or on mannequins and then working from there usually also from a colour palette inspired by nature.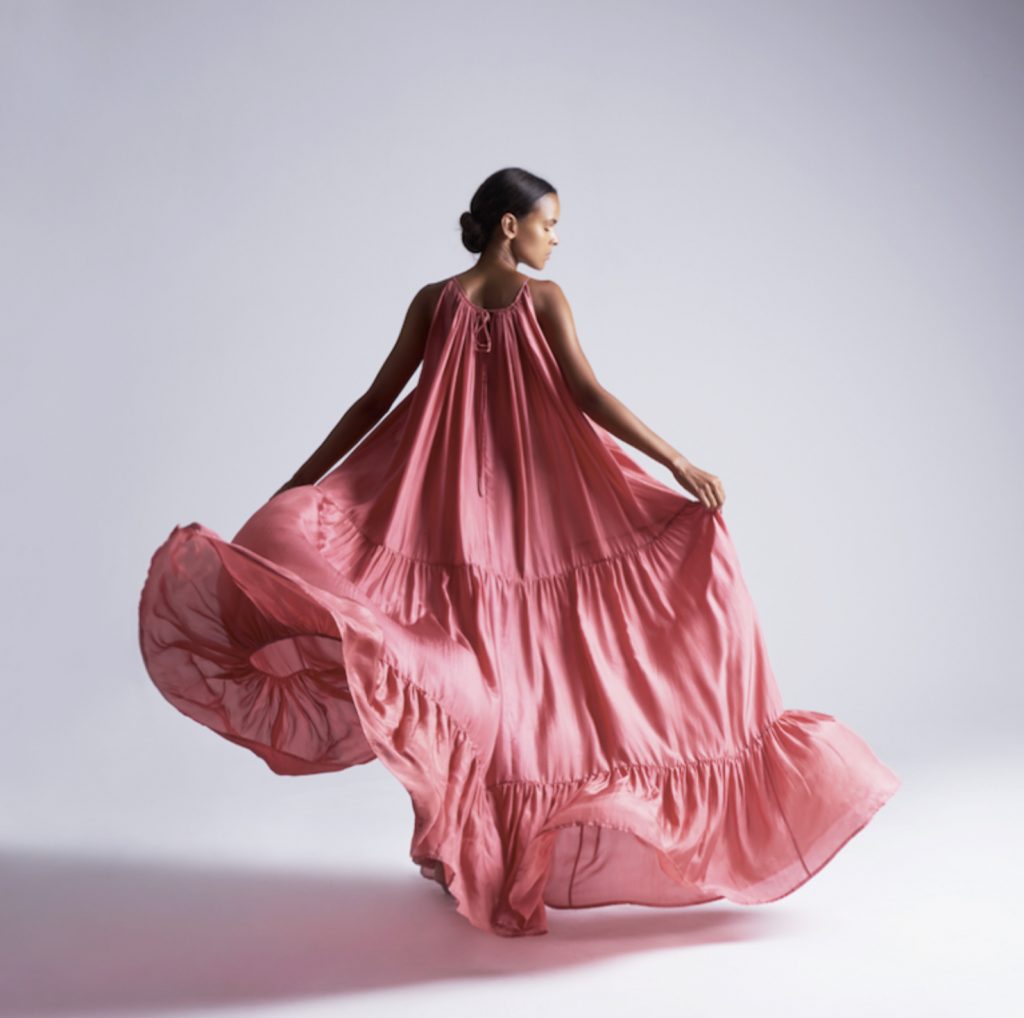 Flattering to All
As someone who wears your dresses, I can say that the fit and structure are truly amazing. Dresses are very architectural. Can you please tell our readers about your approach to fit?
Again the way I work on fit is from the old method of designing which is by draping fabric on a mannequin (or often myself) – that way I can see how the fabric bends, creases and moves and how it should move in order to flatter the body. We then work tirelessly with our grading team in Australia to try to get the fit correct for each size. We also incorporate detachable belts, hidden ties, and buttons so the designs can be tweaked by the individual – allowing each dress to be exclusive to the shape and style of the wearer.

Sustainability
Your dresses are ethically produced, with loving care, and that also drew me to Kalita brand. Can you please let us know more about it?
Kalita has sustainability at its core. The collections are thoughtful in what each piece can give back to Mother Earth. We use AZO free dyes which are low impact dyes that have higher absorption rates, resulting in the minimalization of greywater run-off and avoid the pollution of natural waterways or local ecosystems. We also invest time in researching and using the most ecologically sound fabrics.
Kalita is committed to being a part of the 2% of the industry who can say that they know and participate in an honest production process with their partners, ensuring the brand's ethical practices are treated with respect and compassion.
Each Kalita piece is housed in its own muslin bag which can be reused to pack the dress instead of wasteful tissue or plastic or can be used for shoes or other sundries. All our swing tags and fabric tags are made from recycled paper or fabric. Our emphasis is on minimal packaging and minimal damage to our Mother planet.

What's Next and Favorites
What are your top three Kalita dresses?
I couldn't possibly choose – this changes all the time depending on where I am and what dress I have recently binged on wearing! At the moment it is probably the Kissare, the balloon jumpsuit in crinkle white (perfect for at home) and the Brigitte which is showing its cult status by being just as easy to wear at home or in the garden or as it would be when we are allowed to go out or venture on holiday.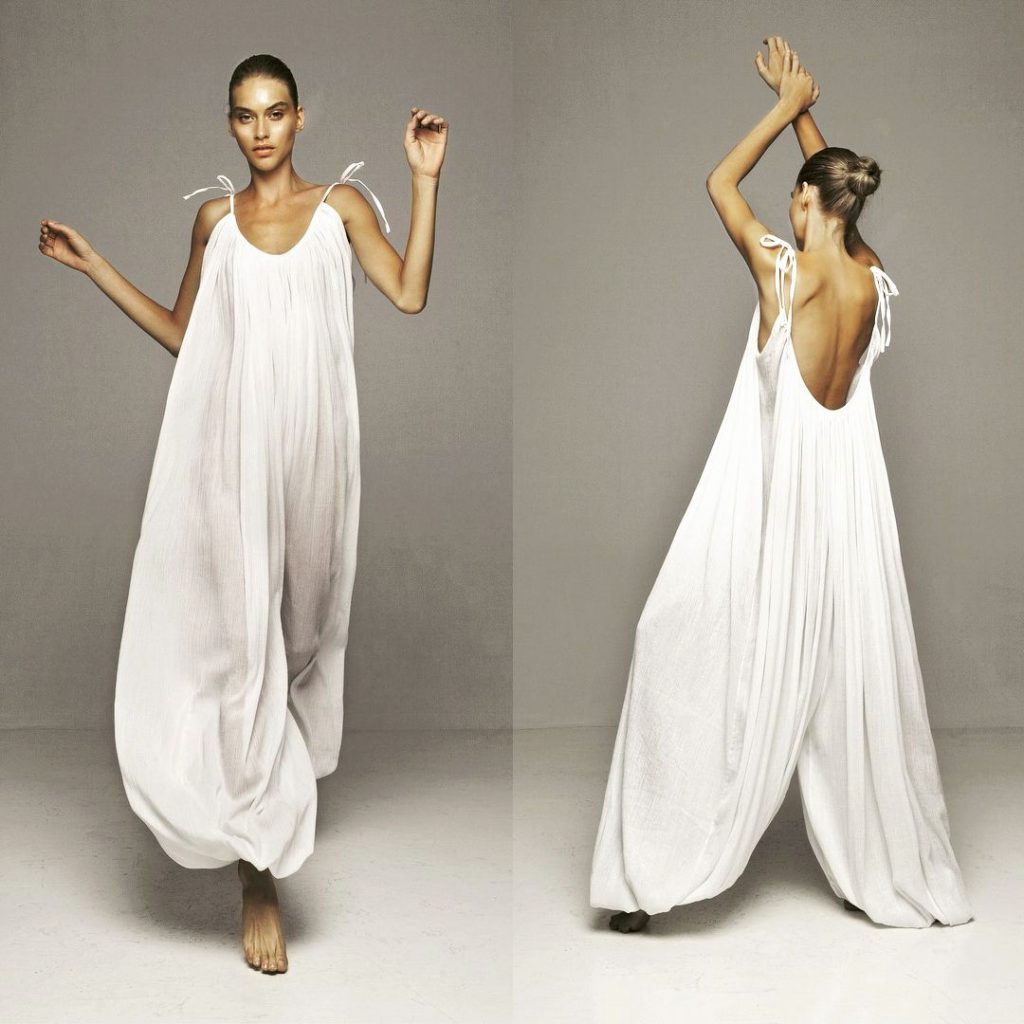 Even we are in difficult times now, I personally found that creativity is a great outlet for me. Can you please let me know about the plans for a new collection?
My lips are sealed!! But we are working hard and like you, creativity is a great source of joy for me, and I am grateful for this output during these unprecedented times. Life is about small victories at the moment and it is important to stay positive more than ever so we hope as a brand more than anything that your KALITA pieces will let you escape the madness for a moment and then tackle it once more feeling just that little bit more fabulous.
I also love that Kalita gives back to society.
Currently, 20 percent of our sales are going to support the children charity Barnados and AGE UK who are working to keep the most vulnerable safe. I have also signed up personally as a volunteer for the NHS delivering food and calling those who are alone for a little bit of company.
Thank you, Kalita!
Kalita Al Swaidi – The Designer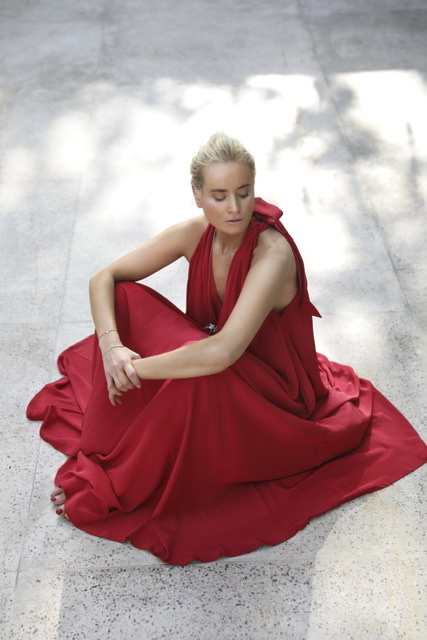 Kalita Al Swaidi is a female entrepreneur and a creative force behind the Kalita Brand. She is the designer behind these ethereal dresses.

She started a label in 2015 and had grown it to a global iconic brand.

A Word from the Founder, Zest & Curiosity
Kalita dresses are wearable art. The way they move is visual poetry. They are timeless. What is very beautiful about them is that they honor the female body. No matter what size you are, you simply feel so glamorous.

I also found that they are conversation starters. Often another woman stops you on the street, just to ask "where is the dress from?". Or, another Kalita dress lover connects with you on Instagram. I met so many amazing women around the globe because we started that conversation.

Vital to humanity is connection. To support each other in times of need is to try to find small joys to share. We are coming up with incredibly imaginative ways to find connections even when we cannot be in the same physical space together.
If you are curious to see more artistry of Kalita dresses you might find some nice ones that I wore to art events or travels on my Instagram. They are so comfortable! Even at home. So let's stay at home and reach to each other. I so much enjoy the conversations I've had with many of you over the phone, I almost forgot how nice it feels to hear so many dear voices.
Enjoy in exploring the marvel of Kalita dress, dear reader.
And, be safe!
– Tijana
Editor-in-Chief and Creative Director
Zest & Curiosity
Suggested read. Love fashion? Check out amazing Iris van Herpen sculptural dresses.
---
All the images, but video with Tijana, are by courtesy of Kalita and Kalita's Instagram.