Jacquemus (Simon Porte Jacquemus) is a French fashion designer and the founder of the Jacquemus fashion label. He was 19 years old when he created his brand Jacquemus, pronounced "jack-mahs", based on his beloved mother's maiden name.
Jacquemus had humble beginnings in the quaint village of Mallemort — a population of 6,000. At the young age of 19, he left the fashion school after his mother suddenly passed due to a car accident. Regardless of what others thought, Jacquemus proudly sticks to his South of France roots. This made it challenging to break into the discerning fashion capital of Paris.
Against all odds, and as a self-financed entrepreneur, Jacquemus created a brand that has doubled revenue each year. He began promoting his designs by having friends wear his creations. By 2018, he significantly exceeded $11 million in sales with more than half online. Over the past few years, he remains the sole owner while simultaneously doubling his staff to over 60 people.
His immerse creativity and determination made the Jacquemus brand what is now. It is very now and in the moment. Lively, dreamy, exciting, full of youth, and joy.
"I wanted it to look like a David Hockney painting or a Christo installation through the fields," Jacquemus said. "With lots of prints. A painting within a painting, in a field. Provençal Pop!"
Jacquemus – Immense Creativity
The first time I saw his work, I was astonished by the idea of a fashion show in the midst of the lavender fields. It has such an exciting yet dreamlike poetic quality. He marked his first decade as a designer with an epic show on his home soil. It prompted me to learn more. Soon I realized that you seldomly find such unbounded creativity. His ideas are exquisite. They always make me pause in admiration.
Jacquemus's aim is to create his own universe, and he likes to say "I don't do clothes; I do stories."
Jacquemus Instagram, which he manages himself, is the treasure chest of the marvelous creative expressions. He posts many wondrous ideas and original concepts. There is an art in capturing intangible, and he is a master of evocative images.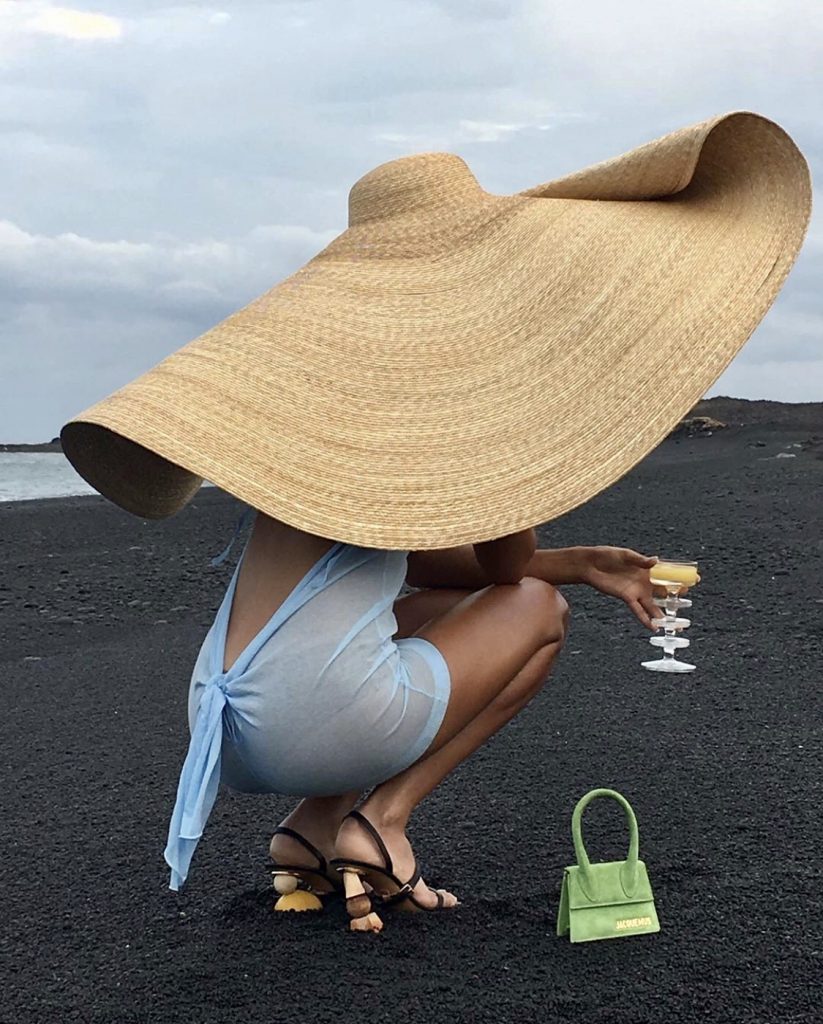 Architecture and Fashion
There are no words to describe how I love this dreamy mood, beautiful movement, exquisite Jacquemus designs, and magnificent MuCEM architecture. To conceive this elegant way of paying homage to his beloved Marseilles is so enticing.
The Museum of European and Mediterranean Civilizations is designed by the architect Rudy Ricciotti in collaboration with the architect Roland Carta. It offers a fresh look at the history and cultures of the Mediterranean.
I would like more poetry, less industry; because fashion is nothing without poetry.

-Simon Porte Jacquemus
The beautiful Santon hat is a centerpiece. Jacquemus draws inspiration from his personal life, his memories, and the seductive history of France. Through these elements he creates designs steeped with the charm of Provençal life.
After seeing this visual poetry, I had to buy a Santon hat to hold onto that feeling.
The World of Creative Jacquemus Ideas
Often I ponder about visual language when I look at his images. We communicate in so many ways, yet respond instantly if something moves us. This feeling can come from any medium. Jacquemus' art is the art of creative ideas. The fact that he found an outlet in fashion is just a fraction of his immense creative talent.
A Tender Story About His Grandma Liline
Sadly, when Simon was a child he lost his beloved mother. They had a strong relationship, for instance, at age seven he made her skirt out of a curtain which she proudly wore to his school. Today he has immortalized her as his muse. He also has a very special relationship with his grandmother Liline. As most of us have been at home, he has been quarantined during COVID-19 with her. Together they playfully worked as a team to model his clothes. I loved these genuine and loving photos. She looks amazing and full of life!
As I have been staying at home with my mom, we developed a coffee routine to check his Instagram together (she is also a huge fan and follows him on Instagram). There is always something delightful that brings us joy, so many wonderful ideas.
Jacquemus Fashion
How could Simon Porte Jacquemus possibly top the internet-breaking success of the show in a lavender field in Provence he held last summer? The buzz of that phenomenal event, with its incredible fuchsia runway, gathered 1.8 million followers to his Instagram. Yet he does. Each show is a different story and creative in its own unique and beautiful way. The South of France is his inexhaustible source of inspiration, while his collections always include a delightful dose of surrealism.
Fall 2020 Collection
The Fall 2020 Collection focused on wonderful linen. What I love is that each collection is different yet uniquely creative and so wearable.
To see more of his amazing work in fashion check his shows on Vogue. And absolutely check his amazing Instagram for creativity and Website for designs.
And Jacquemus, if you are reading this – we want your amazing photo book! As soon as possible please. It will be marvelous.
---
All photos above are by courtesy of Jacquemus' Instagram.