Pepe Arcos has a deep passion for oceans. He combines his talent for artistic photography and the ability to freedive underwater to explore the beauty of the underwater world. As a fellow diver, I understand the powerful fascination of the deep blue sea. Back when I dived for the first time in the Caribbean, I was astonished by the underwater beauty we don't normally see, the quietness, and the impact of endless vast spaces. Time moves differently as you enter the other dimension. You are in a different world.
With diving, the new world opens.

– Tijana
I first saw Pepe's work in underwater fashion photography, which is known to be quite challenging, and his photographs were astonishing. As we got to know each other better, I was drawn to how lovingly he captures the magical world of oceans. Join me for this exquisite visual journey.
Pepe Arcos Shows Magnificent World of Corals
Corals are actually marine animals. They typically live in compact colonies of many identical individual polyps. Coral species include the important reef builders that inhabit tropical oceans and secrete calcium carbonate to form a hard skeleton.
Freestyle Diving vs. Scuba Diving
For centuries, before any diving equipment was invented, people have been exploring the ocean's depths with nothing but one gulp of air. Today modern scuba gear gives people the ability to dive longer for longer periods of time. However, freediving (breath-hold diving) only continues to grow in popularity.
The biggest difference between scuba and freediving is breathing. For example, scuba divers are taught to never hold their breath underwater due to the risk of lung overexpansion. On the contrary, freedivers hold their breath throughout the entire dive. Since they don't inhale additional air underwater the volume of the freedivers' lungs is never greater than it is on the surface.
With scuba tanks, you can stay longer underwater. While freedivers can use a mask, snorkel, wetsuit, and fins, none of this equipment is mandatory. True to the name, freedivers are free. Many people feel that freediving feels more natural than scuba diving while offering a more personal experience with the underwater world.
Furthermore, freediving opens a wider range of experiences. It allows you to get closer to many marine animals and connect to the ocean as a whole. Oftentimes it takes you on a journey of inner exploration. Freediving urges you to challenge yourself and push your personal limits. Imagine adding the art aspect to that! You get pure magic.
Pepe Arcos is a freediver which means most of his amazing photos are taken while he is holding his breath. He's participated in freediving competitions up to 80m (approximately 263ft) and can hold his breath up to 6 minutes.
What attracted you to diving?
I remember when I was an 8 years old kid and went snorkeling for the very first time in the Mediterranean. The vivid memories of being weightless, the sense of space and freedom of movement, nature, and wildlife roaming free around me… that was my first hook into my actual ocean life.
Since then, my passion to spend time underwater only grew and took me to travel to the best diving destinations in the world.
The architecture of the corals fascinates me. While scuba diving I am having a long time to enjoy the complex structures of the coral habitats. I enjoy taking photographs of them. Since many people aren't that lucky like us to see this wonderful coral world from below the surface I hope that I am contributing a little bit to get people to know more about the amazing corals and wildlife in the oceans.

– Pepe Arcos
Wildlife in Oceans
The ocean covers more than two-thirds of our living planet's surface and is home to spectacular ecosystems and treasured wildlife.
The importance of the marine world goes well beyond biodiversity. The ocean also sustains the lives of billions of people, regulates our climate, produces half the oxygen we breathe, and fuels the water cycle that produces rain and freshwater. Our oceans are home to some of the most magnificent and unusual creatures on Earth.
How do you feel when you are underwater, documenting the beauty you find in oceans and seas?
I started with scuba diving then switched to freediving and spent several years training and competing as a sport. I was seduced by the meditative momentum you get while going for a deep dive and your heartbeat slows down at the same pace as your thoughts and irrelevant mental activity dissolves from your brain… Then bringing my camera and capture all that beauty I witness through time in the oceans just felt natural and pleasant.
There is some magic involved in sharing the same liquid element with a big manta, synchronizing your breathing with the dolphins or swim close to whales. I find inspiration in every single dive I do.
What is your most inspiring project so far? Why?
I have many and I think I kind of love them all for different reasons. I remember filming the Apneia TV series for Canal Off Brazil and traveling to Mexico, Egypt, Hawaii, and Tonga to shoot incredible video footage as an otherwordly experience.
But probably in recent days, my most inspiring project is getting involved with the Dolphin Project in Bali. I have been documenting with my photography the new Sanctuarium for rescued dolphins in North Bali and I got to spend time with all these amazing souls – animals and humans.
Also, I have fond feelings every-time I've organized an exhibition. I get to display my works in large size and talk face to face with curious people eager to see and learn about the oceans and my artworks. It's a very humbling experience.

I am missing Rocky, Rambo, and Johnny so much…⁠

⁠
One of the highlights of this year was to be able to spend time with the Dolphin Project. ⁠They are my ocean family and I wish we could spend time together again soon.⁠

– Pepe
What surprised you the most?
The positive efforts that a few people do to stop the damage we are creating to the oceans. They are the true heroes and most of the time their efforts go unnoticed.
I have personally seen the terrible effects of plastic pollution, overfishing, ghost nets, and many other environmental issues most people are not aware of.
Every-time I visit a coral conservation project, meet the teams, or gather together with wildlife conservationists I feel we must do better and focus our efforts to correct all the things we do wrong.
I am an animal lover and truly want to live in harmony on this planet. So what surprises me the most is how ignorant we are to a reality that has to change urgently.
About Pepe Arcos
Pepe Arcos is an award-winning multitalented photographer that explores the magical underwater domain. He is holding the breath for minutes at a time to capture unique images of ethereal calm.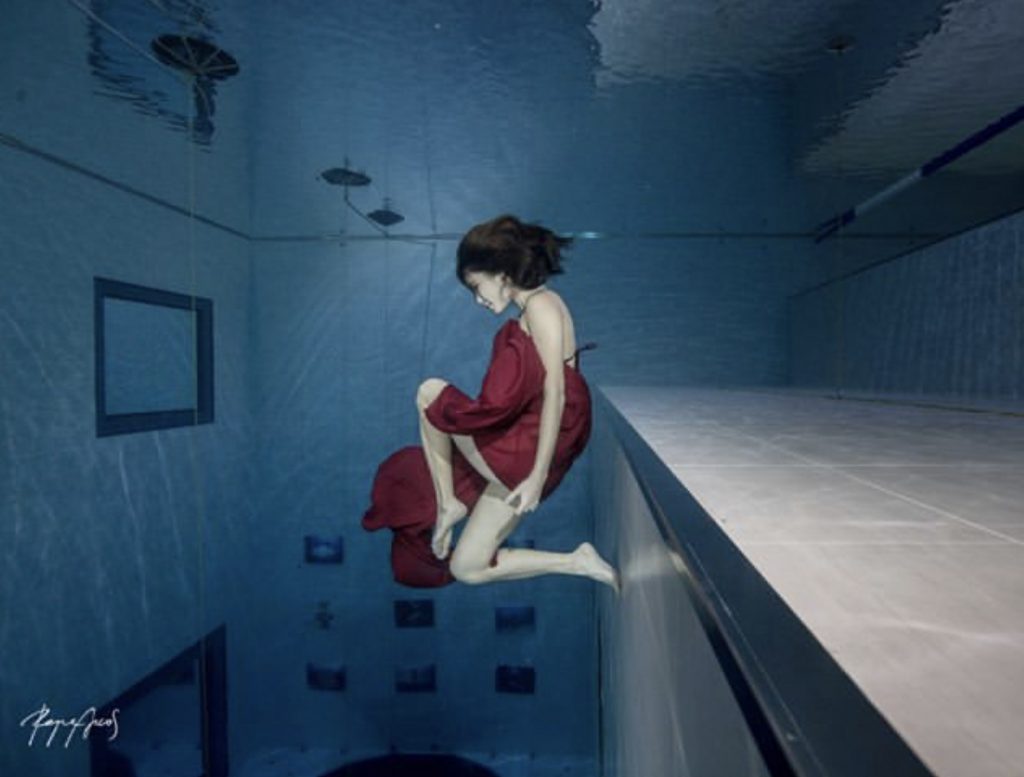 Pepe Arcos uses a filmmaker's approach at storytelling and a fashion photographer's eye for form and shape as he films and photographs.
He grew up around the Mediterranean and has always had a strong affinity for the ocean. While continuing his passion, Pepe Arcos has made a name as a renowned underwater photographer and filmmaker.
Underwater photography is a medium that takes time to master even for the most professional land photographer. Adapting the principles of design to compensate for the light and altered optics while shooting underwater presents challenges that are unique to underwater photography.
Pepe has directed a wide array of acclaimed projects. Some featured works include the TV Series APNEIA for Canal Off (Globo, Brazil), with the pilot of the series FOLEGO winning the best cinematography award at Pretty Poison Indie Film Festival. Another piece of work is his award-winning short film PRESSURE, which won the best film at the Balinale International Film festival. Moreover, he also has different commercial underwater projects for BMW China or Bankia Bank Spain.
As an active contributor to several magazines, his photographs have been published in a variety of printed editorials like ASIAN Diver magazine, SCUBA DIVER OCEAN PLANET, ACTION Asia, among others.
He is the recipient of many awards and recognitions. To see more amazing underwater photography check his Instagram.
Where Is It?