Van Gogh Museum was at the top of my list when I visited Amsterdam. I reserved a whole day to leisurely see it. As I entered a spectacular modern building by Gerrit Rietveld, Hans van Heeswijk, and Kisho Kurokawa I was wondering what would Van Gogh say if he has seen this impressive tribute to himself and his work. Van Gogh died in poverty, leaving behind celebrated masterpieces that we cherish today, over a hundred years after.
Vincent van Gogh and Museum Tributes
Vincent van Gogh was a post-impressionist painter who is among the most famous artists in the history of Western art. He was born on March 30, 1853, in Zundert, Netherlands. Interestingly his career as an artist lasted only a decade. During that time, he painted about 2,100 artworks. Most were painted in the last two years of his life.
Now the most prominent museums in the world exhibit his work such as The Metropolitan Museum of Art (New York), National Gallery of Art (Washington DC), Musée d'Orsay (Paris), Art Institute of Chicago among many others.
Van Gogh favored an eclectic array of the subject matters. In addition to his famous and revealing self-portraits and enchanting night scenes such as "The Starry Night", he loved painting sunflowers or ordinary room interiors. A prime example is one of my personal favorites, his bedroom simply titled "Bedroom in Arles". Interestingly, there are three authentic versions described in his letters. Each one is easily distinguishable from one another by the pictures on the wall to the right.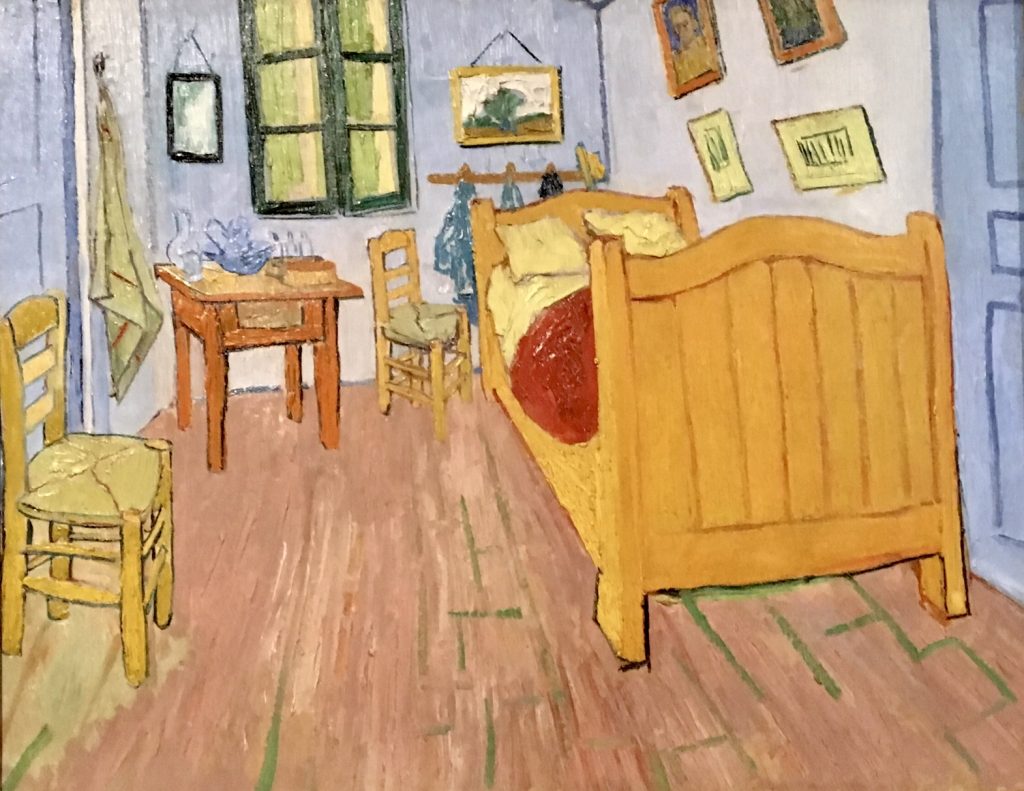 Vincent Van Gogh Legacy
As often with famous artists, Van Gogh was commercially unsuccessful during his lifetime. He was often considered a madman and a failure. Sometimes I wonder why artists often never see their life work fully appreciated. Sadly, he became famous after his suicide and exists in the public imagination as the genius artist "where discourses on madness and creativity converge."
His legacy is honored by a museum in his name, the Van Gogh Museum in Amsterdam. The Museum holds the world's largest collection of his paintings and drawings, and also fascinatingly personal items, like his correspondence with family and friends.
Vincent Van Gogh's Life Challenges Resulted in Masterpieces
Van Gogh suffered from mental health issues and checked himself into a mental health facility in the South of France. The circumstances are interesting since, during his time in the asylum, he painted his iconic "The Starry Night" through an iron-barred window. Starry Night now lives within the Museum of Modern Art in New York City.
Just like other painters working at the time, Vincent also made flower still lifes. After a while, he chose the sunflower and featured it often. There are 5 versions of his iconic sunflowers in a vase.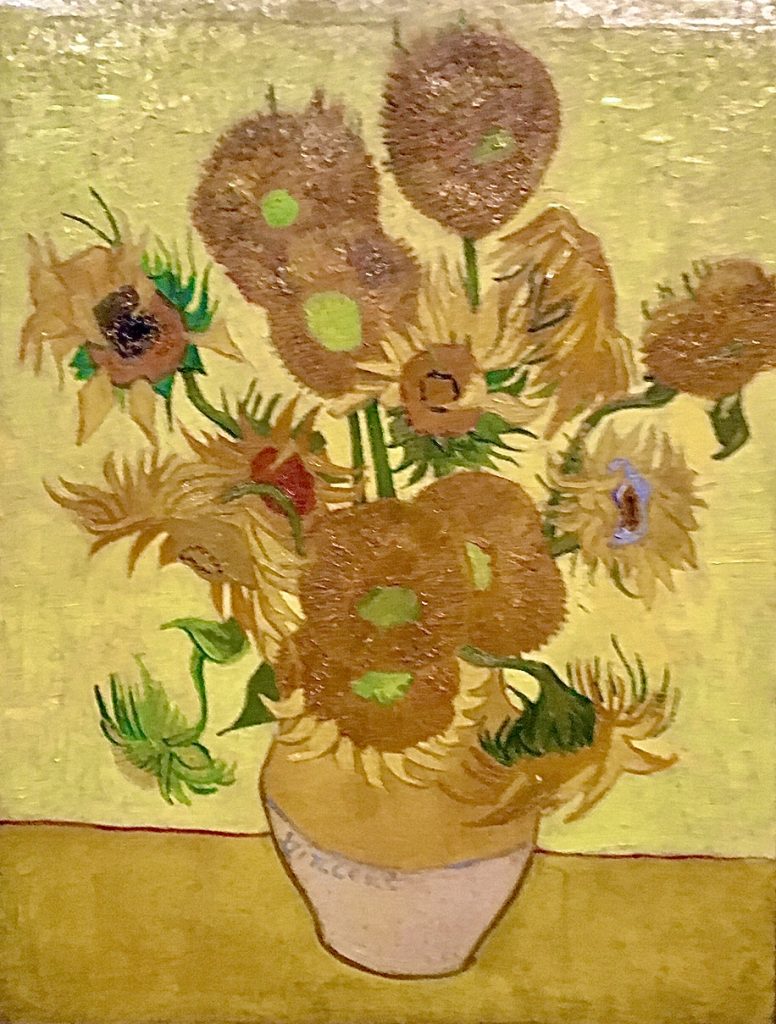 Also, he painted flowers in the asylum's garden, where one of his inspirations were irises. His simple study "Irises" became the most expensive painting at the time when it was sold $53.9 million.
Van Gogh's artistic style developments are usually connected to the time periods he spent living in different places in Europe. He immersed himself in local cultures and the quality of light.
Van Gogh was a close friend with a fellow artist Paul Gauguin and had corresponded with him frequently. His friendship with Gauguin infamously ended after a confrontation with a razor when, in a rage, he severed part of his own left ear. His depression continued and Van Gogh tragically shot himself in the chest 1890. He was 37 years old.
After he died, his friends brought sunflowers to his funeral. Sunflowers became synonymous with Van Gogh.
Van Gogh Museum – Virtual Tour
I am delighted to see that Van Gogh Museum opened its virtual doors with a set of beautiful and evocative short videos. I am including a few small tours of their amazing art galleries. The rest of the museum tour you can enjoy at Van Gogh Museum's YouTube channel.
What is fascinating about the museum, besides just being dedicated to one artist, it is the sheer size of the galleries full of his masterpieces. Equally impressive is the amount of research that went to assemble personal correspondence and other items. It's a fascinating exhibition to help us understand his life and where his art was coming from.
Impressive Museum Archives
The museum had a significant amount of Van Gogh's correspondence with his family and friends. Most of the correspondence is between Van Gogh and his younger brother, Theo. Theo kept all Van Goghs letters, while Vincent only kept a few of Theos. Through his letters, we hear directly from the artist himself. It's a magnificently compelling read.
The relationship between the brothers was incredibly special and close. Theo was a life-long supporter of Vicent's work, his art dealer, and confidant. He provided Vincent financial and, more importantly, emotional support.
Most of what is known of Vincent's thoughts and theories of art are recorded in the hundreds of letters they exchanged. Van Gogh Museum accomplished a monumental feat by securing those letters and valuable insights into his mind. Other letters included correspondence with his sister. Here he writes that he wished to paint portraits that would endure. He yearned to use color to capture the model's emotions and character rather than to aim for photographic realism. Van Gogh painted his self-portraits, not because of vanity, but because he wanted to practice painting people.
In addition, the archive included correspondence with Paul Gauguin and the dynamics of their relationship. Van Gogh illustrated multiple letters with with his artwork sketches.
Van Gogh Museum – Insider Tips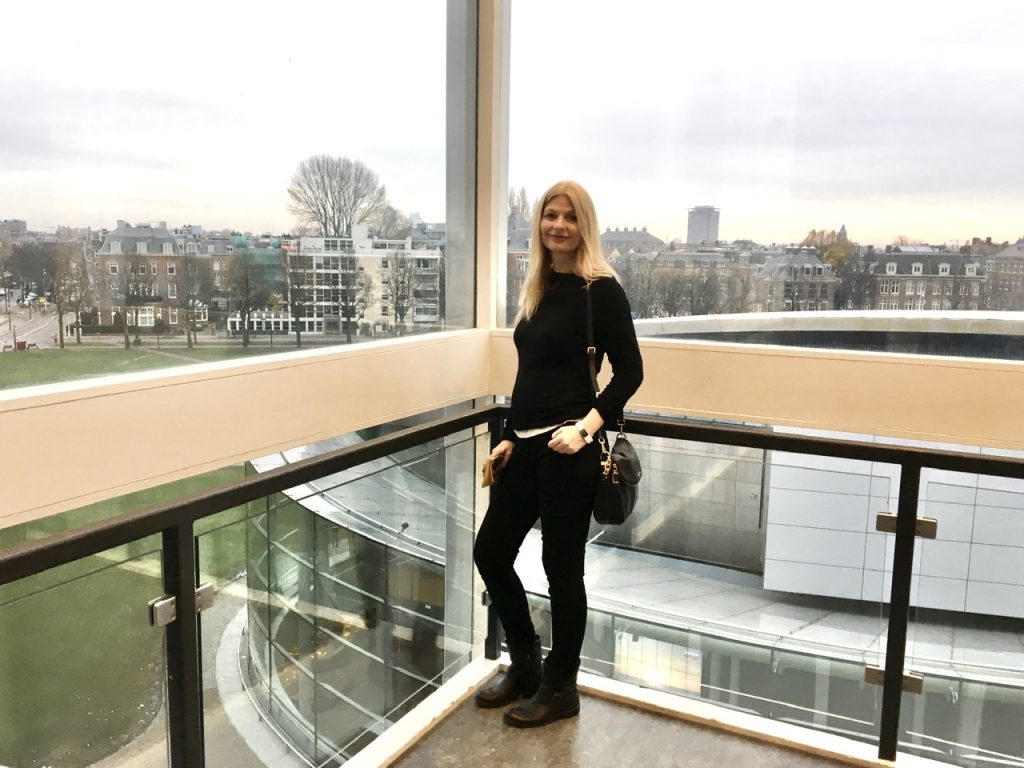 The Van Gogh Museum is located at the Museum Square (Museumplein) in Amsterdam South, close to the Stedelijk Museum, Moco Museum (where I have seen a rare Banksy exhibition), and world-famous Rijksmuseum. All of which are all amazing museums to explore as well.
I stayed nearby and walked everywhere as it's quite a lovely city to walk in. Quaint houses line the canals as they weave in and around the city. You will find public transit stops nearby (Museumplein and Rijksmuseum), to reach the Van Gogh Museum through a trolley car or you can walk or bike there.
I highly recommend booking tickets online in advance using the museum's convenient and simple website. Reserve ample time since there are 3 floors full of artworks and personal stories. Also, all the architecture fans will love exploring the museum building itself.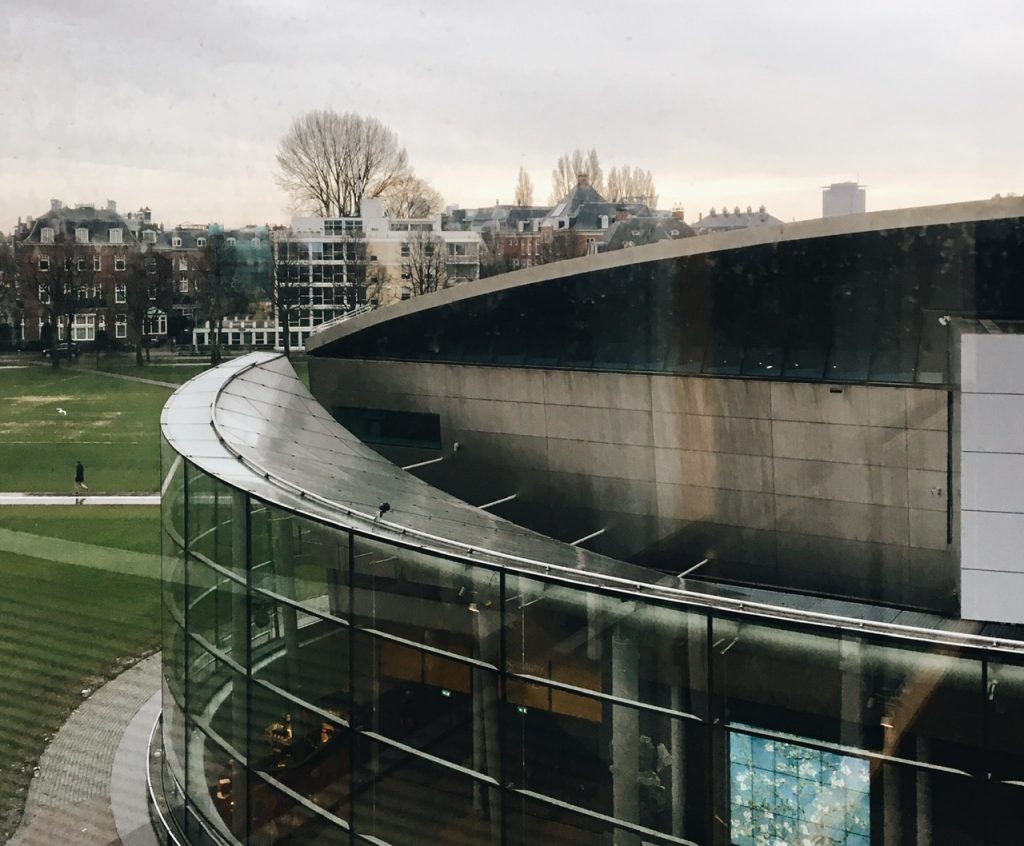 Van Gogh Museum address
Museumplein 6
1071 DJ Amsterdam
The Netherlands/Holland
Little Note of Gratitude
I would like to thank my friend Charles who inspired this article through our conversation about art, what moves us, and how great art makes us feel. I remembered my Van Gogh museum visit in Amsterdam and how it left a lasting impression on me.
The museum has so many layers. It showcases Van Gogh not only as an artist and his renowned works of art but also as a person. I cherished learning about his passion, challenges, and drive in this very personal and intimate context. My gratitude goes also to the museum staff and to everyone who made this fascinating museum possible. Without a doubt, I highly recommend the Van Gogh Museum.
Where is It?