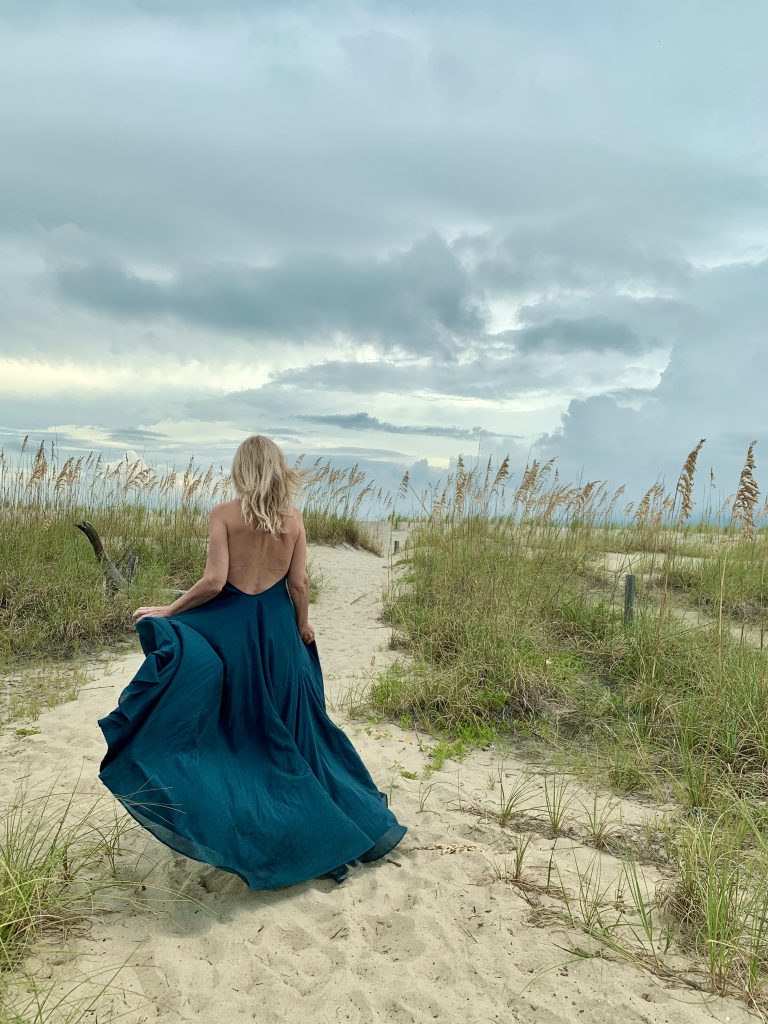 Tybee Island, along with Cumberland Island, is my favorite place in Georgia. It's my happy space. Since March, as the COVID-19 collectively shattered our world, I've spent six months at home. My mom traveled from Europe to the States before the virus came and couldn't leave the USA since her ticket got canceled. Because she was in the high-risk demographic we were in the strictest quarantine. Only after two months we cautiously started leaving the house, with masks, at certain times to enjoy the only activity outside of the house – our evening walk.
It was a strange time. In some sense, I was happy to have my mom with me. Moreover, it was a great time to reflect, recenter, find a different balance. I'm immensely thankful for Zest & Curiosity as it became my creative output.
On the other hand, my world had shrunk overnight. Aside from the dear people in my life, all that brings me joy – art and travel – was gone. Art, travel, and human interactions recharge me. All of a sudden, the world we remembered was gone. When my mom finally made it safely back home my heart was heavy.
Tybee Island – Little Gem
After six months my mom made it back home and I felt very empty. I was grateful for the time we spend together but I felt I needed to safely go somewhere. One thing I knew is that I wanted to be straight on the beach. Since I am very familiar with Tybee, that was the first option to explore. I was lucky to find a lovely place via Airbnb.
Tybee Island is a small barrier island near by Savannah, Georgia with a three-mile-long Atlantic Ocean beach and an abundance of Georgia history.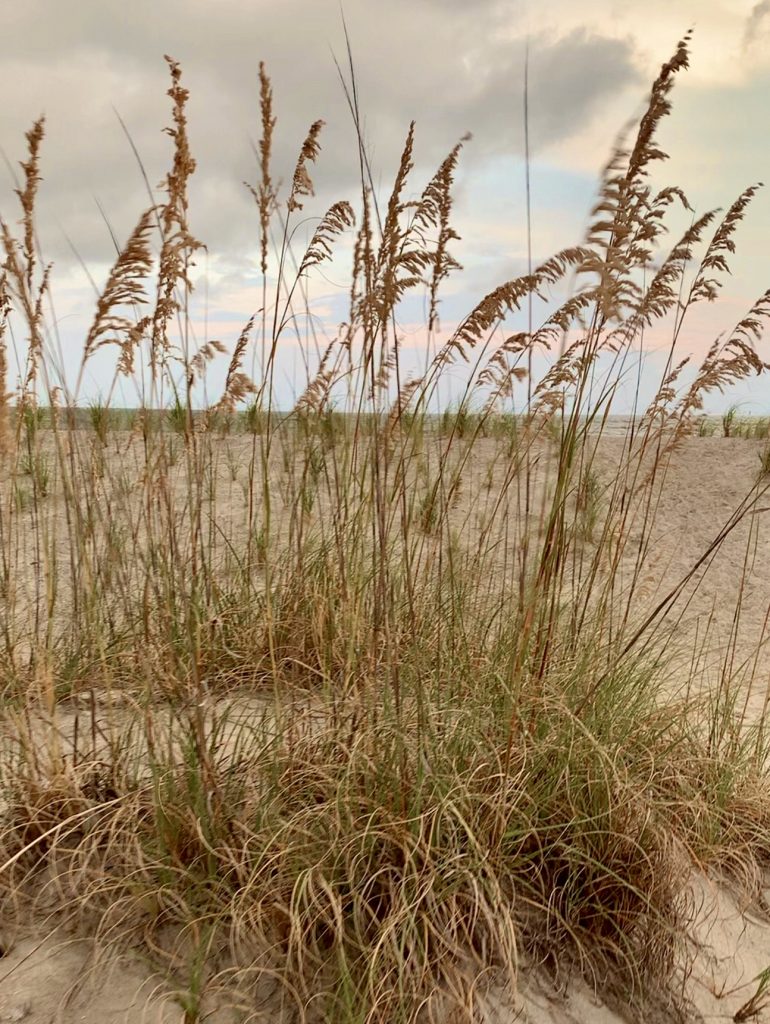 I simply wanted to see the ocean from the balcony windows. And, if that is all I did, I would be ok. This quaint barrier island is home to over three miles of beautiful beaches, each with their own personality. The population is less than 3000 people. It's a charming place with a slow pace of life.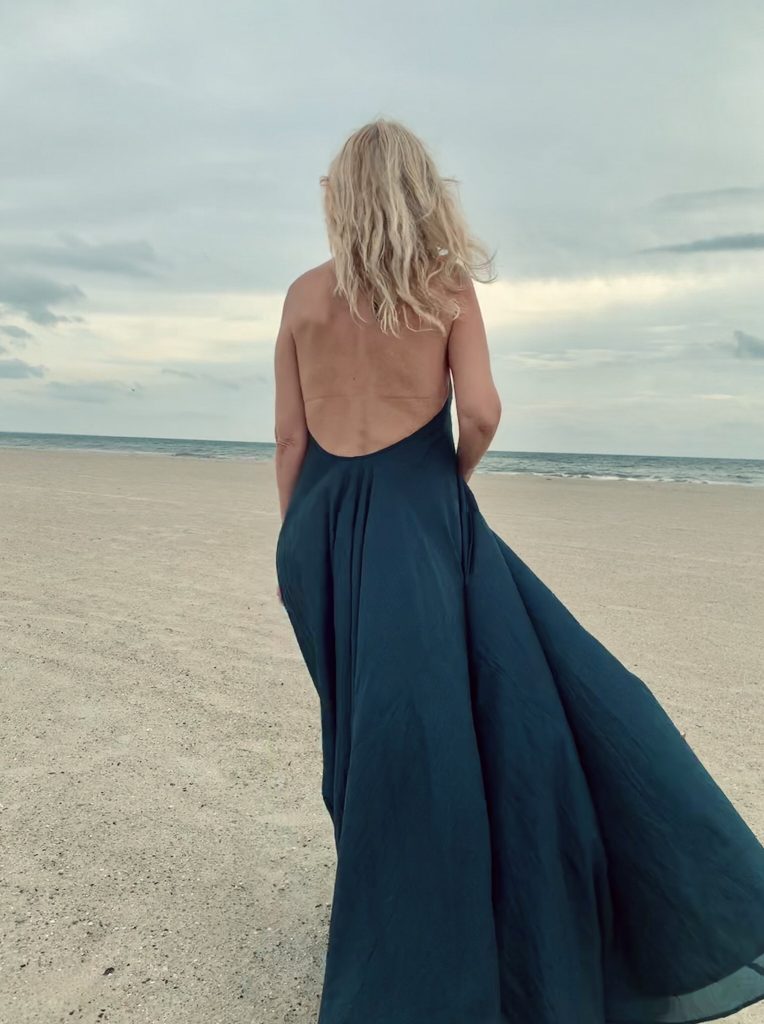 Tybee Island – Home for a While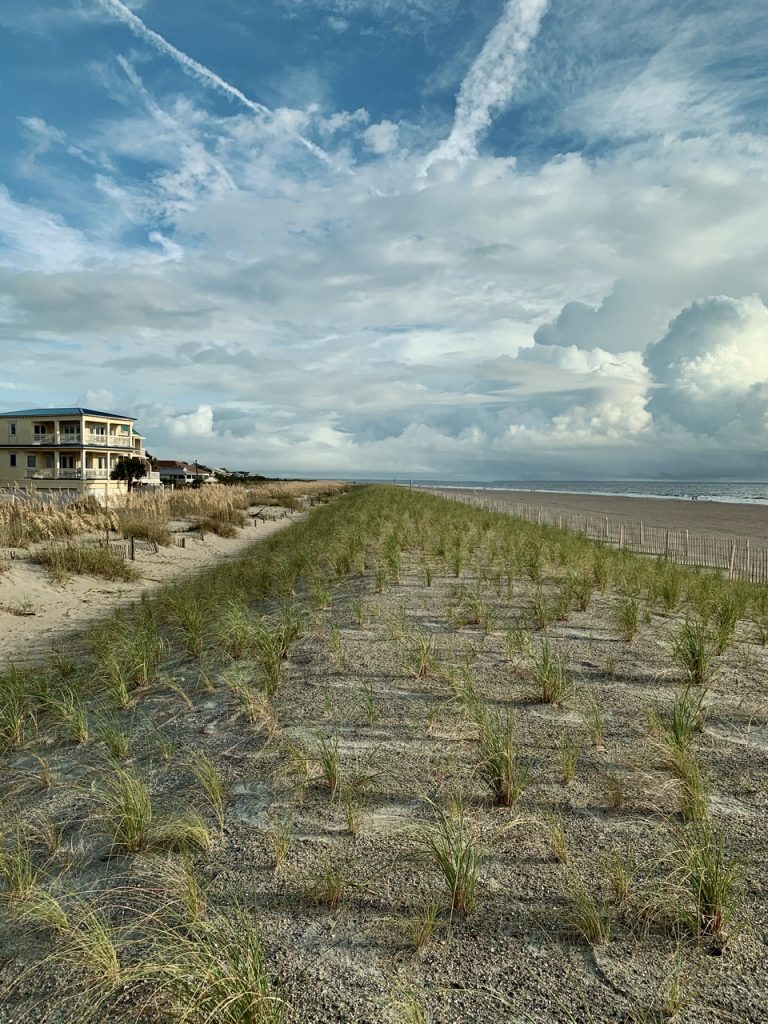 The best part of Airbnb was that it was straight on the beach. I appreciated that the host specified that extra antibacterial cleaning will be done before our arrival. Even though mentioned the fact, I still brought my own antibacterial supplies and did once over the whole house before settling in.
Furthermore, I brought my own linens, towels, and dishes, and food with me as well. It was comforting to know I had my own things even though they were provided at our Airbnb.
There was something so magical just to wake up to this view. That change and soothing humming of the ocean was all that I needed. Often, it is the little things that we truly need.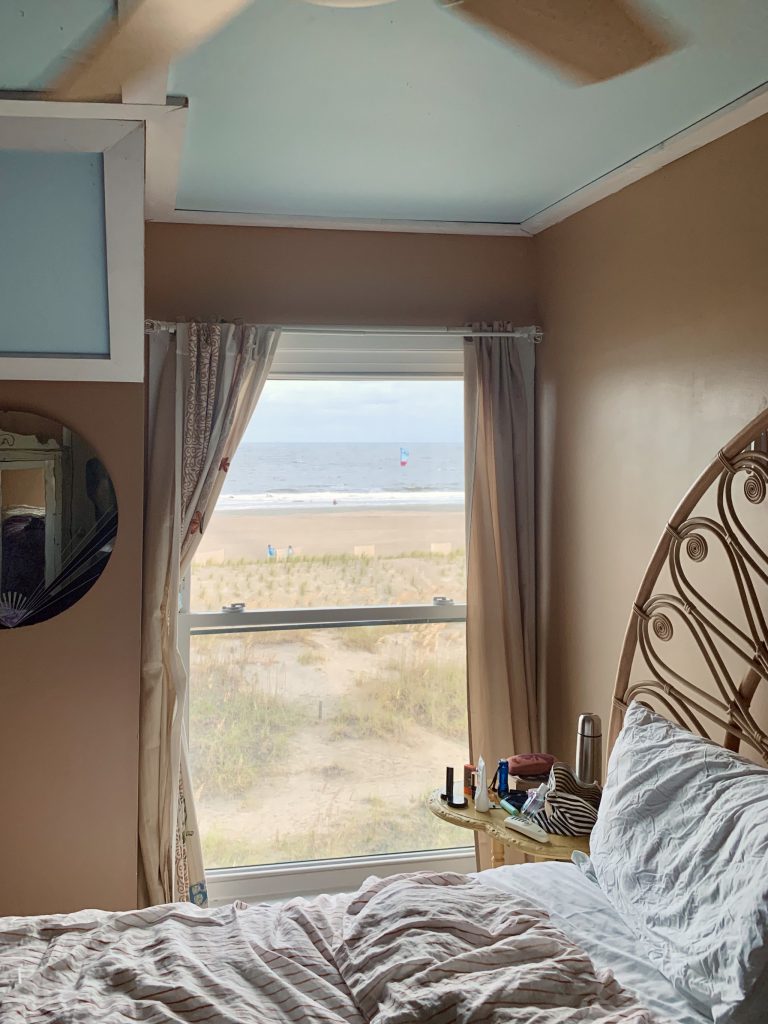 Tybee Island – "The New Normal"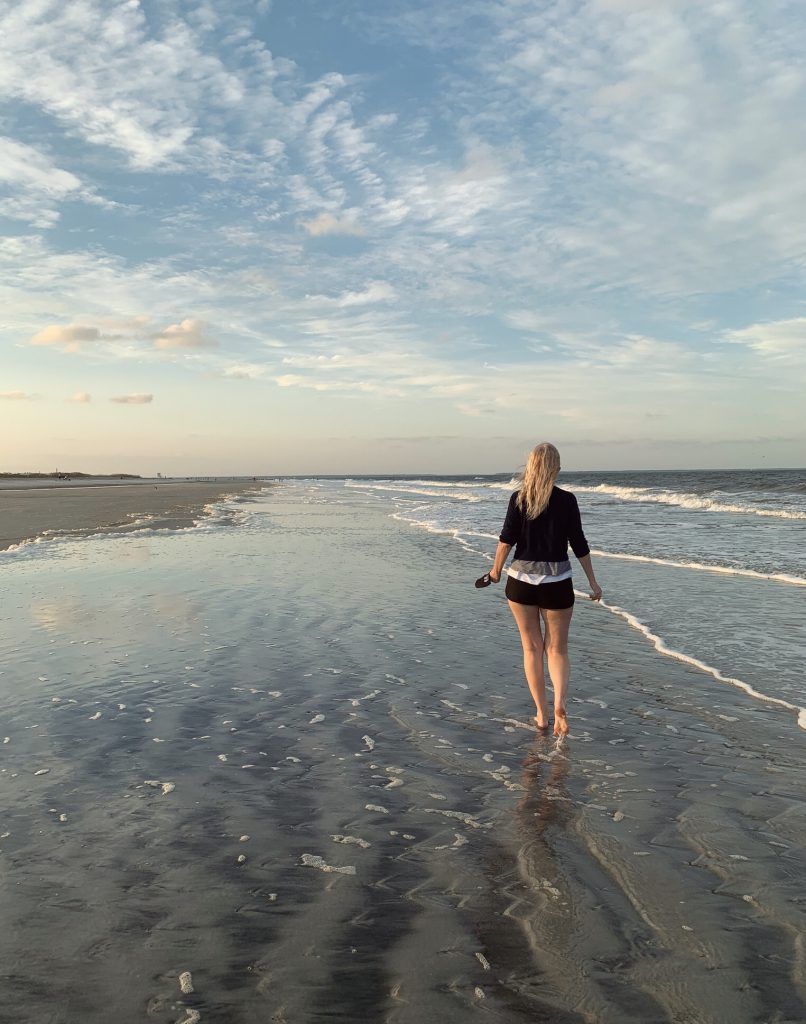 This was a very different visit to Tybee Island. No restaurants, no socializing, no sightseeing, or any other activities. Usually, we are very focused on the macro world. Our society is constantly trying to soak all the environment. To explore far and beyond. However, this was a micro-focused visit. My focus is on all the little details that I have never paid attention to in the past. A new magical world opened before my eyes. Small moments brought unexpected joy.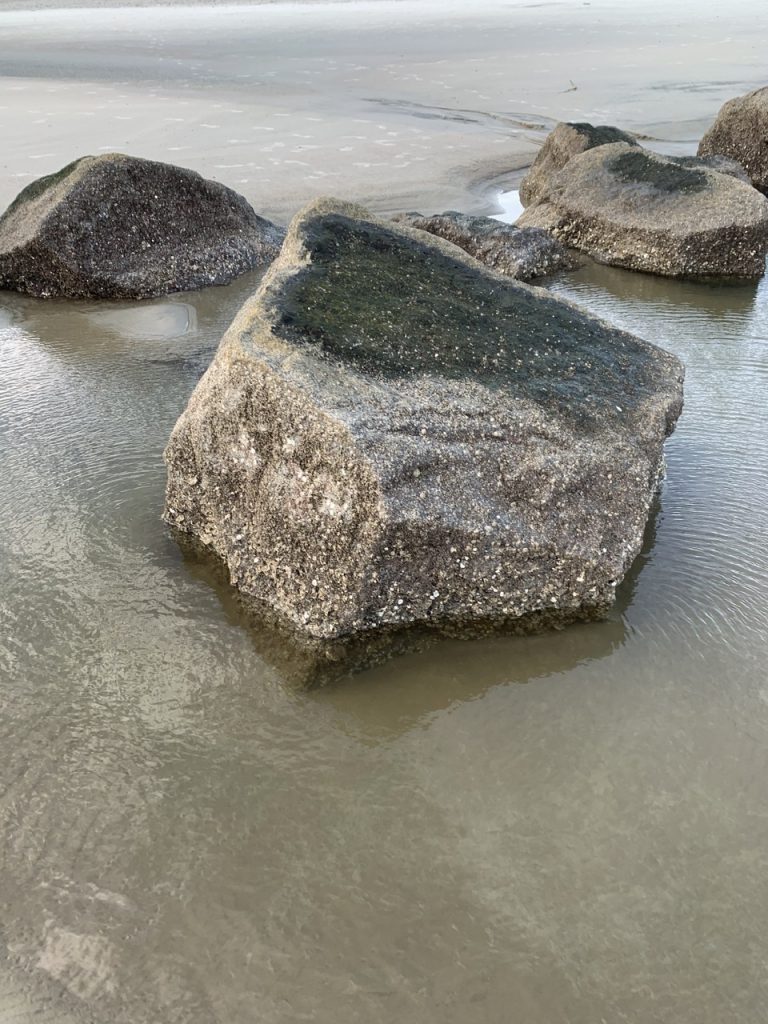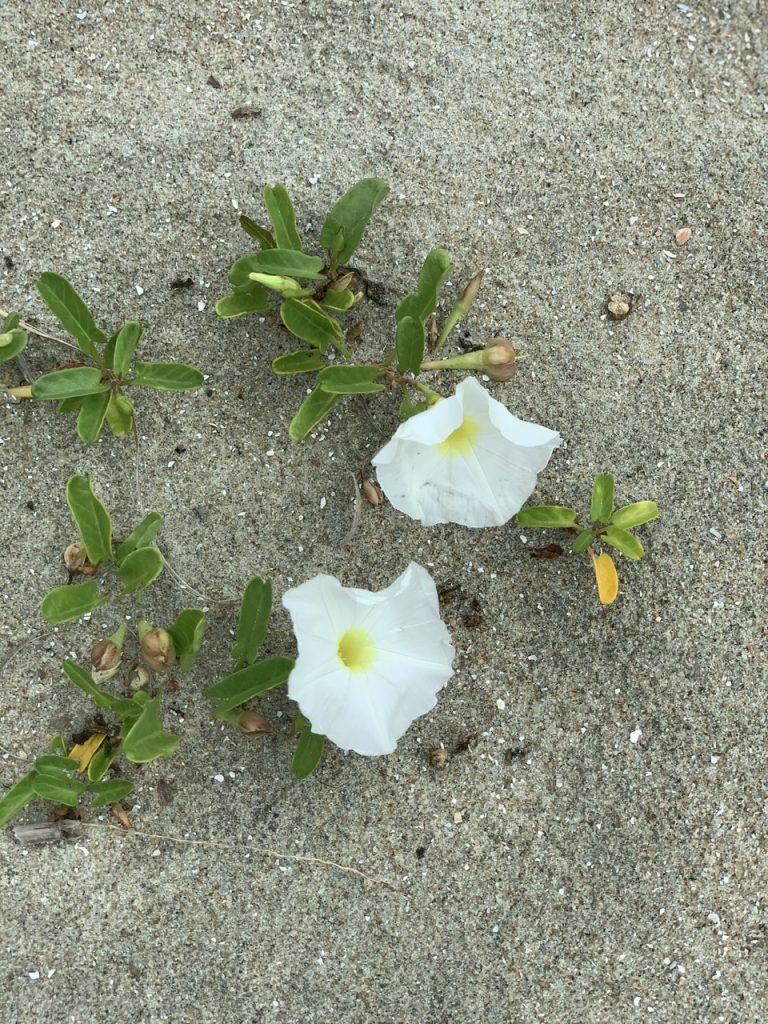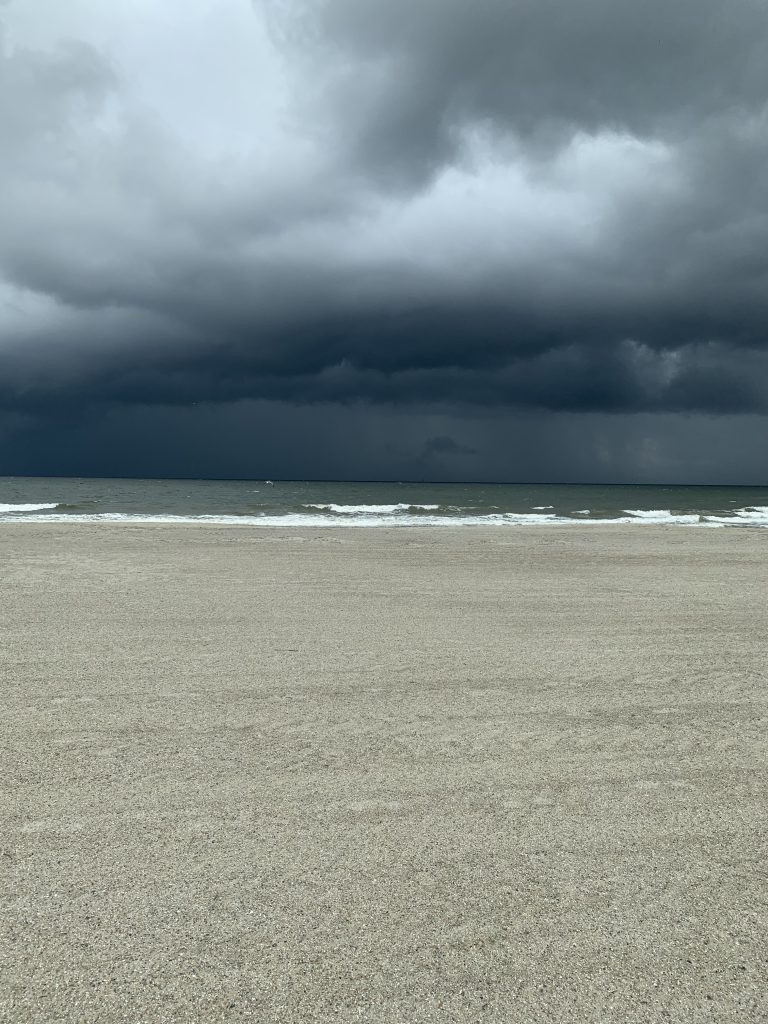 As old wisdom goes – enjoy the little things in life because one day you'll look back and realize they were the big things. So true. The world is full of small moments and miracles.
A Wonder of Nature
Every day, I watched the sunset of sunrise from a different point either from the balcony, the bed or on the beach. The stark contrast from being from inside at home all the time, to smelling the salty air while listening to the waves was like pure poetry to me.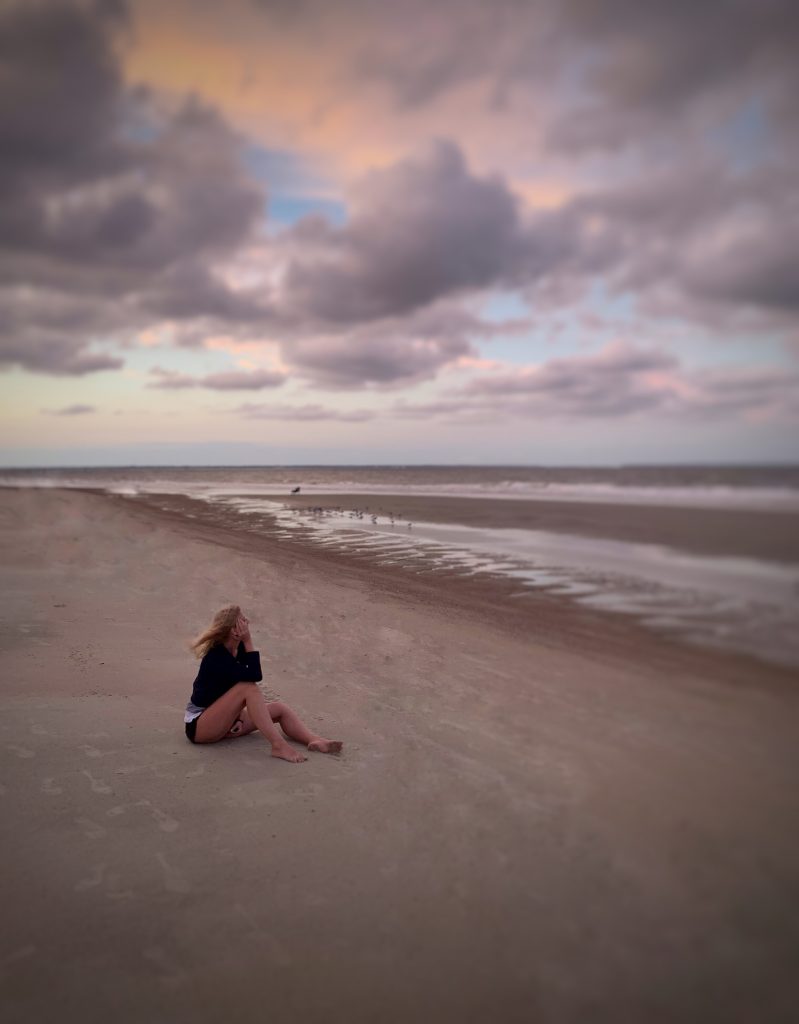 On the other end of the spectrum, avoiding people is like second nature to me now. I wonder what kind of world we will have in the next few years. I know as a human species we are very adaptable but the COVID pandemic took away something very precious – the spontaneous human contact and touch.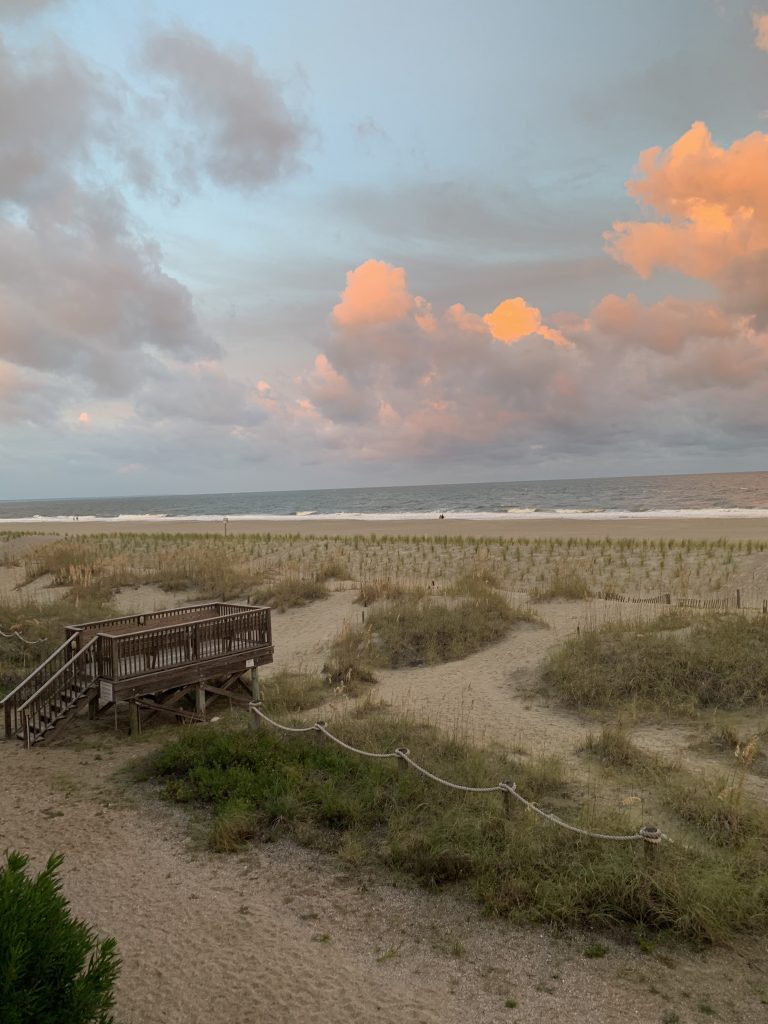 My daily route was beach home, beach, and back. I peeped through the window to see if the were no people, once I saw the coast was clear (literally), I went swimming and read two books. Some people I saw on the beach sometimes didn't wear a mask and that concerned me. Sometimes I felt that we lived in a parallel universe, as a few people acted so carefree.
Joy in little things. Just walking to a beach evoked an intense joy after all these 6 months of strict home isolation. This was a walk towards the beach in a designated path from a private residence.
Tybee Island Landmarks
One of the local landmarks I passed during beach walks was the lighthouse. Tybee Island Lighthouse is by the beach, next to the Savannah River Entrance, on the northeast end of Tybee Island. It is one of seven surviving colonial-era lighthouse towers although it has been highly modified in the mid-1800s. Today the lighthouse is still functioning. One day I would love to take a coastal road trip and check the lighthouses along the way. There is something that endlessly fascinates me about them.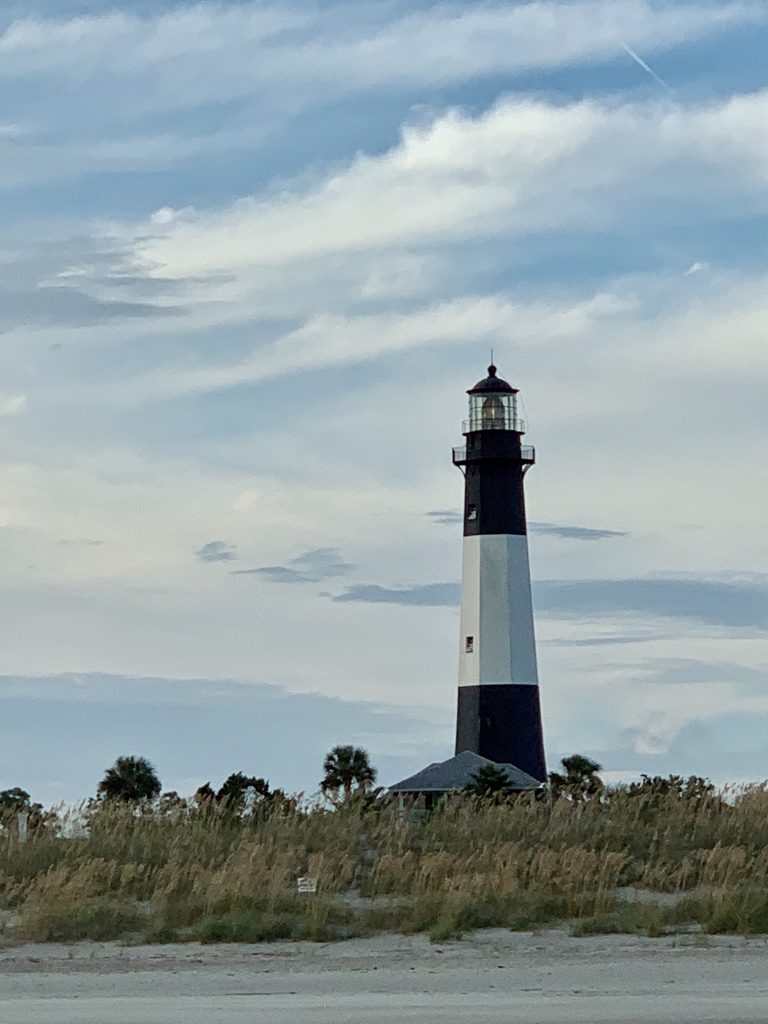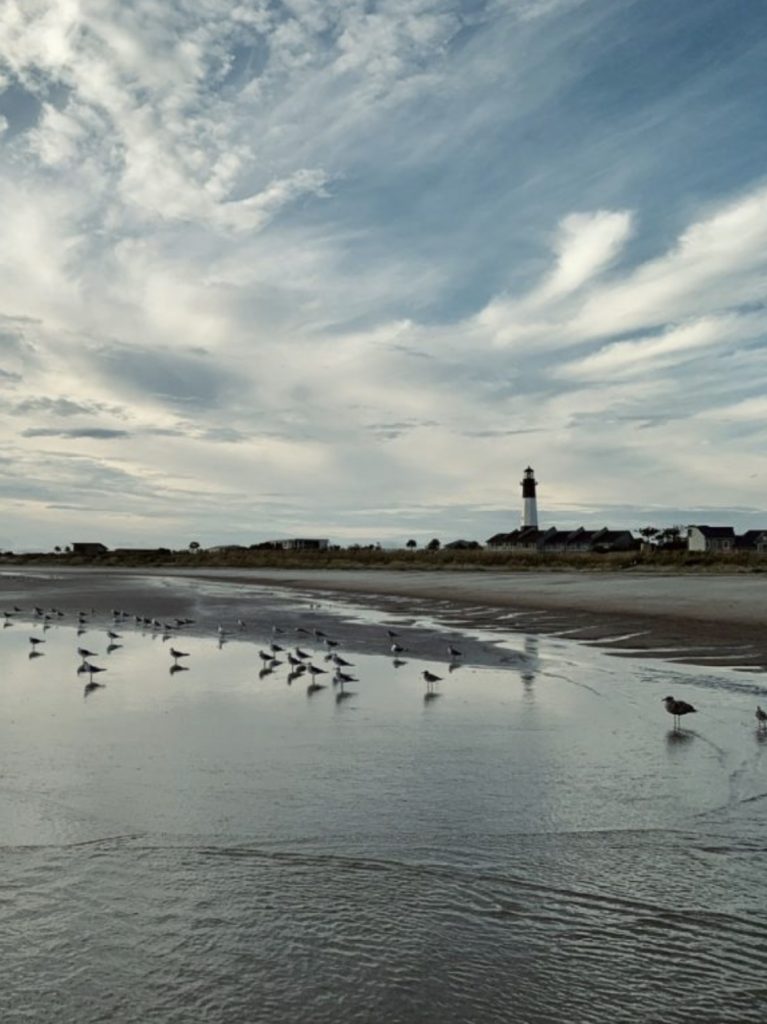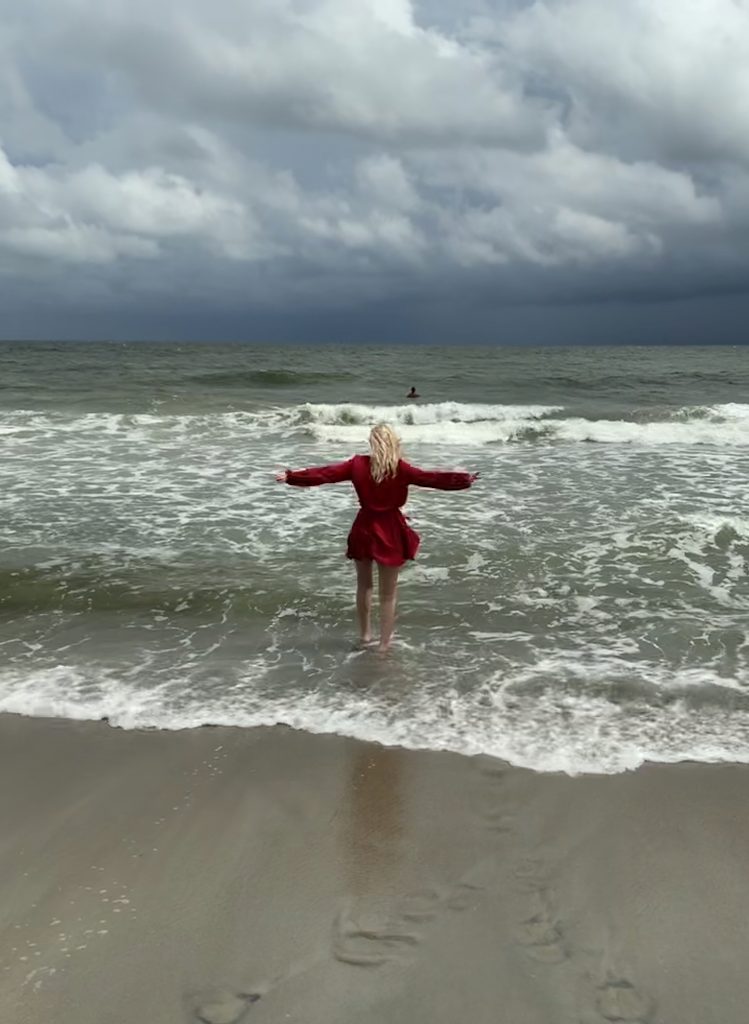 Live in the sunshine, swim the sea, drink the wild air.

– Ralph Waldo Emerson
On the other end of the beach is the Tybee Island Pier and pavilion. It is a gathering place and also a fishing place. I love going under the boardwalk, it is such a fantastic visual.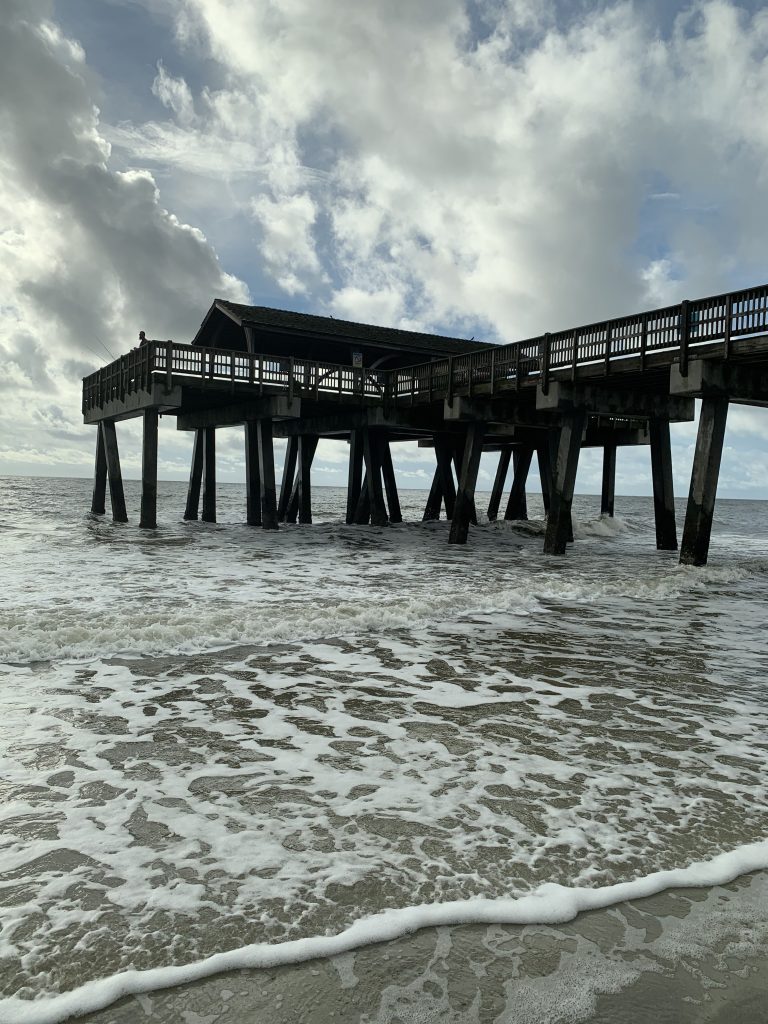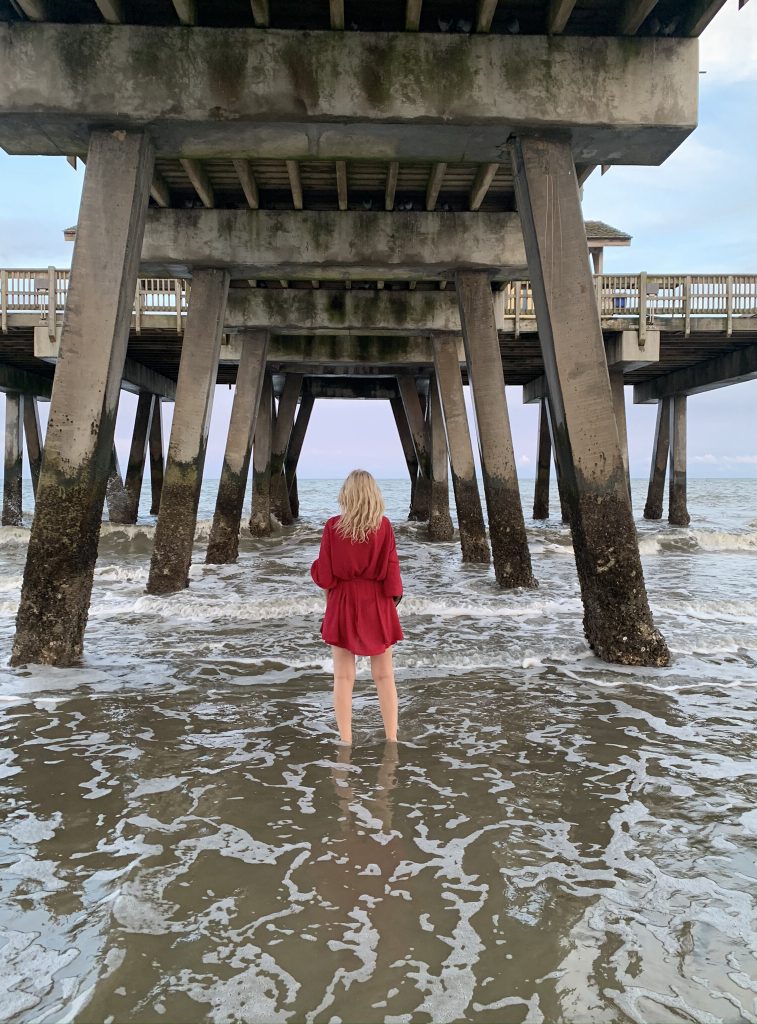 I loved simply being somewhere else by the ocean. Every day brought a new sensation within this small world and it was enough for me. I do long for longer and faraway travels. I so much appreciated every day, it had such a different quality for me. The beach never seems to lose its special touch. The soft sand and rolling waves instantly make us forget about all of our worries and instead focus on the amazing view in front of us.
The sea, once it casts its spell, holds one in its net of wonder forever.

– Jacques Yves Cousteau
Parting Thoughts and Insider Tips to Tybee Island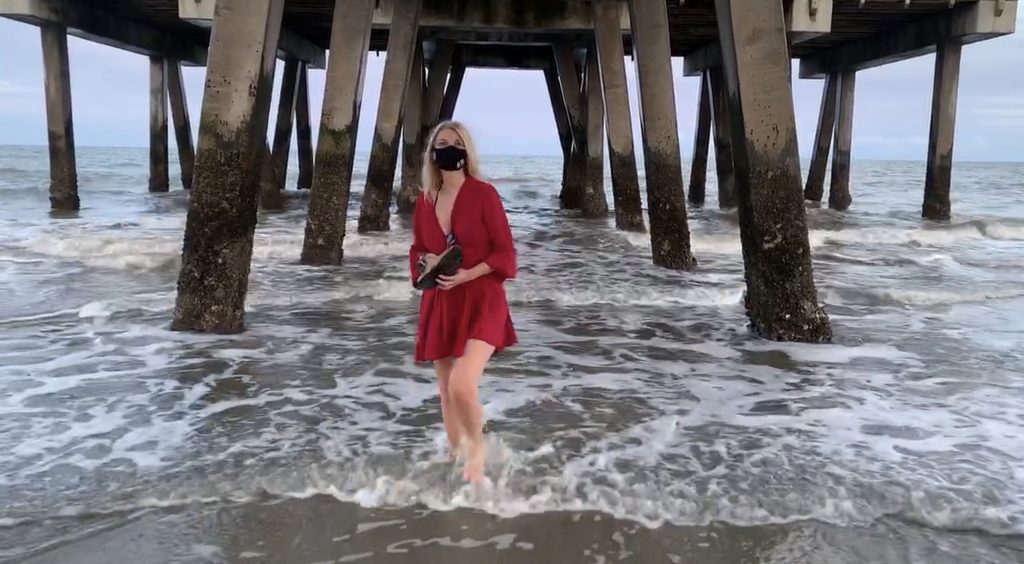 I am glad that I went to Tybee after being at home for 6 months in a strict lockdown. It was important to do extra safety measures, such as going once over with anti-bacterial spray, bringing my own linens, towels, dishes, and food. Also, I have socially distanced, wore a mask, and didn't go anywhere but to the beach when it was as few people as possible. By the way, the beach was not full at all.
It was a very different trip than how we usually travel, but it was good for my soul, with all the precautions. Mentally, it was very rejuvenating to do this trip. It is for each person to decide if travel is feasible and safe for you. Please check the official guidelines and use common sense to be safe and protected. I miss traveling far and wide, but I feel we are still very far for anything resembling our old reality. We just take it one step at the time.
Insider Tips for Tybee Island
A great time to visit Tybee is from late April through the end of September. It's a very relaxing place with a slow pace of life. This charming island is very small and walkable. On past occasions, there were many nice restaurants. I haven't been this time to any, but driving through Tybee Island, I saw that thankfully many are still open.
From past trips, I loved breakfast at a multi-generational, family-owned restaurant – The Breakfast Club. A good spot for lunch straight on the water was A-J's Dockside Restaurant. The "Local Low Country Boil" dish was very good at StingRay's on Tybee. All of them are local, tasty, and casual. For upscale dining, it is good to check Savannah, it is a 15-minute drive. Savannah is a Southern Belle, a sophisticated city with beautiful Southern architecture and lovely lush squares spread throughout the city. It is a must place to visit when going to Tybee or on its own. Sadly, I couldn't do it this time.
The official Tybee Guide is here. Please check all the latest COVID-19 information there. Also, check CDC's website for the latest information, too. Wear a mask, social distance, wash hands, and please be careful when doing all the required measures during the COVID-19 pandemic.
Where is It?