Rwanda Travel. Those two words together don't often come to mind, yet Rwanda has been emerging over the past few years as an intriguing and exciting travel destination. Since 2005, sustainability has been at the heart of Rwanda tourism in order to conserve and protect its wildlife. It's one of the few rare places where you can see gorillas in the natural habitat.
Rwanda has made it to the Forbes' list of top 20 best destinations to travel to in 2021.
Rwanda is a landlocked country in the Great Rift Valley, where the African Great Lakes region and East Africa converge. Its capital city is Kigali, and the foundation for the economy is based mostly on agriculture with coffee and tea as its main export. Even though it's known as one of the smallest countries on the African mainland, it's abundant with flourishing culture and vibrant people.
Music and dance are an integral part of society. Drums in particular are seamlessly integrated into dance choreography, like the beat of our heart moves our bodies. Beautiful traditional designs, arts, and crafts are created within its culture. Rwanda is a country that has persevered through incredible hardship, yet is still full of life.
The commitment of Rwandans to the country's success is palpable and inspiring. And much of it is fueled by young people with a creative spirit, intent on molding the roots of their past into a future that is both competitive and proud.

– National Geographic, October 2020
Rwanda Travel And Few Basic Facts
According to local Rwanda media, The New Times, as soon as Covid-19 cases decreased in October 2020, the country cautiously resumed its tourism activities. Additional safety measures are put in place in order to protect not only travelers and locals but also the endangered primates that inhabit their forests.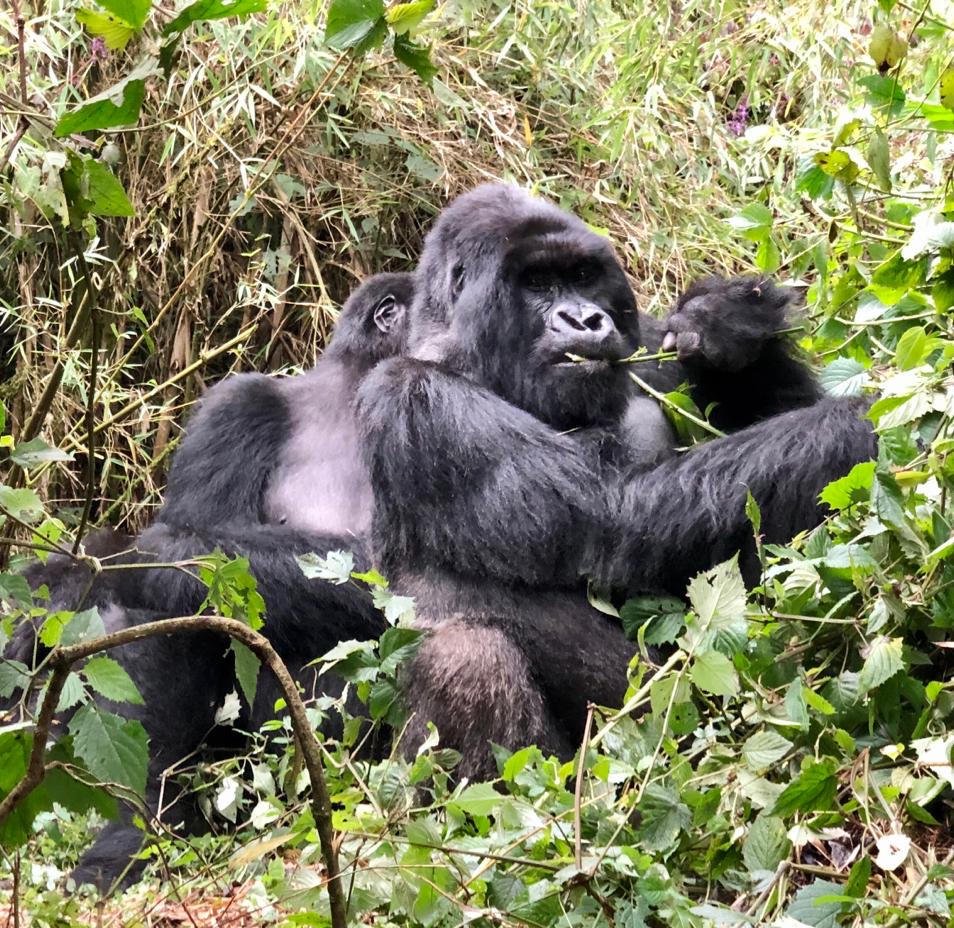 Tourism in Rwanda
Tourism is a fast-growing sector and is now the country's leading foreign exchange earner. Rwanda is one of only two countries in which Mountain gorillas can be visited safely.
Gorilla tourism is actually a valuable conservation tool for the country. There are strict habitation rules for trekking to gorilla families. The tourism revenues are funneled back into its national parks and conservation activities, with a small amount distributed to community projects.
You might be surprised to find out that Rwanda limits the number of visitors. If you are interested then please check your government travel advisory for the latest travel information.
Rwanda Travel with Hedy
Zest & Curiosity reached out to Hedy, an experienced traveler and custom travel advisor, to share her experience from her recent trip to Africa. Join us in a fascinating Q & A with Hedy about Rwanda.
What was one of your favorite trips?
Going on safari was always at the top of my list of favorite trips, followed closely by Israel. But that was before I went to Rwanda in December 2019, just before the world shut down due to the coronavirus pandemic. Today I would say Rwanda is one of my top picks.

– Hedy
What surprised you the most about Rwanda?
I didn't expect to like Rwanda so much! Like most travelers, I went to Rwanda to see the mountain gorillas. I expected Rwanda to be a sad country for it was only 25 years ago in 1994 that Rwanda experienced one of the worst genocides in history. I imagined survivors holding on to hate, and a nation bound by their troubled past.
Boy, was I wrong.
Rwanda is breathtakingly beautiful. As you drive through the green rolling valleys and up the hilltops, you understand why it's known as "The Land of a Thousand Hills." Lush tropical trees are plentiful and meticulous agricultural plots carve out the land.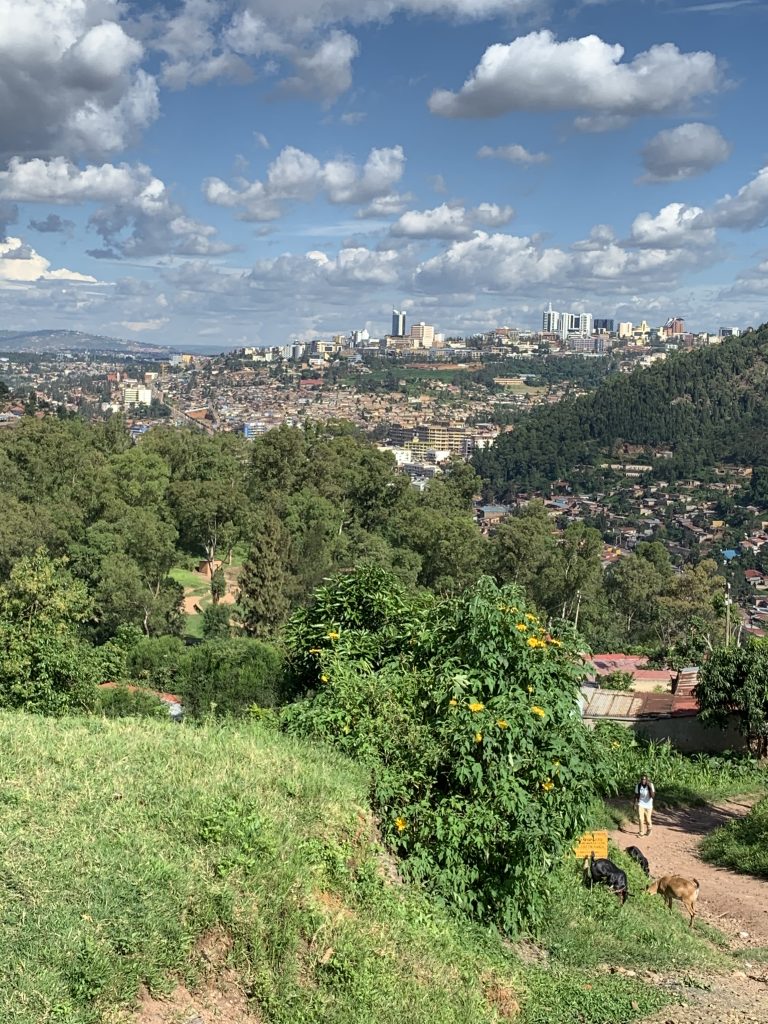 My first surprise came as I exited the modern Kigali International Airport. The city was so clean. In fact, Kigali may be one of the cleanest cities I have ever visited. In 2009, the leaders of Kigali made it a priority to clean up the city. They provided homes to slum dwellers, paved roads, and improved the infrastructure throughout the city. Keeping Kigali clean is an effort shared by the entire community: on the last Saturday of every month, at least one person from every household contributes either by picking up garbage or doing repairs.
Success of Sustainability
Kigali has been hailed as one of the greenest and cleanest cities in Africa — even the world. The streets are not only free of garbage, but the city is a leader in sustainability – plastic bags are illegal, forest and wetland restoration is a priority, and the country is committed to building a green future. The Rwandan government also encourages gender equality, which is evident by the number of women in parliament. Rwanda's forward-thinking leadership, led by President Paul Kagame, surprised me. Moreover, I was shocked by the resilience of the Rwandan people.
Kigali Genocide Memorial
Our first stop in Kigali was to the Kigali Genocide Memorial, the final resting place for more than 250,000 victims of the genocide against the Tutsis. Being there was hard. I felt tremendous sadness as I walked through the room viewing the photos of the young and old who lost their lives. As I read the stories on the wall and sat with tears in my eyes I thought to myself, how could something like this happen?
Rwanda's Admirable Recovery
Another question I asked myself was how, in such a short time, has Rwanda gone from a country of bloodshed to one of strength? How have the Rwandan people replaced the pain in their hearts with love?
These questions played in my head as we drove northwest from the capital of Kigali (on perfectly paved roads) to the Virunga Mountains, home to Volcanoes National Park and the lowland mountain gorillas we had come to Rwanda to see.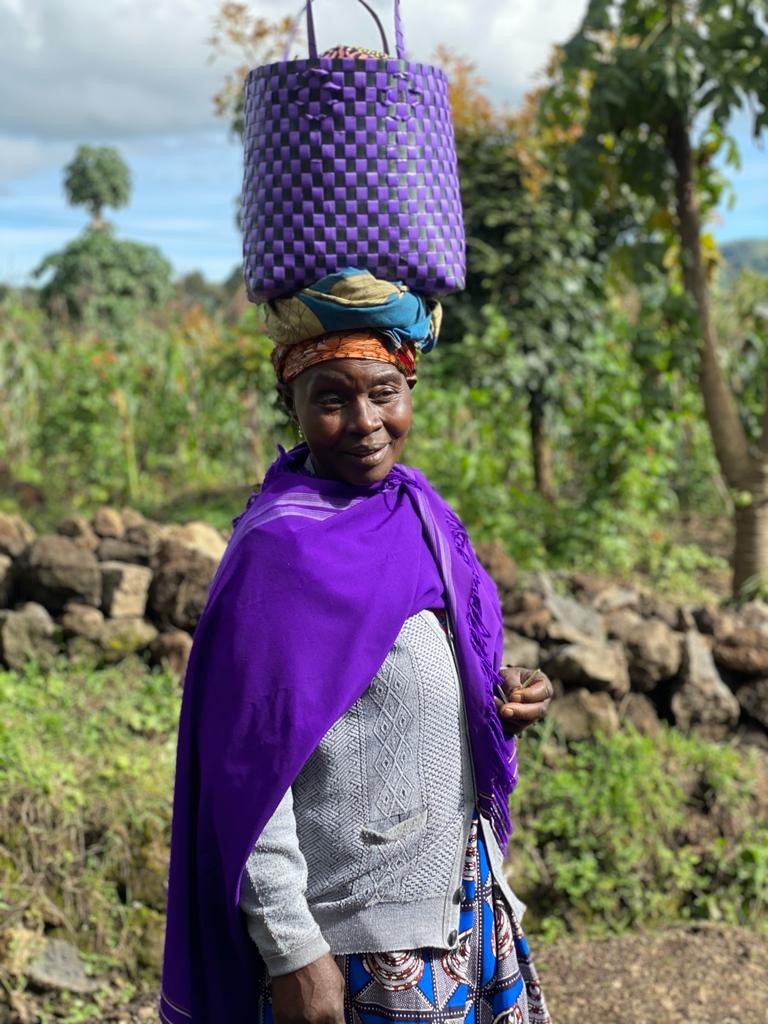 The Amazing People of Rwanda
Looking out the window at the pedestrians sharing the street – you see dignified old men dressed in their jackets and slacks, women wearing their traditional brightly colored imishanana dress carrying baskets on their heads, young boys toting younger siblings swaddled in cloth-wrapped securely on their backs, and teenage boys pushing carts filled with banana leaves and water jugs. They were smiling, socializing, getting on with their lives. These people put their past behind them and are moving forward.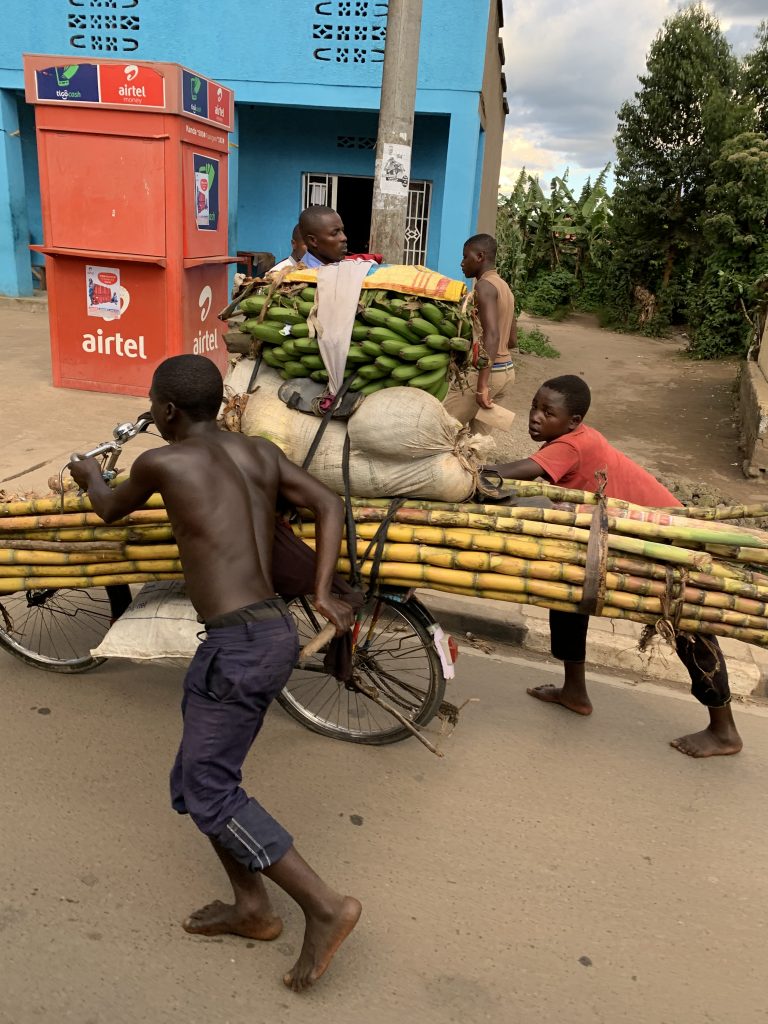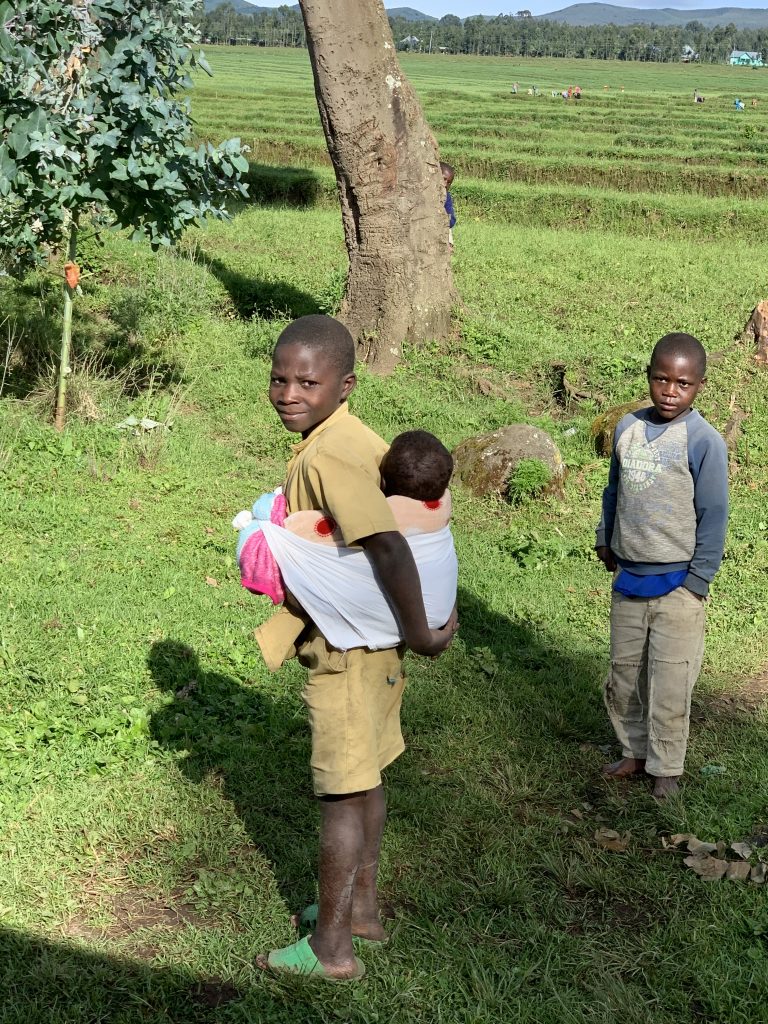 The Power of Forgiveness
Our driver-guide, Mutanguha, was a kind and gracious man, knowledgeable and proud of how far his country has come. He made it all seem so simple, really.
"For what choice do we have?" he asked me. "To live with pain, sorrow, and hate in our hearts or to forgive? Choosing hate will do no good. We must forgive. That is the only way."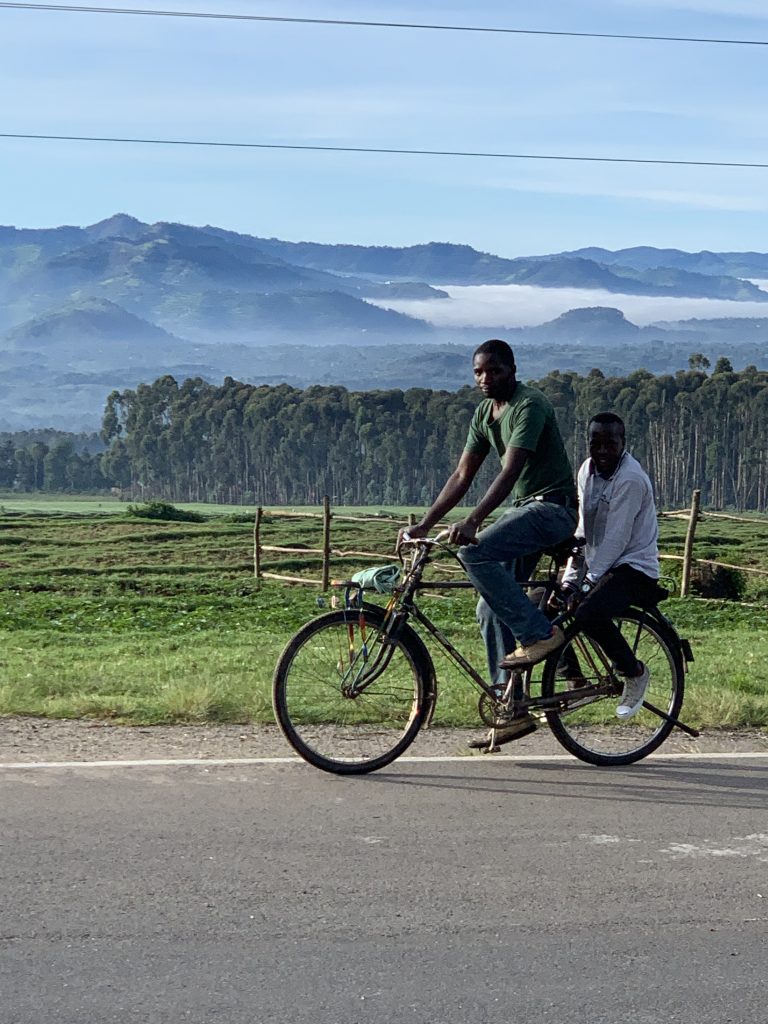 For the majority of perpetrators of the genocide, at least the ones that did not flee, justice was served at special village courts called gacacas where they confessed and pleaded their case. With encouragement from the government, survivors across the country forgave the criminals and accepted them back into their community. Instead of focusing on the past, they set their sights on the future. No longer are they considered Hutu or Tutsi. Instead, they are Rwandan only.
What left the biggest impression on you in Rwanda?
The gorillas, of course, were unbelievable and truly the highlight of the trip. But Rwanda's people inspired me the most. Their resilience and ability to forgive has left the biggest impression. Kigali was also pretty spectacular. Its dedication to "umuganda," a Kinyarwanda word that roughly translates to "community service," is inspiring and has made the city unlike no other.

– Hedy
Can you please let us know about the emerging art scene in Rwanda?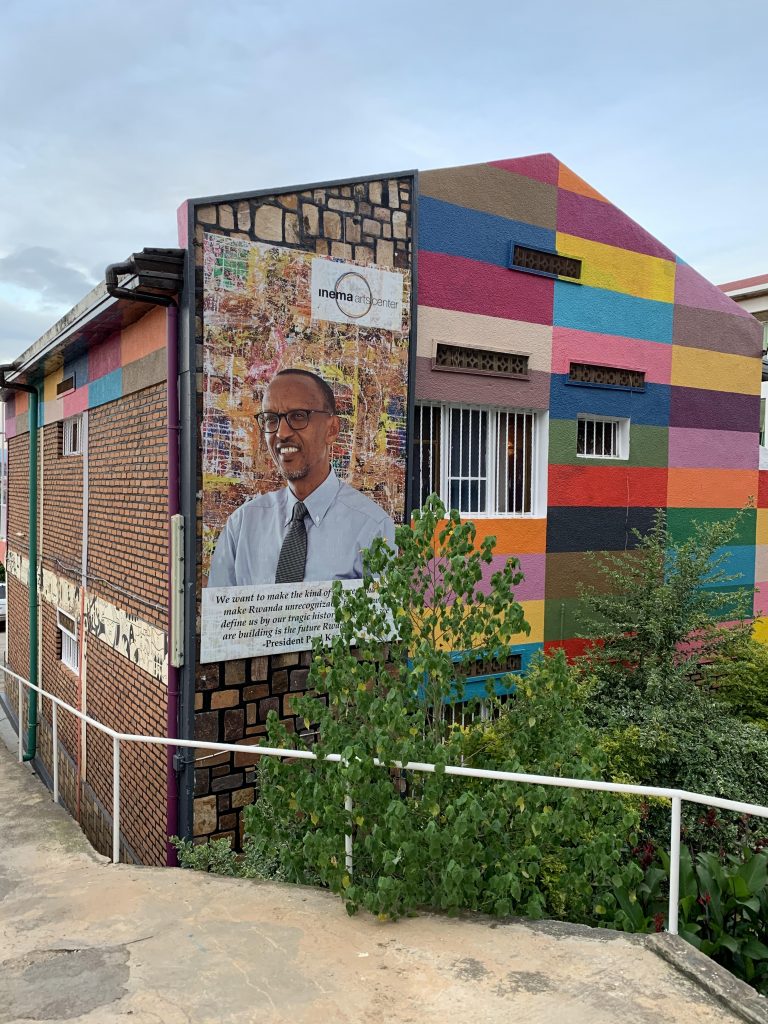 Rwandans are drawing on their heritage to shape a modern culture that celebrates passion, care, and creativity.

– National Geographics, October 2020
Yes! I was lucky to have a late flight out and was able to spend a delightful afternoon exploring Kigali. After enjoying a lovely lunch at Fusion restaurant with owners Alyssa and Josh Ruxin and touring their new Heaven boutique hotel (highly recommend!), I made my way to Inema Arts Center to get a feel for the flourishing art scene in Rwanda.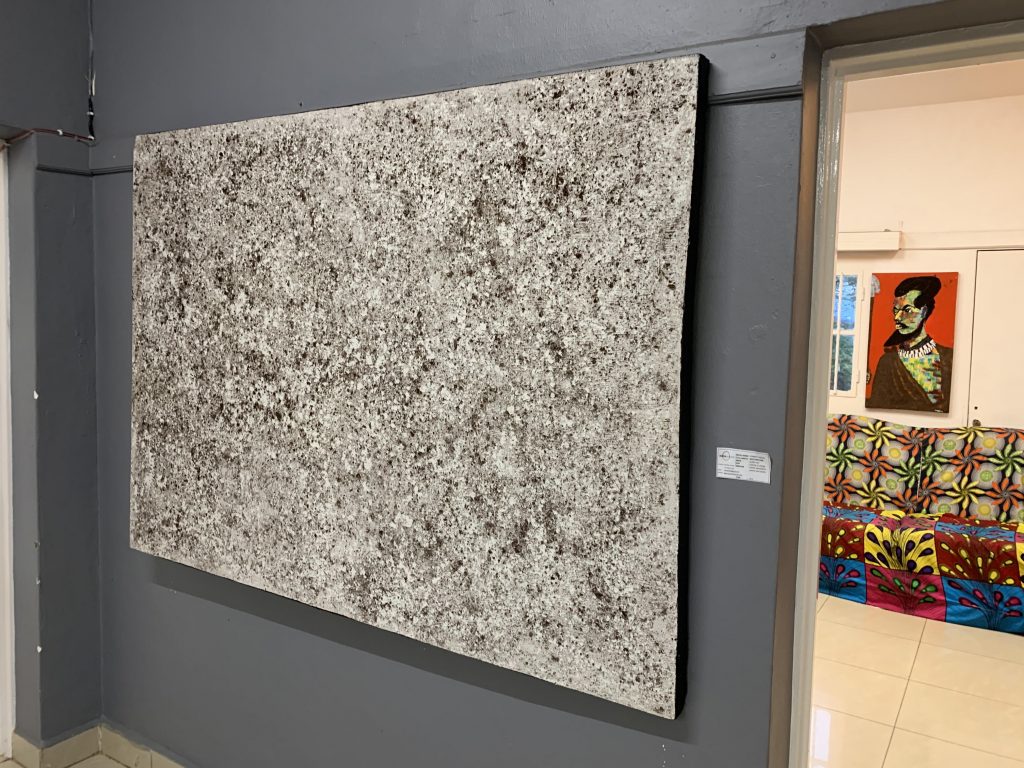 Inema Art Center
Founded in 2012 by brothers Innocent and Emmanuel Nkurunziza, the two self-taught artists started Inema to expose and encourage the country's creative community. Today Inema Art Center is home to 10 artists in residence.
When we arrived, there were around 15 young kids dancing in the parking lot and three hip, twenty-somethings drinking coffee on a shaded patio. It was very relaxed and welcoming, even to the two random American tourists who showed up unannounced.
A nice young man — I'm pretty sure it was owner Emmanuel "Emma" — welcomed us and showed us around the galleries in the two-story building. The art was sleek, contemporary, and sophisticated. I had my eye on an acrylic on canvas piece by Kenneth Nkusi who used coffee grounds as texture. Sadly, we were short on time to catch our flight so I missed this incredible opportunity.
Learn more about Inema Art Center.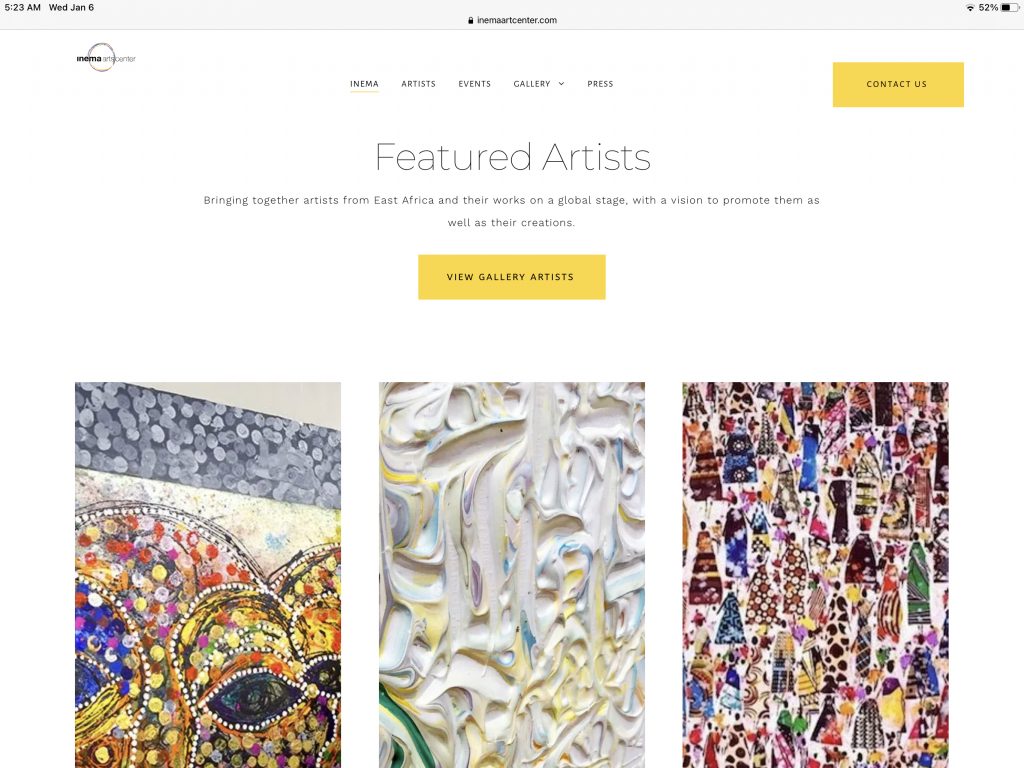 What kind of traveler would enjoy Rwanda?
For the adventure seeker, gorilla trekking is a must and if it's not already on your bucket list, it should be! I have never in my life experienced something so exhilarating! Most people go to Rwanda to see gorillas in their natural habitat. At the latest count, there are only about 1,000 mountain gorillas left in the wild, living in the volcanic range which spans across Rwanda, Uganda, and the Democratic Republic of the Congo (DRC).
Rwanda it's not for the faint of heart – it's for adventure seekers.
First, let's talk about location. Volcanoes National Park, where the gorillas live, rubs shoulders with neighboring DRC. I must say I was a wee bit concerned my first night with my knowledge of the DRC rebels. It is good to be cautious. However, during the trip, I felt safe. I'm thankful that Singita's Kwitonda Lodge, besides offering wonderful Rwandan hospitality takes also measures to ensure the safety of the area.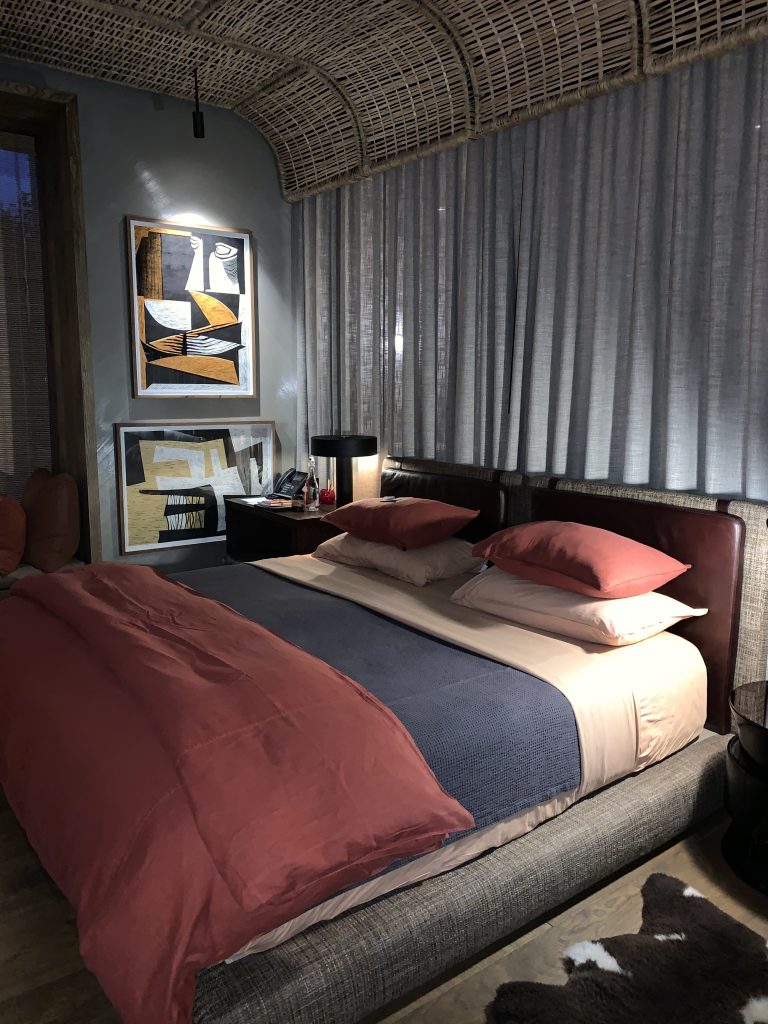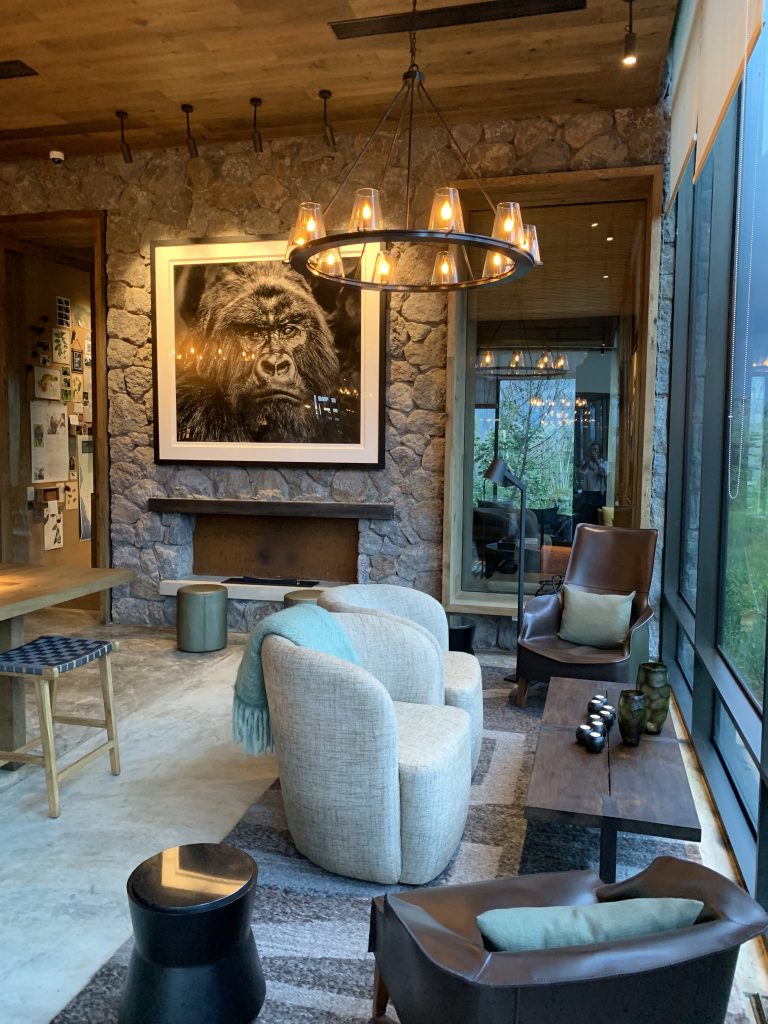 Also, gorilla trekking isn't for sissies. Yet it's incredibly rewarding seeing them in the natural habitat.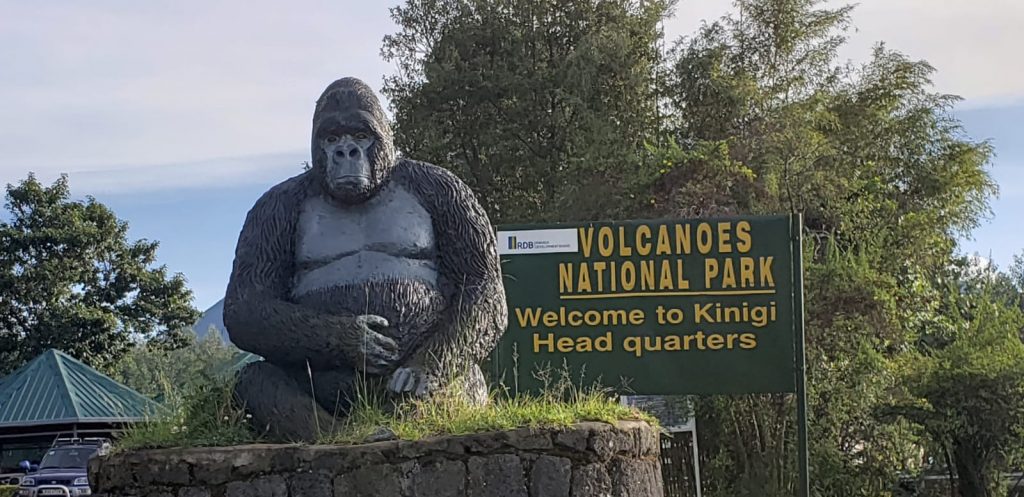 After an early morning orientation at Volcanoes National Park Headquarters, we met our trackers and porters. We had porters, which I didn't think I needed, but was happy to have Castro's help when my foot got stuck in the mud. At one point he literally lifted me up and over an impassable puddle. I was very grateful for that. We were well-taken care of, and everyone was so helpful.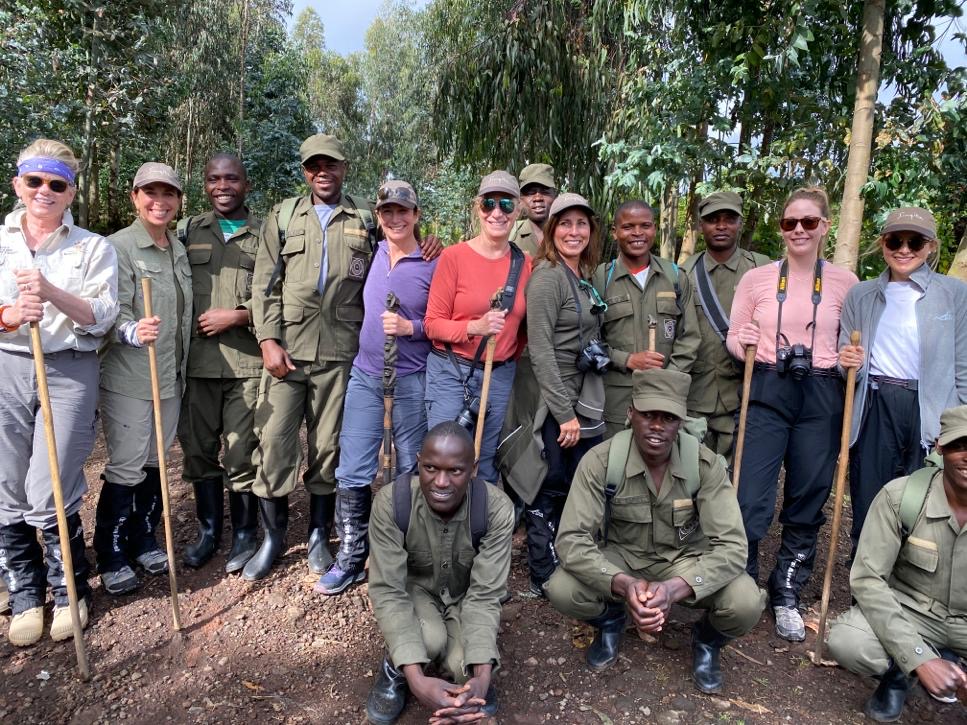 Morning trekking to find gorillas
As we started up the mountain towards the forest, we walked up a trail leading through meticulously managed bean and pyrethrum flower fields. It was absolutely breathtaking with the morning fog lifting over the hills in the distance.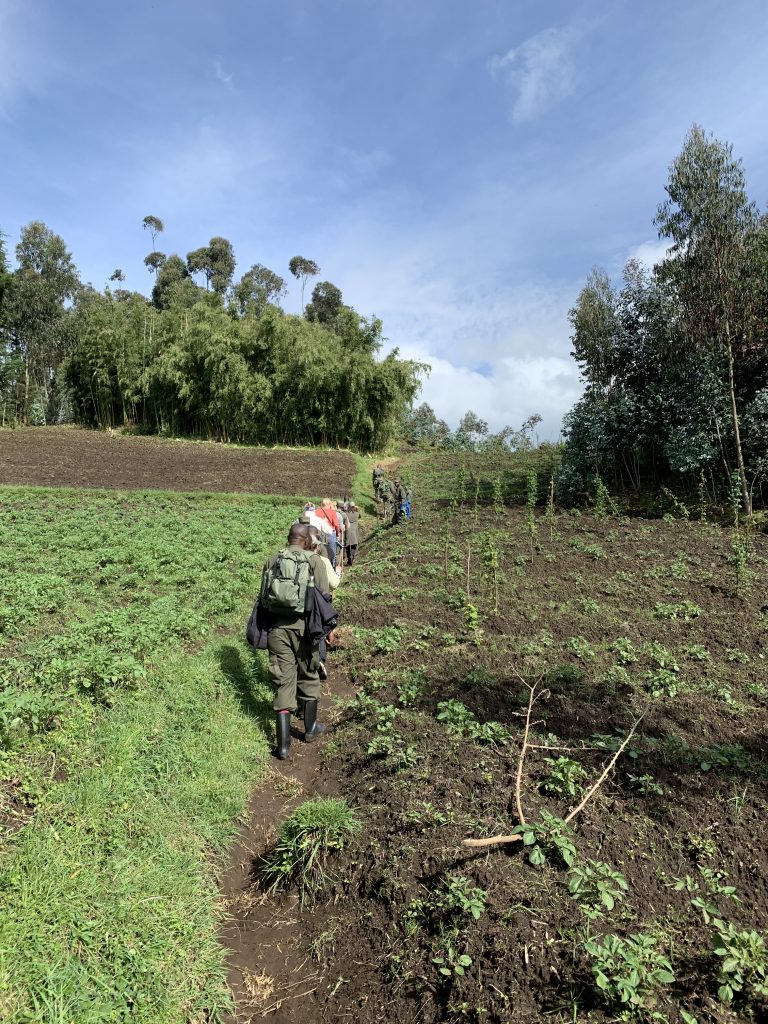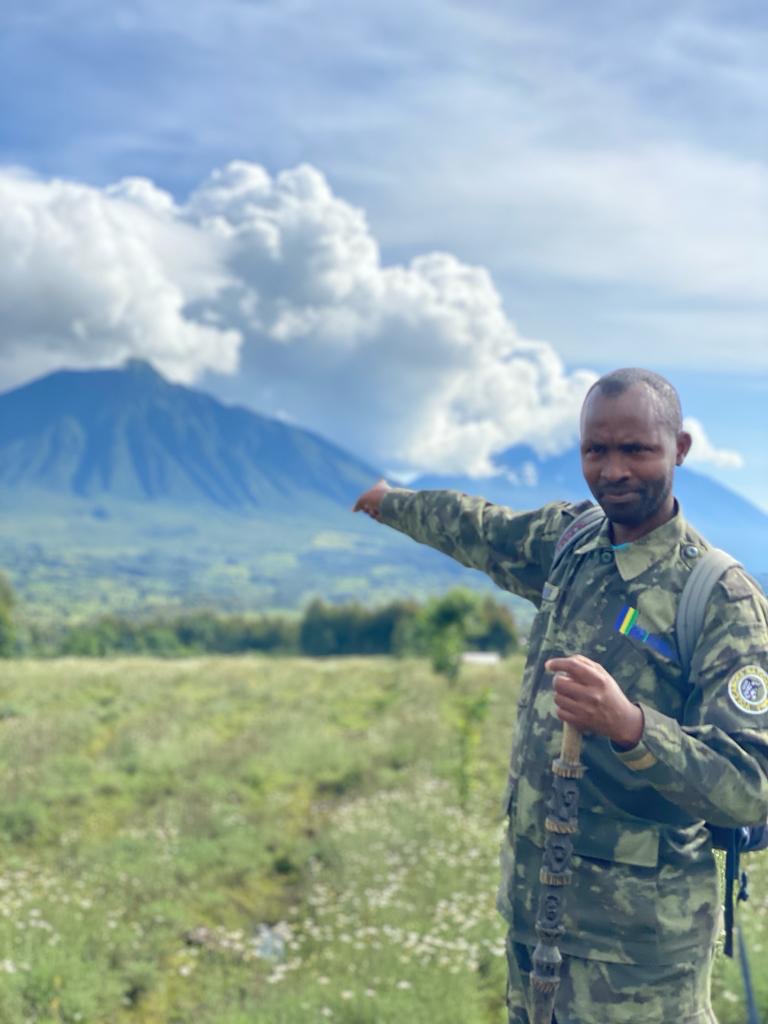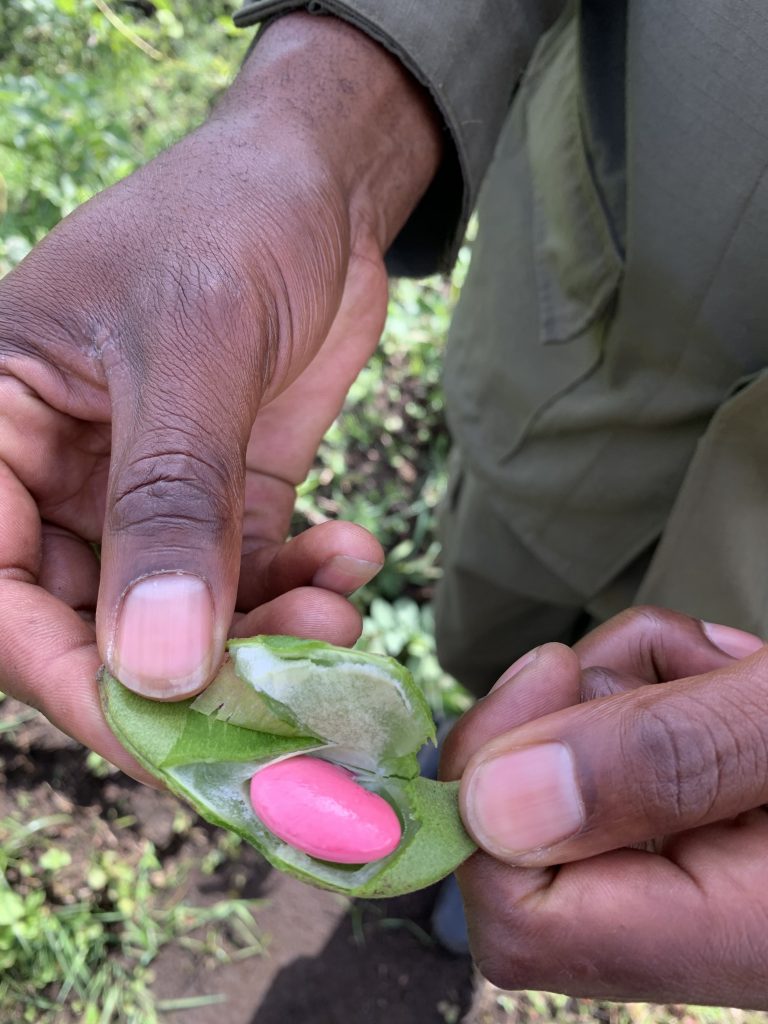 Amazing first encounter with gorillas.
After about an hour of trekking, we met up with the gorilla trackers who would take us the next few yards through the bamboo-covered slopes to spend a precious awe-inspiring hour just a few feet away from these gentle giants.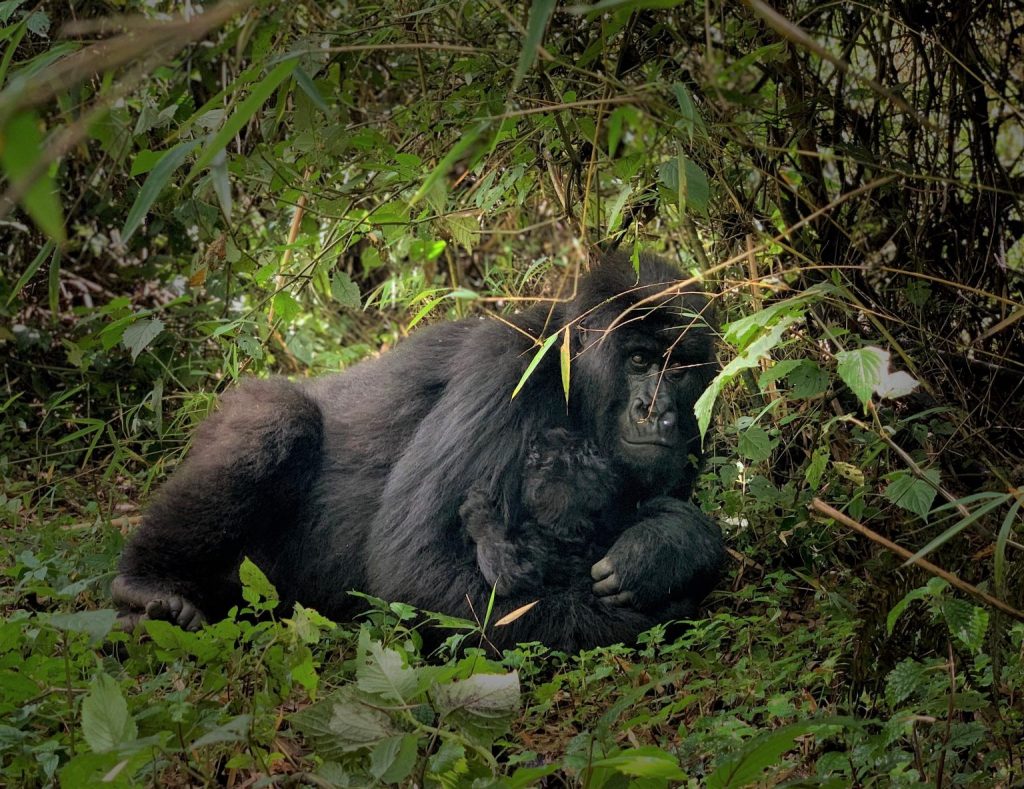 All at once, on the edge of the trail, we came across two gorillas, a teenager, and a toddler. I was within six feet. The teenage gorilla was looking at her reflection glimmering through the puddle. The toddler was grabbing at her hands, oblivious, and just wanting to play. Words cannot describe the feeling you get being so close to these animals in their natural habitat. Nothing but a tracker and machete between you and our wooly ancestors.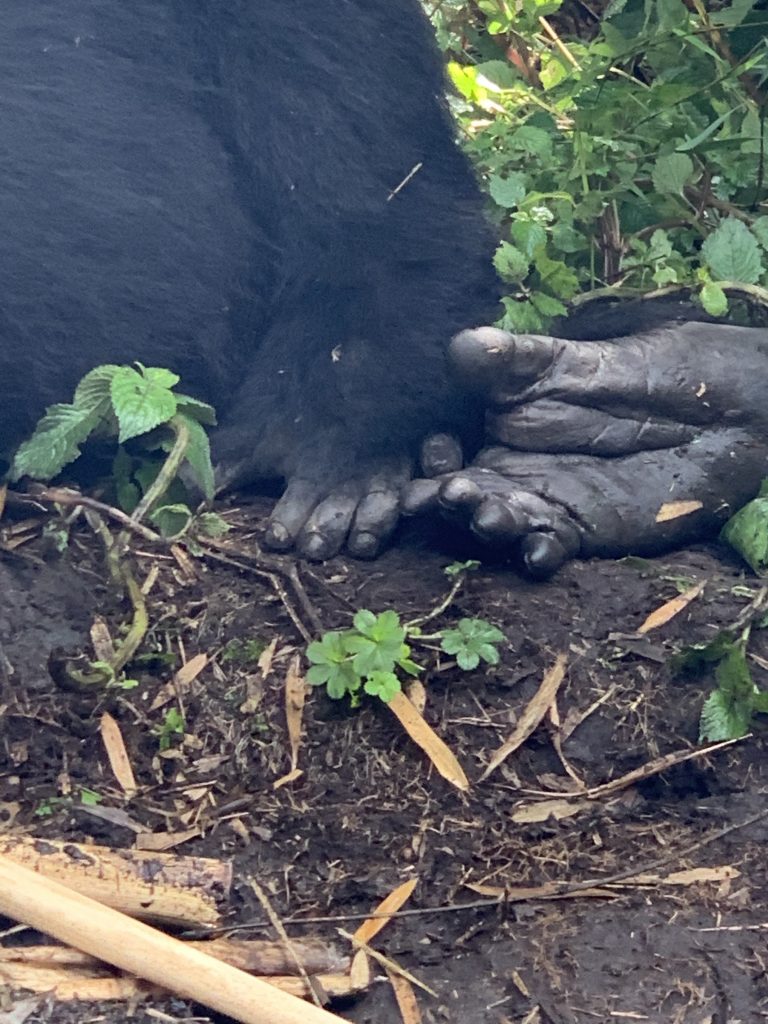 As we made our way through the bamboo forest, we came across the rest of the Agashya family of gorillas. In fact, we found a mother nursing her newborn, toddlers jumping on older siblings and rolling down the slope, aunts, and uncles eating bamboo with fervor, and one silverback, flexing his muscles. At one point, he darted a little too close for comfort and we all stumbled backward to get out of his way. It was both exhilarating and scary. After an intimate hour of observing and taking photos, our time was up.
Rwanda Travel – Parting Thoughts
While our group only had to hike a few miles to reach our assigned family of gorillas, I met others who trekked hours up pretty treacherous terrain. We navigated through squishy mud and dense bamboo. Thank goodness we had special gaiters on, and I am glad I wore sturdy shoes. This was a once-in-a-lifetime, out-of-this-world experience. I will never forget this experience, nor the cultural riches of this African gem.
Rwanda is for the intrepid traveler who can't get enough of Africa. You know who you are.

– Hedy
Marvel of Africa – Parting Thoughts by Editor-in-Chief
For me, personally, Africa has been a wonderful continent to explore. From Egypt and Tunisia up north to South Africa, there are many places full of wonder. Seeing animals in a natural habitat is once in a lifetime experience. I am sharing below a few images from my wonderful trip to South Africa. I would go back there in a heartbeat.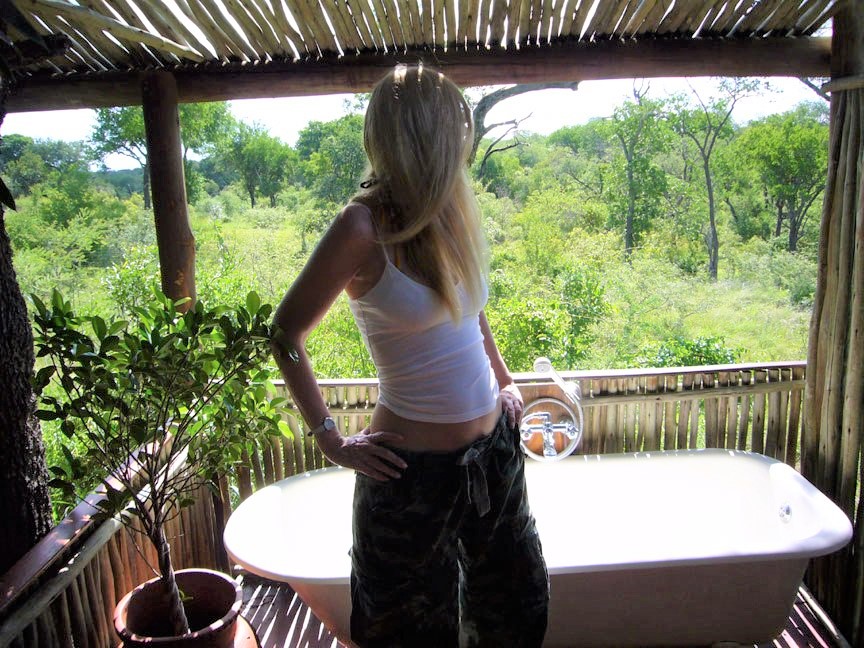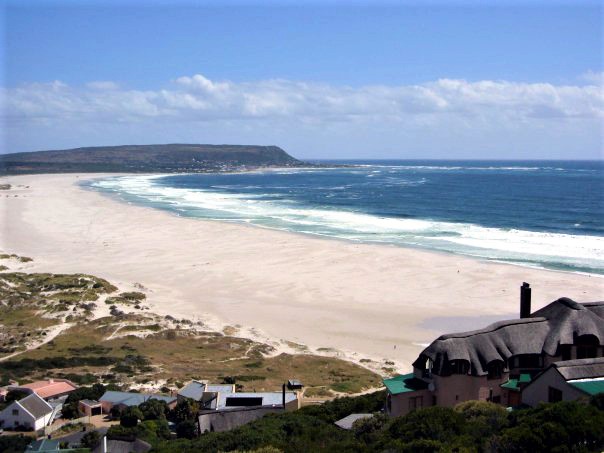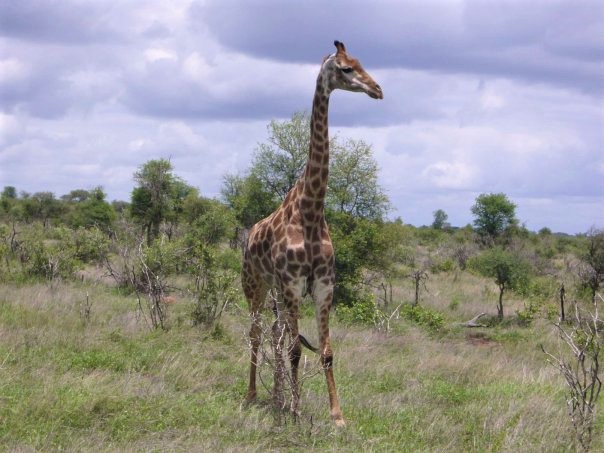 Dear Reader, I hope that you had enjoyed this marvelous preview of Rwanda, from rare Gorillas encounters to stunning landscapes, and above all – the Rwandan people and their warm hospitality.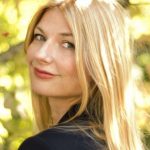 – Tijana
The Founder and Editor-in-Chief
Zest & Curiosity
Where Is It?